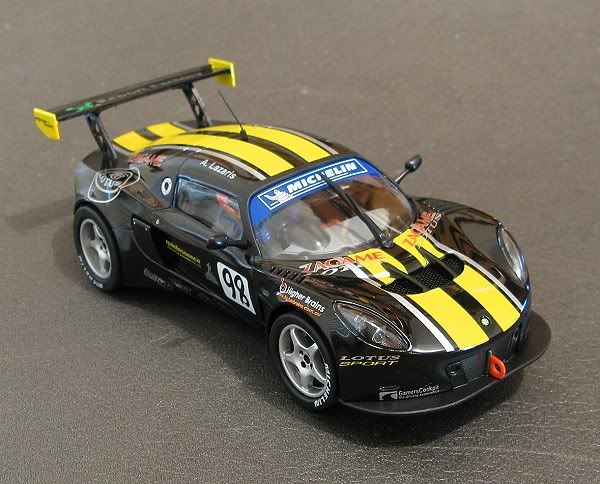 Ninco 'Sport'
Lotus Exige


By

Phil Wicks



What can we say about lotus that people don't already know? Well, if you are into motorsport, young or old, probably nothing!! Lotus date back to the early post war motor sport years, Colin Chapman was into converting Austin Sevens for trial and track events, along with hundreds of other competitive post war rev heads. The war period was a period of transition and mechanisation. With many motor companies involved in the war effort it wasn't long before some of the brighter stars would shine in their own right. Colin was a graduate of London University attaining a Batchelor of Science in Engineering.








Competition too has also been the mother of invention. The eternal struggle to achieve the greatest speeds and best handling cars started with local motor sport in the closing years of the nineteenth century and some of the greatest advances were made in this period. All this technology was in place when Colin Chapman made his fateful move into motorsport at the early age of 20. The fifties saw him design not only his own cars but to help with such famous names as Vanwall. Success was hard won and Colin was eternally thinking outside the square and one innovation after another worked its way into his designs.




Lotus Group Heritage




The greatest probably being the mid engined GP car. Not his inventions, but until now a concept that had had little success outside of the pre war Auto Union exploits and the Cooper car companies racing exploits. Initially mounting an engine and transaxle in front of the rear wheels in a space frame chassis, this idea was soon to prove popular. The extra weight in the right spot and improved control systems and visibility to the front. This also allowed the driver position to be lowered to almost track level, reducing the coefficient of drag to previously unknown levels. The final innovation which was to place a marker between pre and post Lotus eras was the monocoque chassis. Not a chassis as such but using Aircraft design principles. Colin Chapman built a load bearing stressed body skin and bolted the engine and transaxle directly to the rear of it. This was the moment in history where motorsport worldwide did a swift left turn and headed off to pastures new. The Lotus Twenty five was the first truly successful Lotus and in the hands of Jim Clark it swept all before it and its replacement, the Lotus 33 became the bench mark design for all successful teams to follow.








Finally, Chapman took on the bastion of conventional motorsport, Indianapolis. On these hallowed bricks and in front of a dubious crowd, Team Lotus made a deep impression on the establishment. Not to win on their debut but to return and regather momentum and take the great race by storm with the legendary Lotus 38. Indianapolis was never to be the same again and they had Colin Chapman to thank for that.

There virtually isn't a class of popular motorsport, even to this day that doesn't use the assemblance of ideas that Colin put together. Eventually, teams and manufacturers regrouped and once again Lotus was under siege but like the first footprint on the moon, Colin Chapman will forever be remembered as the man who changed the face of motorsport.

The ensuing years saw Lotus go from strength to strength until his tragic and premature death from a heart attack in 1982. After that, the team had a series of disappointing seasons and some years later the Company was eventually sold off to GM. The Lotus 7 sports car production plant had been sold earlier to the Caterham car company who at the time were a Lotus sales agent . Lotus then had a couple of European owners until their eventual purchase by the Malaysian Proton Company. The good news is that Lotus Group has gone from strength to strength and today is not only a successful sports car developer and manufacturer but also a successful design company.



Lotus Group Engineering



Which brings us in a roundabout way to Ninco's latest offering. I bumped into this model a few days back. I was in local hobby store Red Racer looking for some Slot.it gears and proprietor Adrian was busy pricing and putting away a new stock order and amongst the collection of models were Ninco's latest Corvette Pan America and the little Lotus Exige. I use the term little because that is what it is. Probably about the same length as the Healy 3000 but made infinitely more driveable by a comparatively huge rear track and an almost as large front track. Giving the model a decidedly noticeable waistline!








There is a choice of two colours and initially I might have been drawn to the Orange model but this is a serious little car and as such I thought the darker tones of the 'Zagame' livery seemed more appropriate. So, blowing my slotcar budget for the month and after a good chat with Adrian on a million other topics I made my way back home. After dinner I took the opportunity to look a little closer at my purchase. With the exception of the earlier NC1 models, I'm not really a Ninco collector. Racer, Yes!! Collector, no! Why? Not too sure really, but I have always been drawn more by other makers models when it comes to shelf queens, Ninco have too often made their models down to a detail instead of up. From paint finish and livery choice they have continually lost me. But not this time!

So what's it like. Firstly the detail IS good! Very crisp paint and lacquer and tampo. No orange peely bits, no smudged detail on difficult curves in the body! And detail which until recently Ninco may have steered round. Like the micro fine black vents in the front and rear guards (wings) and bonnet. A beautifully modelled grille at the rear showing detail behind and a separately made exhaust detail fixed to the inside rear body are just some of the delights. The rear wing too is well modelled. Too well maybe as the pylons look and feel decidedly vulnerable.

But…. The wheels and tyres….. Mmmwwwwah!!!

Smaller detail like inside the cockpit is well modelled too and small features like filler caps and headlights are all very convincing. And there are flexible plastic door mirrors complete with silvered reflective surfaces!! At a time when all manufacturers are feeling the pinch and with a reluctance to increase model prices, Ninco, with this model, have made steps towards justifying a price increase. So what about the business end of the model? Mmmmmm? Well, I have to say I have taken this model for a board track drive already!! And you'd better believe me when I say this model impresses me……greatly!!










A glimpse of the underneath tells us there is something different going on here. Firstly, we are greeted by a lime green toffee wrapper around the motor!! This is the new 'Sparker' NC9 motor incarnate! A compact little beastie in the guise of an NC 8 with extra grunt. Rated at 20,000 rpm @ 14.8 volts and knowing Ninco, this was always going to be a lie. But, for those with a more sedate outlook on life the NC9 can be straight swapped for the NC 8, it even has the auto type push on 'spade' terminals, making changeover a breeze. No more soldering irons at dawn!








A second glance tells us there is a bar type traction magnet, truly! And it's mounted BETWEEN the motor and the axle!!! Mr Ninco, whatever next! All of a sudden this model has become a serious racing machine! Inside is more Ninco and as expected it is laid out in true Ninco style. One observation is the front axle does have a bit of up/down movement in it Mmmmmm? Good or bad, not too sure. I like my models to take the weight on all fours, especially for more twistier circuits. It imparts a bit more stability than the old fashioned 'tripod' system, especially for narrower models. I needn't mention to the regulars about lubing a new model. You must all know my preferences by now. But for the new reader, it is essential that, for EVERY new model you buy, you open it up and lube all the essential parts before you race them. This includes front axle bearings.








In this case, the front axle is mounted as per their models in days of yore! The axle fits in an elongated groove in the chassis. I suspect this is Ninco's way of allowing the axle to make track contact on a variety of commercially available plastic tracks. Some have prominent conductor rails and the front wheels would otherwise sit high of the track surface. And as with their early models, if run dry for too long, the axle wears its way through the axle guide and soon becomes a loose cannon when it continually pops out of the mounting during racing. Only to jam up in the wheel arch. So be warned. Plenty of vasso or fix in place!








Another observation is that in the prerequisite Ninco sprung guide, they have installed some particularly stiff copper braid material. It looks very much like oxygen free copper?? Anyhow, this braid is infinitely more suitable than the soft copper braid we have been fobbed off with over the past few years. It is far more conductive at the contact area and is less prone to clogging. The old soft copper usually needed reversing or replacing every race meeting for optimum conductivity but I am sure this will not only be more conductive, but it will have a lot longer life than that. The only thing to watch for with the harder copper braids is to keep them an even height in the guide to minimise drop outs in tight corners.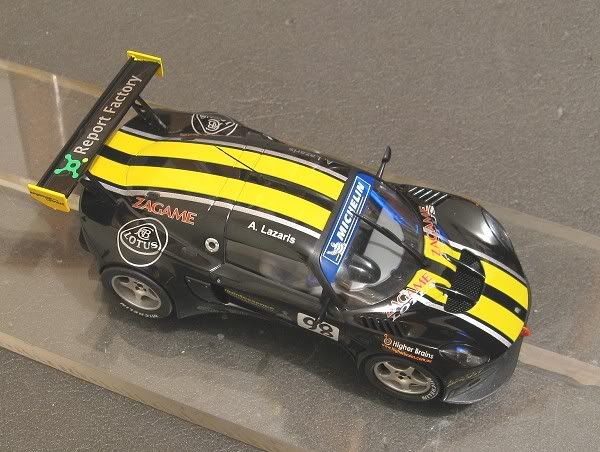 Three screws in exactly the right place for this model and the body comes away from the chassis. It's a bit fiddly at the front end so just be careful when removing the body. The tapered grille at the front seems to wedge into the body aperture. Once off there are no big secrets here. There is also a degree of chassis 'pinch'. This means if you like running your bodies loose, you may have to take a fair bit of plastic off the chassis sides to gain clearance. A familiar layout with the new motor and the traction magnet tucked in between the motor and the axle. And is the motor Ninco loose!!!?? Weeeeelll? I have to say yes, but! It is one of the best Ninco mounts to date. You can get the motor to move if you try but there isn't any slop as is found in earlier models. This is confirmed by the lack of hop during its track debut.








For me, because I'm weird, the best feature is the wheels. A lovely set of five spoked wheels with emulative brake discs behind. And on removing the tyre I find that even though Ninco haven't moved over to the new style of wheel production. You know, the one where the centre ridge has a couple of cut outs where the moulding sprue was attached! the wheels are pretty concentric and the tyres too are not bad, well, good really. Another thing on my mind at this stage is the feel of the tyres. The tyres feel very 'Slot.it P4ish? You know, that slightly dry tacky feel?? Mmmmm!








So on to the track it is bound. And as always, after a couple of races on the fast and sweeping Red Team's home track, I decide to get the little beggar out for a spin. The first two observations are that the motor is hot. Far more sparky than the specs on the toffee wrapper! And secondly, the tyres, on a clean track, hook up like you wouldn't believe!!! The model bolts off the line and corners like it's on rails and this is NON MAGNET racing!! Until some official announcement as to the compound of the tyre I can only assume it is a new wonder mix from Ninco. Lap after lap saw the model boldly go where no 'out of the box' model has gone before. No added weight. No tyre swap. No treatment, no nothing!! Also. No hop, no lift out deslots and the merest of judder in tight bends indicating that maybe the tyres have too much grip and lack of differential is causing it?








Needless to say, the model's performance out of the box is most impressive and with the new magnet placement I can only suspect that on plastic it will be equally as impressive. My only constructive observation would be that the front tyres on this (and all RWD models) should be made of a harder compound to minimise the front end drag which would become apparent on tighter circuits. The loose front axle will minimise this phenomenon but I would much rather it was holding the front of the model steady.




If this is the shape of Ninco things to come then there could be one or two more in my collection in the future. My only concern would be that maybe I would need to purchase two of each model to prevent me from feeling bad when I raced and inevitable crashed them! So top marks to Ninco but lets keep an eye on the price guys!