Pendle Slotcar Racing
Alfa Giulia - 1973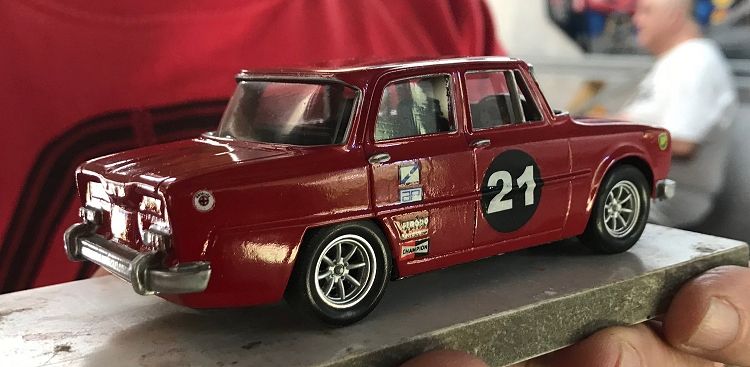 By

Phil Wicks



I have always been a sucker for small car racing probably because of the tight racing on tight circuits and whole packs of racers in bunches jostling for position; often the lead changes several times in a lap and again cars can find themselves in dire trouble in the blinking of an eye; facing back the way they came, short cuts across precarious infields and gravel traps; or, in the worst case scenarios, the errant racer could easily end up on his roof for the merest of misdemeanours.





But whichever aspect of small car racing you like, they will never fail to amuse and entertain. One of the most enjoyable series I have watched on the TV in many a while are the various touring car races across Europe, both modern and classic. There have been many classic cars on the track starting from way back in the days of the Escorts and Cortinas, FIATs and Peugeots, BMW's and many more besides.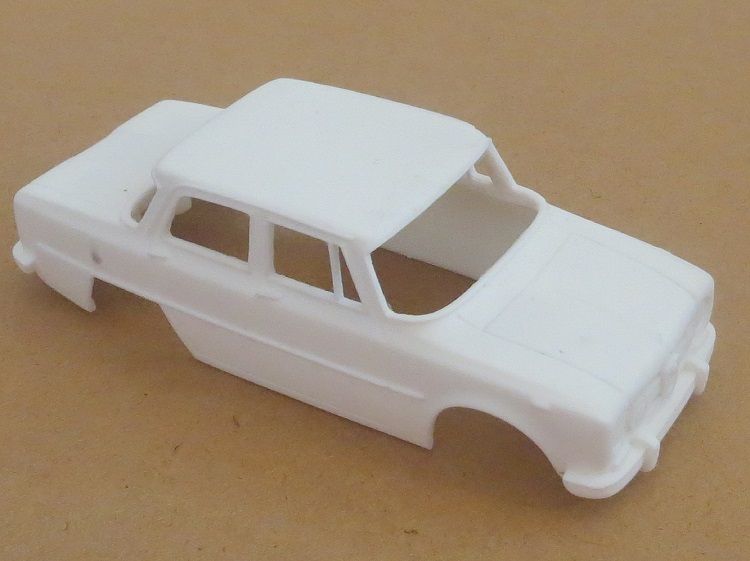 So when it came to picking a model from this era it was hard not to fall into the 'common or garden' variety of slotcar. Plenty of Escorts and Minis about, Capri's and Rovers a plenty but like I always do, I couldn't find that special model which even if it didn't become victorious on the piste, it would shine on a shelf in the pits for ever more.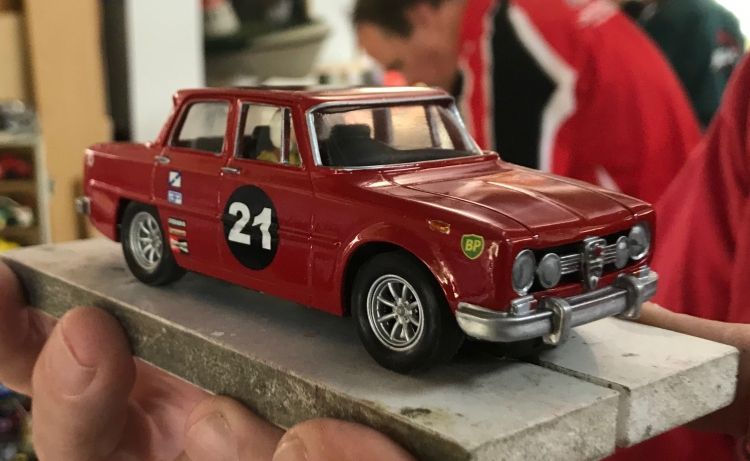 I was trolling through several resin body web site and was almost on the verge of giving up when I stumbled upon this classic Alfa Romeo. Mostly remembered for the endless times it appeared as a police car in every other Italian movie of the seventies, and as a rally car on three wheels in nearly all early European Rally films I decided that it was for me, even though from first appearances it looked too high and narrow, once finished it could well end up as a shelf queen, but lets hope not!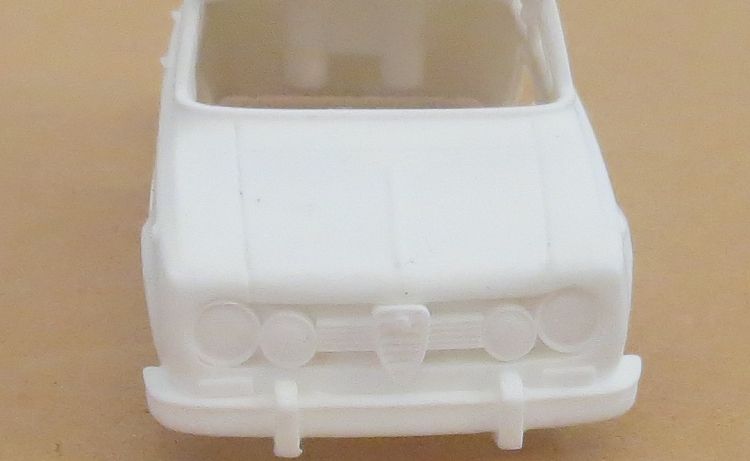 A quick 'add to basket' and smooth Paypal transaction generated a day later a 'your order has been dispatched' email from Pendle Slot Racing, along with several other parts and accessories which I anticipated would be needed for the build. Still with no conclusive decision of livery I left it blank until the model was nearing completion. As it happened, the few decals used where from my ever increasing pile of classic sponsor decals.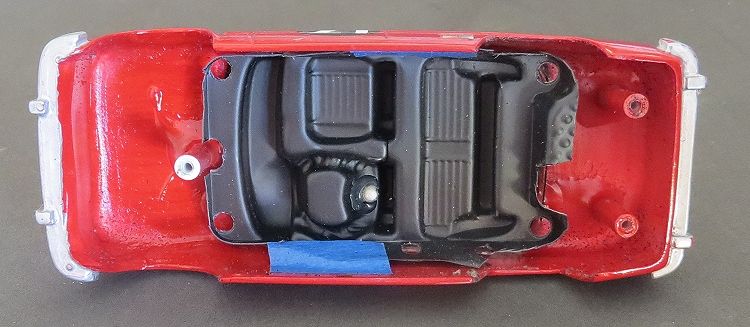 Not a tricky build and if you have checked out my other builds you will see there is a theme running through them all and this model was not going to differ. The only wandering from spec was the use of a vac formed drivers tray which I have avoided in the past, but I am becoming increasingly pleased by the quality and detail of these items.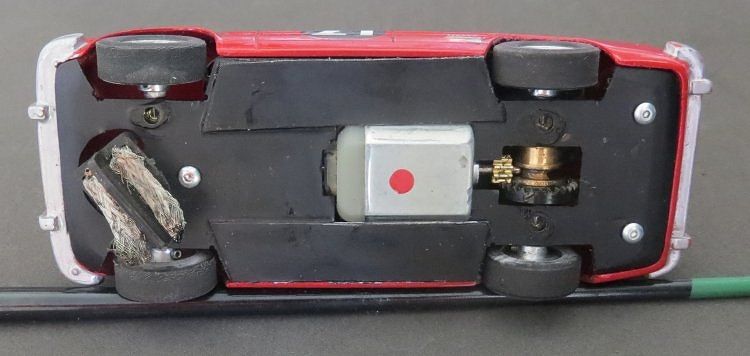 Once again a little divergence from the norm and first job was to get the 28 gram body weight down to 20 grams. Once again this was achieved with the trusty Dremel tool and some nifty attachments. Once the body was suitably lightened the next task was to get the vacuum formed parts to fit. This required careful sanding and filing around the window apertures. The three 'wixwacing' body mounting posts were located next and the vac detail was trimmed to fit between the posts. Chassis and drive train parts were finalised and fixed in place. This left only exterior decoration to finish the model. Again, using techniques already documented in other model reviews we finally achieved the finished product.








Pendle Slot Racing




After gear-bedding and tyre sanding and the odd tweak to the fit of the chassis the model had some extensive 'dry' track time to get its parts to settle in. And, after a few days it was ready for a lube job and its first test. The class was NC1 Classic Sports Cars and, whereas I was originally going to run a 250 Berlinetta SWB, I stood in for one heat for an absentee drive and after 25 laps and three minutes racing round a very technical track' I romped home in first place on debut in an eleven car field. By then the absent driver turned up and I resumed racing with the Berlinetta which was an equally thrilling experience.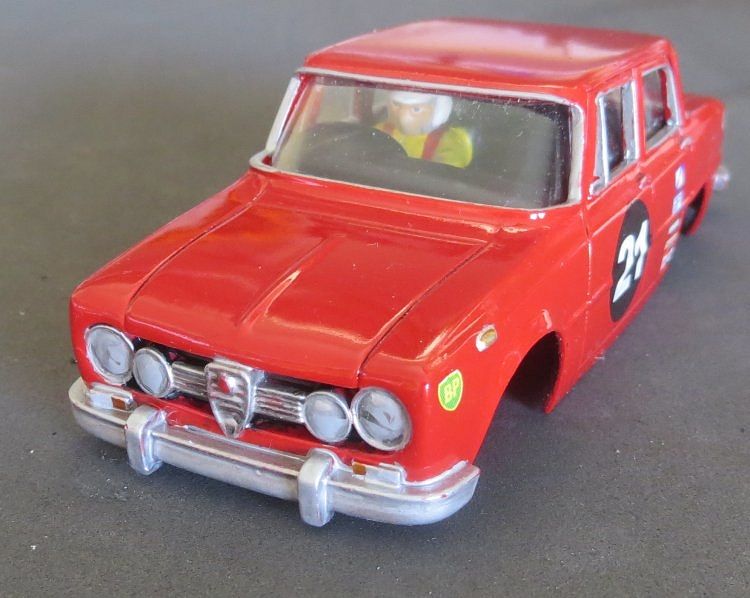 Last of the jobs to hand was to get the model up to race weight before painting the under chassis matt black. On the short technical tracks I like these slower models to weigh in at about 85 grams (40gm front, 45 gr rear and I let my driving skill do the rest. A new Wixwacing innovation for this model was to fix the vac formed interior parts with masking tape!! I don't know why I've never done it before




Alfa Giulia images




So a great start to a great model and a very nice model for the shelf one day; but I will race it as often as I can and hopefully it may be a race winner in its own right and be transferred to the top shelf!