Williams FW 08
Conversion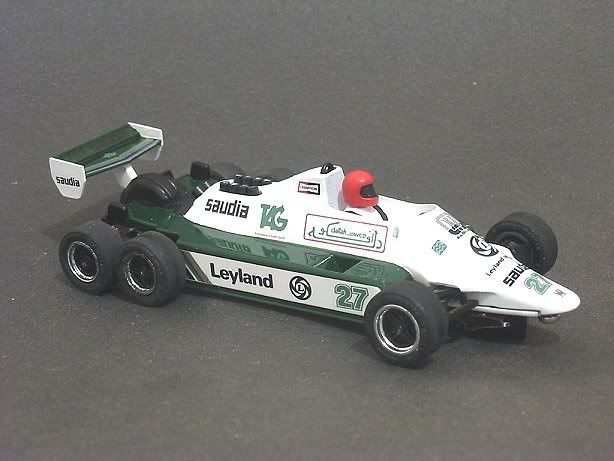 by

Phil Wicks




Some two or three years ago now I was captivated by a diecast model which I stumbled across on the internet whilst looking for some pictures of the Saudia Williams. I had the MRRC version and as it was a very poor paint job I decided to refurbish it and use a set of Patto's decals to finish it off.

Anyway, there it was. A six wheeled Williams in the (cyber)flesh! A further search revealed pictures of the real thing in prototype form and there were on and off track pics too. Enough said! My scratchbuilding abilities were looking for something to stretch them further and this model was going to be it. It wasn't just a case of making a four wheel drive rear end but to make one that was still competitive.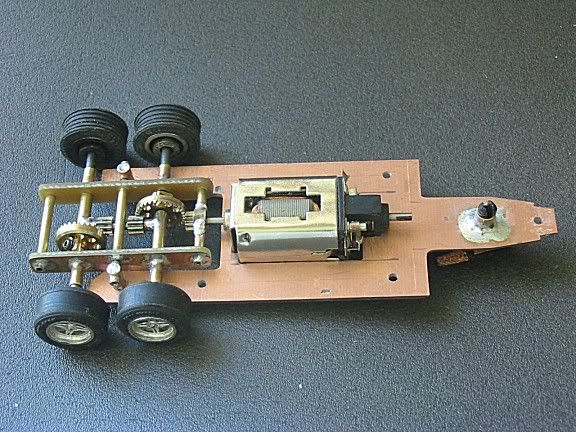 Fortunately a friend of mine had been doodling along the lines of a 4wd rear end and after receiving some drawings, I looked at the task pragmatically and reduced it to its minimum values. What I came up with was a four wheel drive bogie. The first contrate being driven by the motor and the second contrate being driven by a short shaft from the first. The cradle that the gears and axles sat in pivoted on a central point. This was to ensure all tyres sat on the ground. There was an unknown factor regarding torque reaction with this bit but I decided to get a prototype running and take it from there.








Basic drawings were done to establish dimensions and the model was assembled on a PCB circuit board chassis. As half expected, the rear end tilted on drive and over run so the final solution was to sand the tyres evenly and with the model sitting on a piece of track, a small side bracket with a locking screw held all in set position.

The body had to be extended at the back and afterwards painted and decorated. Although the original car never actually competed in a GP I decided to finish the car in the Saudia livery. The real car had a hump over the engine and this too I left as the main exercise was the four wheel drive rear end. The original model had an SCX RX81 motor in it as these have the longer shaft necessary to reach the first crownwheel. This motor was replaced by a Pro Turbo motor to give it a little more straight line speed as it wasn't possible to reach an optimum 3 : 1 final drive ratio.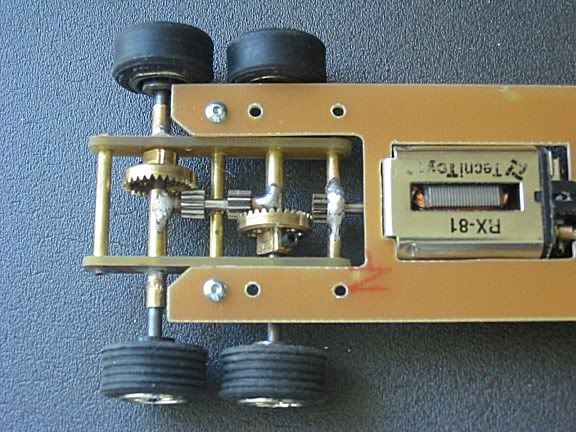 Once finished it was a case of final sanding for four new Scalextric Mini tyres and a few touch in jobs about the model. It looked very smart in it's Saudia livery and I was hoping it would be even smarter on the track.

Once on the track it was apparent that the noise being generated by its gear train was also responsible for its lack of top end. Tamiya Fine polishing paste to the rescue and the gears were bedded in for fifteen minutes or so before a final wash down and lube with neat STP additive. The model was still a little off the expected pace, probably due to friction losses, but its speed in turns was remarkable. The rear end sat on the track as though it had a magnet in it. Only thing was, this was a board test!!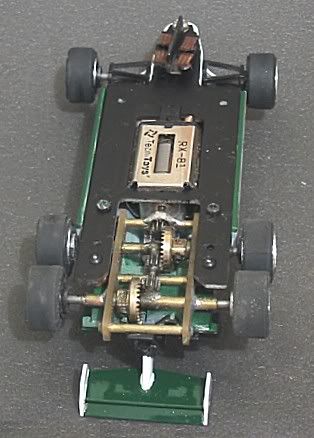 It's final testing was carried out after the gears had quietened appreciably and even though it wasn't going to break any lap records it was and still is a joy to behold on the track. I have to admit to not racing it far several months now but I have this very day removed it from its place on the shelf and put it back in my race box for outings next Friday (board track), Saturday (Carrera) and Monday (Scalextric Sports)!