.
.
BMW M1 Schnitzer Gp. 5
JPS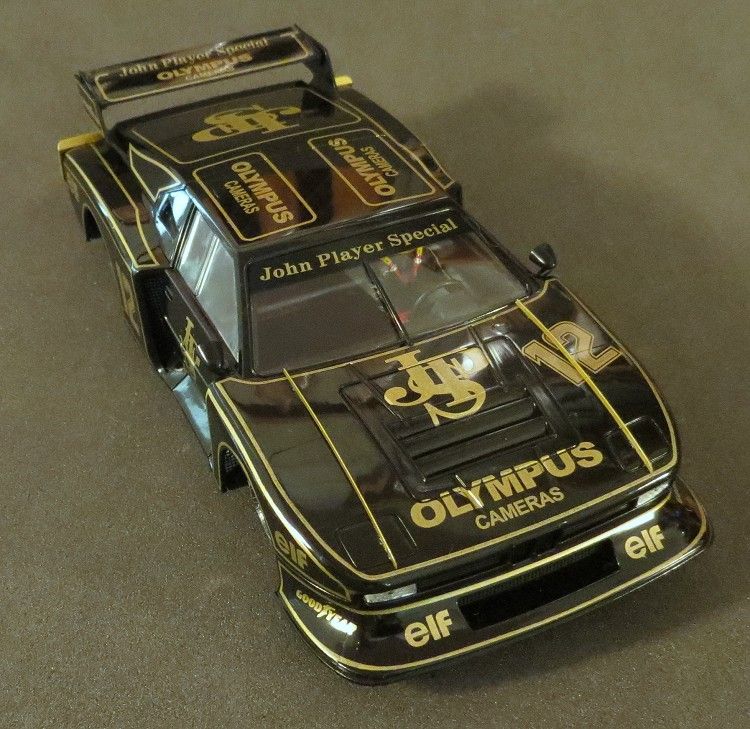 by

Phil Wicks




With the falling through of a deal BMW made with Lamborghini to produce a mid engined road car, BMW decided to go it alone and the first results were a twin cam 3.5 litre mechanically fuel injected straight six; remember now, this was the mid seventies, and by 1978 BMW went into production and supplied their baby to the public. The street version of the M1 (Designation E26) produced 204 kW and the soon to follow racing version pumped out a healthy 634 kW.









The car was hand built and had to comply with homologation regulations before a full on assault could be mounted in International motorsport. Four hundred and fifty three were eventually produced in total, with only 20 being full on race versions. These were to comply to group 4 regulations requiring 400 vehicles which were built by several makers. Intended for public sale and with some poor publicity, the model was set to fail. The solution was to inaugurate a one-car series which BMW then did, calling it the Procar Championship series. The short lived one-make Procar Championship series lasted two seasons, the only two winners being Nicki Lauder and Nelson Piquet, both driving for BMW Motorsport.




Schnitzer Motorsport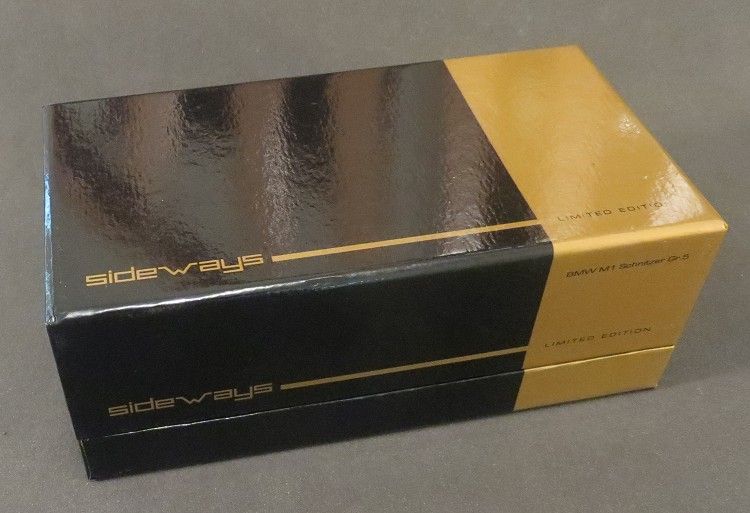 The next link in the car's history is Schnitzer racing, Schnitzer was formed in the sixties by two brothers who had been introduced to competitive motorsport by their step father, and success soon followed when they self tuned a BMW 2000 Ti to take out a German national class in 1966. Success followed in various saloon car events and soon the team were tuning cars for customers, one of their first successes was when, in 1969, Ernst Furtmayr won the European championship racing a Schnitzer tuned 2002 Ti.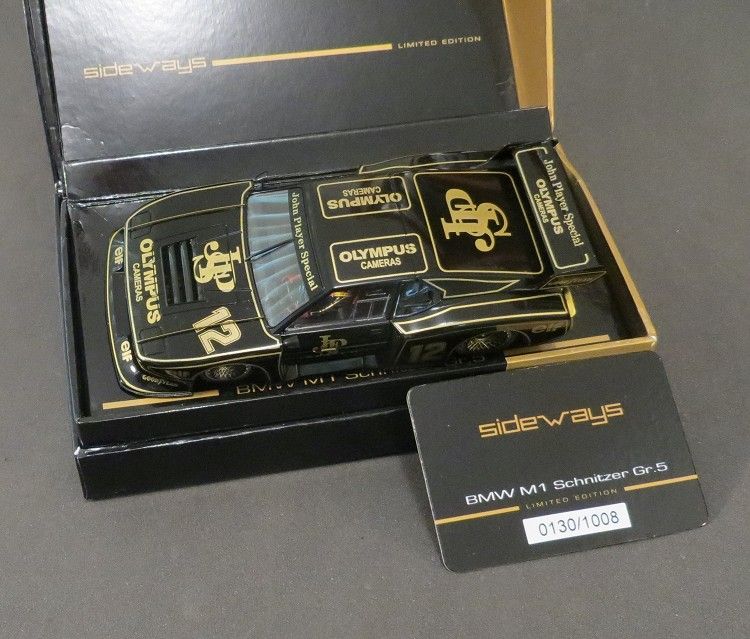 BMW M1's on eBay





Schnitzer went from strength to strength building engines and chassis for resale, and most of all, for the German BMW motorsport team, taking them to many motorsport victories over the following years. Such famous names as Winkelhock, Stuck, Ravaglia, Cecotto, Mueller, Priaulx and many others have sat behind the wheel of some of the greatest racing sedans of all time carrying the BMW and Schnitzer names; and many have won Touring and GT Car titles across all continents.








The BMW modeled here was a later version of one of the original cars. With the demise of the Procar Championship, the cars found there way to other hands and other disciplines. They were even brutalized by having V8 engine swaps! One discipline they gravitated to was the popular Group 5 (4th generation) racing. Although it was outclassed by the Porsches in Group 5, it did enjoy moderate success in Group B endurance racing in the early to mid eighties.








As hard as I look at the internet and at BMW Motorsport and AC Schnitzer racing, I can find neither hide nor hair of this model (except for the Sideways model?). Maybe it is a fantasy livery much like the MSC De Tomaso Jaegermeister livery? This aside, the JPS livery finishes the model well and this is still a very appealing model.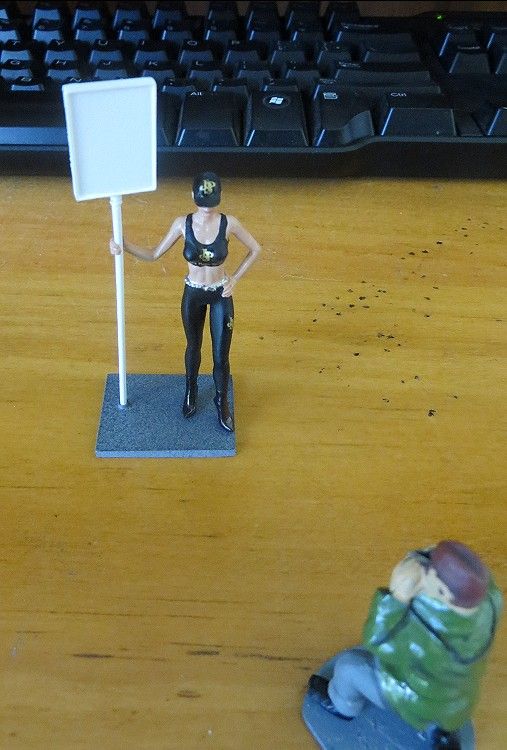 So on to the model and more so onto the limited edition. This is an edition of 1008 which seems a funny number, but none the less, it is not a long production run. No doubt the model is made in other liveries which can undermine its 'Ltd. Ed." status. You get a card which declares exactly which model you have and besides this you get a model of a pit babe or grid girl with a blank placard. The girl is one of four variants, the rest of which I am assured are available separately!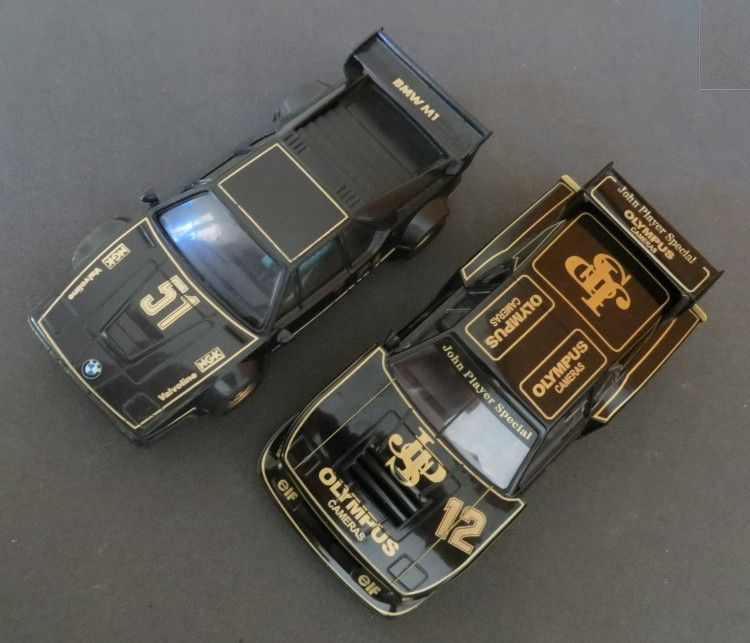 The Scalextricesque clamshell display box is finished in black and gold, or is that brown and gold? Likewise the model itself has a decidedly brown appearance and when placed up against other JPS models is decidedly brown! But does that detract from it, I think not. As with Sideways' other models it is well appointed and the tampo has been carefully executed, and doors and panels alike have a crisp appearance to them.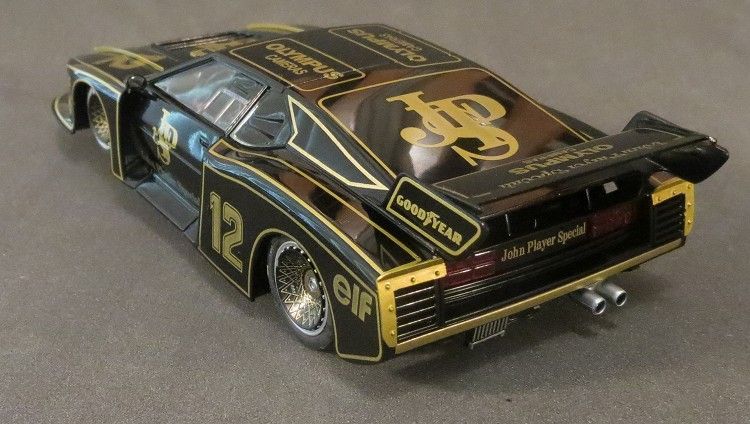 Rear end detail is good and the front too has had some design time spent on it; to the point where the model carries two fine vanes which run the length of the bonnet front to back. Interior detail is present but no time has been spent on dash and interior detail; yet there is a good deal of work in the driver? As with most Gp 5 models the wheel arches are pumped out to locate the wide track and Sideways have ensured the brake ducts contain adequate photoetched grilles for realism.









And once again the artificial wheel trims which hide brake cooling impellers on the real thing are also up to scratch. One of the details I would expect to find, even on an '80's race car would be the drivers names on the doors, wings or roof; this model has none which again makes me think it could be fantasy livery. Lastly from the outside there are far less breakables on this body than some other Sideways models. The door mirrors look and are vulnerable, just handling the model caused the left door mirror to fall out; undamaged, it will be a simple task to refit, or should it be left out 'til its racing days are over, Mmmmmmmm??








Underneath are no surprises and I fully expect the model to be almost a carbon copy of its Sideways predecessors. There are two options for the traction magnet but the rear axle option would best be left for huge tracks with sweeping bends. The traction magnet itself is the standard type and if you were racing Carrera or magnabraid, perhaps the sport magnet would be better, but don't forget kids, check your local club rules before swapping magnets!!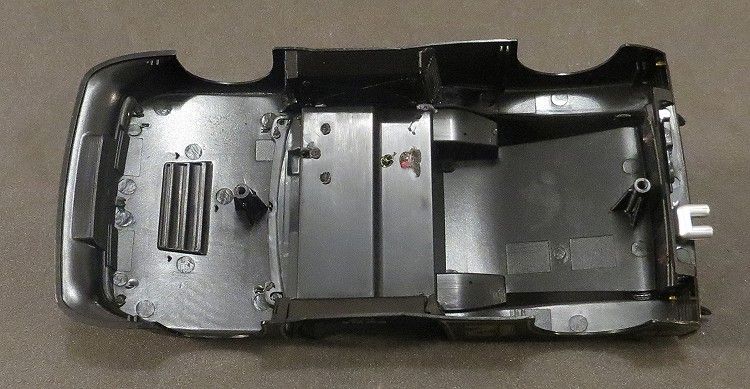 Under the body we see a very clean shell. Very simple, and might I venture, possibly a lot stronger than some of the other Sideways models in the series. I suspect this model will be the most durable of the Sideways cars. Even the body mounting posts are reinforced! Mmmmm!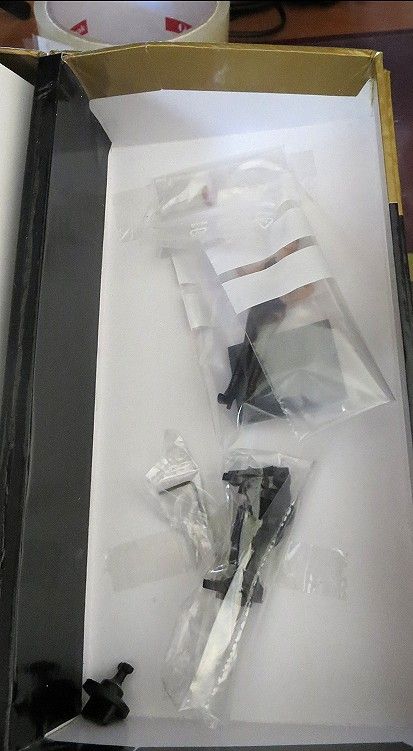 Once again on the topside of the chassis are all the basic Sideways (read Slot.it) accoutrements, and again, like earlier models, the motor and axle heights and offsets are adjustable up to 1 m.m. with replacement parts coming in a little pack inside the base of the display box along with the pit babe and the spare Allen key.








Again, plenty of screws for the racer to play with but be aware, when racing the model as a non magnet car, all the screws will need to be tight to avoid the dreaded 'sloppy chassis hop' I have a Capri which hated left hand corners, and even with the motor mounting screws up tight, it still insisted on juddering coming out of bends. Lost for ideas, I carefully hot glued the motor in! Problem solved! Even though everything was tight! Another warning here, if you do hot glue your non magnet racer motors in, be warned that the Slot.it chassis' are not that thick or rigid (hence the hopping), hot glue from a hot gun will melt and deform some of the thinner parts, so be careful where you apply it!!








I haven't endeavoured to track test this model as I fear nothing new will be learned. Mass production has allowed the maker to duplicate model characteristics across the range without variation. Rest assured, for the Sideways/Slot.it racer there will be no rude awakenings and now on track surprises so you can rest with comfort in the knowledge that this model is another potential winner in the right hands.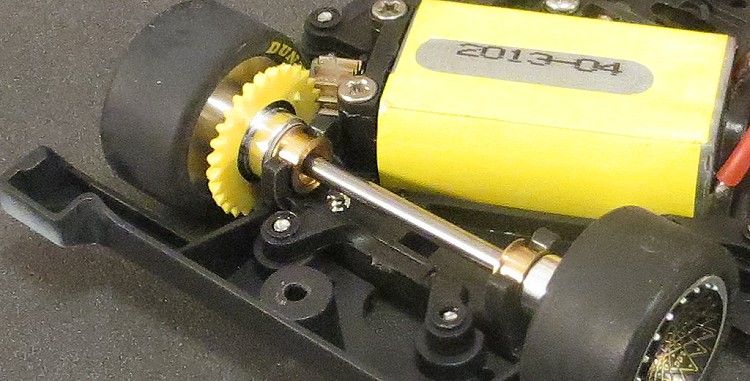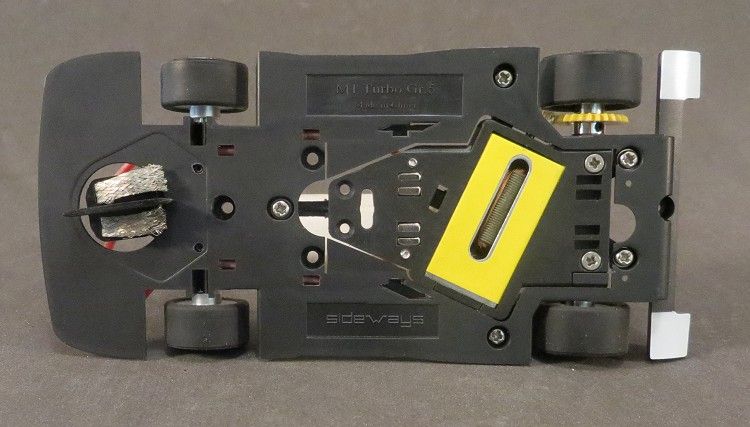 You know what comes next, do yourself a favour…….. etc. etc….. You will love this little black (brown?) baby even if it does look a little pumped out scalewise. The only real criticism I could level at it is the fact that through practicality, Sideways (Slot.it) have given the model those ghastly undersized tyres making it look a bit whompish! But hey! Ian at MJK can soon fix that for you!




BMW M1's on eBay








Locally, this model comes in at about Au$110.00 which is a little bit rich for me, hunting about on the internet will reveal some excellent bargains even when postage is taken into consideration! Mmmmmmm……………..?




Many thanks to fellow Q32 and LCR racer Moby for the opportunity to review this very attractive model!