.
.
Scalextric
Porsche 911 RSR GTE
Le Mans 2016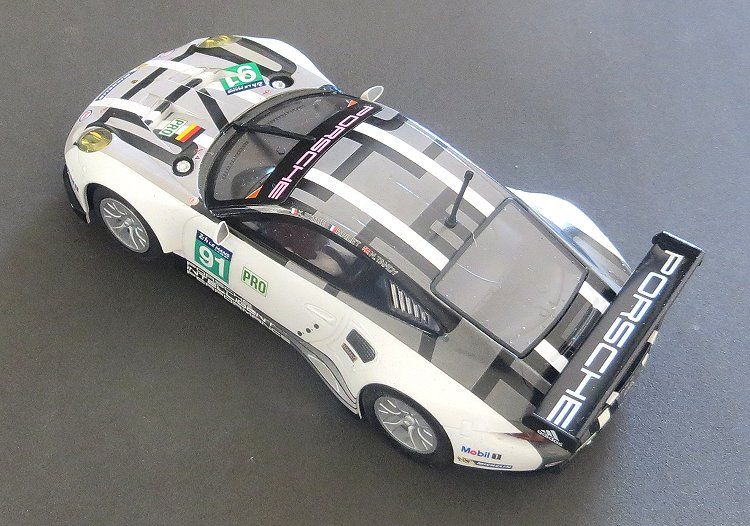 By Phil Wicks.



The regulars among you will come to know that for some little while now I have been including a short narrative of the real car at the beginning of my reviews. The aim of this is to so call put a real face on the model and fill in some of the missing detail which has possibly been the reason you bought the model or intend to buy. It puts a face on the fancy art work and a little bit of history goes a long way when someone hasn't quite made their mind up to purchase,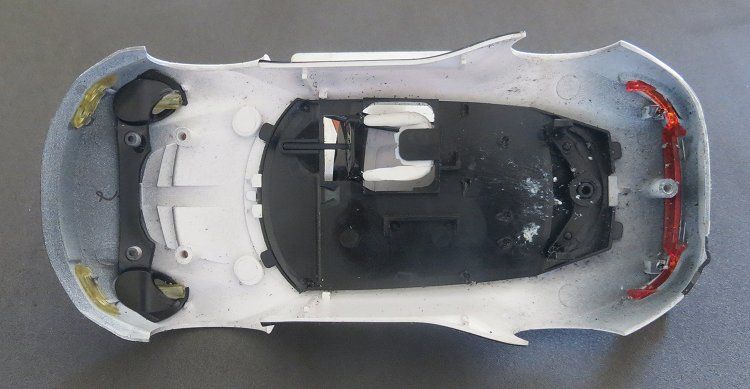 This model is no exception, with the exception that there is not much to tell! The real thing was entered in the 2016 Le Mans GTE class where it was insignificant for most of its time on the track, and, was ignominious in its final demise on lap 135 ! The only thing that captures the imagination is the graphics, and then they are more unusual than spectacular, very reminiscent of the camouflage used on the battleships of WW1!! One thing's for sure, Scaley haven't payed too much for the sponsorship royalties to decorate this model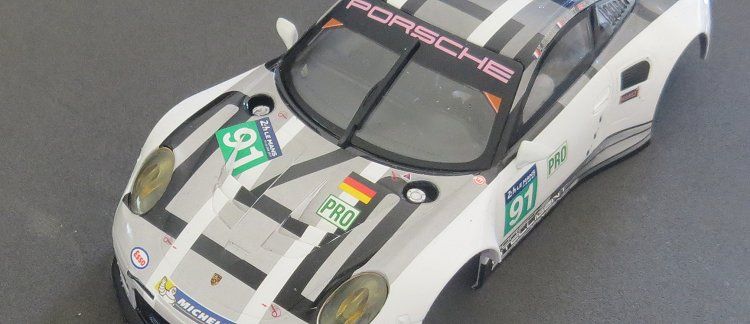 So why have I bothered with it at all! Mmmmm? A little bit of background on the model reveals this is one of the new generation Scaley models and not a revamp of an old mould; and as such, Mr Scaley has brought together and introduced and incorporated new ideas he has been using on other new models to date. The end result is a model which has outstanding performance and high drivability, even on board track, straight from the box. On magnet track, even Carrera low gauss track, it also out performs its peers SOOB! With a little bit of tinkering (blueprinting) this model is almost invincible in its 18,000 rpm motor class. So what has caused this model to be such a barn stormer! Let me see if I can put a finger on it!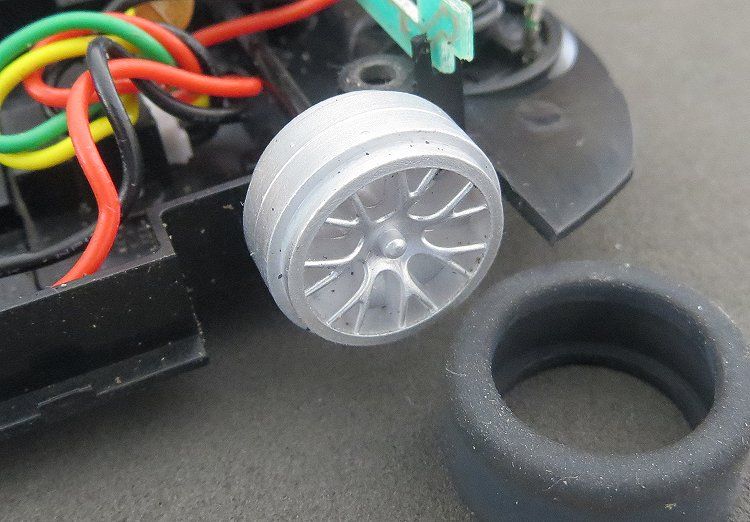 It's no secret that for sometime now Hornby Hobbies (Scalextric) have been using outside help to improve their product, especially cars, in an effort to keep them ahead of the game in home and club racing. There was a period when it looked like they were loosing the plot when one new release after another failed to provide enough energy and enthusiasm among the slotcar buying public. Combine this with late shipments and model delays from China, plus their disastrous warehouse move and IT overhaul behind them, they have been clawing their way back onto the must have lists of a good few home and club racers alike.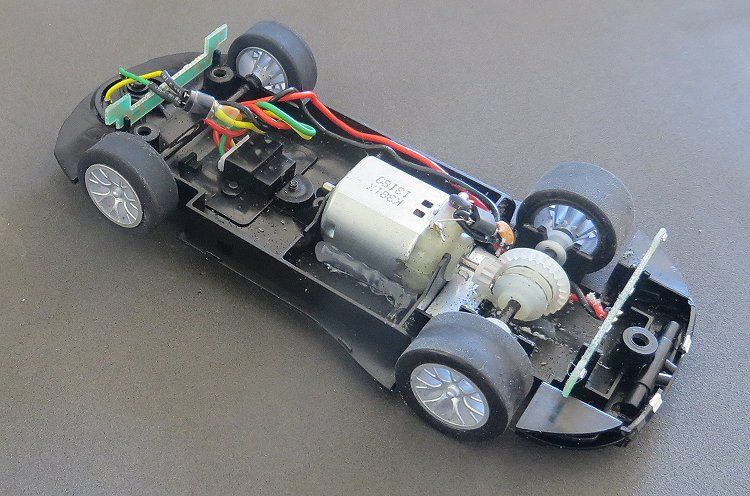 Starting with first impressions, the model is light, and at 74 grams is a good starting weight for blue printing. Not only is it light, the overall weight distribution is at my preferred starting point of 60% rear / 40% front. This is achieved in part by opting for an 'in line' power train set up. It isn't that long ago when all Scaley sports and GT cars would be sidewinders But slowly they are waking up. In line models are inherently more stable out of the box and it is my first scratchbuilding choice too.





The old sidewinder set up has too much weight at the back of the car and in non magnet form it tends to swing the car pendulum style when leaving fast (or slow) corners undr too much welly, loosing tenths with every swing! In a magnet set up the magnet is doing too much work and whereas it generates loads of grip, the model tends to let go unannounced. Also the body is fixed with three 2 gauge screws, another favourite set up of mine. If you race plastic track it is essential to have the body screws slightly loose (half a turn) to decouple the body weight from the chassis and magnet. This will enhance cornering. Also, once the screws are loose the chassis will move freely in the body without further hole filing and chassis sanding!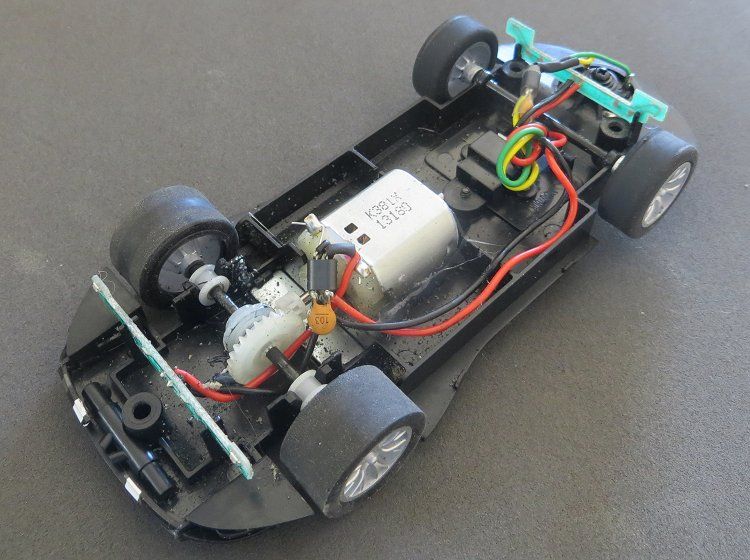 The model sits on all four wheels, again one of my favourite set ups which on most models need some fine adjustment This is needed to give the model some extra cornering stability, especially on technical tracks. Avoid the old school 'tripod' style set up at all costs, and also avoid racing on banked tracks! These are unwanted legacies of past eras. Talking of instabilities, the front axle is good with minimal free play but the rear axle is sloppy in its bushes, plus, the rear axle bushes are loose in their chassis mounts! Something which will need attention if you intend to race it competitively; perhaps a new axle and bushes?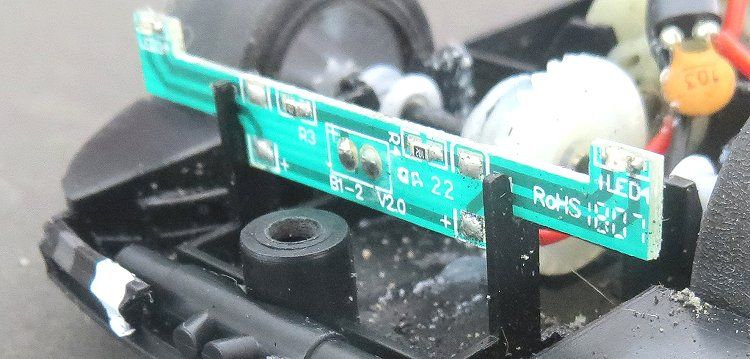 After extolling the virtues of an inline set up, it appears the motor is loose in the chassis!. The simplest solution is to carefully hot glue the motor in place. With the top off the bare essentials are visible and again there are some good ideas (and some not so good) on view.





Starting at the front, the guide is a poor sloppy fit, its only saving grace is that it is a deep guide at 7.0 m.m. deep. This will preclude it from being raced on old Scaley 'Plexitrack' or early SCX track as their slots are barely 5.0 m.m. deep. Also, having a fixed front axle precludes it from being run on tight banked corners; chassis improvements include raising the height of the bracing 'ribs' for want of a better term. These prevent the chassis distorting , even with the screws loosed off. The motor and axle bracing is only 1.0 m.m. thick so I would keep motor and axle removal to a minimum wherever possible. Too much activity will see thes items crack and possibly break quite readily.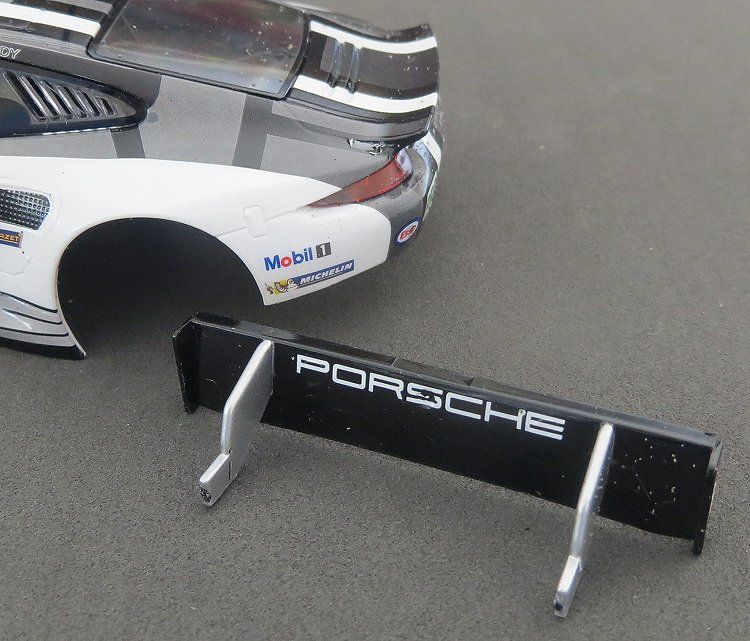 The traction magnet is the usual 25 m.m. rectangular type and is fairly strong at 2.0 m.m. thick. Also Scaley have dropped the multiple magnet position idea too, and not before time either! On my magnet master it produces over 380 grams of extra down force which is more than enough for this lightweight model. Another item for attention at this end of the model is that the rear wing mounts have had a minimum of spot heating and with a little care and a gentle tug the wing will detach itself from the body undamaged. I tend to remove wings for racing.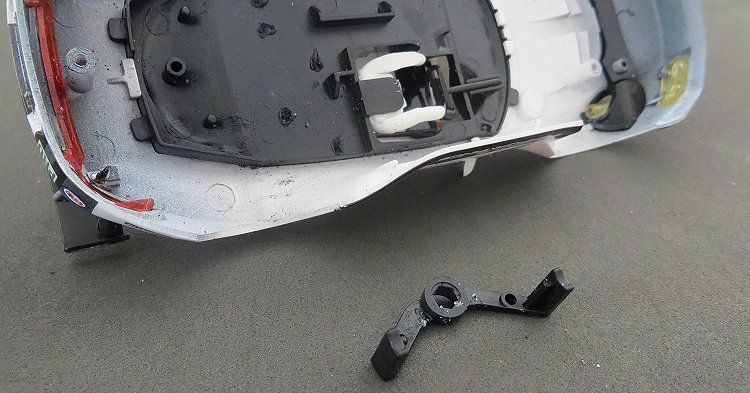 The driver's tray is the clip in variety but I recommend not touching this one as it was not designed to be removed and may well become damaged in the process. Front and rear lights are excellent and throw good light down the track. The body has been masked to prevent light bleed through the body and seems to be very effective





Wheels and tyres are excellent and are a good all round soft compound. Local conditions will determine whether they need treatment; but a light sand out of the box wouldn't go astray for magnet and non magnet racing. Wheels are concentric and there shouldn't be any need to rush out and buy some replacements at this stage!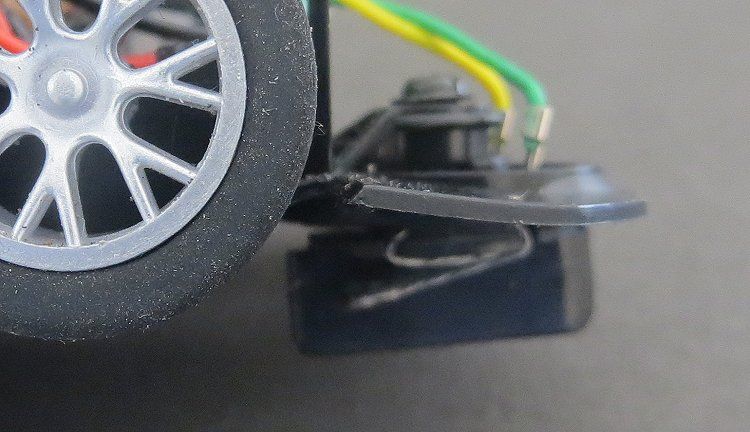 So after a brief shakedown it's time for the track. I chose to run the model on a friends short and technical two laned Scaley Sport track. As expected it is faster than a speeding bullet and its liveliness needs a good controller to reign it in. I would opt for a solid state controller with at least variable brakes and a good wide ranging sensitivity control. Set controllers will not do the model any favours! Pushing off at a moderate pace and slowly building on it the model gets ever quicker and quicker, and unless you back off once the model becomes a blur on the track, you are heading for disaster!'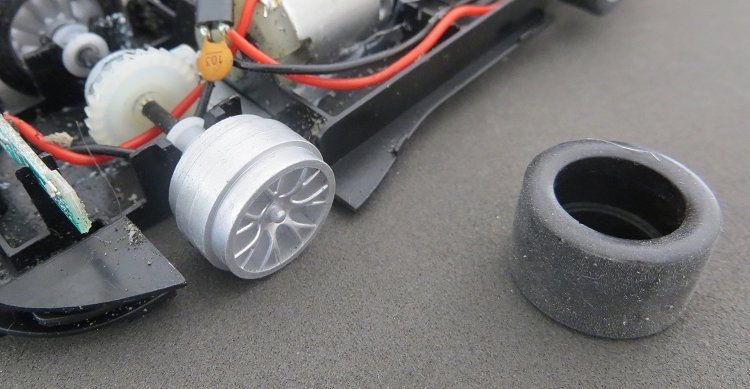 I noticed the model gave off a little body and gear noise, nothing to become paranoid about but it would be nice if it wasn't there. By chance, I loosened the body a little as a matter of course and lo, the noise was gone. I suspect the thin body was acting like a drum skin when screwed tight onto the chassis





Acceleration is good and brakes too are effective and with your controller set to a neutral setting there shouldn't be too much bother! All else is good and the model cleaned up nicely with minimal marks. The model never got faster with use which tells me it is running at optimum efficiency straight from the box; always a good sign in my books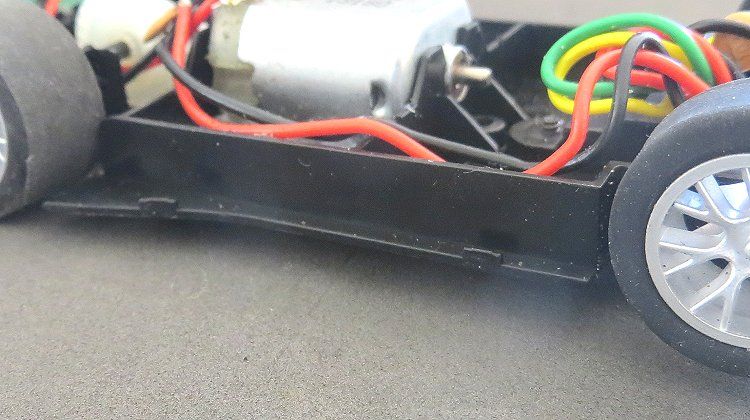 Porsche 911 GTE RSR on eBay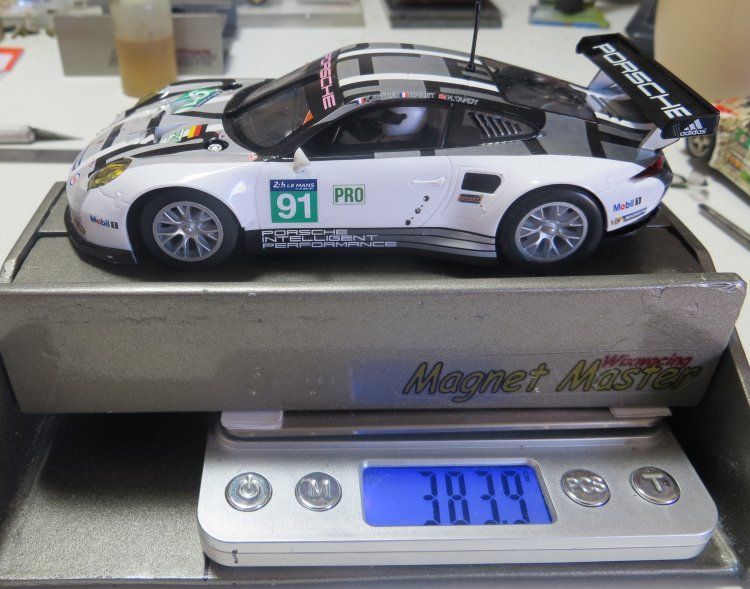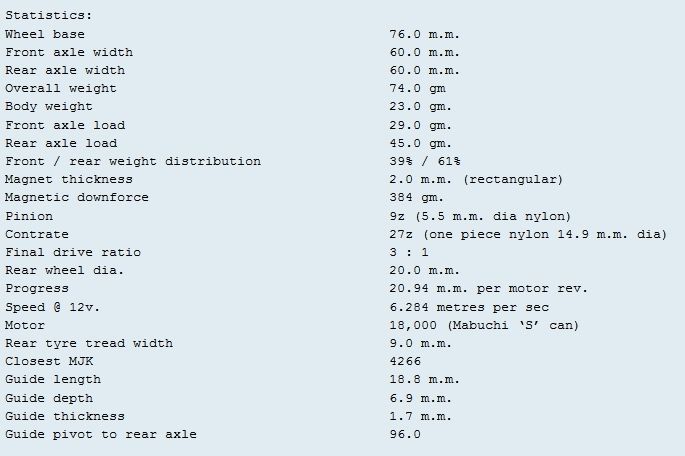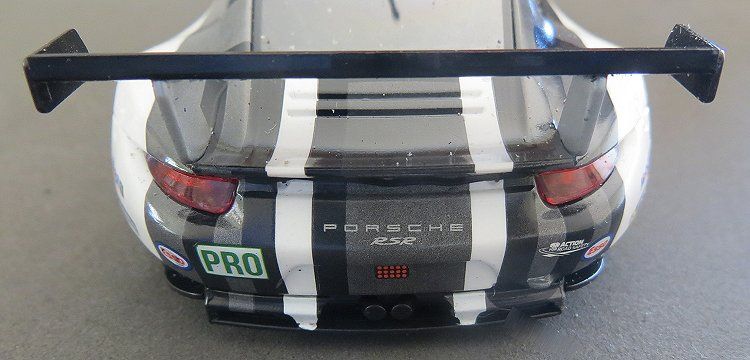 Many thanks to Chris (The Stig - Racing Cars Eagleby) for the opportunity to review this model
Go to Facebook page :
Racing Cars Eagleby