Scalextric/Takara
Xanavi NISMO-Z



By

Phil Wicks





I must admit that when Cartrix released their Takata Honda, I wasn't over impressed. Although the model ran well it was to all extent a straight line machine. It's main advantage was on plastic tracks with long straights. Here in South East Queensland the majority of tracks are about the 20/25 metre mark and have plenty of driver sections. What I refer to as 'high talent' tracks. There is the odd track for the SCM's but very few. With the emphasis on driver skill it is essential that a model is not only quick but "GOES ROUND CORNERS!" some tight ones at that!

A year or so back whilst racing at a trophy meeting on a board track in the city, there was an impromptu event called for the spare time at the end of the meeting. This event was a Le Mans GT1 open event. For any qualifying model regardless of motor. The only model in my race box which qualified was a Ninco Ferrari F50 NC1!! I placed this on the track with trepidation and resolved to pit it against Mabuchi 'S' cans and Ninco NC 2's and 5's plus a few other odds and ends, but after the race started, it was soon obvious this model was a contender! It eventually won the event for two reasons, it had no bad habits in and out of corners, and it went round them as if it was on rails. Any disadvantage on the short straights was soon countered by its sheer overall driveability.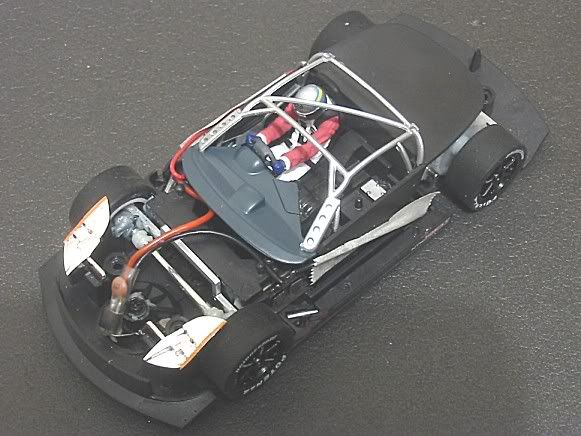 This is more an illustration of the complexity of the tracks in this region. The quick high revving motors can generate their own handicap by being unmanageable on a testing track. The Cartrix Honda is a quick car but a bitch in a bun fight! Every corner is a potential disaster. The Ninco JGTC's fall into a similar category but they do have the advantage of being a little more controllable in a tight situation on a drivers circuit. On a board track they are (after gluing the motor and other loose parts in) capable of putting up a race winning performance but sadly, on their home turf (plastic), unless you have six metre straights, they are still behind the eight ball! Why, because Ninco persist in using that long motor at an angle and forcing the use of a traction magnet to far up the chassis whilst Scalex and SCX have got their act together and have it closer to the business end of the car!

The end result is that the new Scalextric/Takara slot cars are inherently at an advantage before they are even out of the box!! With this in the back of my mind and some high resolution pictures to help I soon decided this was the time, with the help of Mr Hornby, to make a decisive move and acquire one of these temptresses in Nissan clothing. Five days and Fifty Au dollars later, courtesy of Scalexworld, Adelaide, this little beauty was being unpacked at the meal table on a Tuesday night. Out of the box this little beauty came and after dinner, on to a neighbours tortuous and twisty home Scalextric classic circuit it went!








I must say I wasn't surprised at its out of the box performance. This model has been designed and put together well. Nothing rubs and nothing rattles and best of all, nothing scrapes along the track in corners! Firstly, the model is another very striking car, beautiful artwork, excellent tampo and superb fine detail, but I am still curious as to why a Japanese touring car doesn't have any Japanese hieroglyphs on it though? Looking round the model for vulnerable bits I noted that the exposed items have been made with slot racing in mind. True! As I sit here, the model has bendy parts!! Firstly, the roof aerial is made of a neoprene or similar type of material and is a true bender with a stout base! The front and rear tow hooks too are a bendy yellow!! Yes, yes, it gets better! The DOOR MIRRORS! are of a soft pliant material and a person would have to be pretty ham fisted to loose these in a racing incident!

Of the vulnerable plastic parts, the rear wing has some sturdy supports, again, you'd be unlucky to loose this in a melee. At the front the air dam and the fins higher up look a bit vulnerable but time will tell if they're up to it. All else is safe and sound and I would suspect this model will have a low 'racing losses' rate. There have been some retro steps in making this model too. The wiper arm has been moulded as part of the front scuttle and the front screen has a clear air gap on three sides! In this unsupported way, it is a candidate for cracking in a multi car pile up. Also, the clear parts are quite thin and the heat welds are amongst the flimsiest I've seen, good and bad! The model doesn't come with working lights and the lights on the car are very basic. The fronts being a plain anodised moulding and the rears being blacked out. Again, heat welds are tiny and vulnerable. My advice is to keep this model out of trouble if you want to keep your lights!!








The body too has a feel of polystyrene about it and not the ABS type plastic we have come to accept from Hornby. What does this mean? If you are racing fast circuits with good straights, be prepared to loose lights or even to crack the body!!! Because of the thinness and type of body material I would suggest that a spot of super glue is applied to the inside of all heat welds and the body mounting posts are reinforced with a length of polystyrene tube or even a brass sleeve glued over them!

I am reliably informed that this model comes with a different chassis on the Takara model. Thankfully for us, the chassis is a good robust Scalextric style chassis and looks as if it will take a good pounding. It has the superb Scaley round guide which since its inception has been faultless on my Scaley cars but it isn't self centring as marked on the box? Instead, it relies on the tension of the lead wires onto the guide to centre it. Again, alarm bells ring here a bit because I just feel that well used models are going to fatigue the two fine wires which emanate from the RI suppression unit onto the guide!







The interior is accessed by removing the four longer chassis screws. The two shorter centre driver's tray screws can stay in place. The body lifts off cleanly too. No tangling with other parts on the way. Interior detail is good even if it is almost all black. But in fairness to Hornby, the excellent dash details as made by Revell and Autoart are really a bit over the top for a slot car workhorse. On board track the front wheels barely touch the track. Most of the front weight is taken on the guide and on a plastic track with raised conductors, like Scalextric classic/SCX or Ninco I would expect the wheels to hang in mid air! Not one of my favourite poses but as yet I haven't looked to see what is required to lower it a mil. My Scaley Trans Am and Lola MG are probably the fastest models I have on plastic and both of these run on all four wheels. I did originally experiment with the Camaro, setting it up to run on its guide with wheels clear of the track but it lost several tenths a lap and so this much vaunted set up was abandoned some time ago on all my models. Lets face it, if you place two models, one a tripod set up and the other a 4 runner, side by side on a piece of track section and lift the end of the track, the 4 runner is the first to move off!! It must therefore have least rolling resistance and I have found this to be the way to go on my race cars, with great success!

The motor and rear axle are both Scaley fare and play is at a minimum here although the axle sits half a mil to one side. Backlash between the pinion and spur is fair and the model is pleasingly quiet on plastic. Rear wheels and tyres are pretty good and rear tyre compound is a nice soft rubber. Front axle and wheels too are quite concentric with run out on the tyres being minimal. Next is a special touch that looks good yet contradictory. The model has static callipers on the brakes, ie, If you look through the wheels, turning them will show the discs and callipers stationary. I can understand the calliper being stationary but surely the disc should rotate. I know, I know, I'm only nit picking for want of anything better to criticise!! Which I can't find!!








The underside reveals a large removable panel just behind the front wheels. On this model, the panel has a couple of terminals at each end which complete the lead wire circuit. I fully expect that a digital module will clip straight in here giving the car a dual function although the digital module may well be a little different to the Scaley ones so far.

The model sits barely more than two mm above a flat surface and looks the biz. Low and sleek! On the track it is as I've come to expect from Scalextric. On the Wellington Point circuit I gave it a bit of welly from the start. The model is quick, no mistake. It hangs on, no mistake but is it the quickest thing since sliced ice. Well, Mmmmmmmm. Out of the box it's quick, it looks even quicker. After a good few laps it's still quick and still looks even quicker. After several minutes it is still quick and still looks even quicker but side by side with half a dozen other Scalex cars it is not quite quick enough, (even though it looks it!). The Trans Am and MG Lola have the drop on it for two good reasons. The Trans Am has been round the traps and the rear tyres are a bit worn and the traction magnet is really working at its present distance from the track. The Lola ditto, the Nismo Nissan still has a mil or two to wear off its rear tyres.

The model does an oversteer deslot just at the critical moment in a fast corner and this is obviously the magnet letting go. Like other Scalextric models, it has an alternative magnet position under the rear axle but experience with other models tells me this is a bit too severe and the front has a tendency to hop on hard acceleration and will sometimes deslot on downhill sections. So, cure? Either sand a couple of mm of the rears to start with or if you're a social racer, run the model as it is and it will gradually get better and better. Which ever way you go, the footprint of this model and the soft rubber tyres will ensure it is going to be yet another great model from Hornby.








In line with other tests, I tried a few basic mods to determine it's best set up. I next tried loosening the four front and rear screws. I also slackened the two drivers tray screws slightly. This allows the chassis to bow very slightly on the track giving it a little more traction. The other screws decouple some of the body weight (which caries the guide and tyres!) in uneven corners, reducing the effect of the weight of an unsteady model pulling itself off the track. Back on the track and there was a noticeable difference. The oversteer deslotting was markedly reduced and a quiet model was even quieter. After giving it welly for twenty or so laps I cleaned the tyre with residue free hydrocarbon. The end result was a model that was only off the Trans Am pace by three or four tenths on a nine second lap without spending any money on it.

Board track performance was up to the mark with the model being run on the Red Team's red lane. After running the track for an hour or so with other models I placed the Nismo on red lane for its non magnet debut. Being a broad car I got right into it and started pushing it. With no tyre treatment it drove well and was smart off the line, A little sideways, but on standard rubber that wasn't a bad sign. Pushing fairly hard it managed the sweepers with a little tail out action without loosing too much progress and on the tighter infield corners it showed a rhythmic slalom movement through the 'Esses' totally in control and very pleasingly quiet to drive. Best lap time after twenty laps was 7.859 secs. Not bad for out of the box, (body screws had been retightened for this test) next was to slacken the body screws, this is not so critical for board tracks as the corners are usually pretty flat and the traction magnet is superfluous. Again, after a period of about twenty laps the fastest lap was recorded at 7.621. I suspect the tyres were bedding in too.








Stage three tuning saw a minimum of tyre sanding and the tyres treated with a non silicone spray lube (WD40). The tyres were then dried of and the model placed back on the track. Best lap was recorded early on in the piece with the model lapping at 7.228. The strangest thing was that models this quick on this track usually become airborne on the 'yump' in the back straight and don't re-enter the slot, ending up in the foam at the end of the straight. This model was almost an exception as it only deslotted a couple of times here?!

So, a good run with this and no abandoning the testing. The model demonstrated a slight front end hop accelerating down the front straight but it didn't leave the track and if anything, a few grams of lead behind the front wheels would minimise this. After stage three tuning the model was steady into and round corners. Corner entry speed was particularly high and the odd misjudgement was accompanied by a sharp tail out but again no deslot. Straight line speed was on a par with other Scaley 'S' cans and acceleration was impressive too.



Statistics


Wheelbase					80.5 m.m.
Front Axle width				61.5 m.m.
Rear Axle width		        		62.0 m.m.
Overall weight		        		93.0 grams
Front Axle load		        		36.0 grams
Rear Axle load		        		57.0 grams
Front / Rear weight dist.			38.7% / 61.3%
Pinion						11z nylon
Spur gear					36z nylon
Final Drive ratio				3.27 : 1
Rear wheel diameter				21.0 m.m.





I am once again duly impressed by another Scalextric offering. Apart from concerns over some thin plastic and some scant heat welds, I am not the kind of driver who puts a model at risk by driving to win at any cost. I minimise the hard work the model has to do and avoid potential disasters by staying in front of them! I am looking forward to racing this on a couple of local plastic tracks soon and the Four Seasons Carrera track especially. I am still captivated by its stunning Red and Silver livery and along with all my other favourite models, it is destined to be a resident in the race box for some time yet.