SCALEXTRIC




FORD ESCORT MK 1




By

Phil Wicks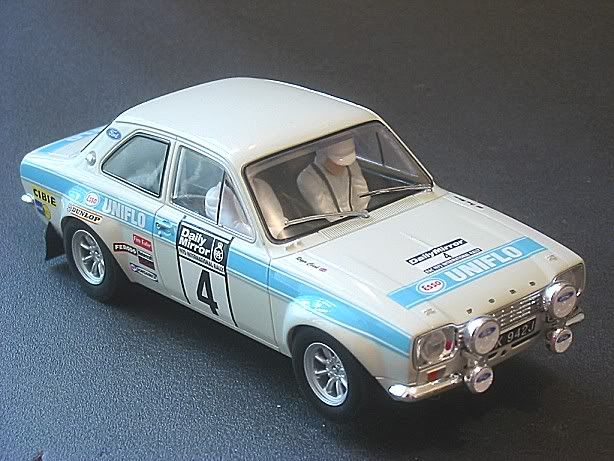 As fully expected last year , this year is going to be an expensive year for racers and collectors alike!! With several super desirable models released already and more to come I am already looking round to see where I can trim a few bob off daily expenses! Run the car on low octane fuel and ignore the noise, avoid expensive car trips, go to bed early and only have one bar of the electric heater on. Mmmmm, don't think that'll be enough though? Maybe I'll cut back on the grog ! That'll be hard! I don't smoke so that's out. Ah well looks like it has to be down to one meal a day! Cornflakes. Whatever you decide, it's going to be hard diverting funds to the hobby. When models like this come along it is understandable that resistance is futile, and in the case of the MK 1 Escort, for good reason. A visit to South Australia for family reasons saw me being able to drop in on Clive and Kevin at:


Four Escorts later (I was buying for the Red Team too), I was leaving the shop like a dog with two tails!!


The Ford Escort came to life in the wake of another famous Ford model, the Anglia. The Anglia started life in the late forties as the E93, then moved on to be the revolutionary 100e (originally designed by Jowett) and finally the 105e. By the mid sixties, Vauxhall (GM) had released the Mk2 (HB) Viva. It was an instant success in motor sport in general with several leading race tuners taking it up, Sir Jack Brabham being one, and the alarm bells may well have been ringing at Ford who were still committed to the 105e Anglia. It wasn't too long, though, before Ford got their act together and had the MK1 Escorts rolling out of Dagenham. Instantly adopted by another whole group of after market performance shops and Ford's competition department too, the car soon eclipsed everything else in its class. Like the Anglia name, Escort was to become a byword in motorsport and longevity was assured! The rest, to use a classic phrase, was history and at least two generations got to experience the thrill of the Escort sporting legacy.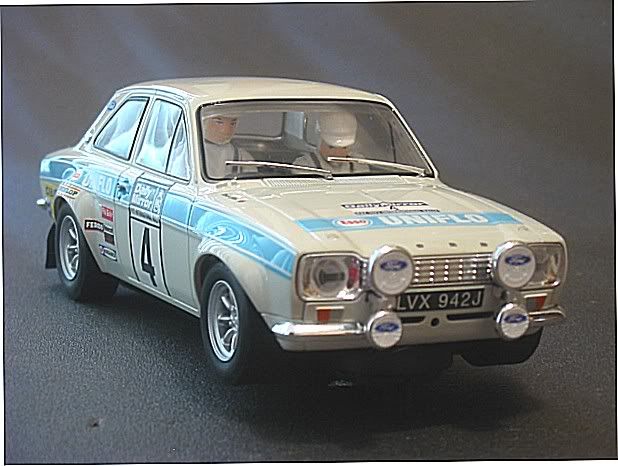 This is another great model from Hornby and with their improvements in slotcar design in the last couple of years, models will be getting better and better. No choice of standard or sport, just good old fashioned out of the box. The model looks instantly great for those that remember them. The white body and pale blue livery are very well finished and tampo is impeccable. The car depicted is the Esso Uniflow sponsored Escort RS 1600 as driven by the great Roger Clarke and navigator Tony Mason in the 1972 RAC - Daily Mirror International Rally.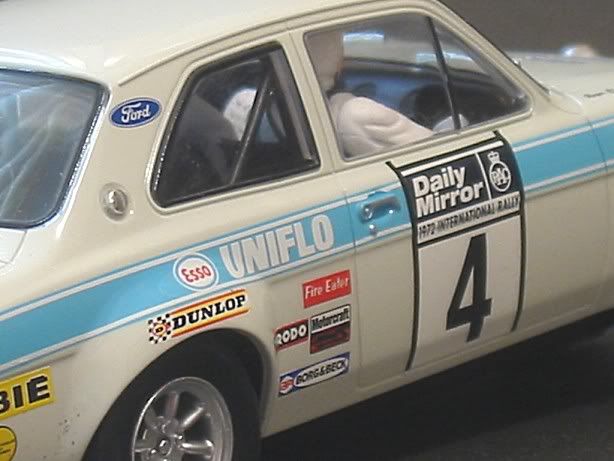 As well as the crisp depictions of the sponsor decals about the model, the vehicle details, too, are good. Front and rear light detail is good and on the track the lights are instantaneous with the throttle. Not only that, the use of directional LED's sees the model throw a clear and defined beam in front of it. A recent board track sortie saw us doing some very competitive racing and when we decided to kill the house lights, the models threw out more than sufficient light to see what was happening. But, an observation here is that there is light bleeding through the plastic body front and rear. In daylight only the red at the rear is noticeable but in low light the front body also lights up a little. At this stage of development and with micro electronics being what they are, maybe we can expect a switch for the lights or (imagination running wild now) a light sensor which will switch them in and out with ambient light conditions!! Now there's a thought Mr Hornby!!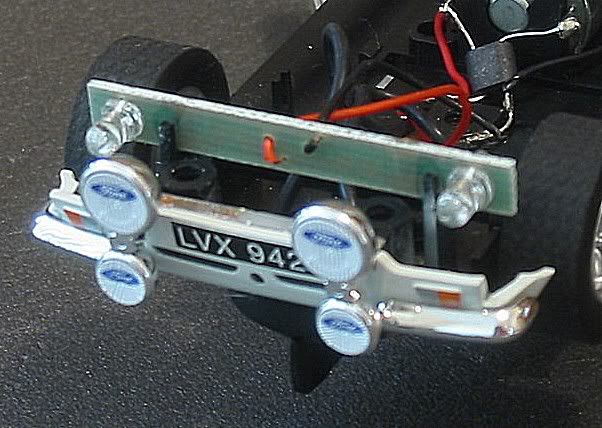 Other body detail includes neat wipers, a cute pair of mudflaps to the rear, window seals and quarter glass frames, front and rear bumpers, door furniture, full grille and even the model lettering is picked out across the boot and bonnet. The headlights even carry the H4 spec Freznel lens and the driving lights to me look like CIBIE spot and fogs.






These driving lights initially look a bit vulnerable but on closer inspection they have been given some comparatively sturdy mounts which should endure in all but the heftiest of front-enders! For those who are still sceptical, the driving lights simply lift out when the body is separated. Intentional or not, it's a good idea.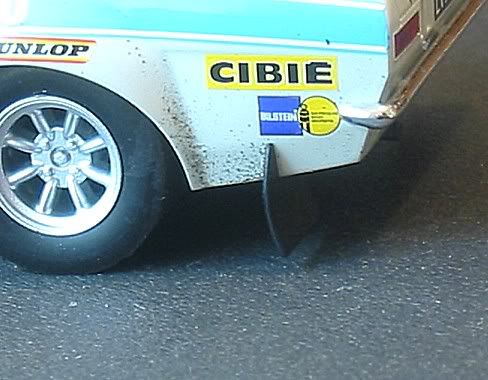 The flared wheel arches, too, look the biz along with the flat finished 'Minilite' wheels and fully treaded tyres. Inside there is plenty of detail although, with a black interior, a lot is hard to see. There is a battery mounted centre rear, full dash, roll cage and floor detail including the stage monitor in the dash on the passenger side and apart from the driver there is a navigator who has had his head posed! Obviously reading the notes depicted on his clip board. Another good touch. I was getting a bit bored with the 'Smothers Brothers' in Rally cars. the whole model looks a million bucks. Far too good to put on the track but on it must go! Eventually.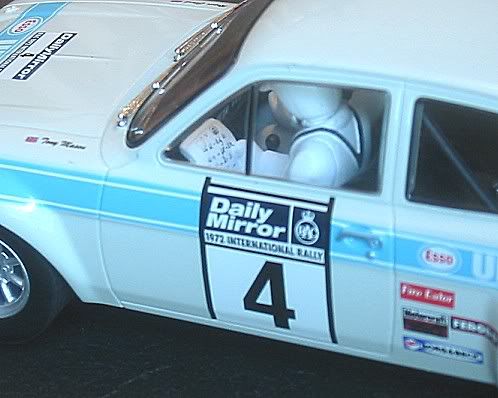 Looking under the model I see another no nonsense chassis. The guide is the tried and tested Scaley self centring, round guide with quick change braid plate. I've come to like this and now prefer it to all sorts of standard 'flag' models. With this guide the model seems to be able to hit corners a lot harder without fear of deslot. I can appreciate this is mostly due to the traction magnet but I just feel these guides, with their lower side and end play, contribute to stability a bit more than the old guides. There are six screws to hold it all together. Not my first choice but for magnet racing its less of a handicap. The front and rear screws hold the chassis to the body and the centre two countersunk screws hold the interior detail to the chassis.






First observation here is that the body mount screws are in very deep wells in the chassis. The plus to that is that it allows shorter mounting posts and in my view, reduced risk of mounting post failure down the road. The longer screw wells also look like they allow easier body reassembly with screws and bits being kept away from chassis parts like wiring and light circuits. All (6) screws need to be removed to take the body off the chassis. The guide is mounted as close as is physically possible in front of the front axle. Again a feature I like as it puts the wheels close to the turning arc of the guide and should minimise sideways drag on the tyres in corners on plastic track.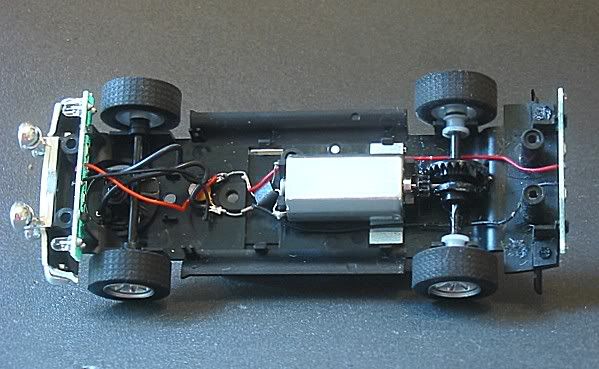 With the top off there are no nasty surprises either. The now familiar 'F' can sits OVER! the traction magnet and is very well fixed in its mounts. It has the normal RI suppression in the lead wires and the front and rear lights are tapped into these. The rear axle is well mounted in nylon bushes and the final drive is the normal fare. Again, minimal movement in all these items. The front axle, too, is firmly in place and the braids just allow them track contact with the body in place. Wheels and tyres are well moulded and there is no extraneous sprue on the rims of this model and eccentricity is negligible. The tyres are concentric and are familiar. They do have a slightly concave tread area though but again, this will be negligible for plastic track use and a light sand will give the desired results for non magnet / board track use. One observation in early track testing was that on Classic Scalex or SCX track there was a tendency for the contrate recess, which protrudes under the chassis rear, to get hooked up on bad track sections and uneven joints so be very frugal with tyre sanding and keep it to a minimum.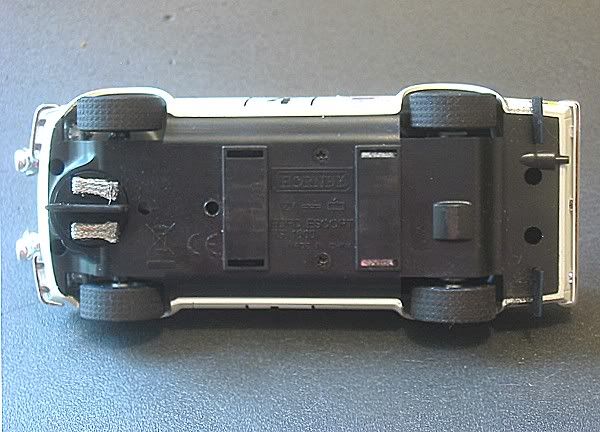 On plastic tracks the model gets smartly away even with a 60 ohm controller. Lights are instantaneous and the model is very quiet. In line models lack that whine which angle winders do so well and on classic cars it seems only fitting not to have it. As with previous offerings, the model is VERY quick when used on small to medium home circuits. Too quick really. Destructively quick would be an accurate assessment! These models need twelve volts at the very most. Running them in the high thirteens and above is senseless for models which have the power to lap not much slower than the F1s and Trans-Ams but not the ability. So for my plastic test drive I decided to keep the model off its maximum potential by keeping my second finger under the controller trigger to reduce its movement.



The model is very smart off the line as the F cans have already demonstrated and there is also sufficient braking effect. No lock ups, just a quick, steady decrease in velocity. Corner entry is fine too. The traction magnet is very effective and it is only the models higher centre of gravity which occasionally cause it to roll over when hitting corners too hard. Acceleration out of corners is very rapid and the model behaves more like its stable mates by hanging on tight out of bends even when substantial throttle is applied, leaving the corners like a slingshot. Again, very quick laps are achievable with this model but when it deslots, it will be unannounced and blood curdling! Your first reaction will be to look around for stray parts! So what to do. My solution would be that if you are using it on a home track of up to twenty metres lap length I would seriously consider a power hop down of some sort. The system currently in use at my local board track has the ability to reduce power by stepping down voltage with a rotary switch and a series of ceramic five watt resistors of graduated values. This enables models to be driven well with a competitive edge but takes away destructive straight line speed. For those with the spare readys, a more sophisticated power supply with full voltage control would be the way to go.
Specifications

Wheelbase					5.0 mm
Front axle width				50.0 mm
Rear axle width					50.0 mm
Overall weight					79.0 grams
Front wheel/guide load				35.0 grams
Rear axle load					44.0 grams
Front / rear weight distribution		44% / 56%
Pinion						9z
Contrate					27z
Final drive ratio				3 : 1
Rear wheel/tyre diameter			19.0 mm
Motor						Mabuchi 'FF'  18,000 rpm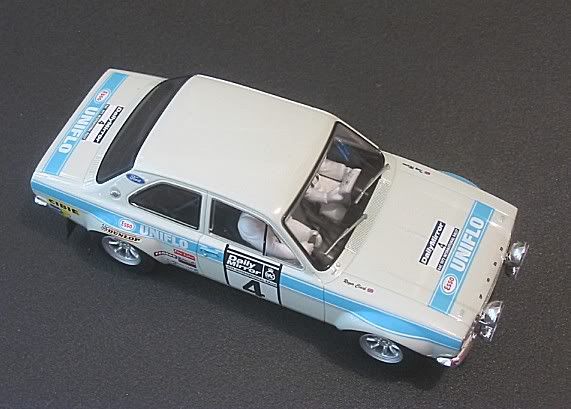 On painted board track the model is still very quick off the line and out of corners. The model's footprint has a good wheelbase / axle width ratio and with a lower model it would behave very well. Like a lot of classic model sedans on the market, it is just a little too tall in comparison to its (good) axle width to give trouble free non magnet use. Ballasting will be necessary to reduce the corner roll over tendencies when pushed hard. All the same, it drives amazingly well and on 12 volts it is still fast and exciting. And with its superb headlights it has become a firm favourite.