.
.
Revo Slot
Porsche 911 GT2
Le Mans 1998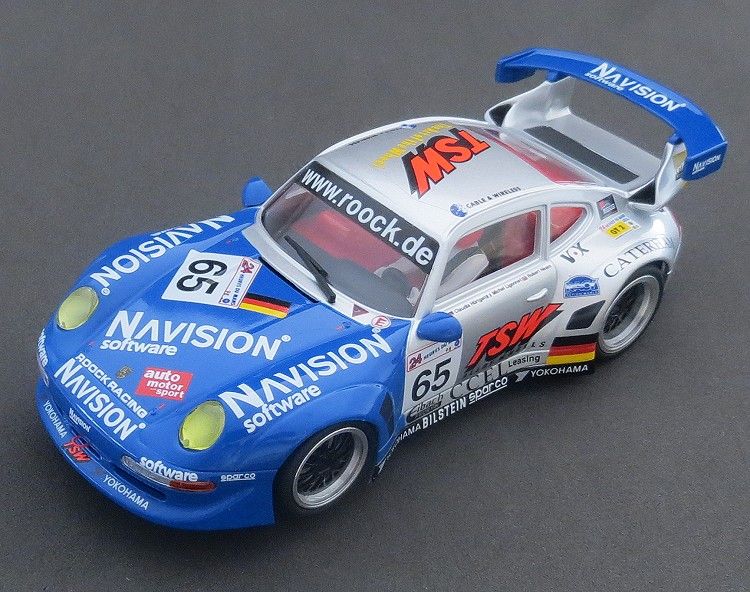 By

Phil Wicks



Roock Racing is a motor sport development organisation based in Leverkusen, Germany. Brothers Fabian and Michael originally set the business up in 1984 and from the beginning specialized in tuning Porsche products. In 1998 they fielded two 993's in the GT2 class at Le Mans, with the 65 car being driven by Claudia Hürtgen, Michael Ligonnet and Robert Nearn. The cars were heavily modified Porsche 993's with 3.8 litre turbo flat sixes. There is some confusion at this stage as our model is stickered up for the 65 car but carries the drivers names for the 64 car??!!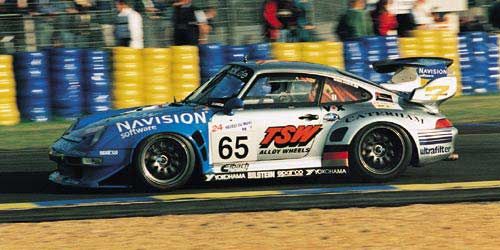 The real thing!



Roock Racing joined in international GT2 racing in 1996 where it scored several wins, the same year it won its class at Le Mans in a lightweight 993. with an engine producing 600 bhp. It was more difficult in '98, and with the competition getting serious it had to share results with the newly dominant Viper GTS-R. At the 98 Le Mans, the team managed a 17th and a 22nd overall being 3rd and 8th in class.



Porsche GT2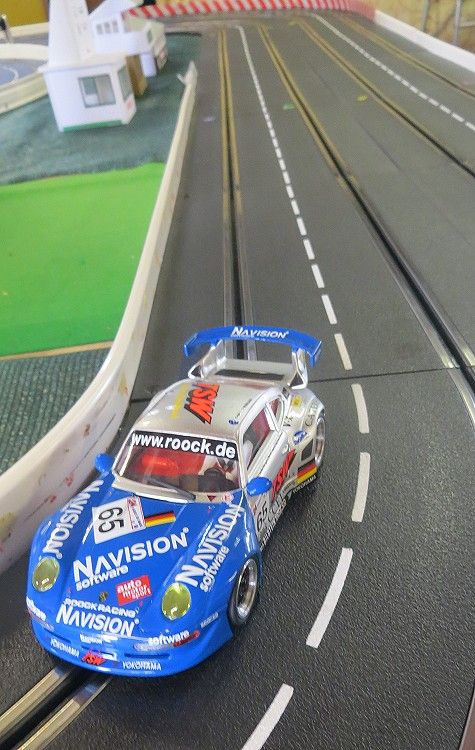 As already mentioned I'm nnot sure if there is an error with the model or Le Mans results but the model is distinctly bearing the wrong driver details, but this won't affect its performance, so lets move on!. This model is hopefully the first of many from this manufacturer with the Panoz Esparante, Marcos LM600 GT2, Lister Storm GT1 and Ferrari 333 SP, all of which will carry BRM slotcar running gear . The body is a good scale and the footprint will be the envy of many manufacturers. Tampo is mostly good and the model has a good shine to it. Door mirrors are out of the roll over zone and pretty snug. Clear parts are moulded well but it would have been nice to see a little more detail with the lights. They are quite plain and unimaginative!.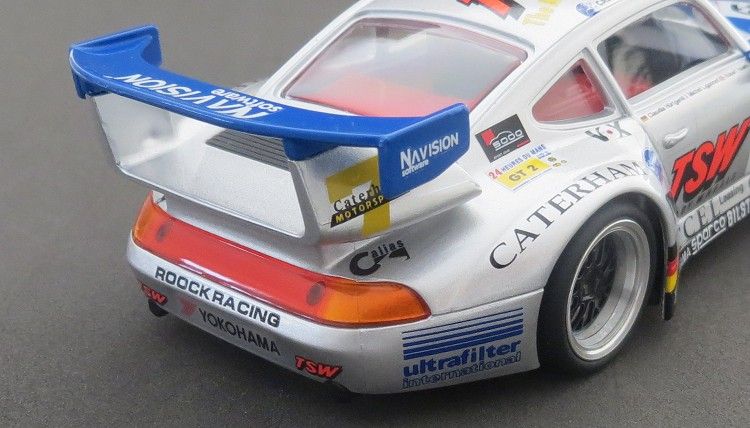 Poor lights both front and rear



Clear parts sparkle and the very red and very basic interior is clearly visible. Maybe the keen modeller could easily remove the lexan driver's tray and tart it up a bit; strangely enough, Revo Slot have installed a multi gauge dash by contrast? The 'what would be normally vulnerable' rear wing is made of stouter stuff and unless you or your mates are crash merchants, it should live to a ripe old age!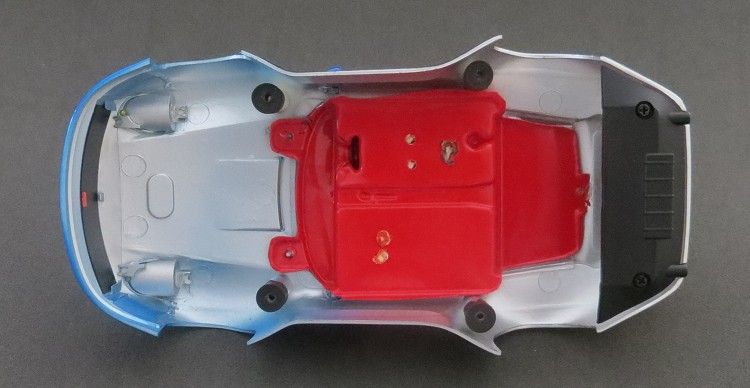 Red lexan!



Under the model the makers have tidied up the rear end with a screw fixed rear valance. While I have your attention I will mention that the model has a two piece chassis fabricated from 2.0 m.m. flat aluminium alloy plate. Everything else in the model is fixed to this plate by a combination of countersunk set screws and Allen bolts. The motor is clearly visible and sports the information that the model motor revs to 21,000 rpm @ 12 volts, and in doing so produces 200 gm/cm torque!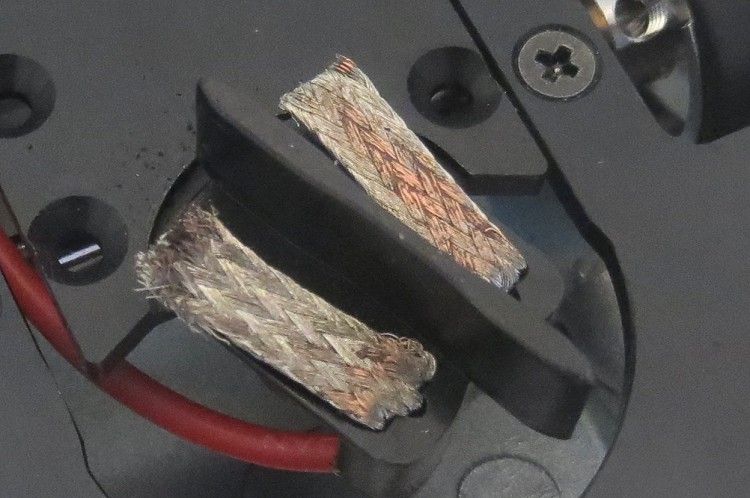 'Hour glass' guide

The guide is a shallow plastic track guide but don't worry; a 7.8 m.m. deep guide comes with the car! The guide is furnished with a medium stiffness tinned braid material which should work well on nearly all track types. Another good feature is that the guide blade has been 'waisted in the middle, and the leading and trailing edges are chamfered, this should overcome the models potential tendency to wedge tight in narrow track corners corners, or more likely in the SCX and Scaley 'inner/inner' curves, something which so badly dogged the Scaley V8's in the early days.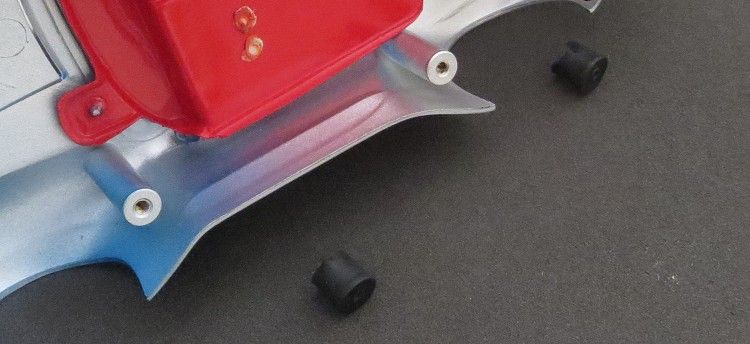 Taking the lid off we can pay more attention to the business end of the model and very nice it is too! Firstly, the chassis assembly is held in by four chrome screws, these are metal thread set screws and they screw neatly into inserts in the body mounting posts. And as a thoughtful touch, there are four little synthetic hoods which sit over the posts, between the body and chassis. I suspect these may well be noise dampeners. The model has four retro style alloy wheels which, by way of a change, are recessed hubs, much like the old wompy racers, instead of the centre stepped wheels which are used almost exclusively today in the 1/32 hobby.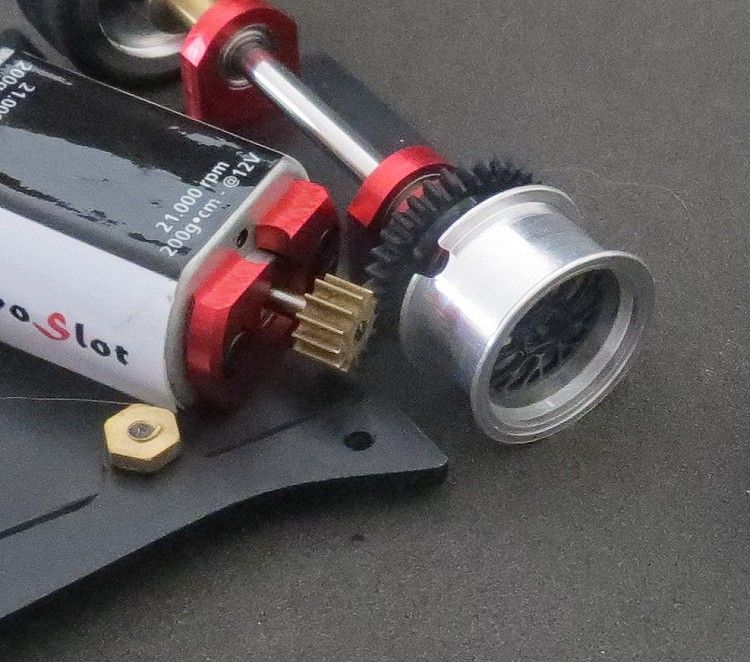 The tyres are a good fit but until someone makes a urethane replacement we will be forced to get a regular urethane to match. Not a bad idea as the cavity created by the tyre step recess can act like an air tyre.







Sits well!



The downside is that you will unavoidably loose 1 to 1.5 m.m. of tread width. The only other option would be to use foam tyres, but not all track owners are keen on them because of all the goo products foam tyre users spread about, to the detriment of 1/32 scale racers.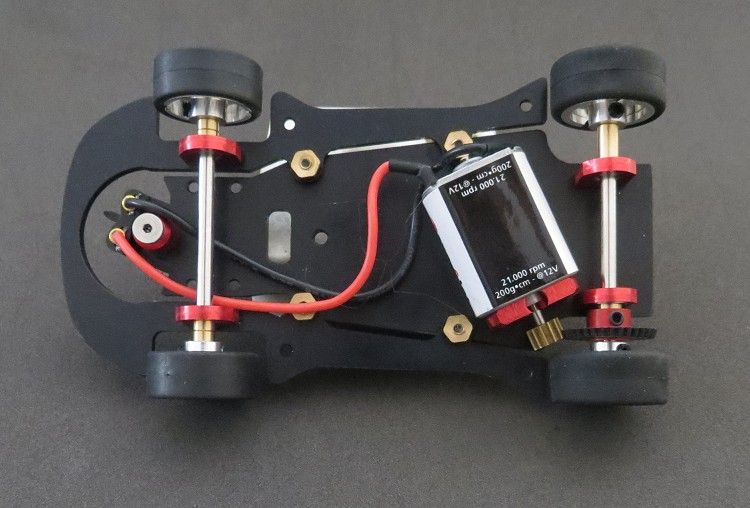 Black anodized?



Inside, the chassis is very plane and unfussy, leaving little out of the finished product. Here we can see clearly the chassis parts and how the components fit neatly to them. Front and rear axles are 3.0 m.m. (another legacy of womp\24th racing?) both of which run in very smooth and quiet ball races, but for the fiddler there is little to be adjusted or upgraded.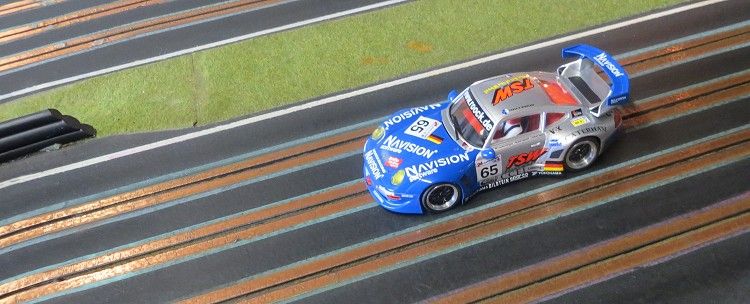 The motor is clamped down at one end and is fixed with a couple of Allen screws with 1.5 m.m. in-hex drives, these can be slackened to get minimal adjustment to the gears. The chassis halves are fixed with what look to be countersunk set screws which are almost impossible to remove!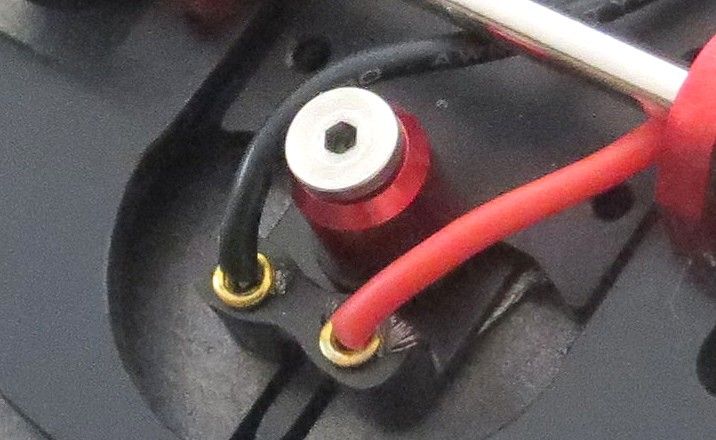 Guide fixing



The guide is also a hybrid, part of it (the front part) dates back to the sixties when model guides protruded under the front of the model and were a marshall's nightmare, to the tidy reliable lead wire and braid set up of current times. The guide is held in situ by a tubular sleeve which in turn is held in place by a centre screw.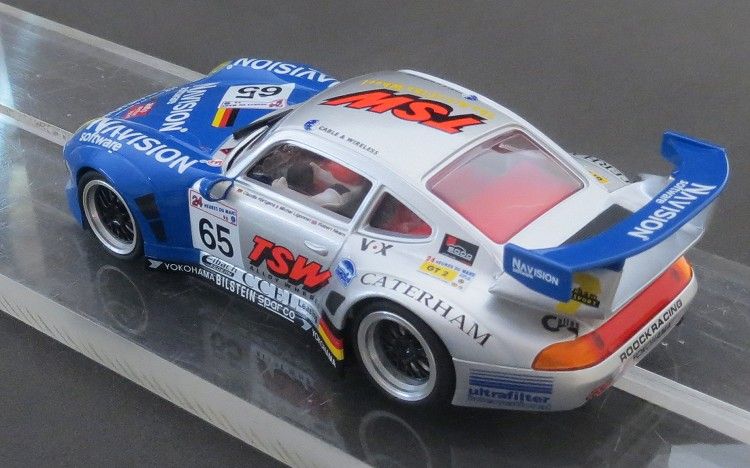 Final drive is good too with some close fitting gears. The pinion is 12z and is possibly bronze while the angled spur gear is a composite metal and plastic gear with 33z giving a final drive reduction of 2.75:1.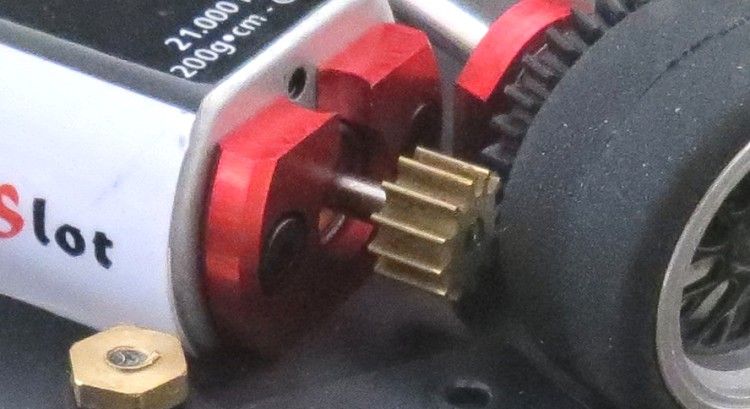 Profiled pinion tooth valleys



The model comes with a separate magnet but this is almost vestigial in that it has no positive home to go to! The magnet itself comes with a strip of 3M Scotch tape stuck to one side; I think the idea being that the informed owner can stick it where he (or she) likes! But where is OK? Between the rear axle journals is one such place but the magnet will need to be situated diagonally across the chassis rear. Another good spot is in front of the motor. At least here it can sit squarely.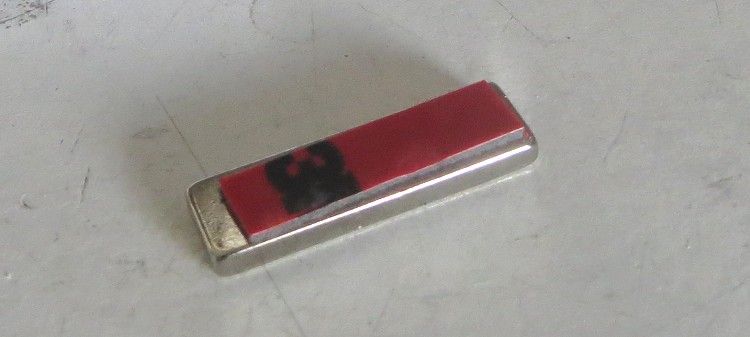 A thumping 2.5 m.m.!



The other place is further forward towards the front axle but this hasn't been successful on earlier models with other makes. Best place in front of the motor allows the magnet to be stuck in its most useful position but, even though the magnet is a thumping 2.5 m.m. thick, it generates little more than 75 grams down force in this position, which is next to not a lot! There are plenty of other suitable magnets on the net which will suit this model and there is plenty of scope for experiment; but trust me when I say you are better off racing this 'sans magnet'!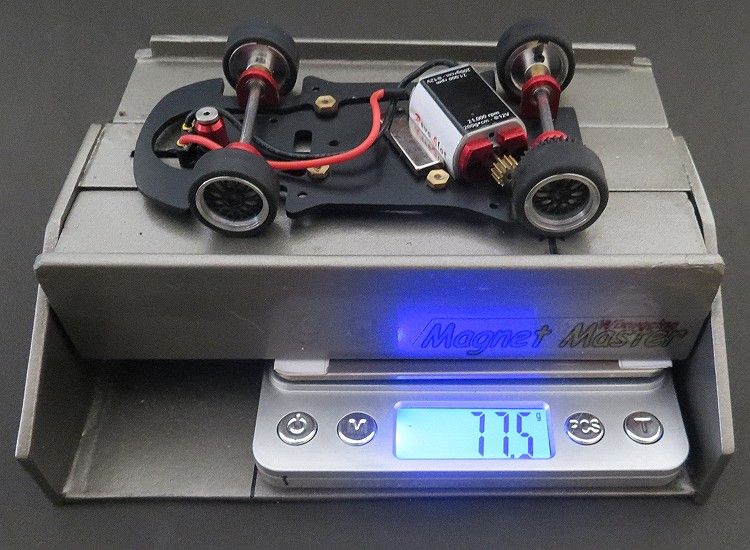 Amongst other things the wheels are a good fit and being turned alloy, are naturally concentric. Tyres are medium hard, and a bit 'iffy', and the sooner you can change them the better. Braids are medium hard and again, if you are racing on technical board tracks maybe something a little softer will be better suited.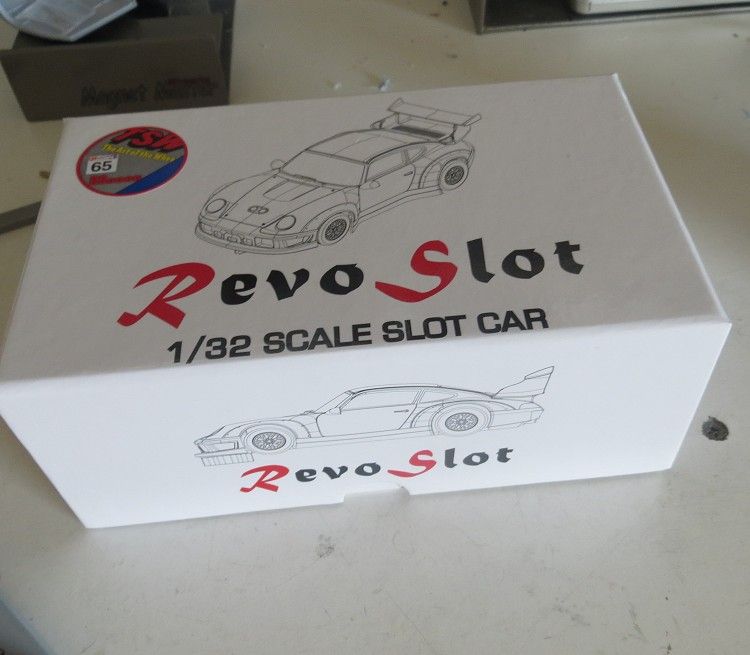 Nice box!



I had the opportunity to put it through its paces days after I acquired it so it was off to race night with the intention to run it between races. Off the line it is fast and a little juddery which I attributed to 'out of the box' tyres. Again, corners where a little challenging so a quick and difficult sanding of the tyres was in order. An improvement, and the model was running well almost fresh from the box. Further running showed improvement until the model was circulating a little short of the technical track record.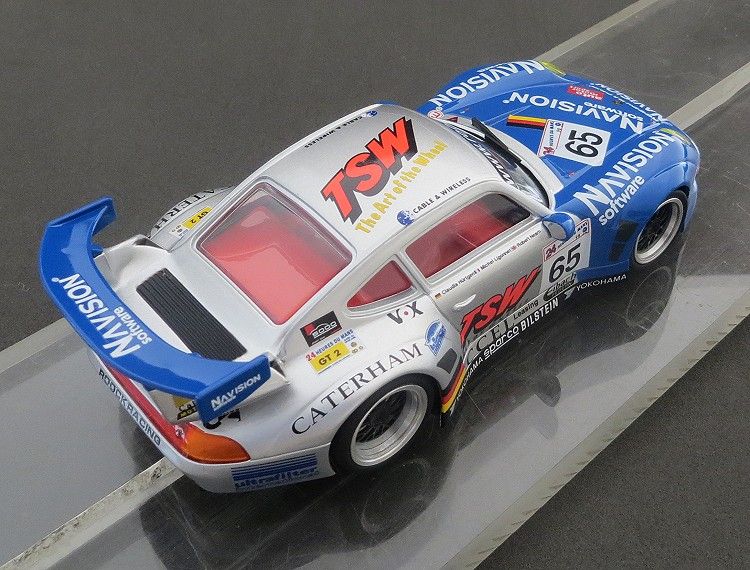 Another thing which concerned me a little was the metal chassis. In the recent past we have had incidents where cars like Slot.it have been blowing controller and track lane fuses where they exist. This has been caused by exposed magnets shorting out the conductors when people have been running magnets too low, or track braid has become detached from the track! I know this model will be run predominantly on board tracks which rules out magnet shorts, but still, with all that conductive material under the car, and the state of some copper braid and magnabraid track corners I wonder how many involuntary 'track calls' will be attributed to bare metal a millimetre above the conductors?! I know of several local tracks where the braid or tape is loose and even detached in hard to reach places!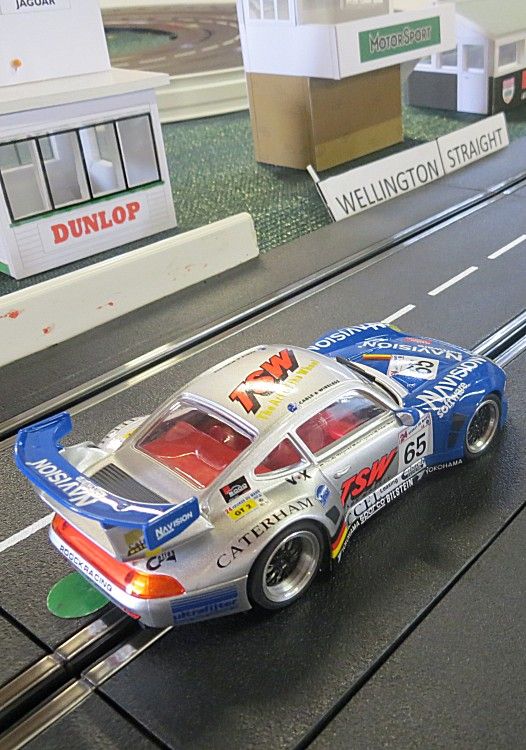 During testing the angle gear came loose twice. I attributed this to vibration generated by the eccentricity and hardness of the still out of round rear tyres; so backing off I continued at a fast cruise just to get the feel of it. The model's 98 grams seems ideally suited to technical tracks. The model has a noise all of its own and I suspect the alloy chassis and gears generate the noise and the body acts as a resonator/amplifier, making it louder. But still, some of these things will need the tyres fixing before touching any thing else, the noise should be reduced, the gear should not work loose and corner speeds should increase once the tyres are fixed.




GT2's on eBay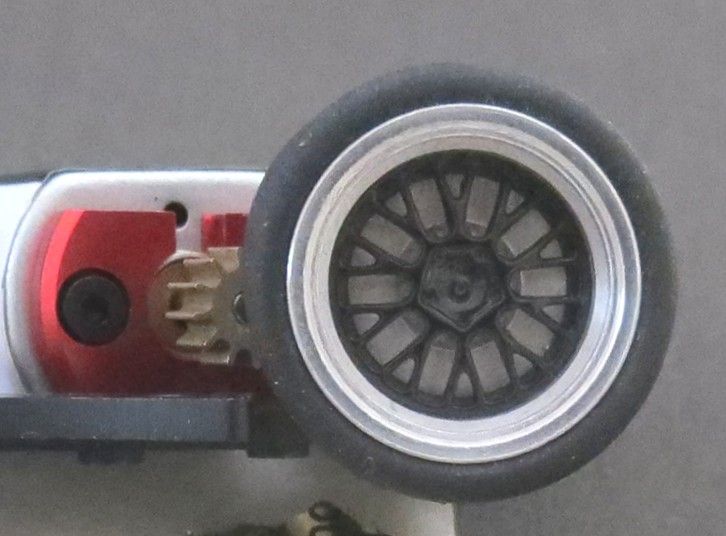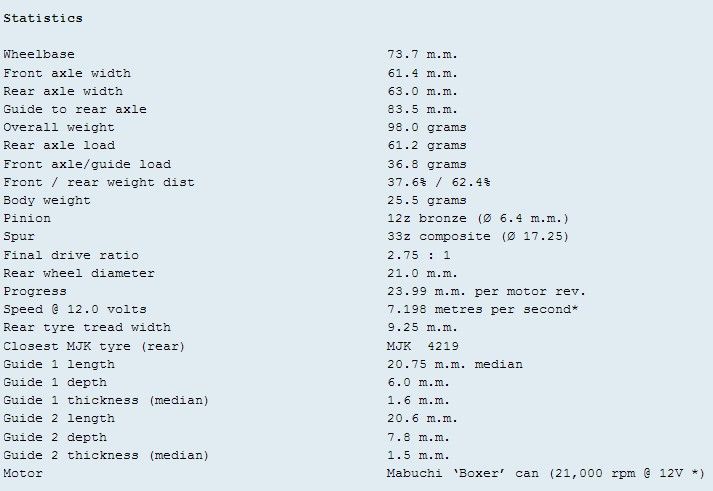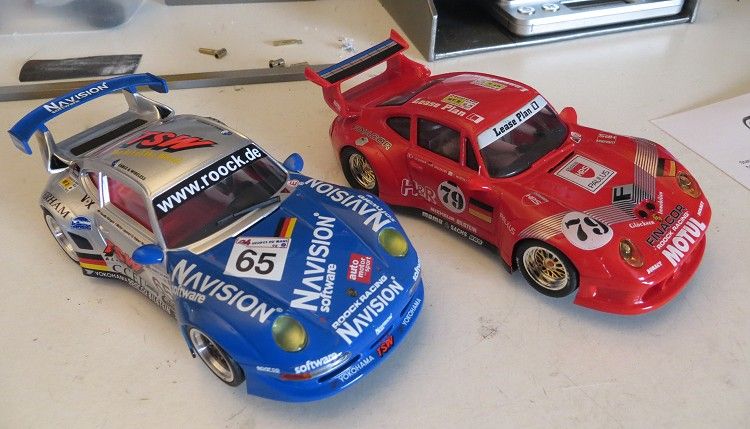 Revo (2017) and Pro slots (1998)



I remember that Pro Slot cars from the noughties were the only people to make this model and very quick it was. So much so that it was banned from several club races until the motor had been changed. I suspect the model's footprint was primarily to blame and I can see the same thing happening with this model which would be a pity. If, as mentioned before, rumour is true, there may well be some classy stable mates to join this little beauty in the not too distant future.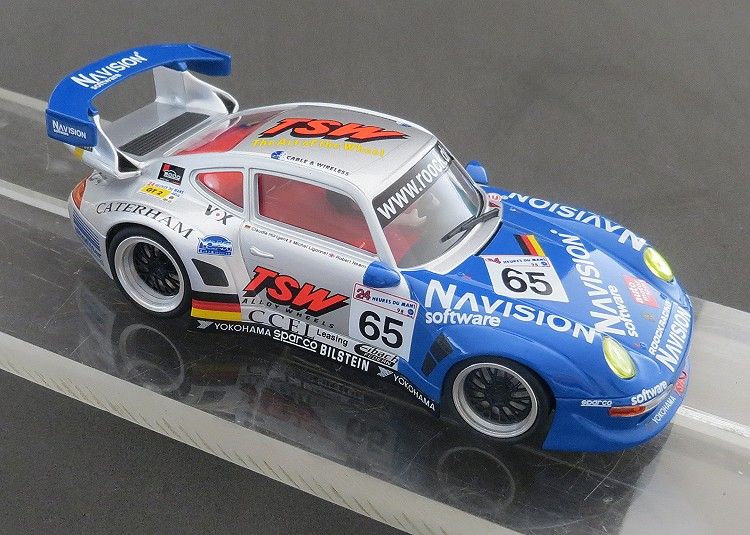 Minus its easily fixed faults out of the box, this car has a great feel to it and I'm sure it will supplant some struggling classes currently being raced on local tracks. If so, then that's progress, but I do think this will be on the race card longer than many of its predecessors.

The model was purchased fromTerry at http://www.flatoutslotcars.com.au at a very reasonable price.