.
.
Falcon Slot Cars
Porsche 924 GT-P
Le Mans 1980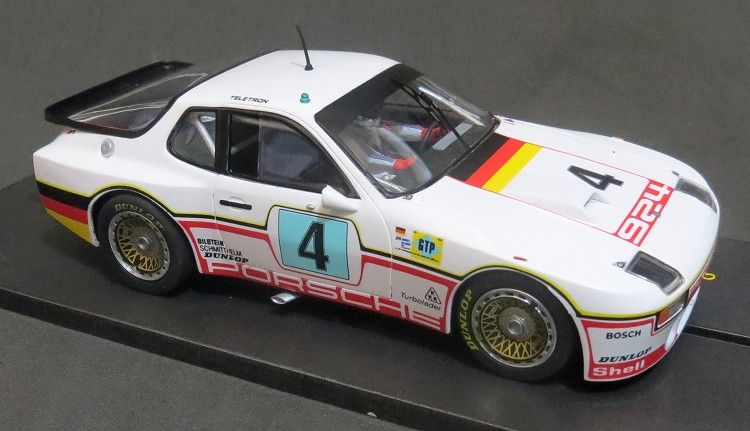 By

Phil Wicks



Originally introduced in 1976, the Porsche 924 was meant to be the replacement for the 914 and was also to be the entry level vehicle to the Porsche range, and it also carried a number of 'first time' features for the Porsche company. It was their first front engined rear wheel drive model, it was also their first Automatic Transmission! It was immediately criticized by the motoring press for being plain and underpowered, but fortunately, those complaints were not reflected in the production figures, with the 924 having a final production run of 150.000 + units.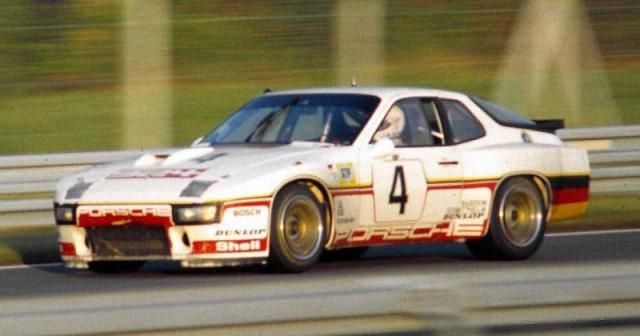 Reflecting Porsche pre and postwar cooperation with the VW AUDI company, like the 914, the 924 started life as a joint venture with Volkswagen. With agreements dating decades it was decided that the vehicle be built at the Volkswagen controlled NSU factory, and that the model was to have significant VW Input. The fact was VW research and development was not geared up to produce sports cars, and final agreement saw Porsche produce the greater part of the car and VW were to supply the in-line four cylinder engine and gearbox.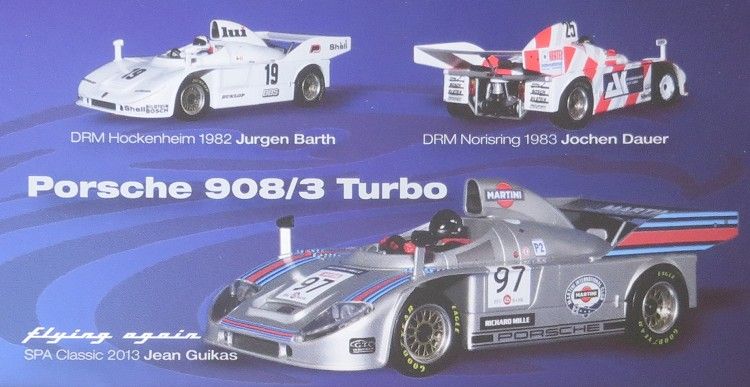 The original 924's were fitted with Volkswagen/Audi's 2.0 litre four cylinder Bosch fuel injected L14 engine, and the gearbox/transaxle unit was adapted from a front wheel drive Audi gearbox; this was a four speed which was upgraded to a five speed early in production; and soon to follow was an Audi three speed auto.






The model in question is a replica of the 924 GT Turbo entered in Le Mans in 1980. Entered by Porsche System, the car showed well and eventually, driven by Manfred Schurti and Jϋrgen Barth, finished in sixth position twenty two laps behind the winners.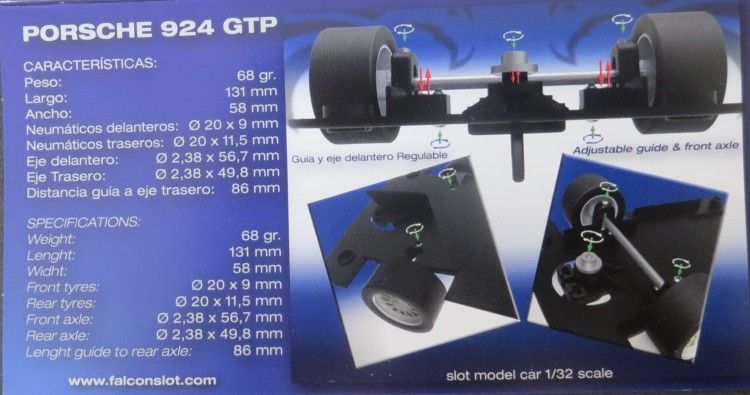 First striking feature is the clear sleeve over the crystal display case. Not unique! but I can only think of one other manufacturer who has done this. Inside the sleeve (as well as the model) is an informative insert which lists some current and some future models. It also has an informative spec sheet which conveys some of the more significant information a prospective buyer may want before purchase!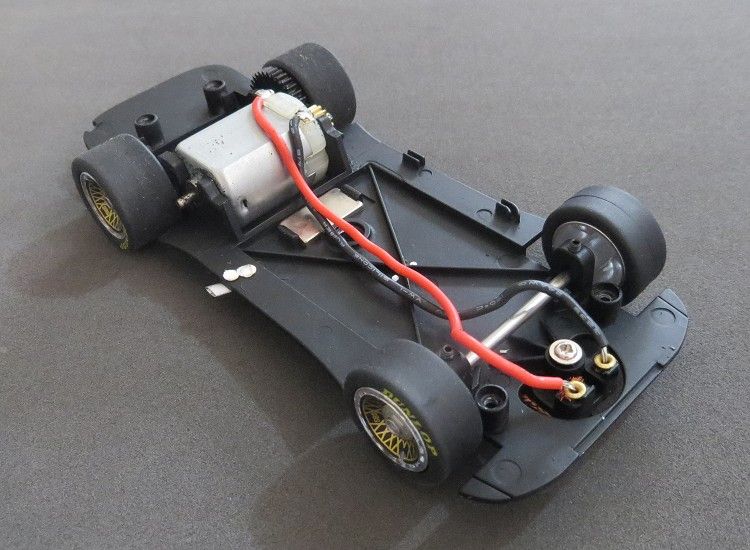 The model itself is quite cute and I don't remember it being produced by any commercial manufacturer in the last fifty years; and this is another 'lightweight' car which, one way or another is going to need some extra work to help it perform on the tighter and twistier tracks of South East Queensland With a gross weight of 69 grams and a basic magnet, the model is going to need extra help both with and without magnetic assistance.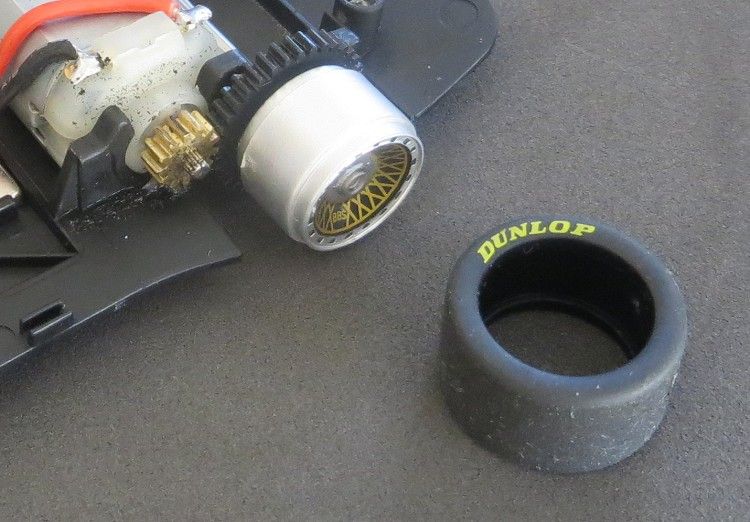 First up the model has a good 'footprint, this is always a good sign for a prospective chassis tuner! And the plastic wheels are not too far out of shape and quite salvageable, although the tyres, being good, are not great! and they tend to be easy to slip on and off the hubs with ease which rings alarm bells. All unglued tyres should be a good interference fit to ensure they don't rotate or roll off unaided at high corner speeds. They are also a little on the hard side. Out of the box I would expect the tyres to need changing for painted board and gloss finish track use, but if you are a Ferador racer you may well be pleasantly surprised, especially if you give the tread area a light coat of WD40 (non silicone) and leave it to stand for 12 hours or so!







The body is also well made and well finished although Falcon Slot Cars have in the interest of production cost kept external features to a minimum. No fancy detail or etched parts and minimal bits that can be knocked off by an errant maneuver during the heat of battle. Tampo is exceptional with some VERY fine work in the side stripes. Other detail has been recreated as paintwork (door handles and lynch pins, rear lights etc), and there are a minimum of losable items around the model with the exception of the door mirrors which are in the roll over zone, along with the roof antenna and wiper arm.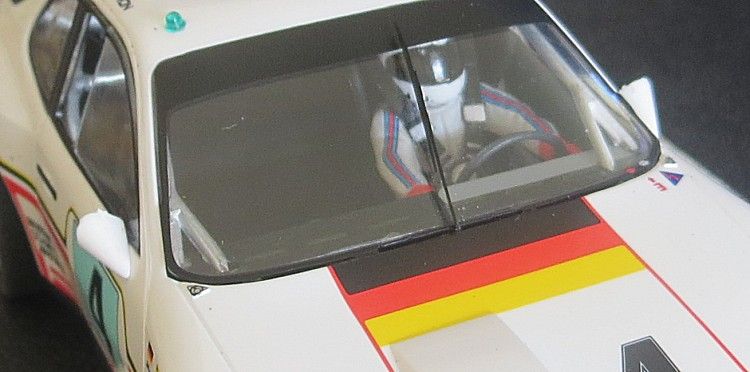 Driver's tray detail is also very simple but very impressive with a fancy roll cage in situ. The driver looks good too and internal detail is completed with fuel lines, extinguisher and fuel filler pipes. Another thing which impresses me is that the body does not creak when handled. Big deal? not particularly, but it all helps to create a model which whispers lap after lap and doesn't rattle annoyingly lap after lap! Remember the Wixwacing mantra, a quiet car is a fast car!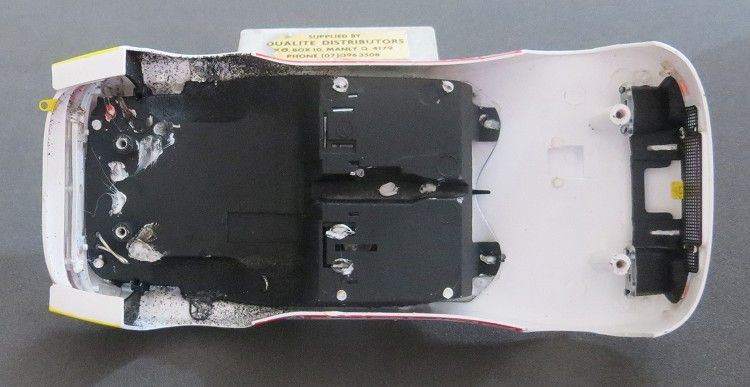 With the body off and looking around inside there are one or two pleasant surprises and Falcon Slot Cars have kept it basic and haven't messed with the vital motive parts, but, there is still some work to be done in here! The body mounting posts are very thin and to minimise issues later on, all four body posts should be sleeved with brass or plastic tubing to nullify damage and ensure longevity!







The motor is firm in its mounts which is another big plus as it negates the need to hot glue it in and then deal with the issues that arise from that. Both front and rear axle bushes are quite stout and dispel the potential issues of axle 'pop'. Also, the front axle has a couple of adjusters both sides of the chassis, and this more than amply covers the ride height options which the average slotracer might be inclined to use. But remember, loose front axles are for banked corners, flat tracks need fixed axles at the front!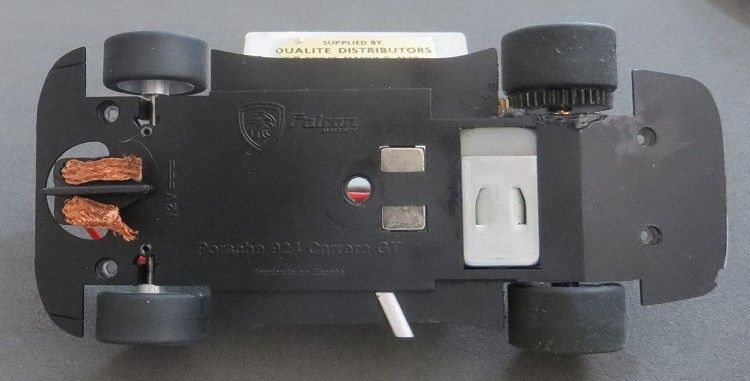 Moving on, the guide is a bit wanting though; if you are a home racer then it is just about deep enough, but, if you are a club racer then the guide will need to be deeper, this can only be achieved by replacing the guide. the adjustment on the guide is not sufficient for deeper slots. If you race board tracks, the guide will be unhelpful. On nearly all board tracks the guide runs on the top of the braid rebate which is BELOW! the track surface by as much as the braid thickness (ride zone). On this model, with the standard guide, the ride zone will be half way down the guide!! And by contrast, the braid material is a useful medium soft!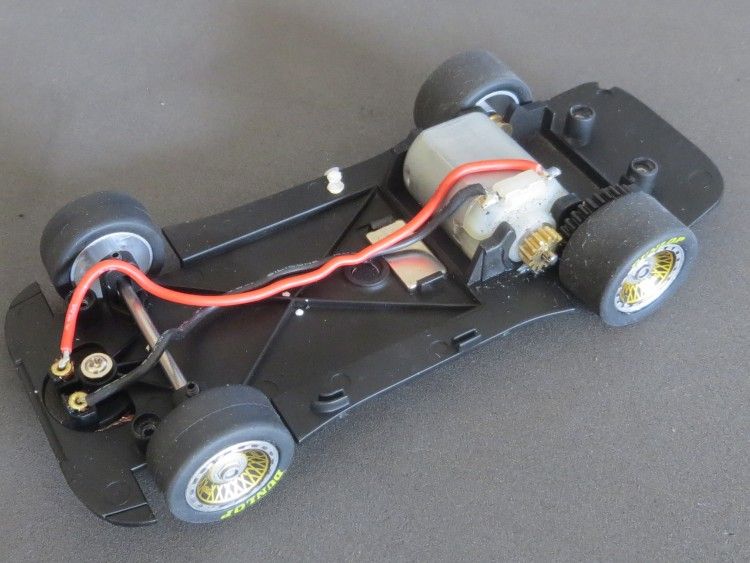 Another issue with the guide is that it is stiff in its mounting tube! This will be a marshal's nightmare, trust me. A deslot near the end of a heat and the marshall fiddles for five or six seconds because the guide is stuck to one side! Not only will you not catch the leader up if you are in contention, three or four back markers may well pass you in the same time! This is a big fault for such a promising model.







If you are a home racer then these things pale into insignificance and the speed of marshals is not an issue. But you still will need to adjust the front axle ride height in comparison to the make or style of the track you are racing on, then you will need to adjust the guide!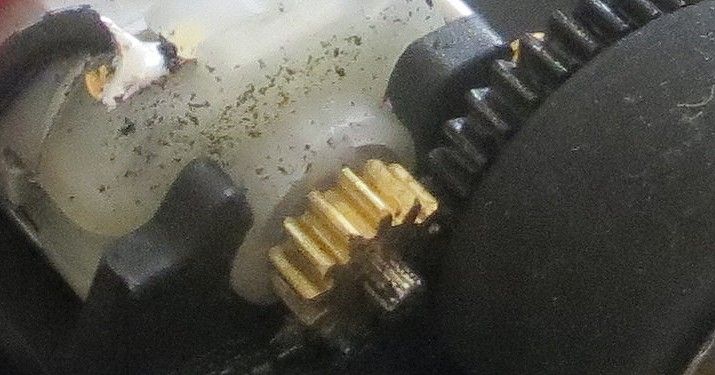 A coupe of other observations before we take it to the track; the model has been over geared comparatively as the motor is down on speed. I thought it might be about Scaley speed but it tests out about a thousand rpm slower than the Scaley 'S' can. Now whether this is because it is running in or for another reason I don't know, but it is slower. Also, it runs faster in reverse than going forward. I would attribute this to com timing/brush wear. You can either try running the motor under water or at low speed for an hour or two but I don't think this will fix it. If your motor seems faulty, save yourself the frustration and just replace.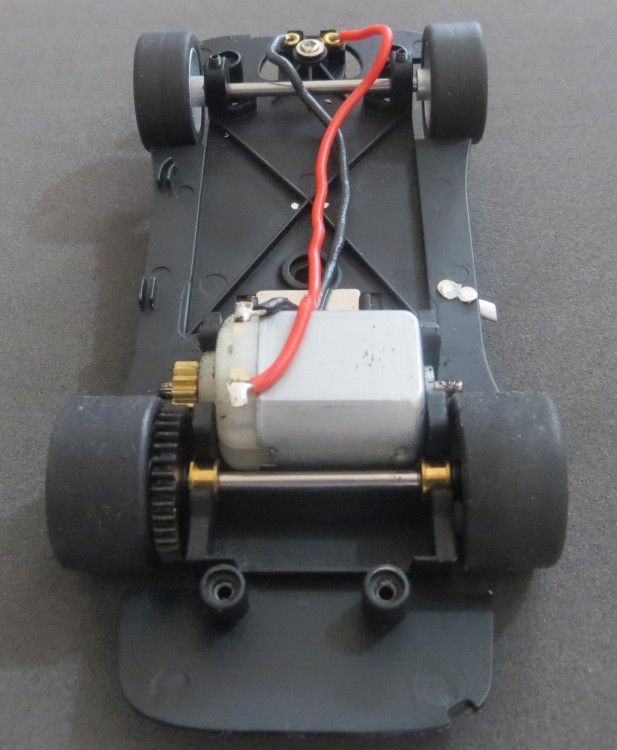 When putting the body back on the chassis it was a bit fiddly to get the chassis to slip in between the body sides. Not only that, while doing it, the lead wires then refuse to align with the transmission tunnel in the drivers tray causing more frustration. A small spot of superglue in the critical position will fix this. Just make sure it is a small spot of CA glue so it can be removed later when necessary!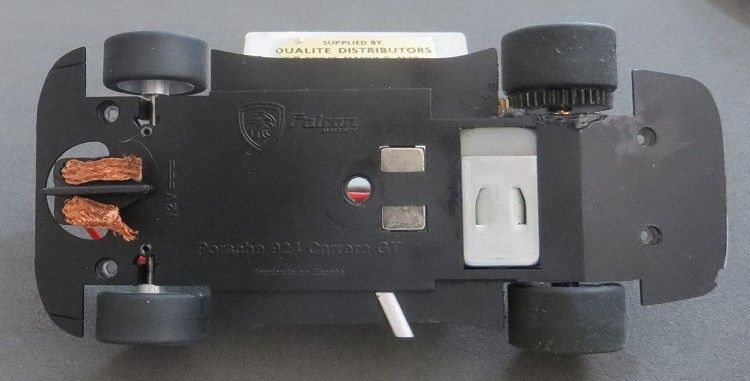 Lastly, the traction magnet is almost vestigial; with a downforce in standard trim of about 40 grams, it won't be doing anything special on the track compared to other makes. Again, depending on the track you race on, the mods can be several fold, ranging from a tyre change and ballasting for non magnet tracks to a major 'magnoplasty' for plastic track owners.




Porsche 924's on eBay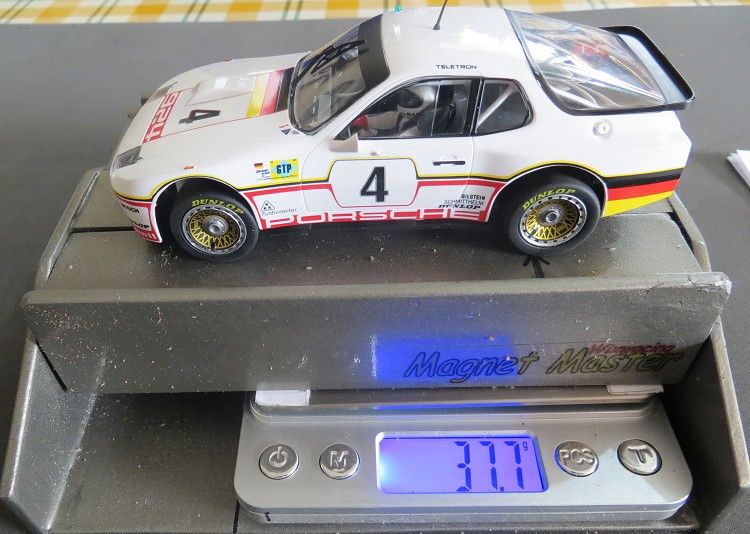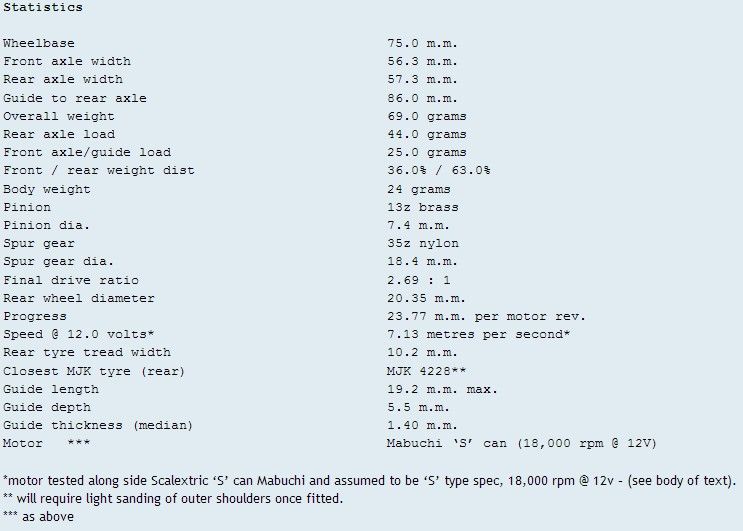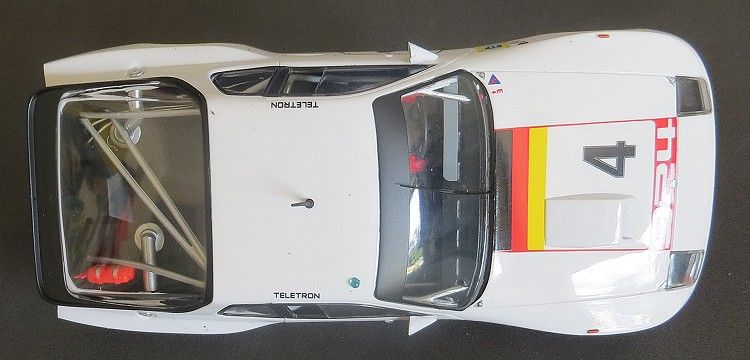 One thing I would certainly consider being a technical track lover is to get all my mates to buy one of these and put a low speed 13,000 rpm motor in it, you will not have more fun anywhere







On the track SOOB we took it for a spin on the Mt Perrorama magnabraid megatrack at Little Mountain Caloundra and all the above vices manifested themselves on this sweeping high speed track, including unannounced departures from the racing line due mostly to the shallow guide and lack of weight. But all is not lost. I am still convinced this will make a great racer once the issues are addressed, I might just need to get the 'BOSS' livery for the track to prove a point.








Although a little disappointing out of the box I see a lot of potential for this model for the home/technical track racer. So, if you have become a SCM over the years, do yourself a favour get yourself one of these; have a tinker with it, and put yourself back in touch with reality!