Slot-it Sauber Mercedes C9




by

Phil Wicks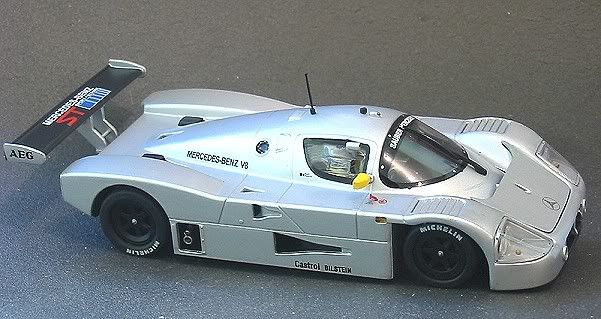 Ashamed to say, but this is the first Slot-it model I have bought, ashamed because the reasons for not buying one have a streak of vanity in them. The Audi was passable as I didn't like the excess of black on the model and because there was no local race class for it. When the Porsches came along I overlooked these too. I had had a Scaley 962 which really left me cold and sailed away on eBay so they were non starters by association!!. But, the one model I had been looking out for recently was the Scaley Sauber Merc. For some unknown reason it just took my fancy, all that silver I think. Well, when the Slot-it Sauber was announced I held out until its arrival. Glad I did to be honest as on its arrival I was impressed with the inside as well as the outside!


The real Sauber never bristled with features and only carried moderate sponsorship decals. I assume Daimler Benz were pouring enough money into the experiment anyway. Its silver mantle was enough for me and so when ClassicSlot in the UK replied to an email confirming they had one at an amazing low price, I couldn't resist it. Their pricing made it about Au$10.00 cheaper than it was going to be locally and I was pleased at the chance of having a spare $10.00 to go towards my next purchase.

It took less than I week to get here and that evening I opened it up and took it from its display case and just looked at it for a short while. A very neat, tidy model. Simplicity itself. No immediate thought of "Warning Will Robinson!" The model looked the part and I was determined to give it 'what for' against its stable mates and others.

This example is the presentation livery and is very striking in silver with black trim. No lights and other fancy stuff in this one so unless you're good with a soldering iron, you won't be racing it in any enduro's! The rear wing looks a little vulnerable and at the time of writing I have knocked of the left rear view mirror and lost the front antenna! But I'm not crying! Slot-it's one contribution to complexity is the depiction of exhausts, complete with turbos, mounted in front of the rear arches. The body and headlights are a bit rattley so I suggest a bit of heat weld spotting with superglue. All in all a very nice body. The driver is probably the best detail of all. Sponsor patches all down his racing suit and what amounts to be probably the most detailed helmet I've yet to see in a slot car!! There is a tiny handle under the right hand mirror which looks to be an emergency stop control and minute amber lenses inside the headlight covers and mounted on its equivalent of 'A' posts.









Its first outing was to be down at Four Seasons slot car track for a Carrera four lane work out. We'd been running the usual Carrera stuff for a while then I decided it was time for the Sauber to do its stuff. Carrera cars are very quick on their own track with alternative power sources and after giving the Sauber a few warm up laps it was obvious that the stainless conductor rails weren't quite enough for the comparatively small traction magnet. With out any work and in SOOB condition the model was very slippery. In fact it was difficult to exit bends with the V12 motor waiting to do its stuff. A few minutes passed and I was getting the hang of it and eventually I was getting some respectable laps from the model. But this wasn't good enough. Driving a slotcar should be max effort and controlled danger in every corner while still retaining a degree of composure and an air of 'in control'. This model was 'gently does it!'

So I had to move on to tuning to get an acceptable level of handling. First up was sanding the tyres. Tyres and rims are pretty good here and not much diameter was lost in levelling the rears. Next was body off and a drop or two of oil on the vital moving parts. The inside of this model is very business like. Simplicity itself. Everything aligned. Even the lead wires were sitting in their own little channels down both sides of the chassis and at the front they were trimmed and held in the right spot to act as guide return springs, nice!.

The guide has a little more side and end play in it than I would like and note that the lead wires are NOT a very tight fit in the guide out of the box, in fact I had one work its way loose during the first few minutes. The guide is deep though, almost seven m.m. without braids, in fact, first lap on the Carrera track saw me hurtling round the last bend and gunning it on the start straight when, with a loud bang, the model leapt into the air and cart wheeled the next few feet into the barriers!!! Four Seasons SCC mount their lap sensors in the bottom of the slot for minimum problems and the bottom of the guide caught the slightly protruding IR sensor fair and square which launched it into orbit!!







A little while later saw us racing against its Porsche stable mates on the new board track. It has to be said that the Porsches faired better and maybe the extra tail weight and overhang contributed to that, I suspect the tyres may have been a different compound? Who knows? But the Sauber was a bit more taily than its sisters! After a while I decided to look at it in perspective.

Starting at the front, the front axle is mounted in vertically elongated slots which are part of the chassis moulding. It is easy to remove and once removed, there are a couple of little plastic cushions which can be removed to increase the up and down float of the axle for those that like a sloppy front end. Again, the front wheels and tyre are very concentric. I didn't touch these at all. One thing I did notice is that the front wheels rattle!! Truly!! While I had the front axle out I couldn't help noticing a rattling noise from the wheels. It seems the mock discs are loose in the hubs!!?? Another thing to watch is that the front wheels will push on the axle 'til they both drag against the chassis! Be sure to allow a little side play when refitting it!

The motor is of the Slot-it V12 variety and seems to rev about 25.000 rpm. Someone correct me if I'm wrong. It is mounted on a detachable sub chassis and my guess is that there are a combination of motors that will fit this chassis or another chassis at least. The motor is a very tight fit in this sub chassis and I don't envisage too much trouble with this. The drive is from the bell end and there is enough space between the motor and the rear axle to comfortably fit a small rectangular neo magnet. The contrate is one of the yellow Slot-it removable ones with a tiny grub screw fixing it in place. There shouldn't be any need to touch this if you maintain your model well. If it does need attention you will need to remove at least on wheel, loosen the gear and slide the axle out one side. The axle is supported by two mini brass bushes which fit into some precision moulded bush housings.







The chassis as a whole is a very sensible set up and it was obviously done so to allow people to change components to tune their model for various tracks, much like some aspects of 1/24th scale commercial track racing. Last but not least, the chassis has my ideal mountings! One centre at the front and one centre at the back. I have found this to be the best in this type of racing and to top it all; there is no body pinch on the chassis, letting the body move freely on its mounts if you want. Nice one Slot-it!

After a little while I returned to the track with the suitably modified car and there was a definite improvement. The loose body and tyre sanding reduced the twitchy cornering and the lube job seemed to quieten it a bit but it still didn't have enough down force! Never mind, not the end of the world.

Some days later!

I was at the Friday night session at the 'Red Team' Clubhouse and with a lull in activities and the 'Leg-end' opting for forty winks after a hard days work I got the Sauber fired up for some hot laps. I didn't worry with stage one and two as I'd done this at Four Seasons and it's hard to do retrospectively, especially AFTER the tyres have been sanded so straight on to stage 2.7! The model was chomping at the bit and the V12 proved it was going to need some training. Fishtailing out of bends on good (Slot-it) tyres and a sideways slew into the fast bends. Tendency to over steer when powering out of corners. Everything was saying Tyres! Tyres! Weight! Weight! The V12 was making demands on the rest of the model. But remember, the idea of these tests and reviews is to gauge a model's potential, not see how good it is after another $50.00 (1.3 SCX cars) has been spent on it! So, last mod before bed time was the tyre clean with CRC (WD40 or other non silicone lubricant). This is applied to the rear tyres sparingly and worked in with the thumbs. The tyres are then dried completely to remove ALL! residue. You should get a deal of black on the cleaning cloth after this. Back on the track and with red lane throttle in my grasp, the big question is 'Will the 'Leg-end' wake before I can finish, and call another race? Sssssshhhh!

Well, unlike the Revell BMW 320 this didn't amaze me, why, well, unlike the Bimmer, I was half expecting it! Whooosh! - Crash!! But I wasn't expecting that! This model goes like a scalded cat too! I slowed up and did some sensible laps and worked my way back up to neck aching speed. The model does fly and the tyres are the main problem. I'm not sure why but they aren't fully at home on painted board without a bit more weight to the rear. The model weighs in at a paltry 76 grams and I would venture to suggest that another ten to fifteen placed in the right spots would cause the model to be lethal.







So what was the outcome? I'll tell you. The model was becoming airborne over the 'yump' but was miraculously dropping back in the slot with a thud! Lap after lap as I became a bit more confident I saw it hack away at the best lap until we achieved a 7.221! Corner entry speed was very good and cornering and exit where quick but not phenomenal! Deslotting was predominantly understeer coming in or going round the bends. There were also one or two hops out of the slot on the slight downhill section. The tyres went off fairly quickly after cleaning too so they still have to be suspect. But this model is good, no mistake.

Observations would be that it still needs more weight. A third up front and two thirds split either side of the motor. On Scalextric or Ninco it could be good but it is my view that it would still be lacking in the traction magnet department compared to some latest releases. The tyres? I'm not convinced, even after weighting it could do better than what it has, and the sloppy guide? That would take little effort to fix. I remember racing a newly acquired March 83G against a newly acquired Slot-it Porsche a year or so back on the old Four Seasons Classic track and the March held the Porsche to account. The Porsche took the straights but was ruled well out by the March in the corners!
Statistics

Wheelbase					84.0 m.m.
Front Axle width				61.0 m.m.
Rear Axle width		        		61.5 m.m.
Overall weight	               			76.0 gms
Front axle load		        		33.0 gms
Rear axle load	                 		43.0 gms
Front/Rear weight distribution	        	43.5% / 56.5%
Pinion						9z
Contrate					28z
Final drive ratio				3.111 : 1
Rear wheel/tyre diameter			20.0 mm




This model has obviously been designed for the long straights of commercial raceways and BIG home layouts. It has all the legs for a good long circuit but the tyres and magnet let it down on the home circuit and twistier high talent tracks. So if that's you, expect to spend a bit more on it after your initial purchase. All the same, I view Slot-it in a different light now and wait with some interest for their new releases??

And why does the off side tail light have a yellow ring round it??