.
.
Carrera BMW M4 DTM 2015
Timo Glock
by
Phil Wicks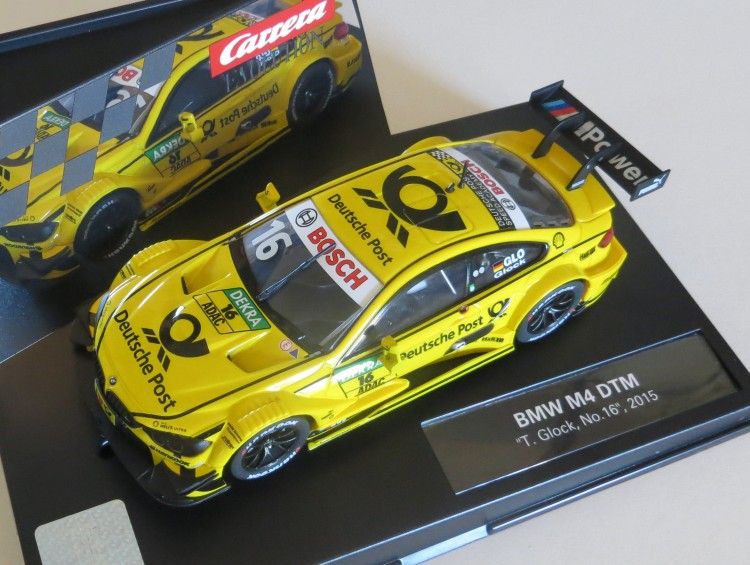 As mentioned in other reviews, the DTM series is Germany's own touring car series which has picked up a world wide following and for several good reasons. The technology in use is second to none and participation of factory teams ensure top class racing with several F1 drivers switching to it over the years. The series is also run in several European countries on some of the best tracks in the world.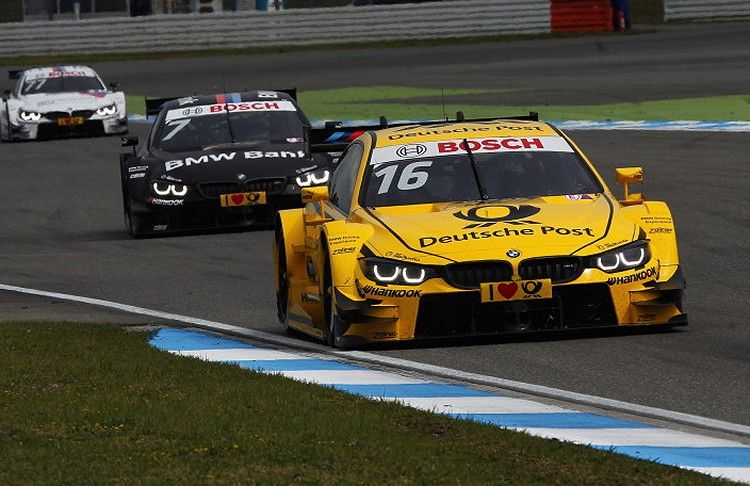 The model covered by Carrera is from the 2015 series and is the BMW team MTEK M4 which was driven by Timo Glock . The team achieved 4th place for the series and Timo achieved 15th in the driver's championship. Carrera have made a top job of following the series and at this time they are making remarkable copies of the real cars and making them very drivable. Carrera is about parity on the track with the onus on driver ability to create close racing. And I can honestly say at this point anyone who butchers Carrera cars to create hideous hybrids to gain track advantage deserve all the bad luck they get!.







As with a couple of other European manufacturers Carrera are steadily improving their range and are now a slotcar force throughout the globe. Models like this BMW, and the rest of their current range, are pure driving pleasure, especially on their own track, So read on to find out why I think so much of them.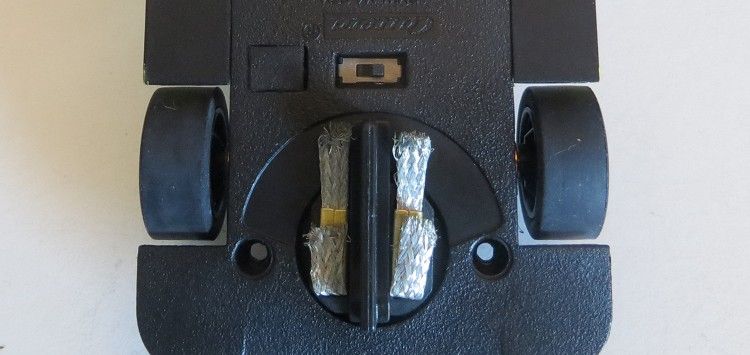 Firstly, Carrera build a sturdy car, they don't need to leave bits out to make a model robust; there are simple ideas like making the vulnerable parts removable. On this model the boot wing is removable, albeit a bit tight to get out, but with care it will pop out. Most Carrera cars have removable door mirrors but, contrary to what I have just been saying, on this model they are not.





All Carrera models come well presented in a mirror backed display case and with a good coat of clear lacquer; and very rarely does it contain any blemishes. The tampo too is first class and difficult to fault. This model has the very distinctive yellow and black livery of the Deutsche postal service. no trouble as been spared in detail with things like the telemetry and coms antennas faithfully reproduces and even the tiny BMW 'spinning propeller' logo is quite distinct in several places.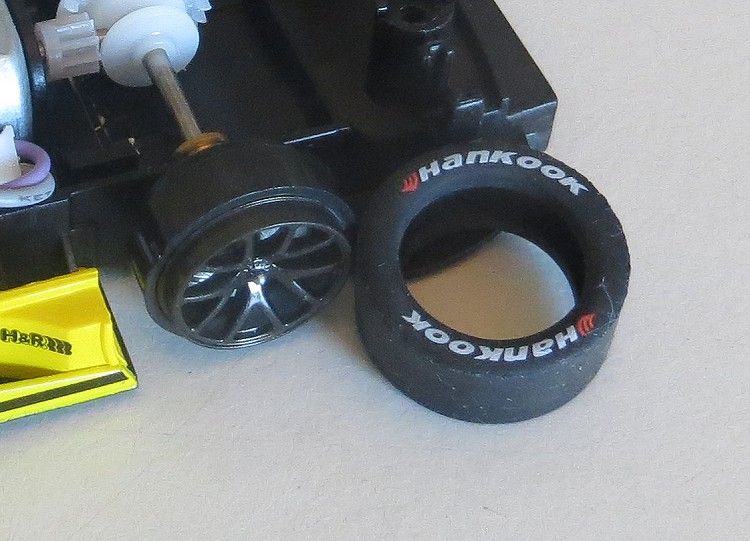 Wheels and tyres are well made and the tyre tampo on recent models is quite durable and still readable after a season's racing, Rear wheels and tyres are very concentric and the tyre compound is medium soft, but, with Carreras tendency for the tyres to go off in storage, I suspect, depending on the surface you race on they may well need changing for serious competition. Front tyres too will need truing as both of mine had an ecentric rotating action which comes in to play if you, like me, race non magnet. Another issue is tyre choice. Because the Carrera rims have a high centre step it makes finding 'off the peg' tyres very difficult and racers will need to buy specific tyres to match the hubs.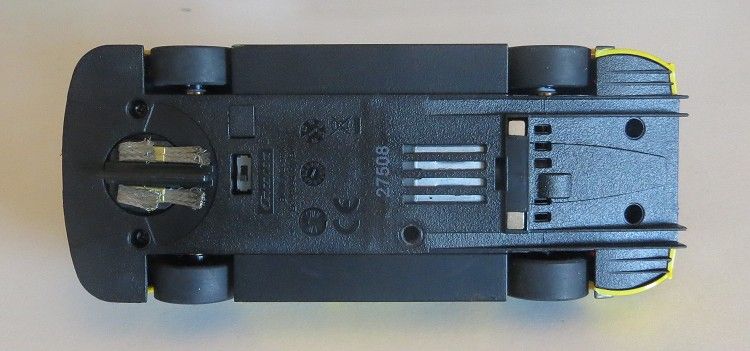 Looking underneath, if you are a long term Carrera racer/collector then there is nothing new here, just the same reliable layout you may have been used to; but it is reassuring. All moving parts are sturdy and in a high speed racing incident with other makes I suggest you let the other model's owner do the worrying! Also visible here is the polarity reverse switch and the rear traction magnet, the other magnet is concealed inside the model but is instantly detectable with the wave of a screwdriver! The guide is the regular Carrera track guide and if you race on tracks with shallower slots and tighter bends then there is a red replacement guide in the compartment on the back of the display case, This will let you race on Ninco, Scalextric and SCX tracks , plus some older routed tracks, without too much drama.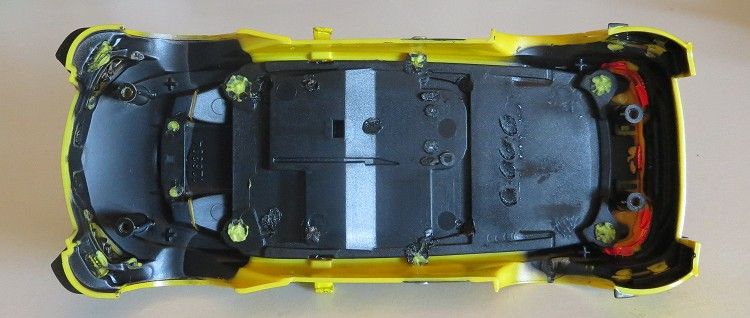 To gain access to the inside you will need to remove four what are sometimes very tight screws. Make sure you use a Phillips with a broad tip; too narrow a tip will put you at risk of turning the centre out of the screw head. Once out there is no longer a need to put the screws back in so tightly. Once inside again there is reliable simplicity. The first thing I noticed is the front and rear lights have masked internal body sections no doubt to prevent light bleed through the body from some very effective lights.





I think my only complaint of this model is that Carrera haven't got the colour right. A search of the internet shows the original car has a reddish yellow, whereas, the model appears more greeny yellow, or is it me………?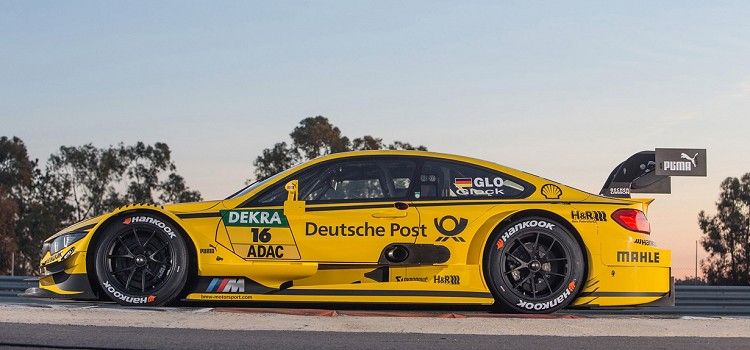 The half drivers tray is very secure and the body doesn't creek like some makes. Another thing noticed is the thinness of the body. Carrera are making their bodies not exactly light,,,,but not so heavy as they have been. The model still weighs in at over 100 grams compared to the seventy and eighty grams of other brands, but it definitely feels lighter in the hand Mmmmmmm?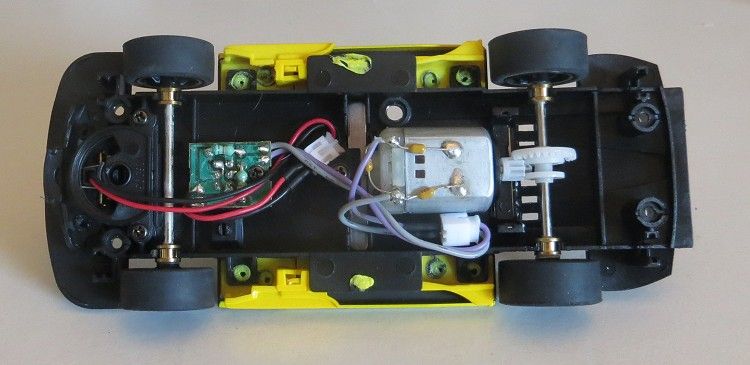 Top side of the chassis is as what we have come to expect; neatness and functionality. Axle diameters are imperial and axle bushes are a close fit on them. Back lash and end float of the rear end is minimal, and, although I have voiced my dislike of the heavy return spring on the guide, I can honestly say that I don't recall an incident where a deslot can be attributed to this. In fact, I suspect you could be doing yourself less than a favour by removing or disabling it! My advise is that it pays dividends when someone is required to marshall it. Far more so than any disadvantages!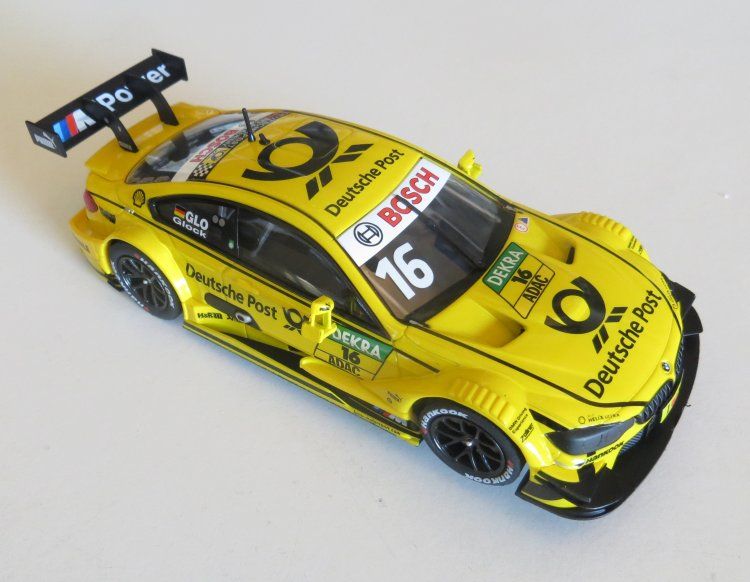 If you are in a racing group that runs maximum model weights, it may be hard to find something to remove, there is no spare weight, but if you are looking for just a few grams you might like to try removing the polarity switch, the guide plug will plug straight into the motor loom, and both magnets are relatively easy to remove. The centre magnet is held in by a simple screw and bracket, and the rear magnet is clipped in place beneath the pinion, so the motor will need to be popped out.





Final observation inside the model is that, once again, for non magnet racers, the motor has play in its mount, this will translate into rear end hop/judder especially on grippy surfaces. So a drop of hot glue wouldn't go amiss down both sides of the motor. Remember, hot glue can be easily removed with Shellite (lighter fuel). A splash down both sides will see the motor freed easily.



Carrera on eBay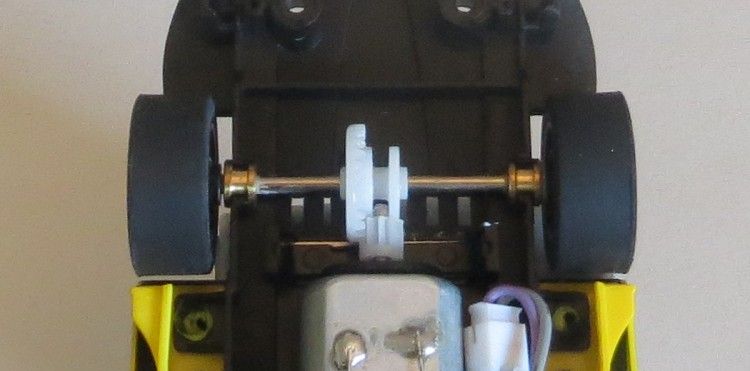 So what can you expect from this model? Well, as mentioned before it is a great model when run against like, but if you mix and match your classes it may not quite be up to the mark, depending on the track. The more technical the track the more it will struggle to keep up, but hey, this is for racing against like, and the best time to race it against other makes is on the weaker magnetic effect Carrera Track or on magnabraid where the twin magnets will kick in and do their stuff in spades![/center]
Carrera.com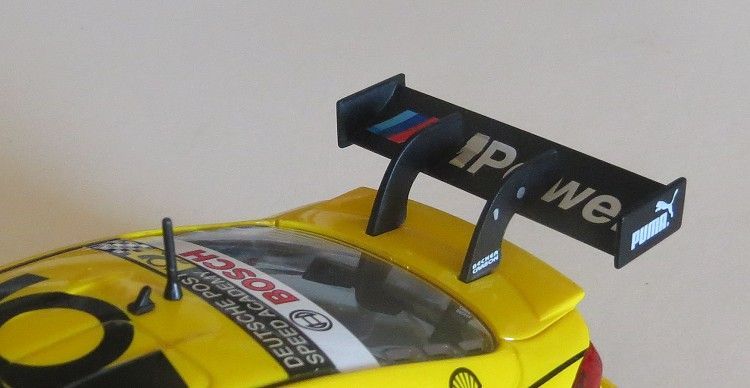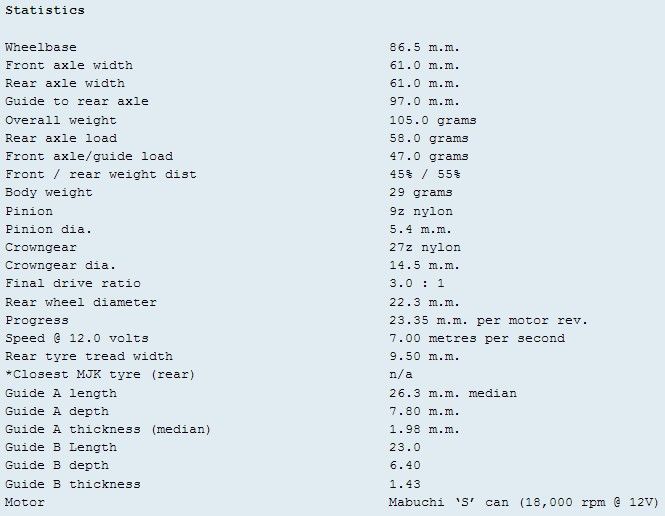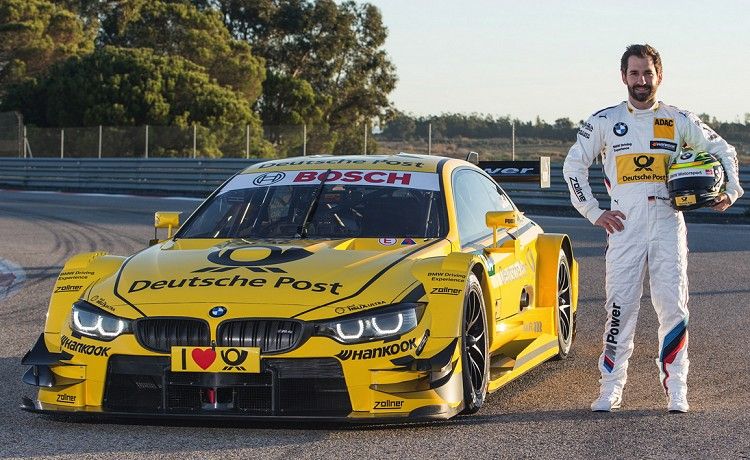 As I started out to say this is a great model, it IS a great model and it has some great brothers and sister both already released and to come. Of all the slotcar makes currently in the market place, Carrera is the one that currently excites me the most! Stay tuned.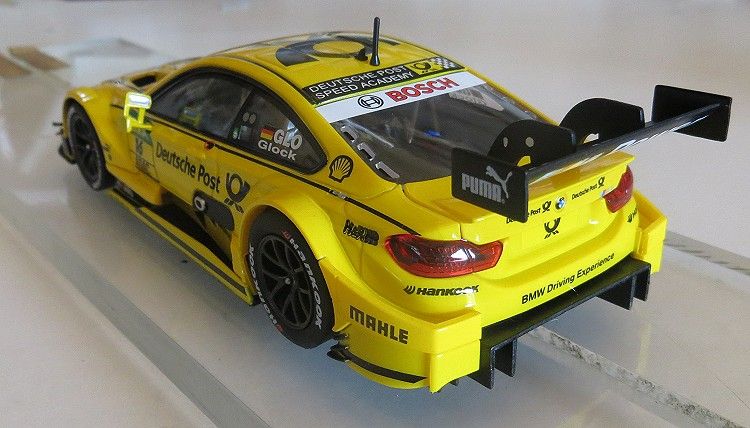 Many thanks to fellow Eagleby racer Chris "The Stig" Dietrich for the opportunity to review this model