.
.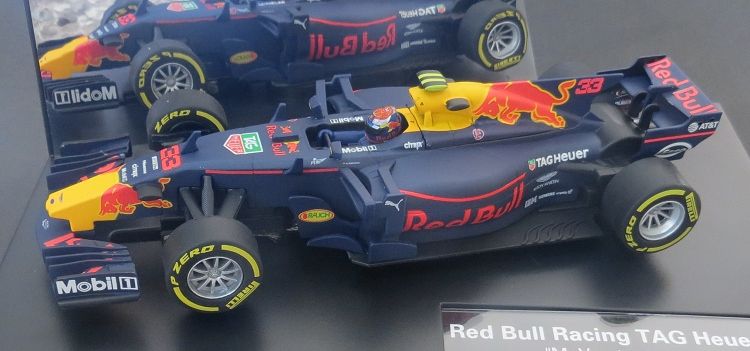 By
Phil Wicks
Who is Red Bull, where did they come from and how did they get mixed up with motor sport? Well, unless you have already swatted up on the company history you may be surprised to know that the company is a lot older then we think; its origins in Austria, and its roots, are in Asia.

The current company, Red Bull GmbH, was formed in 1986 in Austria by an Austrian entrepreneur who got the idea from an earlier (1976) Thai company which sold an energy drink called 'krating daeng' the literal translation being 'Red Water Buffalo! Both companies are now under joint ownership. In Thailand and Asia there was, and probably still is great demand for energy giving drinks.
Brand recognition was promoted by sponsorship of some international and often extreme sporting events such as the Red Bull Cliff Diving World Series, The Red Bull Air Race, The Red Bull Crashed Ice and similar. An opportune chance saw them sponsor their own global sporting teams, the most notable being the Red Bull Racing Team which competes as Aston Martin Red Bull Racing.

Red Bull Racing is one of two F1 teams owned by Red Bull GmbH, the other being Scuderia Torro Rosso.. The current racing team was originally the Jackie Stewart F1 team from the nineties. The Company was sold to Ford in 1999 and rebranded as Jaguar Racing. After a series of mediocre seasons in motor sport in general, Ford decided to divest itself of its motor sport holdings and in 2004 the GP team was sold to Red Bull GmbH
Aston Martin Red Bull Racing
Powered by Cosworth for several years Red Bull eventually switched to the TAG Heuer V6 Renault engines for the RB13. Red Bull were also sponsoring the Sauber team for a while, but severed their connections when the Jaguar purchase was made. The rumour is that Red Bull bought the team for a nominal sum of $1.00 in return for a commitment of $400 million over three seasons!!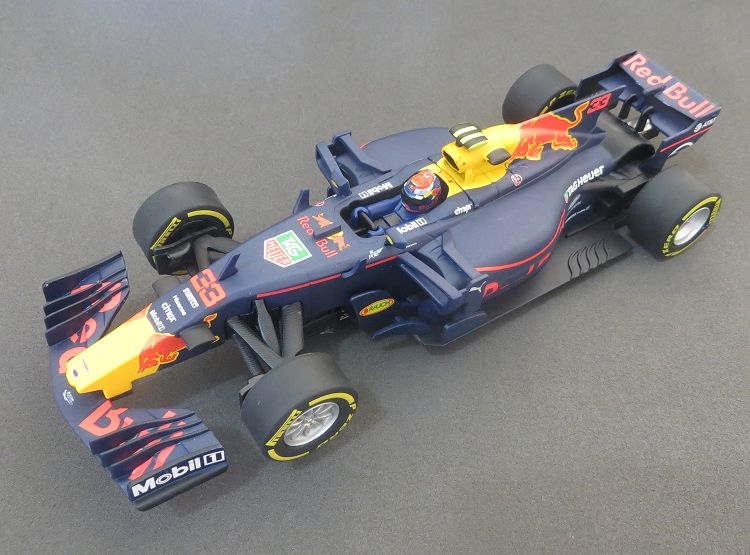 The car modelled here is the RB 13 model as driven by Max Verstappen to 6th place in the 2017 season world championship. He took first place in the Malaysian and Mexican GP's and respectable podiums for the remainder of races that he finished; and third in the constructors championship.
The first impression you get out of the box is the sturdiness of the model. There are no parts which feel fragile or need careful handling (unlike some), including the wings and the rear view mirrors, both of which are removable. Everything is in its place and fits well. Taking a look around the model the first thing that strikes you is the flat finish of the paintwork! I myself like a shiny car, but not being familiar with current F1 trends accept that the flat finish is as the 1:1! And do you know what! It looks damn good.
The Red Bull Livery enhances the effect and combined with the very vivid colours creates this striking model. The only thing to watch is to wash your hands before you race it. Continued handling by racer and marshal alike will see hard to remove greasy fingerprints accumulate rapidly on the flat finish. Tampo is good too and has been accurately applied.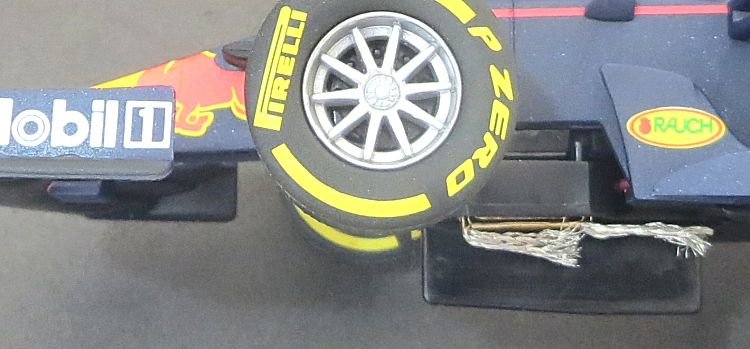 So lets have a closer look, and the next feature to hit me is the guide assembly; again, like the rest of the model it is very sturdy. One thing that has not changed over the years is what seems to be a huge self centring guide behind the front axle. This is not a new idea and Carrera have been using it for some time. It works on Carrera track but I'm not too sure how it will behave on Scaley and Ninco and the like. There is a spare guide blade though which gives you more leeway and better drivability on these types of tracks.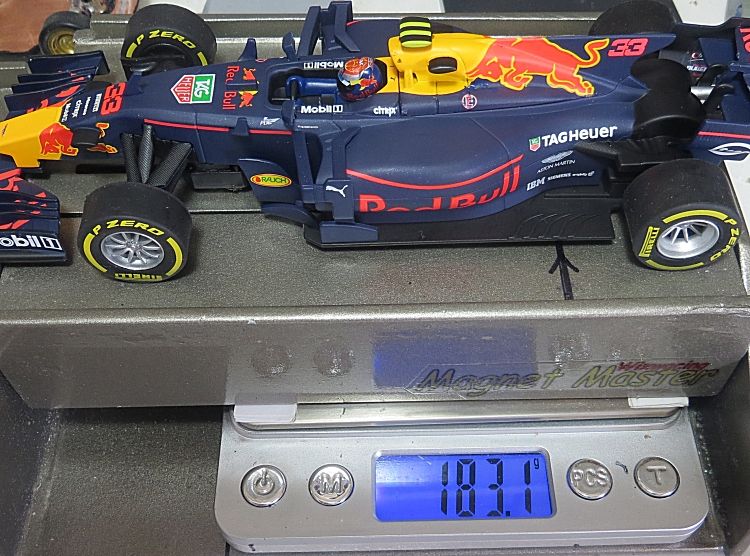 Under the model the twin magnet locations are visible. The rear magnet locates traditionally between the rear axle and the motor, while the front one is visible through the chassis material. Again, a very business like chassis with a very sturdy front axle assembly. The motor too is visible and looks to be a regular FF050 motor which is now becoming very popular with many manufacturers.
Wheels are concentric and tyres are fairly true but I suspect they will suffer the same Carrera 'meltdown', as do most of their other models. Best to either change them now or search out some replacements for the future, better still, buy them when you purchase the model! The chassis and body are separated quite easily and it is a pleasure to be able to separate and reattach these parts without the trauma of trying to get everything back inside again!
Red Bull on eBay
Statistics:

Wheelbase					107 m.m.
Front axle width				63 m.m.
Rear axle width 				63 m.m.
Overall weight					80 gm.
Front axle / guide load				35 gm.
Rear axle load					45 gm.
Load dist, fr / rr				43.0% / 57%
Magnetic downforce		        	183.0 gm.
Pinion				        	8z nylon
Contrate					27z nylon
Final drive ratio				3.375:1
Progress					18.62 m.m. per motor rev.
Speed @ 12 v.					6.206 metres per second
Rear tyre dia					20.0 m.m.
Rear tyre tread width				11.7 m.m.
*Guide length					26.0 m.m.
*Guide depth					7.0 m.m.
*Guide thickness				2.0 m.m.
**Motor	 Mabuchi FF050 rated by manufacturer at 18,000 rpm @ 12v

*A second guide suitable for 1/32 scale tracks comes in the display case's rear compartment
** Debated in slot media.
Regulars will recognise the reverse polarity switch recessed into the chassis and the little blanking plate tells me this model is for analogue racing, with an option to convert to digital.
Screws are removed to give us all a look inside this model. The rear wing should be unclipped at this stage to allow the rear end of the chassis to slide out from the body; and again, an impressive and very functional inside, everything has its place and everything is in its place. Major components also unclip or pop out with no effort. Wheels are tight on the axles and the motor is firm in its mounts. For those who like to slacken them, the body screws will need to stay tight as this holds axle and suspension detail in!
The front axle needs a little care if you need too remove it as it is a snug fit and has a couple of small pins locating it. About this time I noticed the front wing is not glued in. It is a firm push fit, much like the Ninco GP's from the nineties, so expect this item to pop off annoyingly just when you don't need it; but on the plus side it will not become a casualty in a serious front ender.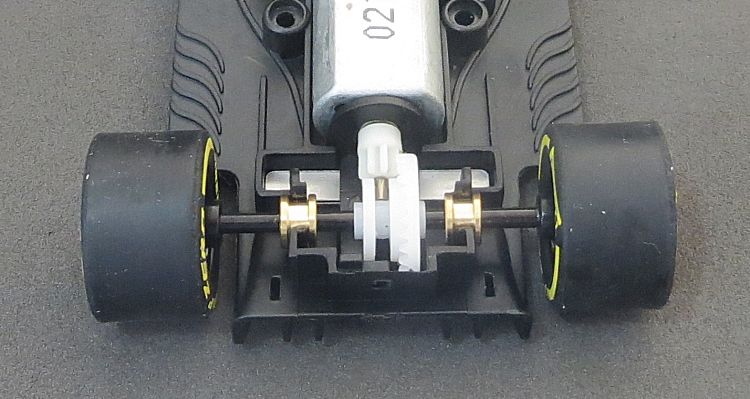 Pinion and contrate are traditional Carrera, but watch out, the pinion is 8z while the contrate is 27 z. Not a big deal but, the pinion guide slot in the contrate is for 1.5 m.m. motor shafts. If you want to tamper with gearing, be aware of this as they don't interchange with regular gears and pinions. The other thing to watch for is the plastic pinion , this is to fit the 1.5 m.m. motor shaft and it is unsplined. What does this mean? Well. If you sand / true your rear tyres on the model, there is a very real risk of the pinion coming loose on the motor shaft, much like the Carrera Can Am cars from some time back did!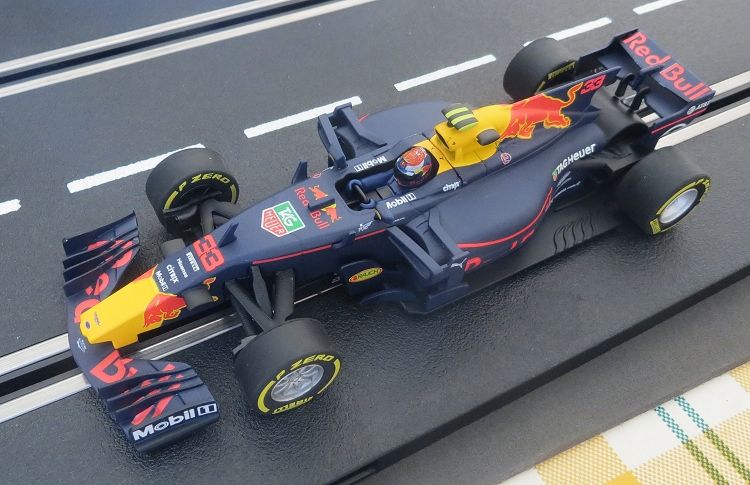 As mentioned before it drives well on Carrera track and you might well wonder what all the fuss is about; but as for negotiating inner/inner curves on Scalextric, Ninco and SCX! Forget it,
Many thanks to Chris 'the stig' Dietrich for the opportunity to review this model.
Follow us on Facebook at Racing Cars Eagleby