.
.
Sideways Zakspeed Capri
Hockenheim 1978 H Heyer No. 52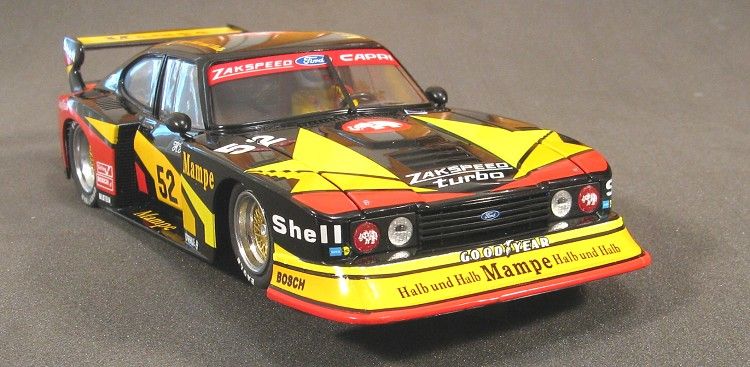 by

Phil Wicks



Zakspeed? Hmmmmmm? I've heard this name many times over the years but until recently I didn't realise it was actually German Founded in 1968 by Erich Zakowski! They started life as saloon (sedan) and sports car racers focusing predominantly on Ford products. With degree of success they were boyant about the future but the big time always eluded them. A season win in the DRM series was the best they could manage.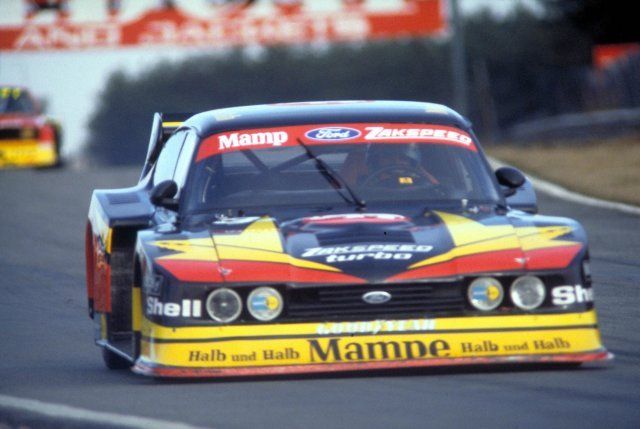 Formula one was another avenue they pursued but even with what was then some of the best drivers available they failed to make a mark on the establishment with only two points achieved over a five year racing period. In more recent times they have contested the Super League Formula, a strange arrangement where open wheelers ran under the sponsorship of leading soccer clubs ??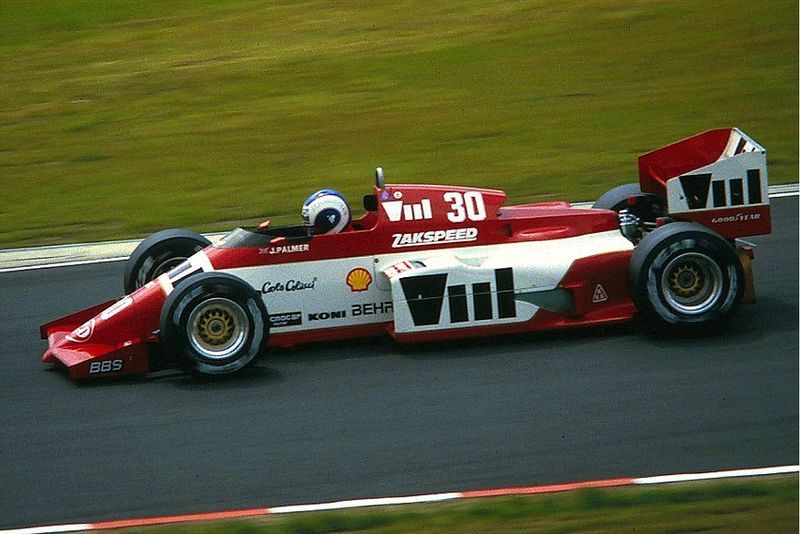 One thing is for sure, they new how to add colour at a time when racing was making tentative steps into the wider field of sponsorship and advertising. It was about this time in sedan racing when multi sponsor liveries gave way to big name one off's deciding what the livery was going to be. Something borrowed from North America with great effect!









On the track the model must be one of the most instantly raceable that I have reviewed. There was nothing to adjust and even the braids were ready to go, and go it did. On the green lane of the LCR and with a few precursory laps to set the Professor Motor controller up and it was on its way. The magnet Sideways have chosen is fine for high downforce tracks like Scaley Sport, SCX, Ninco etc and I imagine there would be little in the way of issues with it.






For Carrera and magnabraid you will see the model step out on occasions letting you know you are on the ragged edge. But with the adjustable front and rear axle mounts, it shouldn't take long before the model is at home on your track. For the type of racing I do I would choose about 250 gms downforce for Carrera and maybe 175 – 200 gms for high downforce tracks. Too much downforce will see the model bog down and become hard to control in more technical sections.









But why talk magnets? This model is also an out and out non magnet racer!! On a smooth board track with the judicious application of a little ballast and some 'sticky' tyres (or even the originals!), this model could be a hot contender . I would even go so far as to say that it could well out run some of the lesser magnet racers in non magnet set up!!! So lets see the pro's and cons and have we made headway from the good old days with this model? Mmmmmmmmm?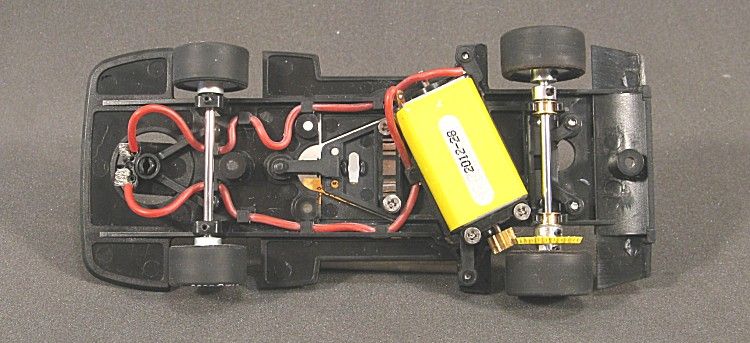 Chassis wise everything is marked up as Sideways and it looks like they have left their Slot.it heritage behind. Again they have gone for their version on the pod and everything fits neatly around it. Two magnet positions are obvious and the model came with the magnet in the front position, and with the soft compound tyres Sideways have got the model well balanced; something Ninco never quite seemed to manage.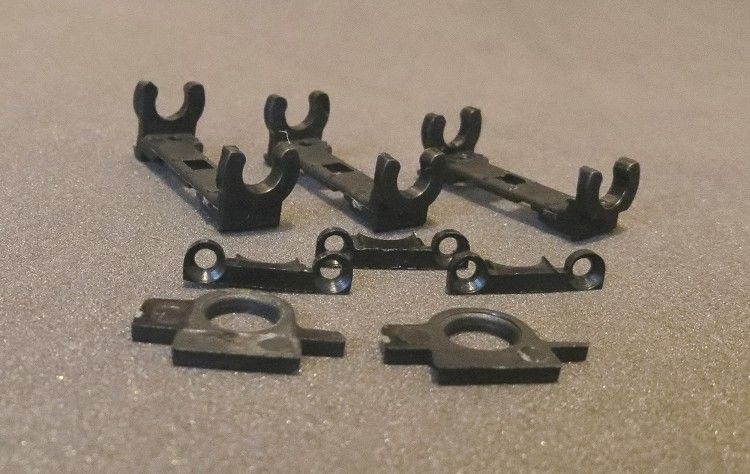 If you are looking for that extra downforce, you can also change the rear axle and motor mounts! The model comes with alternatives in the box, and total adjustment can be as much as one millimetre up and down! Not much to look at but a vast improvement when it comes as flux density.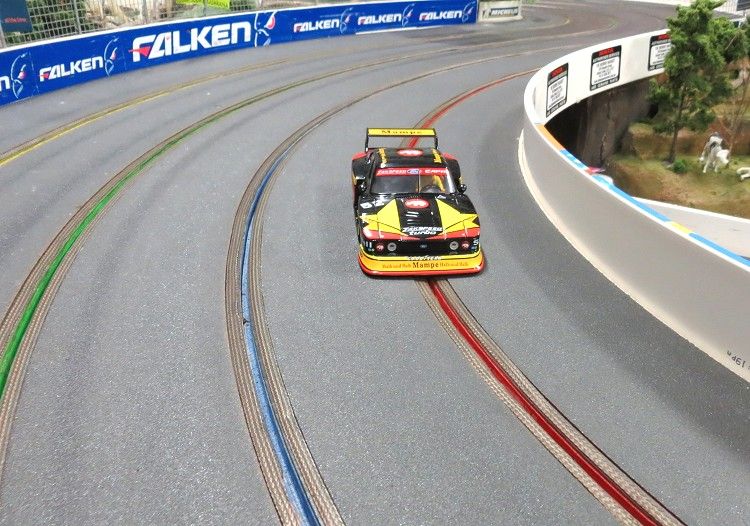 The chassis itself is quite thin and also a bit twisty. This certainly helps to prevent any drive train preloading due to out of align mountings but I wonder if it isn't just a little too twisty, especially for non magnet racing where too much chassis looseness can generate a terrible judder or hop on hard acceleration.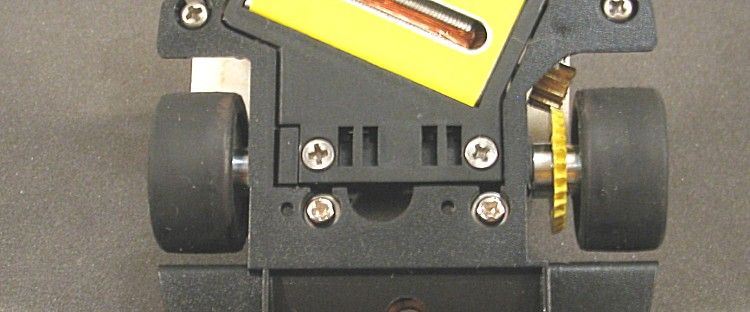 It's also nice to see the motor screwed down, also for the above reasons; but there are extra screws and it would be comforting to know that Sideway weren't going down the Scaleauto or Plafit route and filling the model up with gratuitous bolt on extras! Lets leave that to Meccano!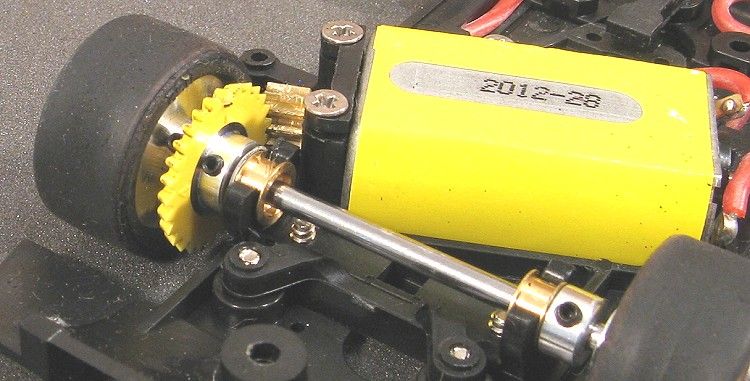 I'll take a punt but the motor does look to be a Slot.it and not only that, possibly one of the 'Flat Six' variety which has heaps of torque and straight line speed. Sideways have also geared the model high to ensure it will be hard to catch.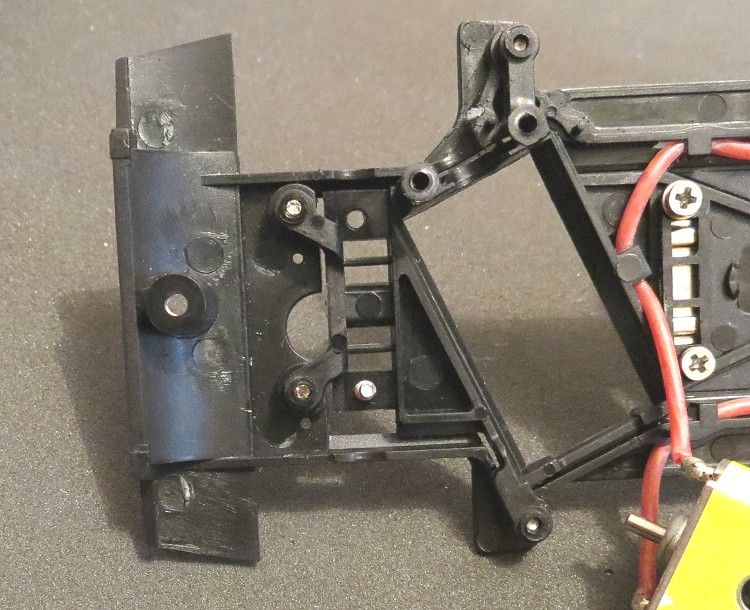 Everything else is neat and tidy (and flimsy) and once the two body screws are removed from the body mounts, you don't need three pairs of hands to put it all back together. An impromptu pitstop could be counted in seconds rather than minutes.








The model has a brass pinion and a plastic (nylon?) spur gear and out of the box they mesh well and are very quiet in operation. Lead wires are very tidy and contribute to the self centring properties of the guide assembly which should make a few marshalls smile.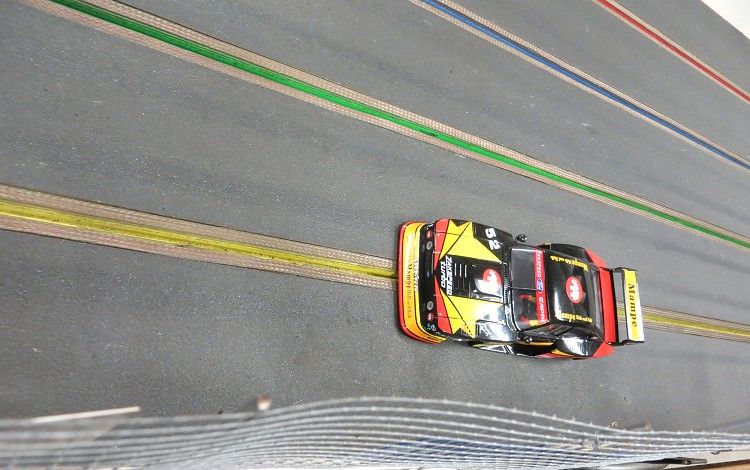 The body weighs in at 21 grams and is very simple. Probably not as well detailed as some early Fly cars but certainly put together well. Heat welds look robust and I certainly wouldn't expect too many bits falling off this model in the heat of competition.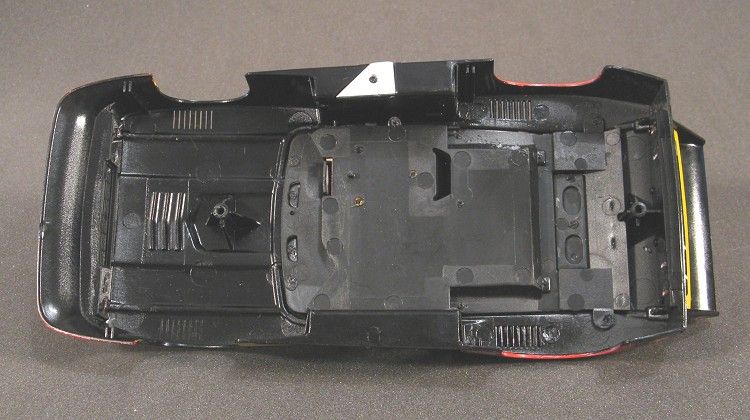 There's certainly a lot of colour on the outside and the model generally is well appointed. There doesn't seem to be much (if any!) detail missing. Light detail is average but this is more than made up for by the alloy wheel inserts. And being alloy wheels, the run out and eccentricity are zero. The clear lacquer is good on the flat surfaces, but there is a degree of orange peel down the sides.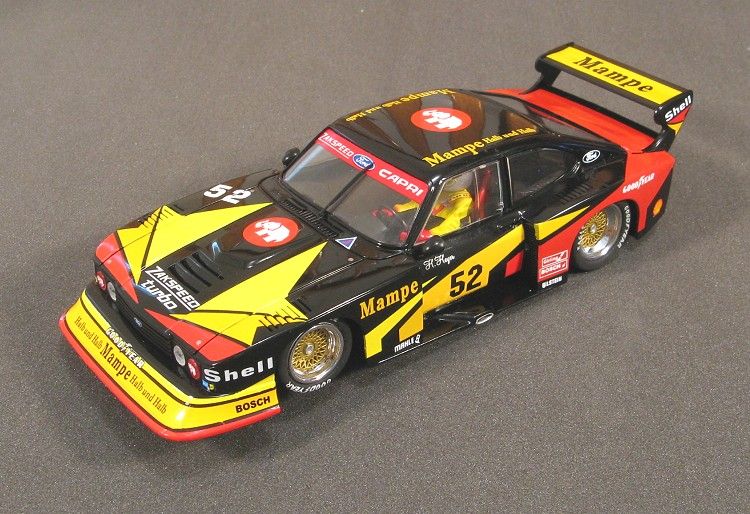 Sideways have also created what may be a good replica of the cockpit. Dash detail is included and the driver has had more time spent on him than an entire Cartrix GP! A half driver's tray could have been expanded on but that may be something Sideways might consider a bit further down the track? As it is, there is a smart roll cage and other interior detail which doesn't let the side down too badly.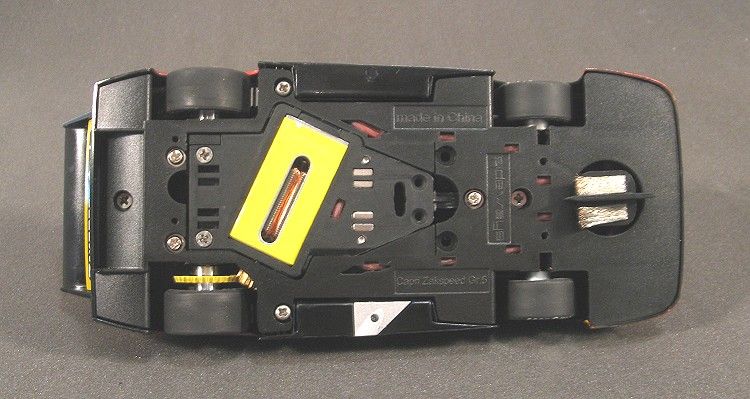 Would I change anything? I still think it would be nice if slotcar manufacturers started using harder front tyre compounds. This model has the potential to bog down in corners simply because the front tyres are too soft. There is the option of setting the front axle high so the wheels don't touch, but I am a firm believer that a free rolling, load bearing front axle has less drag than a model running on braids, especially over braided conductors.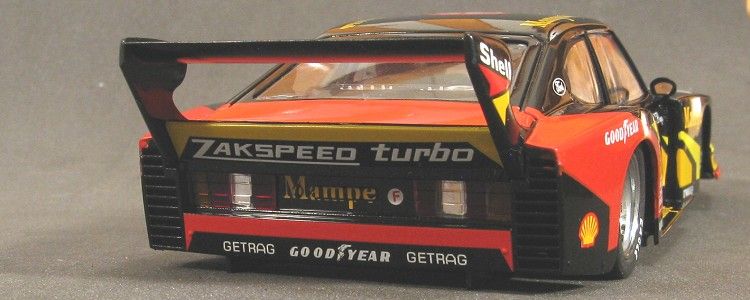 So what can I say, another (almost) masterpiece from Sideways, and something which you won't mistake on the track! Nine out of ten to the guys at Sideways and how about that full driver's tray! Mmm!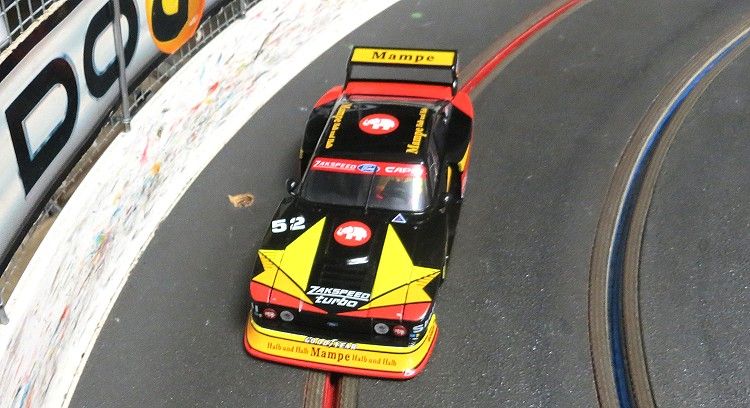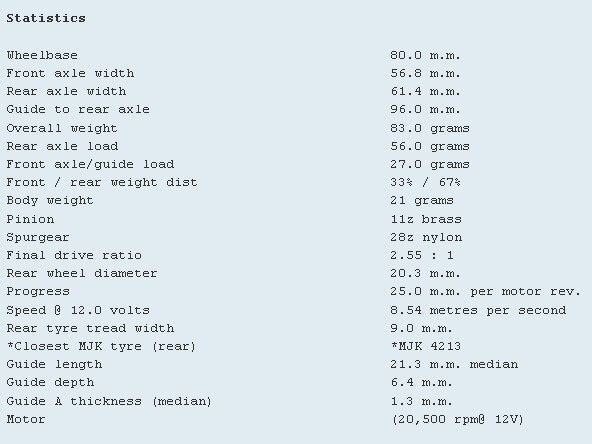 Dare I say it yet again.....?Yes..I will. If you are serious about your slotcar racing, do yourself a favour and add this or one of its siblings to your stable!!





Many thanks to Perry from the Slotcar Legends group for the opportunity to review this model.