Cartrix
Porsche 804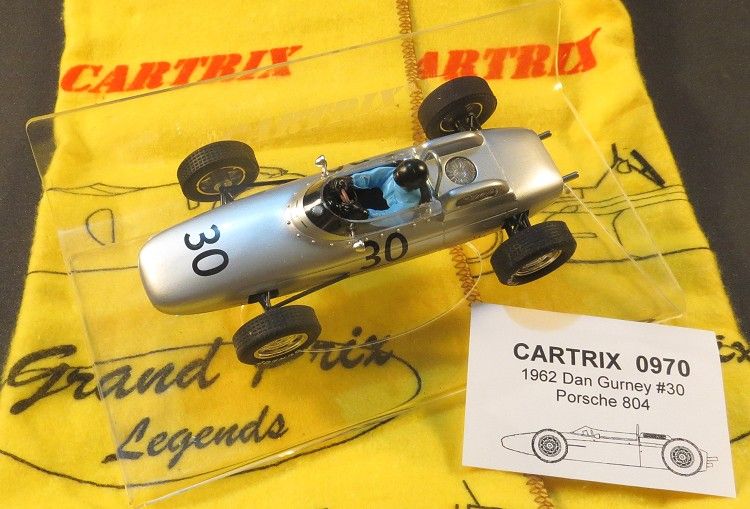 by Phil Wicks
The 804 wasn't borne of necessity but rather a natural progression. The 718 four cylinder single seater had been successful in formula 2 with Jo Bonnier and Stirling moss behind the wheel and it must have seemed natural for Porsche to attempt success in the premier racing class which at the time was F1 GP.






In 1961 Porsche were happy with their new all alloy 753 1.5 litre four cam air cooled engine and its 137 kW output, and decided to build a new chassis to take it GP racing. The 452 kg six speed car debuted at the Dutch GP with Bonnier and Gurney driving similar cars. Bonnier finished seventh and Gurney had gear change problems, but Gurney had showed a good turn of speed and was convinced he had something to work on.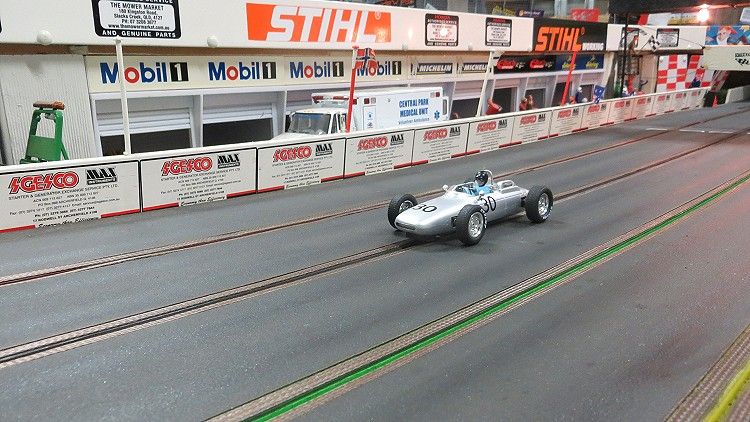 Monaco was full of promise with Gurney on the second row of the grid but a first lap pile up put an end to his race. Bonnier was in a 718 and proved to be the only Porsche to finish. Spa again was a disappointment and by now Ferry Porsche was doubting the justification for the expense of the event. The French GP saw an unusual number of retirements and Gurney took a one lap lead to finish first in a much modified 804. To this day Porsches only win in a world championship F1 race.






Later back in Britain, the team was dogged by bad luck again. Bonnier had reliability problems and Gurney could not keep up the pace. Porsches biggest success ironically was in the non championship Solitude circuit a week after Rouen, where Gurney and Bonnier convincingly took first and second place.






Nurburgring saw Porsche on pole but even with five cars in the race the best they could manage was a third place. Monza was dogged by reliability and at the US GP Gurney nursed a sick engine and gearbox home in fifth place. Last race of the season saw Porsche absent, and with Ferry unable to see the contribution the F1 experience was making to the company's sports car image decided to pulled the plug. In the meantime the engineers had been updating the car and now with an output of over 200 bhp were hoping things would keep moving, but it wasn't to be. Four cars in all were made and some were sold on to private owners. 804's raced right into the 1964 season but buy then the cars were hopelessly outdated.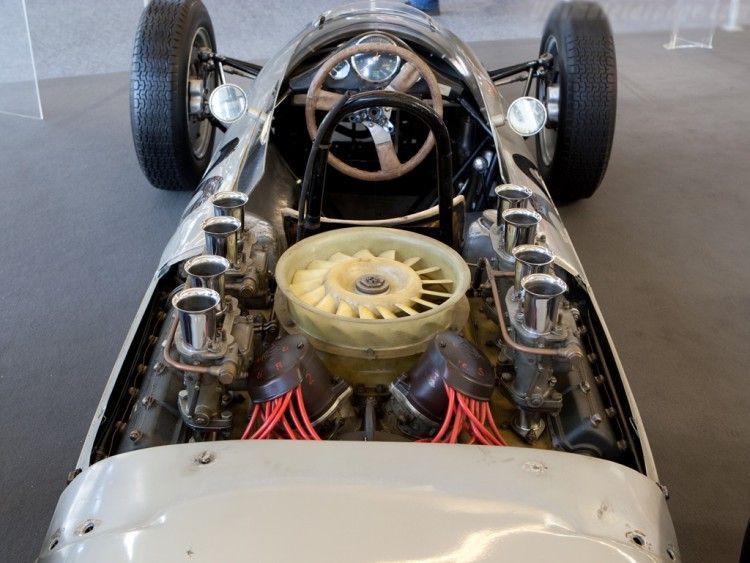 While they were still running torsion barred space frames the rest of the racing fraternity had crossed over to the new stressed body monocoque construction so successfully developed by Lotus. The engine went on to be developed as a precursor to the might of Porsches onslaught in the sports car arena, which was only a year or so away! So how have Cartrix captured all this drama and disappointment??, Well, I think they have done a great job even though they have taken a leaf from Mr Ninco's book and been a bit generous with the dimensions!






If you read this board often you will know I have a bit of a thing for Porsche 804's; right from early days and Airfix models I have always had an 804 somewhere to hand. A Scaley version usually but I seem to remember one from Honk Kong too! yet this is the first time for many a year that anyone of the main manufacturers have made one?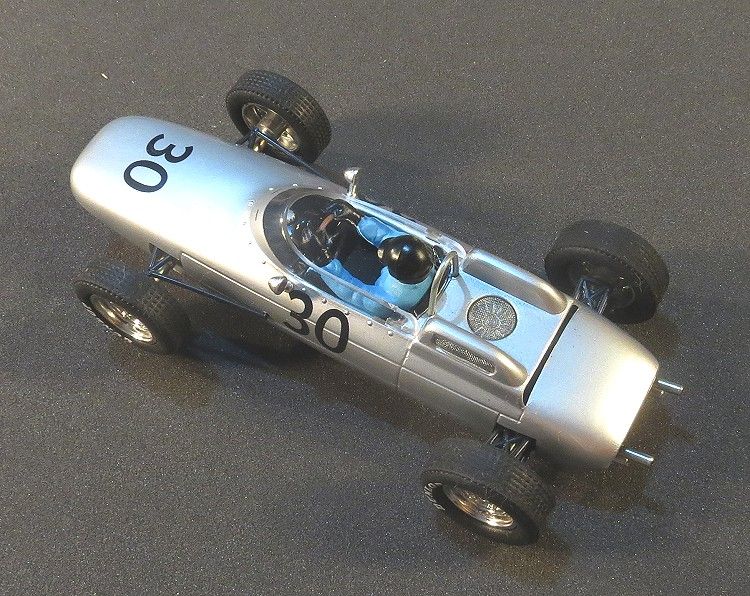 It was worth the wait too! From the outside it is vary attractive and Cartrix have picked out superb detail in the grilles and transmission detail, the suspension detail and even the cockpit detail also do it justice. The body halves fit well together too and are a far cry from the miss matched shells of the Gordinis and Bugattis of a year or too back. The top shell is a good moulding and super glossy with a nice coat of clear lacquer, butt the underside is a bit dull?






Also underneath the FF motor is clearly visible as is the moderate traction magnet, also underneath are those magic words , Made in Spain. At a time when the whole world (almost) has gone Chinese we can still see a bit of local input for the European race circuit. Tyres are well detailed but they are a little over moulded; by that I mean the tread is concave due to the tyre sidewall being a little deeper than the centre diameter. Not a big deal but to get them level you will loose the tread on the outside tyre edges before the tyre levels out.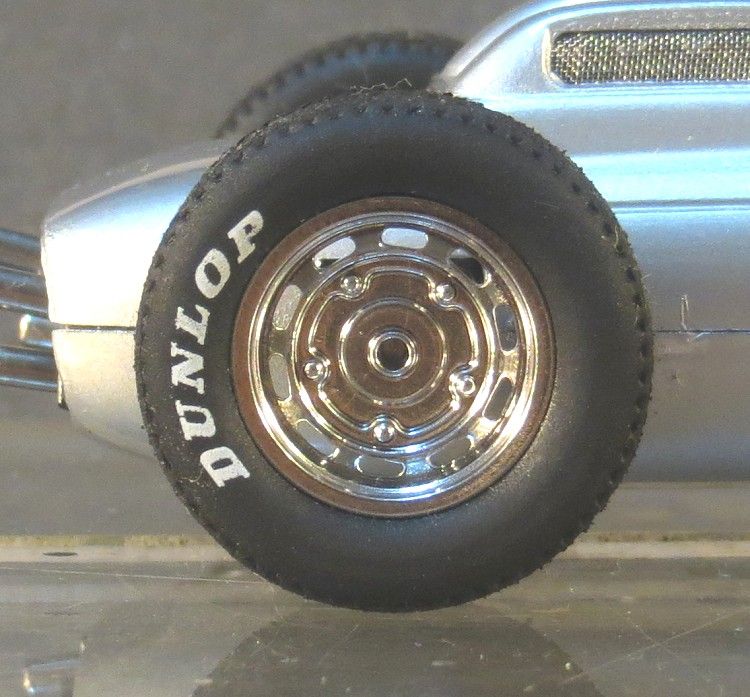 The wheels are well moulded but have a little bit of 'run out' when turned. Again not a big deal, but the fineness of the wheels dictates that they be treated with care, and removing them should be a last option. Again a bit reminiscent of Airfix, there are two screws which hold the body together and like Airfix, the body splits down the centreline leaving a sparse, clean chassis with a lot of spare space for those who like to add weight for non magnet racing.






Once inside there are more delicate parts. The rear axle mountings are a bit fragile and need kid gloves when handling and once again, if you don't need to remove it....... don't! It's a similar story for the front axle and even the guide comes in for a cautioning. The guide mounting tube looks surprisingly delicate and if by chance someone slammed a Scaley 156 into you at great speed then I suspect there could well be tears before bedtime. Best bet is to race like against like and let the SCM's have their fun elsewhere.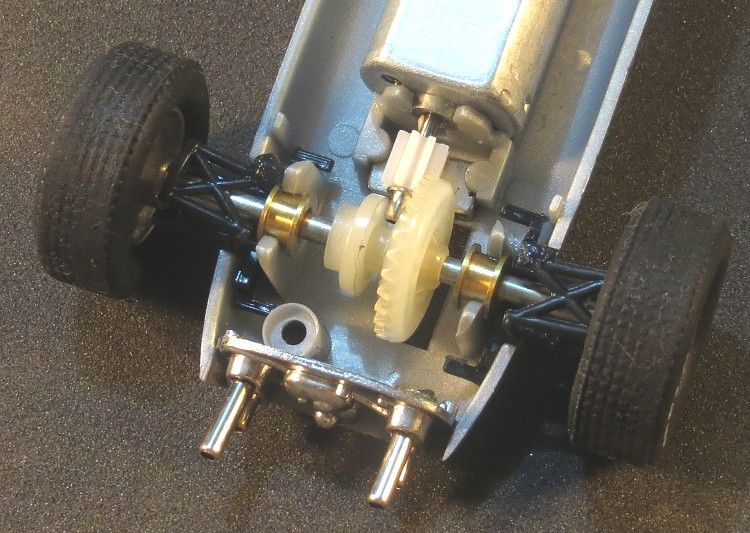 The rear axle is basic and the gear appears to be true, and there are no strange transmission noises on the track, but the pinion is another of those with 'through' teeth. History shows that if run regularly or when they become a couple of years old, they split along the tooth valley and let go just at the wrong moment. Another observation here is that if you are going to sand the rear tyres you might like to do them on another model. There is a good chance that the pinion will let go on this one. The motor shaft is only 1.5 m.m. in diameter and the pinion definitely looks like it won't take too much rough handling.






Like some other models, Cartrix have sleeved the pinion shaft so it will fit snugly in the 2.0 m.m. slot in the contrate. Again, if you remove the axle keep your eyes peeled as on previous models (Scaley etc.) this sleeve has needed little encouragement to fall off, and finding it in the carpet or in the garage or on the dog could then become stressful!






This models has a few plusses, and its main plus is its track presence. Once the tyres have been persuaded into the closest you can get to concentric it's time to pucker the braids and put it on the track. My tests were on a ferrador and magnabraid high speed track, and on a medium paced Scaley Sport track.






The model's magnet is modest but effective on Scaley where it keeps the corners down to a controlled drift and a quick pick up on the exit of the corner. No strange noises and no peculiar habits, and as the test went on it became a very easy model to drive. On the Ferrador and magnabraid track the magnet was hard to detect, but its surefooted cornering showed it was working and it was only more adventurous cornering which saw it step out.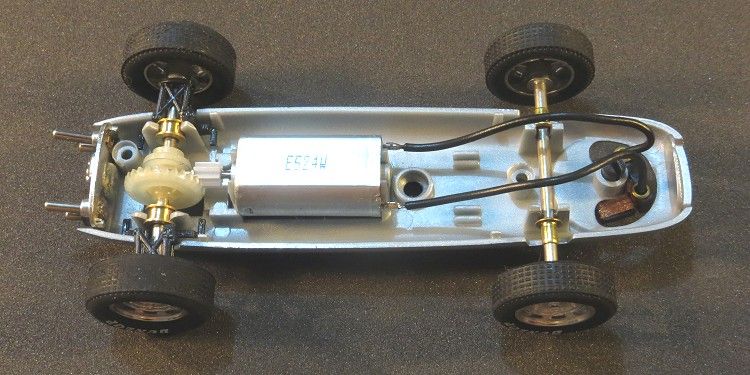 The motor is an FF type motor which seems to be one of those 16,000 rpm type motors, certainly not the same as the popular Scaley FF's and no where near as lively....which is nice.... Engine breaking is good and acceleration too is respectable and the tyres are well equipped to deal with the model's speed. if you are one of those who can't help but gut a model and refit it out then this might ruin a good drive.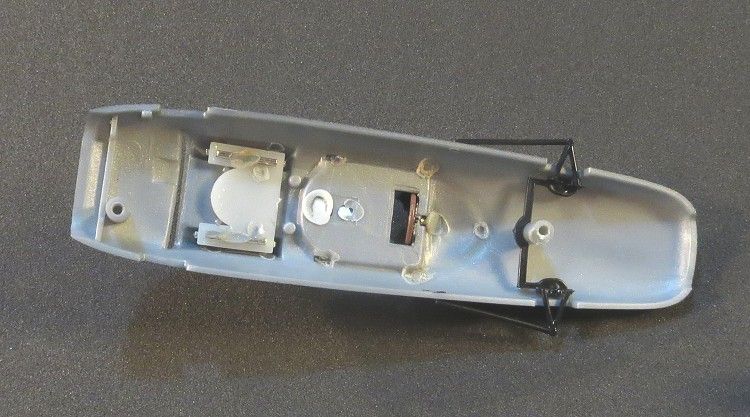 One of the most beneficial features of the model is Mr Cartrix's decision to pump out the track dimensions. This has made it inherently stable in the corners with deslots being almost all oversteer deslots with the back sliding round, which also demonstrates to me that the guide is functioning well too! And as nearly always the model is a whisper on the track, which tells me the plastic gears are working well.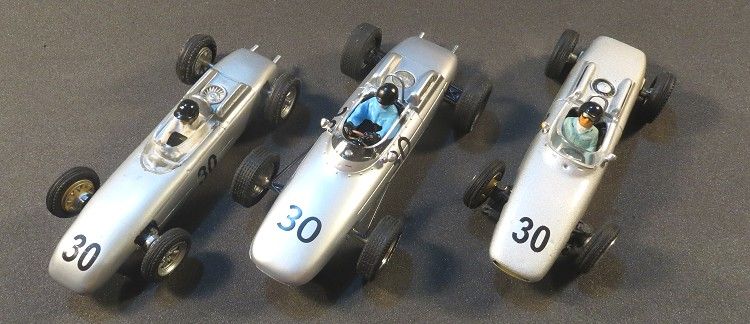 I love this model, have I said it before? Who knows, but to me it is a much waited piece of my childhood incarnate, and amazingly I secured it at Topslots and Trains at an amazingly good price compared to some of Cartrix's earlier models. I have also hit the right formula for upgrading the Airfix Porsche using an HO motor, so maybe one day I could get them in a head to head? Mmmmmmm?