.
.
Team BMR Volkswagen Passat CC
Jason Plato - BTCC 2015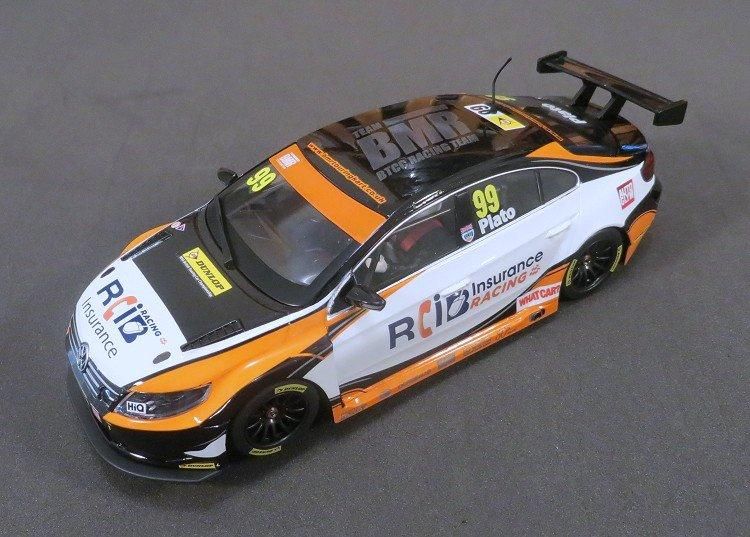 by

Phil Wicks




The British Touring Car Championship (BTCC) has become a bit of an institution in European motorsport. It has been around since the sixties but didn't sell itself as the TOCA brand until the nineties. 2015 was the running of the 58th BTCC Championship. In the early TOCA days a distinct format emerged and the racing was often exciting and head to head with thrills and spills aplenty.






From this disparate bunch came a group of drivers which were to forge reputations for themselves not only on the tight and technical circuits of the BTCC but also on the greater auto playing fields of Europe. And to demonstrate its durability, there are still some great motorsport names racing internationally. Names like Matt Neal, Alan Menu, Rickard Rydell and Jason Plato




Jason Plato like many racers, started in karts and also like many racers, before long was racing formula three and Formula Renault classes. In 1997 he approached Williams, who were managing the Renault BTCC team, for a test drive. Initially overlooked he pestered Frank Williams at the Williams HQ and Frank condescended to give him a try out. In his rookie year he managed third place overall.




Between then and the BMR drive there has been a chequered history. With drives for SEAT, The British ASCAR series, Vauxhall (GM), Chevrolet, MG and Subaru, He even drove Commodores for the HDT in 2000 and 2004!
BTCC titles to date are 2001 (Vauxhall Astra) and 2010 Chevrolet Cruz). The BTR drive which Scalextric have reproduced for us is the Volkswagen Passat CC from the 2015 Championship, which he drove to second place.






Team BMR



BMR are a race preparation team which have chosen two or three motorsport disciplines to support. They became involved in motorsport in 2013, and being so called 'new kids on the block' they have already proved they can mix it with the best and achieve regular podium finishes for their reward. In 2015 they chose four VW Passats to make up the BTCC team and under the RCIB sponsorship banner managed a Championship second spot for Plato and overall team winner.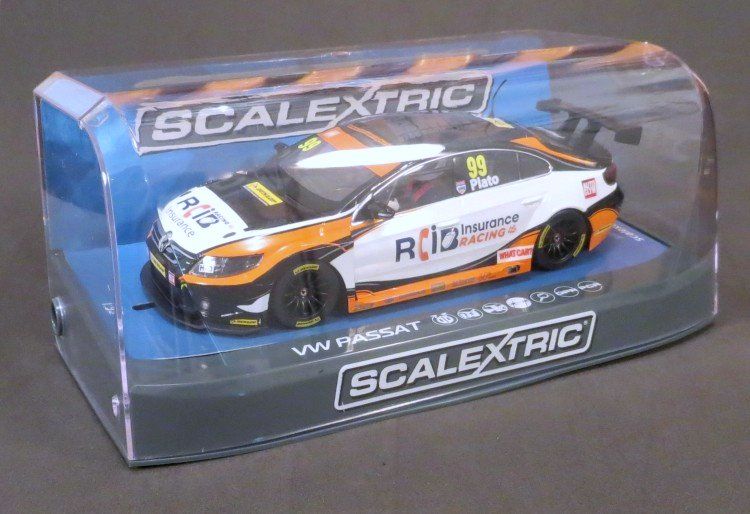 Scaley have fairly recently updated their display cases, moving away from the old blue and black cases to a neutral grey colour, along with this the insert tells you how to successfully change the braid plates, (I know one or two who still haven't mastered it, only to find it sliding across the track at an inopportune moment) , but you still have to laugh. The loose handout also carries a lot of information for the beginner regarding the colour of the tyres, which may or may not come with a 'bloom' on them which is apparently harmless!



2015 British Touring Car Championship






The model Scalextric have made is the '99' Jason Plato car, one of the four VW Passats entered by the BMR Team in 2015. Initial response when taken from the wrappers was that it is a contrasting livery, not too heavy on decals and a pretty good stance when on four wheels. It has a good 'footprint' which should bode well on the track and ground clearance is down to a reasonable minimum, especially for those who race the antique Scaley and SCX tracks. The rear wing and door mirrors are always the first casualties with most makes some sooner than later, I expect it is asking too much to make these removable much like Carrera models?? But credit where it's due. Scaley have beefed up the pylons which hold the rear wing, and the door mirrors do have a degree of flex in them, so, there's hope yet!




Scaley have gone to some lengths to keep the tampo clean and sharp. The finer paint stripes are well executed and the window and grille trims are well enhanced by the precise nature of the tampo. It flows nicely across the sleek lines of the model complementing them from front to rear. Paint finish is good but I can only give it 8/10 as there are two or three spots were the orange peel is noticeable, and in other places there is no shine to the clear coat, particularly on the rear mudguards/wings/fenders.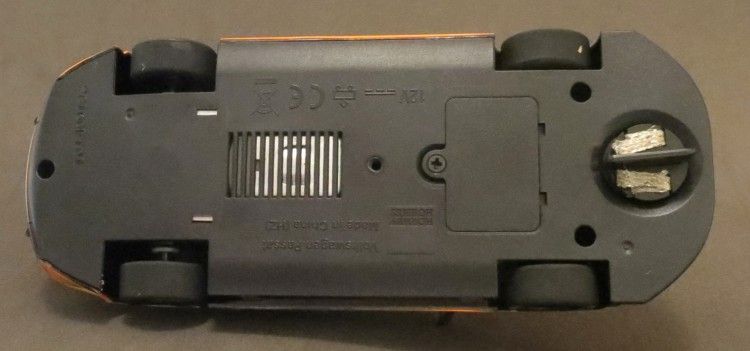 Underneath is very plain and smooth and as I always like, just three screw mounts hold the body on. With the top off there is a common layout which Scaley have used frequently over the years, but there is a crisp tidiness to it which you didn't get with early models. Scaley have quite wisely reinforced the chassis on the inside with a grid of upright mouldings down both sides and especially around the motor mounts. For those who race with loose bodies this should prevent the chassis sagging in the middle with age.




With the top off the basic layout is revealed. Scaley have even reverted to minimal drivers tray detail as of old with this one in particular having a tidy but basic layout. The driver's tray clips out quite easily and you might feel inclined to brighten the interior up with some extra colour from the Humbrol tin. Mmmmmm! The guide is a good depth and lead wires are attached directly to the braid plates doing away with that annoying RI set up over the guide and those terrible thin wires which used to snap off just at a critical juncture.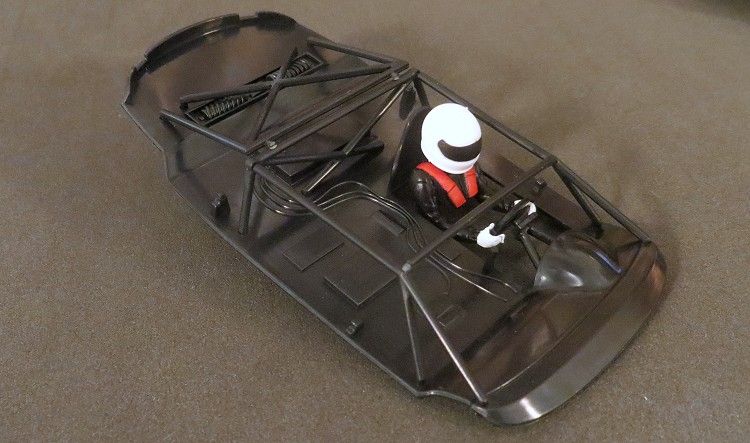 The motor is tight in its mounts as are the rear axle mounts but they are made from thinner material than of old! These parts are not meant to be 'popped' in and out at random. Be careful when you do move these parts and keep it to a minimum, or they will let you down at a crucial point in your racing. The race magnet is the standard 1.5 m.m. thick magnet and offers good traction to what is essentially a light model as far as Mr Scaley is concerned. Magnet removal is difficult and a 2.0 m.m. racing magnet will need to be glued in place as the original clips are too short and will not grip it, plus, it is the only magnet position!! So, once again, plan the operation as you may well end up breaking something adjoining.




The rear axle is the now commonplace white plastic/nylon contrate which in most cases should be adequate for home racing/short circuit racing, On this model there was a defect on the left side of the armature shaft guide slot, this caused the contrate to bounce to one side when it engaged the arm shaft each revolution, and also caused a harsh whirring sound when the model was in motion at speed. I managed to remedy this by the careful application of a sharp modeller's knife.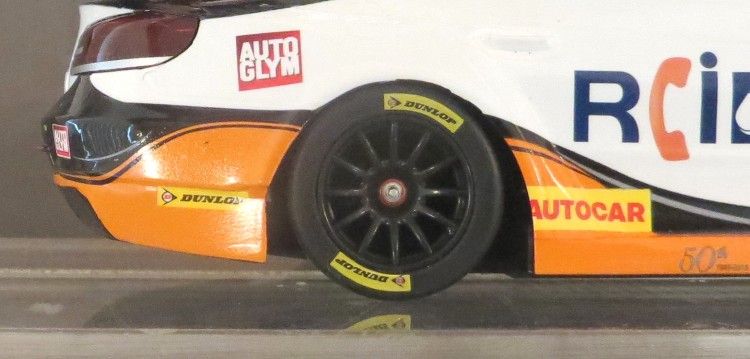 Wheels and tyres are sturdy enough and are well fixed to their respective axles. I don't see these coming off in a hurry, and if they do I recommend replacing the complete axle if you are up grading the wheels. The heavy knurling which holds these wheels on will eventually damage the wheel if an attempt is made to remove them. Tyres are good medium soft rubber which should be more than adequate for the home racer, but if history dictates, they may well harden up with age, or exposure to UV, or solvents used to clean the rubber between races. If the tyres develop a 'crust' I recommend they are lightly sanded with 180 grit paper before each use to freshen up the tread area.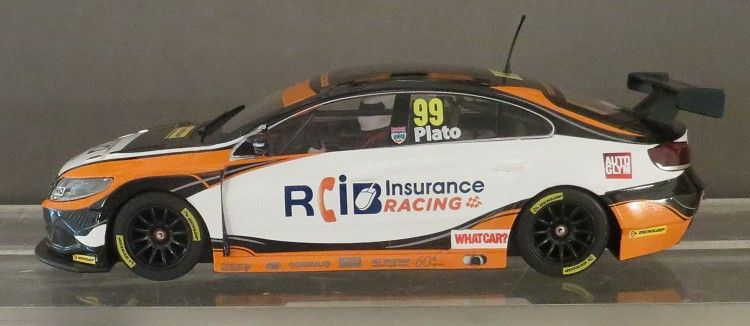 Final detail are the light boards. What I like about them both in comparison to other makes with lights and earlier Scalextric models is that when the body is removed, they stay where they are! Yes, they do! And what's more, you don't need a third hand to hold the things in place while you try to slip the body back over them! WoooooHoooo!!!




As always, the model is DPR and I suspect there will be lots of fun had with this model and its brothers and sisters around the digital traps. Having fixed several annoying aspects of model assembly, Mr Scaley has created one in the body/chassis department. The chassis slips into four small clips down the sides of the body and these can be a bit fiddly lining up on reassembly; also the rear valance can take a while to fit if you don't get it in first time.




I was fortunate to have the opportunity to test this model on a Carrera track and also a none magnetic board track, and out of the box it was quite surprising. I ran the model SOB and made a mental note of its performance and times and set about body tuning. On board it tended to hop on the tighter bends and had a curious rattle on occasions. On the Carrera track it tended to let go unannounced on some of the tighter turns.




After truing the tyres there was a marked increase in its cornering ability on the plastic track and the model gained half a second over its best lap. On board the rattling greatly reduced but it still hopped a little out of the corners and wagged its tail a bit. I checked the tyre truing again and there appear to be a couple of minor flat spots on the rear tyres . After another session of truing performance increased but still it was dogged by the rattling sound??. In desperation I removed the body and lubed everything. Back on the board track the model was transformed and lap times tumbled and fell from 6.7's to 5.9's!




Next came a revelation! I tested the model on the Carrera track with OEM and Urethane (MJK) tyres. On plastic there was no difference in lap times between the two mediums, and on the board track there was barely 0.2 of a second! Amazed at the performance of the original tyres I took a closer look, and the tyre material looks to have a 'grain' to it, rather like minute particles of coal dust! This also explained why, when truing the tyres, the rubber dust was very black and powdery! Mmmmmmmm? What has Mr Scaley been up to?!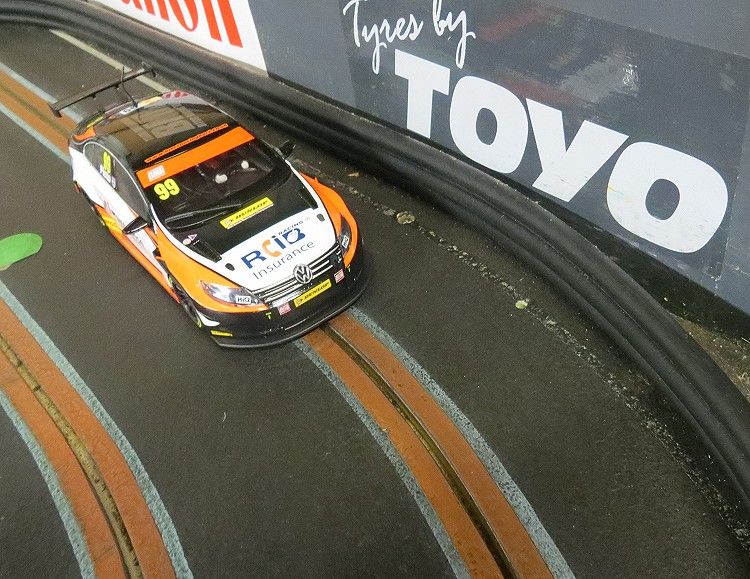 Some people are disappointed that this model has an in-line drive configuration, not me, it works fine like this and I doubt it would be any better as a side winder. Lastly, we got to run the Honda and the BMW. All models are very close in performance and it is my view they would run very well together as a new 'tin top' class match as the '90's BTCC's did and still do!




Passats on eBay







Compared to the Honda and the Bimmer the VW looks a lot sleeker and longer, but its footprint is almost the same as the other two. I have become immediately attached to this model and look forward to racing it in anger. So hopefully the beginning of a new class, and time to consign the Lagunas and Mondeos to the (well) used car lot!