.
.
John Goss – Ford XY Falcon
Bathurst 1972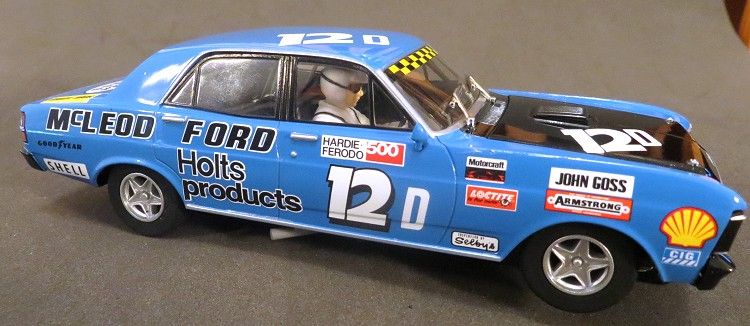 It's usually not difficult to find little tit bits of information on articles I have done, but, search as I may, this model is being more elusive than any I have done to date. So too about the driver, John Goss. With GOOGLE and YouTube letting me down I will have to glamorise the little information I have and hope it will suffice. A quick check of Wikipedia also is not very forthcoming so I'll leave the researchers to their own devices and carry on with the model.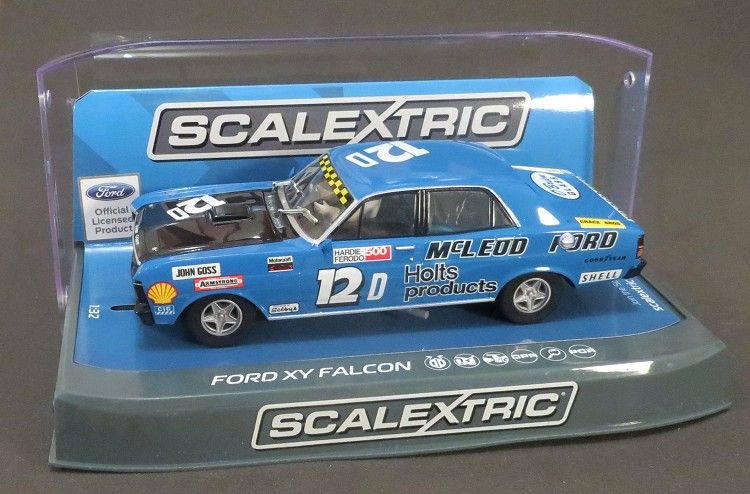 Firstly, this is yet another recent model from Scalextric which I have picked up and been pleasantly surprised by its 'out of box' weight. At seventy three grams all up it is super lightweight compared to previous models from not that many years ago. Compare it with the diminutive MGB which in hardtop form weighs in at 67 grams or the similarly sized Dodge Dayton which weighs in at a thumping 103 grams!! The reason for this is probably two fold. One, the traction magnet has not so much work to do, and two, there must be a saving in material costs for the manufacturer!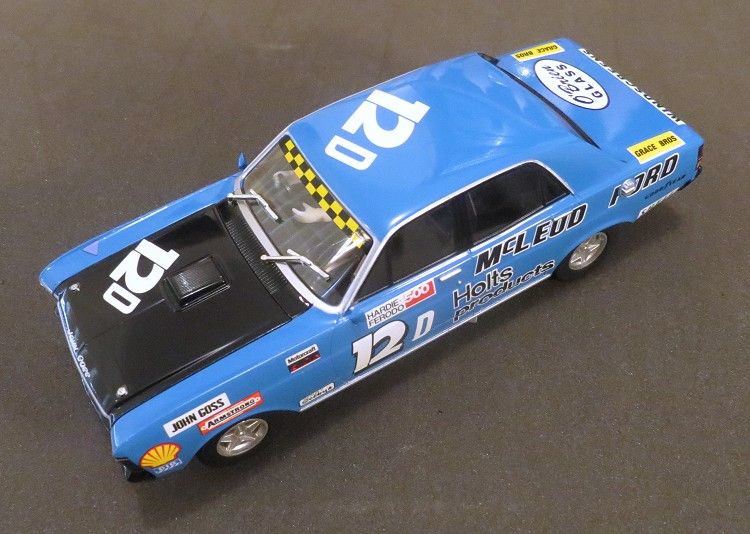 So lets take a walk around the outside to see where the hard earned has gone!I I can already feel my top lip curling into an appreciative smile, but I must not let this sway my critical judgment. From the outside the tampo is very good and again has no major flaws that I can see. I will though make note of the orange peel in the clear lacquer coat, me being one that likes a 'shiny' model. But this seems to be on the bigger tampo items like the O'Brien tampo on the boot, and the 12D tampo on the roof. The rest is excellent and even the screen, gutter trims and door handles are tidy.




The door mirrors are just in the roll over zone but are made from a semi flexible material which allows it to 'give' into safety. It will need to be a well placed hard knock to dislodge one of these. Best bit of the outside though is the front grille and trims. Scaley have in my opinion made their best 'front' to date, plus, the model has working tail lamps which work well. At the rear the light the lenses are made from clear material, but there are no working lights at the front? even though there are a couple of board mounting brackets on the chassis to mount a light board…and… both the front and rear underbody are masked with matt black to stop light bleed through the body!





With the body off I first noticed that the body weighed in at 24 grams complete. This is among the lightest Scalextric bodies I have experienced. I also noticed that the bonnet (hood) is a separate piece from the body moulding and is held in place by four heat welds. Obviously there are going to be other uses for this body involving front lights and a different bonnet! Mmmmmmmm? Interior detail is basic and we have a very simple driver in control which needs attention with a paintbrush and paint! Nor are the dash and other interior details much to write home about. There is also a rudimentary roll cage which is difficult to see in its blackness. If you do take the driver's tray out for any reason, slap a bit of colour on this too!





Wheels and tyres are pleasantly concentric and, in line with current practice, Scaley have fitted some very usable rubber. A medium compound which should work on most surfaces, but they will still need changing for serious racing both magnet and otherwise. I tried to match up a good MJK urethane tyre but even though there were several candidate tyres, I couldn't get any that were a snug fit, mostly due to the smallness of the wheel rims which have a an overall diameter of 13.5 m.m. and an outer step of 11.4 m.m.





The chassis is standard fare from Mr Scaley and unless you are into 'chopping' there should be no reason to change it. There is also plenty of space for the non magnet racer to add ballast without upsetting the balance of the model.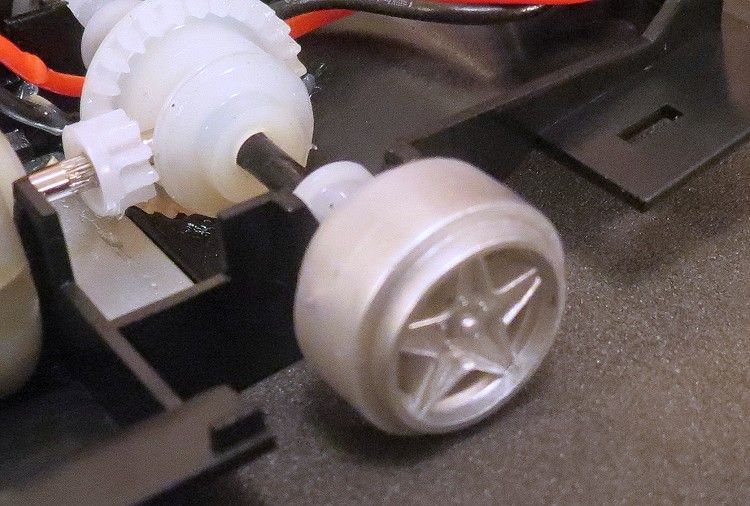 Further inspection reveals the rear axle assembly to be a soft fit in the chassis, and it pops out a lot easier than I was expecting. The body moulding has a couple of braces which press on the axle bearings when the body is screwed down; but if, again, you are a non magnet racer then this will need to be addressed. Maybe a sliver of polythene or paper wrapped around the axle bush, or a small spot of well placed superglue perhaps?





The traction magnet is medium strength and looks to be the 25 x 1.5 m.m. type. Also, unlike days of yore, there is only one position for the traction magnet, which fortunately is between the axle and the motor. The motor is the Scaley Mabuchi 'S' can and is rated at 18,000 rpm @ 12v and, on this model is slightly loose in its mounts. Not such a big deal for magnet racing but it will need addressing for non magnet racing on both board and plastic. The contrate is very true and won't need skimming, and all rear axle components are well fixed to their knurled positions.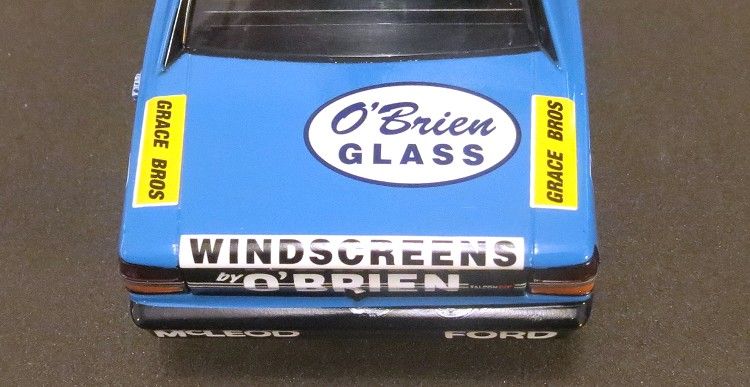 Almost finally, the model is DPR and the chip can be installed without removing the body. The guide is a healthy 7 m.m. deep and although it will race well on modern tracks, you may experience problems when racing on Scaley 'Plexitrac' and SCX Classic, and even on the early Ninco track system. These tracks have slots which are considerably shallower than their latest product!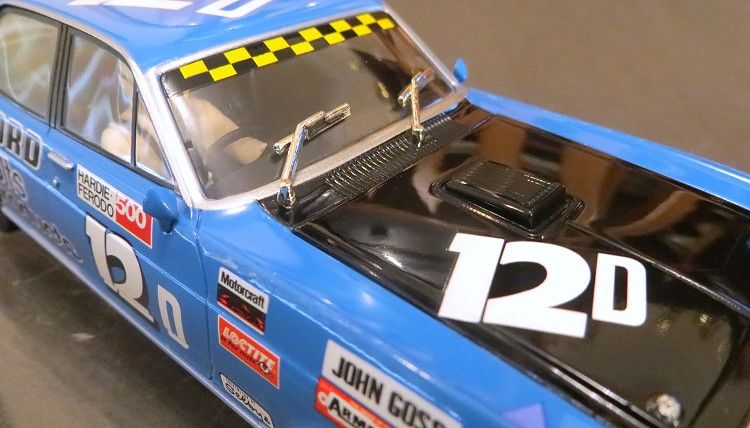 Another thing I like about the model is that it doesn't 'creek' when handled. Those that do tend to be noisy on the track but this model will be fine. The main source of body creeks is where the driver's tray is fixed into the body. On this model all parts are well fixed in place and the driver's tray is a clip fit.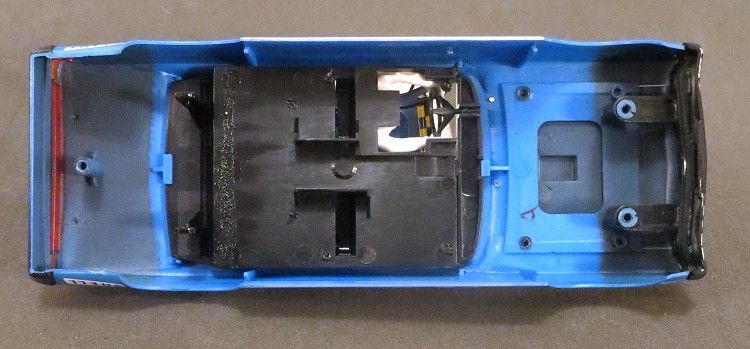 All in all I couldn't be more pleased with this model. Out of the box it is a good starting point for some fun racing, and the customiser has plenty of scope for 'hotting ' it up. I fully expect it to run well on non magnetic surfaces and even better with some judicious ballasting. On plastic tracks it will have its upper drivable limits comparable to most modern makes of this class.




XY Falcons on eBay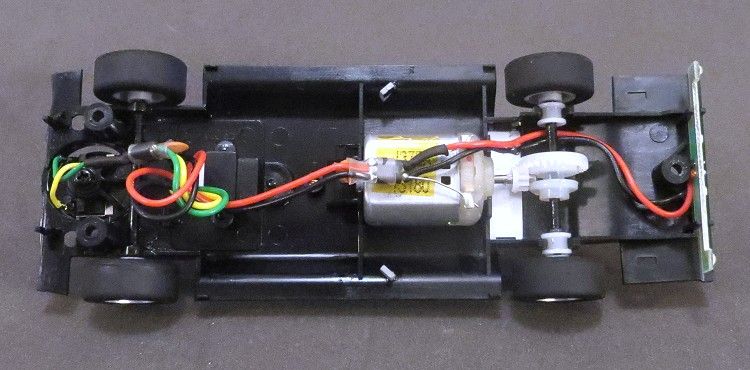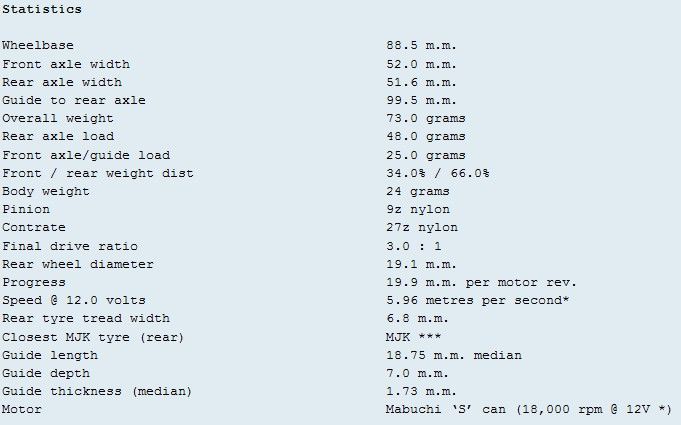 So, once again I have to say, do yourself a favour. But remember, there are more variants of these in the pipeline, including the hard to source set cars. So you had better clear a space on the shelf for them to fit!

Many thanks to Mark Stockwell from Bonogin Valley Raceway on the Goldcoast hinterland for the opportunity of reviewing this model.



Bonogin Valley Raceway - Goldcoast