.
.
Scalextric Starco Racing Truck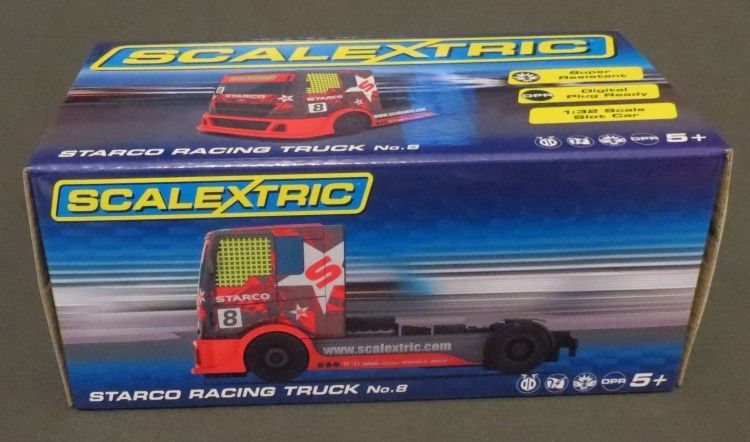 By

Phil Wicks



Call me contrary if you like but I am torn between a rock and a hard place as far as the latest Scaley stuff is concerned. It seems to me that Hornby Hobbies may well be following the path of Ninco & Co. when it comes to slotcars. What do I mean by this, well, Ninco diversified a few years back now by introducing additions to the Ninco family by way of different scales and durable windowless models and super tuned chassis variants, thereby fractionalizing the general slotcar buying public.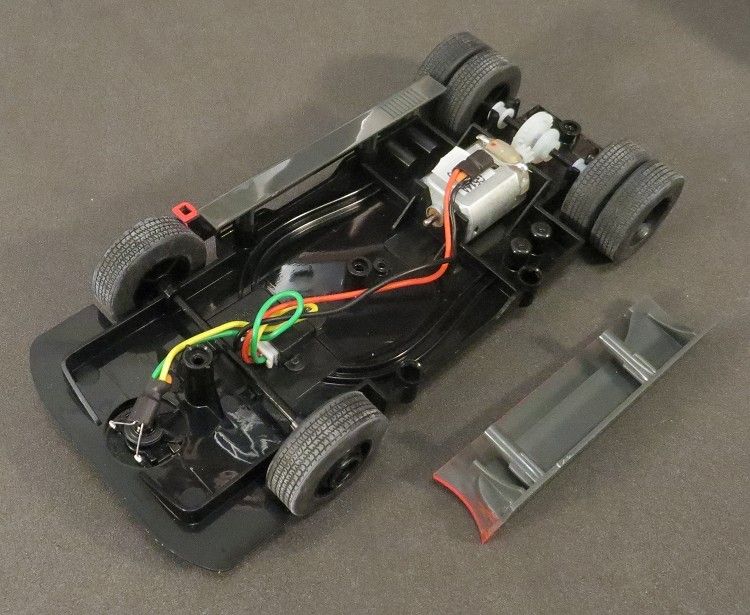 The major effect was not so much to entice greater numbers to the hobby but to spread existing hobbyists more thinly over a wider spectrum of models thereby reducing the number of model runs and increasing manufacturing costs per unit! They also introduced cutthroat sales gimmicks and manufacturing techniques, and it appears that Scaley is following Ninco when it comes to this type of diversification.







Scaley have built the Kart using their own production style and in doing so, consciously or other wise have challenged Ninco head on and now they have set about Fly in a similar manner with their new truck range, but who will come off second best?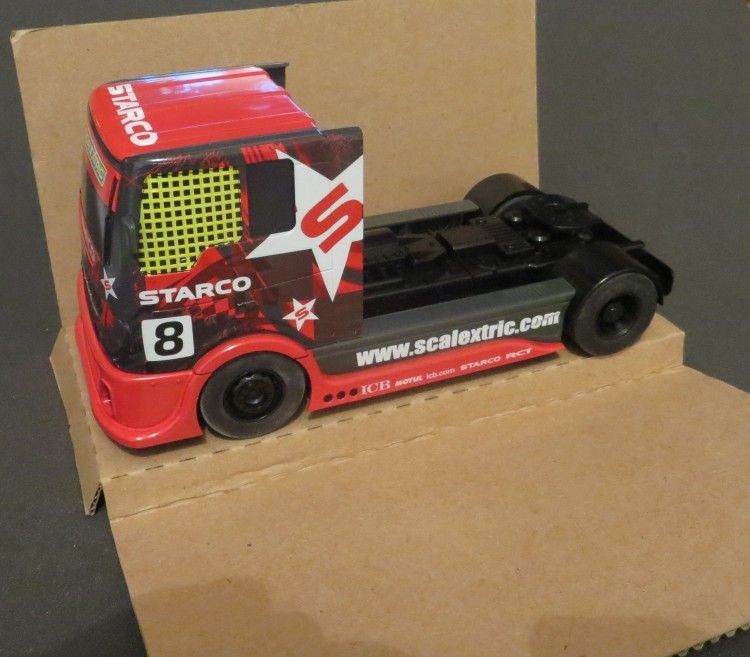 First up is the packaging. Gone are the crystal display cases and fancy diorama complete with no less than two spare guide plates stored conveniently under the model. This Lorry (Truck) is down to earth as far as wrappings are concerned and it is a case of "what you see is what you get!" But I can almost hear the masses telling me they don't care anyway, and quite rightly too. The fancy trappings are a way of making you think you are getting something special, whereas Pizzas come in cardboard boxes……! And I'd rather have a Hawaiian any day!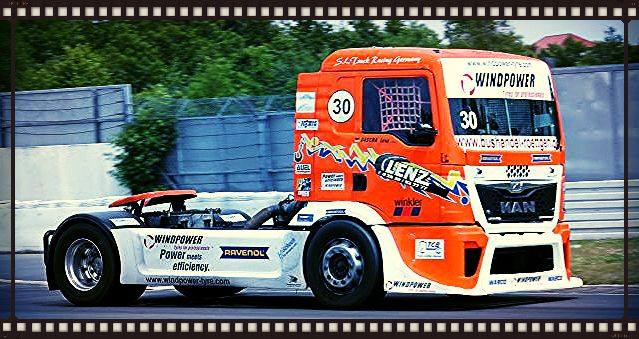 A real racing truck! A feeling of 'Déjà vu'?



The truck isn't a representation of a real truck as far as I know but it could be one of several and is a generic design. But one thing's for sure, it could possibly be a contender for the Fly trucks in the right circumstances and on the right track. I have the Fly SISU and was interested to compare dimensions and rolling weights, plus other features. Surprisingly, they are fairly close on several points.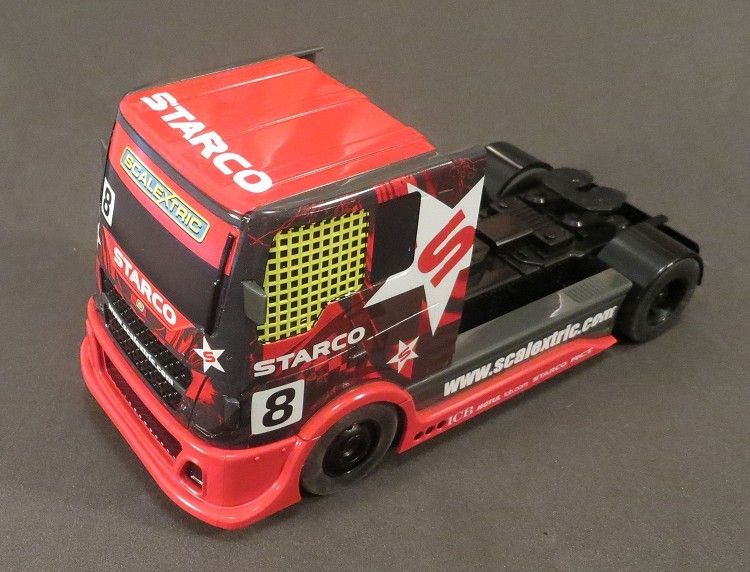 Back to the model and what do we get for our £25.00 (Minus VAT!) + freight? Well, first impressions are that this is a functional if not life-like model. With CAB1 Scaley have settled for a Starco fantasy livery for this model and also produce a nice livery for the CAB2 version. I notice the model carries tampo'd decals of very real companies and you have to ask yourself if, being a fantasy livery, Scaley actually receive royalties for these placements rather than them costing dearly?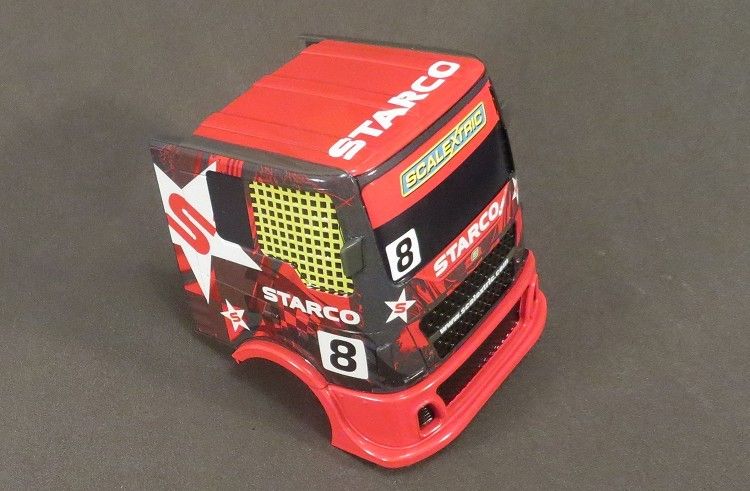 The cab is moulded as one part and as there are no clear parts and no interior, the cab is a hollow shell and inverted would make a nice desk-tidy, but more importantly, in being such, saves a lot of upstairs weight. There are a couple of parts which make up the chassis, and inside the rear is a Mabuchi 'S' can doing the business and little other complications. A standard Scaley traction magnet sits across the rear chassis and has good downforce, enough to work on the low magnetic attraction of Magnabraid and Carrera tracks; and that just about sums up the business end.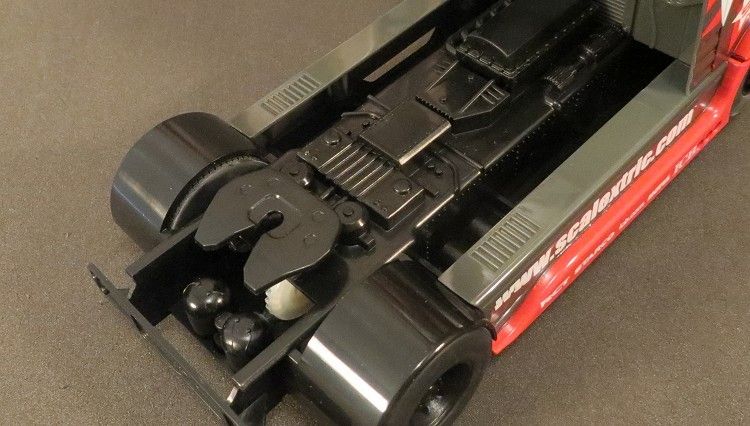 But the significance is not so much in what the model has but the way Scaley have put it together (comparatively). Like the KART, Scaley have made sure this model will perform up against its nearest competitors (sic. Fly). The Fly truck has a very torquey motor in the blue banded sport motor but Scaley have the strangle hold with the magnet and the lower CoG.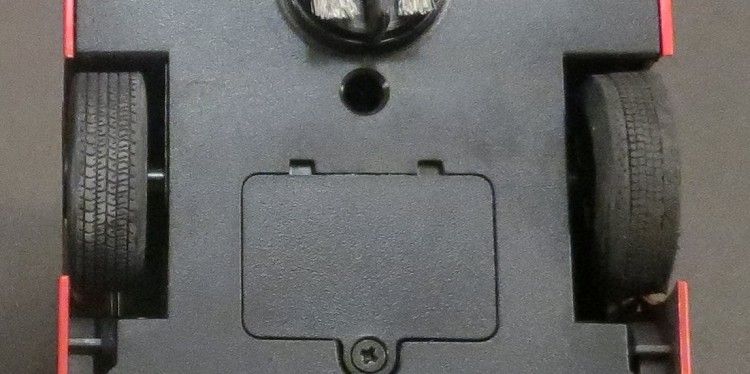 Scaley left……Fly right!



Amazingly, tyres are interchangeable between models. Although not exact copies, both share a replacement urethane like the MJK 4248. But unlike Fly, this model has tyres which, although carrying a scale representation tread of an all weather tyre, are a little too hard natural rubber for my liking, and if you are a non mag racer then these will need immediate attention, whereas I am still racing my Fly SISU successfully with the original rubber on Ferrodor® board and other grainy tracks.







Standard gearing is the old Scaley favourite 27/9 or 3/1 and everything clips in well down at the rear of the chassis; the motor too isn't liable to drop out, unlike the Fly sports motors which unless addressed would jump out of their mounts at every other opportunity. As expected the model is also D(igital)P(lug)R(ready) and the flick of a single screw will facilitate the insertion of the chip.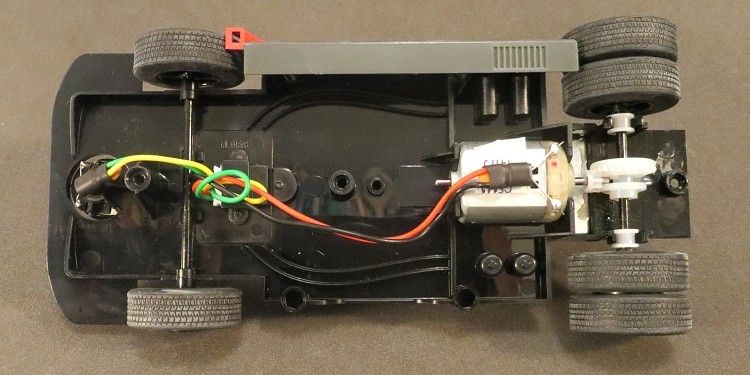 Wheel and tyres are pretty concentric but tyre truing is always recommended as the original tyre treads are a little concave. Another thing I noticed while inside was the side panels are detachable, but I attribute this solely as an assembly feature for the factory; similarly, the fifth wheel is also a press fit, so check you still have it at the end of each race; being black, it can go missing anytime unnoticed.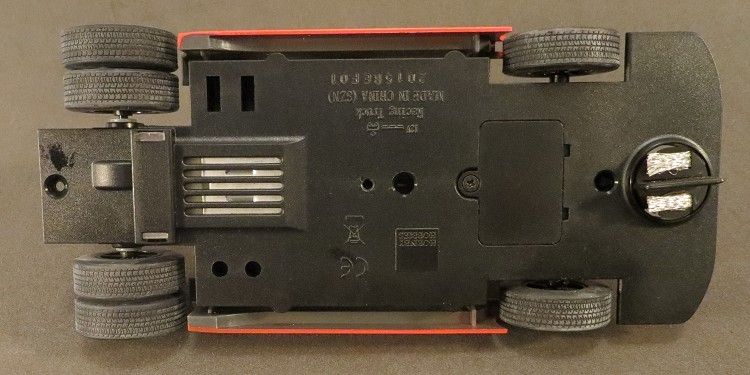 The guide is a respectable 6.5 m.m. deep so using it on early Scaley plexitrack and early SCX track will require this to be trimmed, and I also suspect that it might catch the bottom of the slot on some older Scaley sport track! Another nice touch is the chamfered front edge of the guide blade which Scaley have been doing for some time now, this reduces the possibility of the guide picking up the edge of the conductor rails at joints, especially in tight inner curves.







Once again a potential winner and although not a shelf queen I can see it enhancing some of the truck racing events already in progress. So what's the deal on the track? As of this moment in time I haven't been able to run it on plastic track, but I am hoping to rectify that fairly soon with an outing on Ninco track in the very near future, so stay tuned!?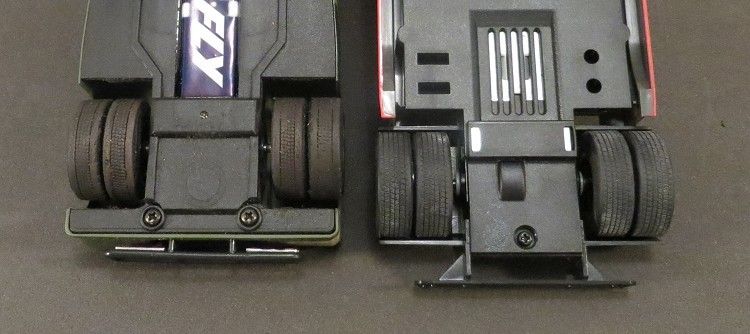 If you are a truck lover you may well experience a tendency to resist the temptation to buy one of these models based on their outward appearance, but don't judge them by a photo on a website! Get down to your local slotshop and handle one in the flesh; you may be in for a pleasant surprise. The things which make one a little reticent about racing a Fly truck do not appear on this model. The door mirrors are impact resistant and the model doesn't 'cock a leg' every corner! And best of all, when racing is over, your Fly trucks are still sitting pristine and undamaged on their shelves! What better reason do you need!



Trucks on eBay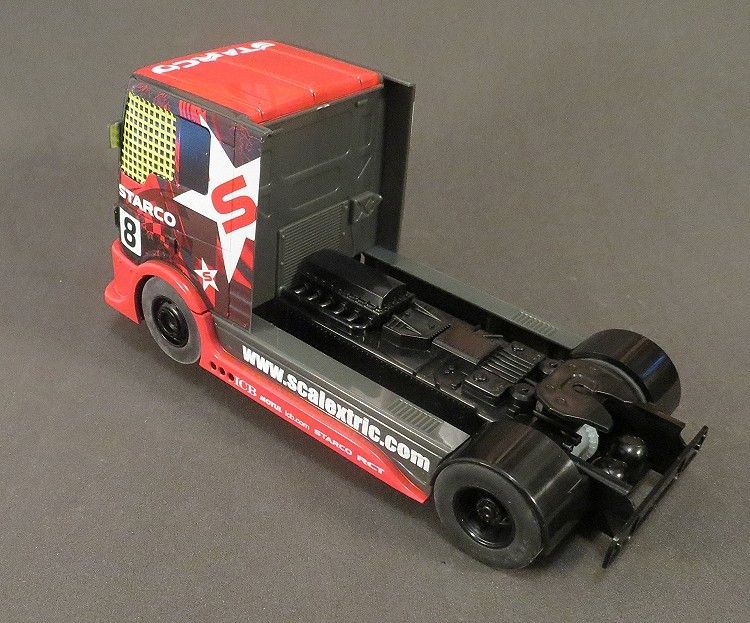 Many thanks to fellow slotracer Perry for the opportunity to review this model