Scalextric
GT Lightning
Super resistant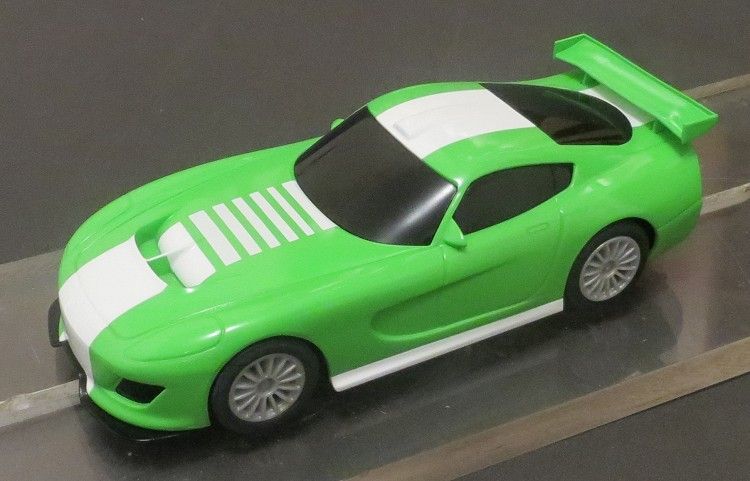 by
Phil Wicks
If you want to have fun with slotcars, albeit with the kids, friends or relatives…or even the wife! Then you have to go far beyond the range of some of the so called leading makes which adorn the shelves of the local slot emporiums; and if you have an NSR or a Scaleauto or the like, and just can't seem to come away from a session with a broad grin on your face then I suggest you have been looking in the wrong place for your fix of slotcar fun!
Time to analyse why this is so, and if you do the sums correctly you will find you are coming at the hobby from the wrong end. A moderate scour of slot car fora will show time and time again peoples hopes dashed by one setback or another, some of us are trying to run before we can walk in this great hobby and others are trying to imbue family and friends using a doctrine which is alien and secret.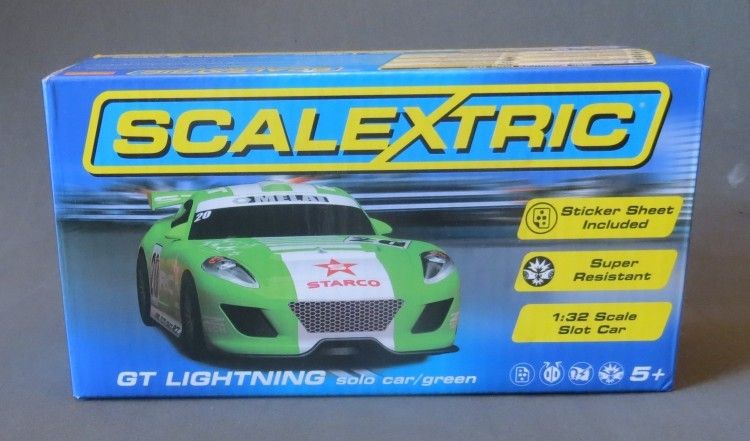 So where is it all going wrong…?....simple. We are trying to buy slot racing pleasure for ourselves and our family; and the more we pay, the more we expect instant gratification; but we are looking at the wrong end of the hobby, aren't we? Take a couple of steps back and look again at the evolution of the hobby and you will find that you are not attacking the hobby from entry level, but from somewhere half way up the ladder as far as kids and rellies are concerned. Mmmmmmm?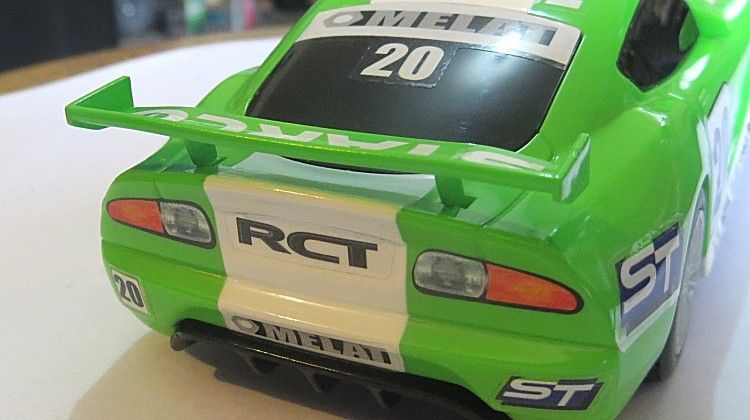 So how de we overcome this? by taking a leaf out of Mr Scaley's book and starting at the beginning. To do this we need to put all the fancy slotcars back in their race box and liberate some serious beginners' cars to the track. By this I mean the 'super resistant' range of models from the Scalex range. No, I am not being paid to extol the virtues of these models but just expounding a theory which could see more slotcar happiness at home! Scaley have built these models obviously with economy in mind but whether by judgment or accident have created a source of slotcar fun which can be built on.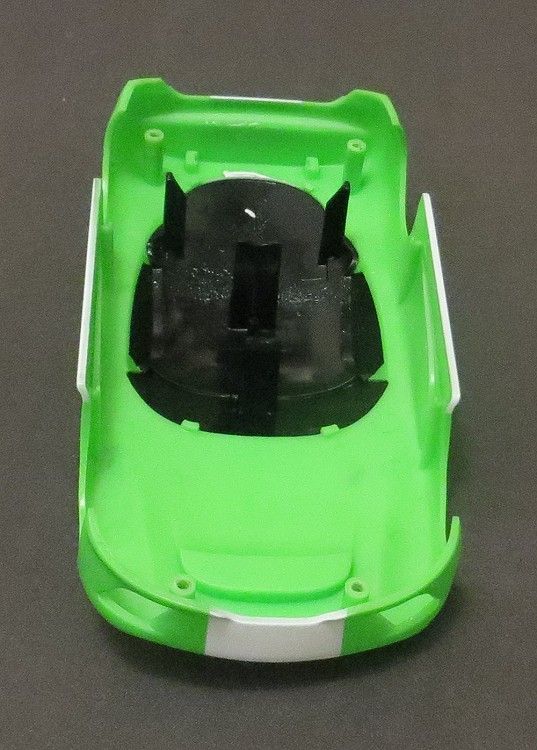 Ever since releasing their Porsche Boxsters several years ago, the Super Resistant models have been ideals tool to introduce some one to the hobby. They can be raced by adult beginner and young child alike as they are very low weight comparatively with a low centre of gravity. They also have a motor of moderate power and not an uncontrollable screamer. Finally they have a reasonable traction magnet which will keep the model on the black stuff on most occasions. They are simple in construction and there are very few parts if any to become detached even under the most extreme of racing incidents.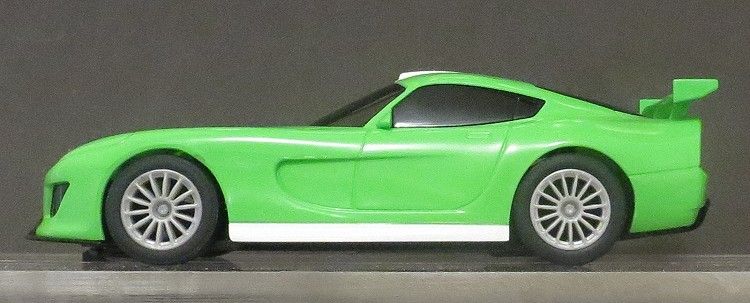 This all adds up to many hours of fun and trust me when I say you will have more friends back for this type of fun than you would by letting your latest Slot.its loose on the track. The models are very durable but they are also very quick. I recently circulated this model at a friends garage track and got it to laps only tenths slower than some F1 models I have raced! This lends itself to racing for the kids, who may not have honed racing skills yet. The models are surefooted in even the tightest of corners and braking and acceleration are tip top.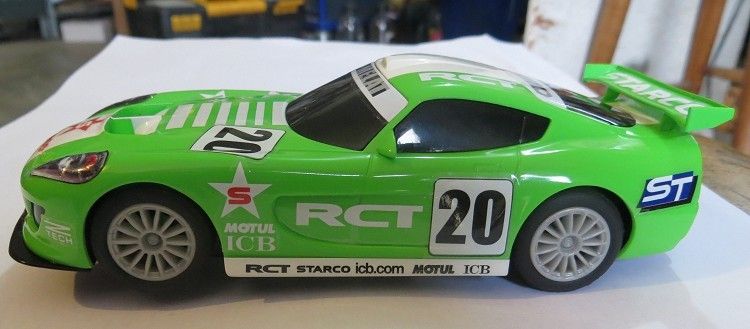 The models come bare with just a tampo paint job, but there is a 'peel 'n' stick' decal sheet in the box which no doubt the kids would have fun with. Applying the decals needs a little care as they will only take placement a few times. Best approach is to have a small dish of mildly soapy water and some cotton buds, a pair of tweezers and a pencil stub or wooden 'blade' handy if you want to make a smart job of decal application. The first thing to notice is that the decal sheet is laid out as per the body, i.e. the decals appear on the sheet in the same positions they will appear on the body! Plus, if you are not sure, there are ample illustrations on the box to give you an idea of where the decals are placed. The decals are peeled off the sheet using the tweezers and, grabbing the decal along what will be its top edge.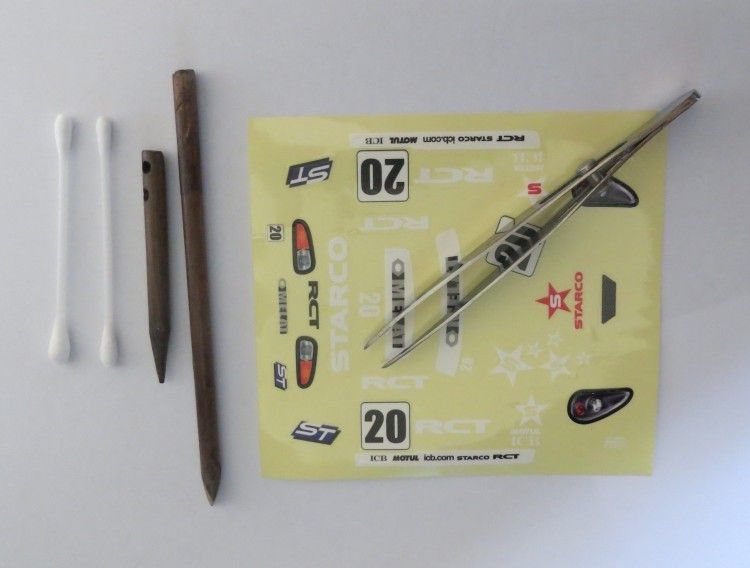 Dip the decal in the soapy water, then briefly, gently lay it on some white copy paper to allow the paper to soak up the excess moisture, (do not press onto the paper or it will stick to it!) Then, place it in position on the body. Steer it into place with the pencil stub or blade and press lightly in the centre with a cotton bud to fix it in place; then, roll the decal from the centre out with the cotton bud till it has taken firmly to the body. The idea of the soapy water is to allow you to reposition the decal on the body more than several times without damaging the decal or its adhesive, repeat this until you have it in the correct position. Allow the decals to dry (say overnight) then re-press them into place .
Note, decals which follow two curves (headlights etc.) will need some short slots cutting into the edges to allow the decals to bend around the tighter, two way body curves.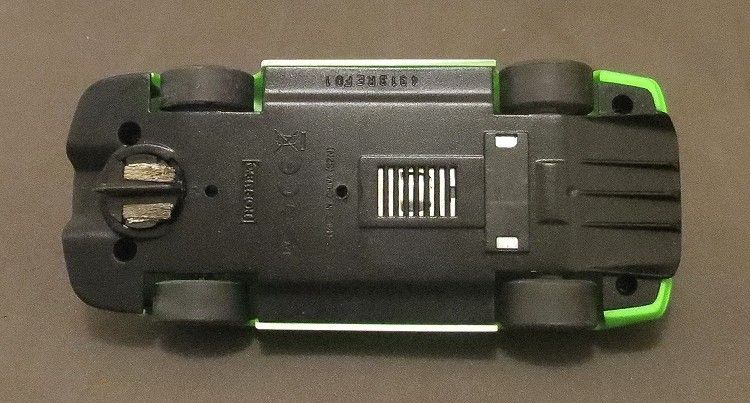 Once completed the model looks a million bucks and you'll be rushing out for more! The decals are fairly durable and some people even put a coat of clear enamel or acrylic over the finished job. I would advise against this unless you have done this sort of thing before. The issue is that paint, especially spray cans, contain drying agents, solvents and propellants, any one of these can react with vinyl or similar stickers. They will bloat and blister and generally look terrible. If you want to coat them, test a piece of spare decal sheet on a spare body or any piece of flat plastic. Also, don't apply the paint too thickly; this will also result in disaster.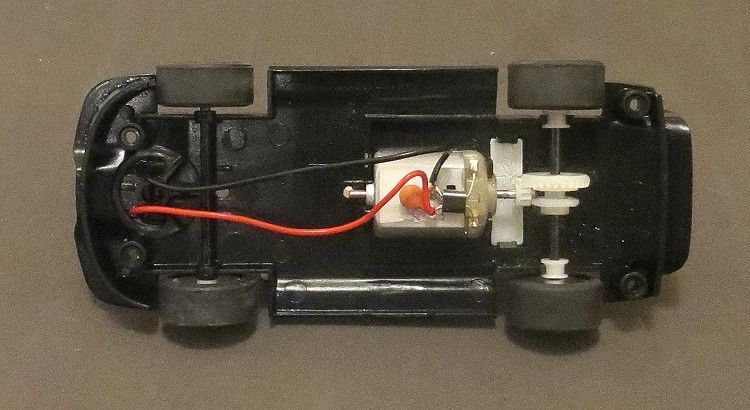 So, once completed, we have a model befitting a race master but at a very moderate cost. The entertainment value will greatly outweigh more sophisticated models and all going well, they will still be performing for years to come, a bold statement? I don't think so. My only criticism is that the models aren't Digital Plug Ready (cost?) But that's not a big deal to anyone handy with modeling tools. For the very young I would recommend using where possible a variable power supply or some sort of attenuation of track power just for good measure.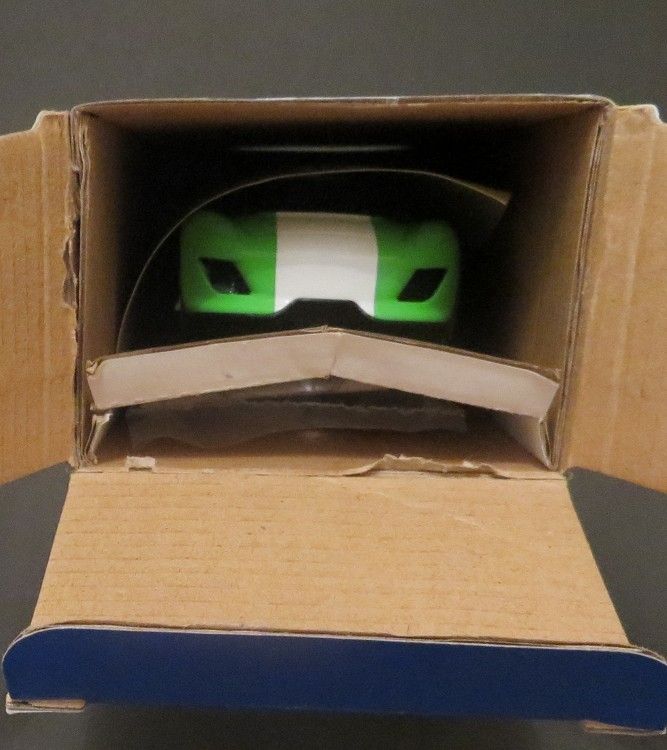 So there we have it, a great model presented in a cardboard box which conceals this wolf in sheep's clothing. I can honestly see some racing groups running these as a regular class (me for one!). They will be fast and unbreakable. And, as I always say, if you have kids or regular visitors in the form of friends or relatives, then do yourself a favour, get a couple of these.



Many thanks to ASRCC member Billie 'The Legend' Holmes for gifting me the model. It is greatly appreciated and I look forward to racing the wheels off it!