Black Arrow
Aston Martin DBR9
Team Modena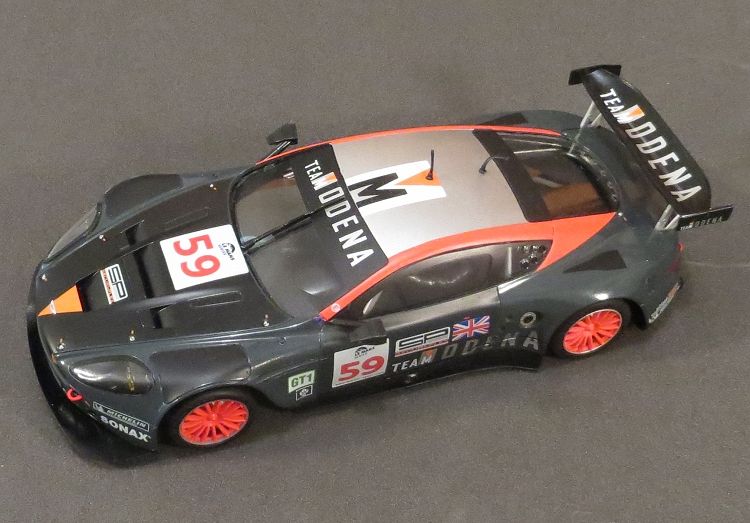 by Phil Wicks

This appears to be the third livery of the AM DBR9 that Black Arrow have produced, the previous ones being the plain green livery of the factory car and the inimitable blue and orange of the Gulf livery. Team Modena raced a number of different GT cars and the DBR9 was part of a multi national stable of GT cars. Success has been modest and as well as Le Mans, the team has fielded a team in a multitude of endurance events.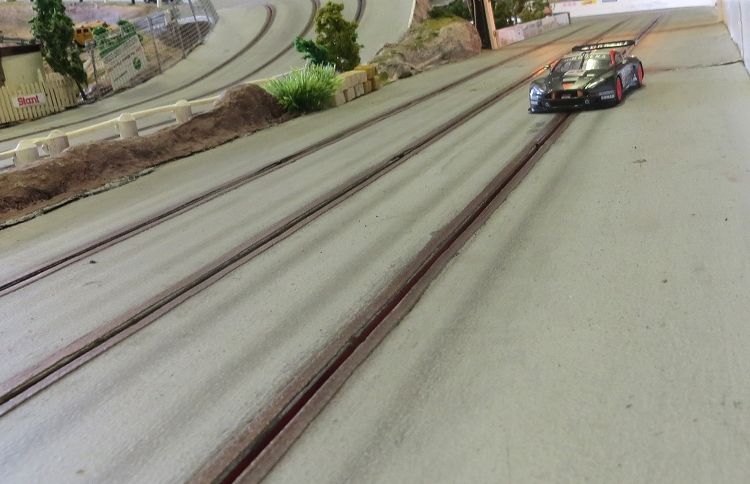 Black Arrow on the other hand are relative new comers to slotcar racing with their first models being released in late 2012. There was a very deliberate intention to produce a ground breaking slotcar as they have chosen to avoid stereotypical slot car features and have pushed back the boundaries of convention to a point where it is difficult to follow the reasoning given for such innovation, especially when in the hands of the ordinary club racer??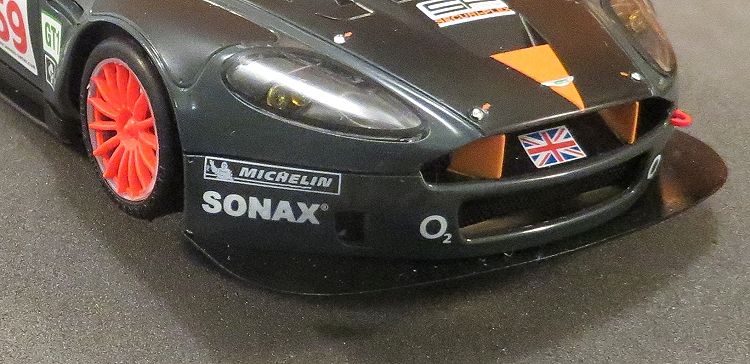 When you get into the realms of specialist slotcars you tend to find that they also become 'one make' classes, i.e. If you are racing an NSR model, you tend to do it in an NSR class; simply because there is no close comparison between other makes. If you race Plafits, then it is usually against other plafits, Scaleauto against other Scaleauto etc…. So what are Black Arrow owners going to do….. and what have they been doing for the last two years?




Black Arrow chassis spares




The fact that they have to date only produced the one model tells me that they won't have a class populated by various model, so it will be all Aston Martins? NSR have managed to put out a variety of models whereby you can race like against like with a variety of body styles; Slot.it have gone one further by populating two or three different classes like Group C and Modern GT for starters. But the ominous silence from Black Arrow tells me they are plotting some awesome new models soon to hit the tracks…or…. nothing at all!!







Initially the models were greeted with an amount of enthusiasm and while we waited for them to get to the shops, Black Arrow announced they were available from the factory only!? At €59.00 they seem to be well priced, but once you incur premium international postage, and a few tools necessary to get inside the model, the rose tint starts to fade from you spectacles. There are other issues too, which Black Arrow has created by being innovative but we will get on to those later.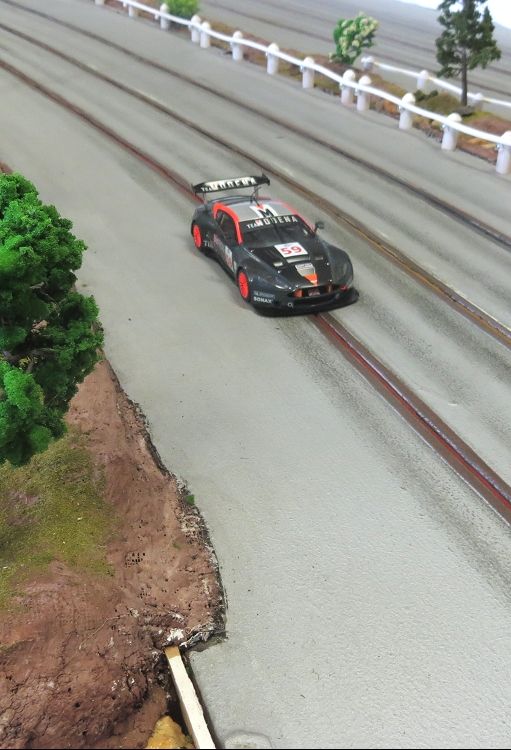 The model was the brain child of Javier Alcaraz, He is a keen hobbyist and has a passion for slotcars; and has made the conscious decision to create a unique model. He openly admits that the model is not aimed at the general slotista and that they will be (un numbered) limited in production, Once they are all sold, they are all sold. He also admits that they are his vision of the slotcar of tomorrow and you will either share his vision or you won't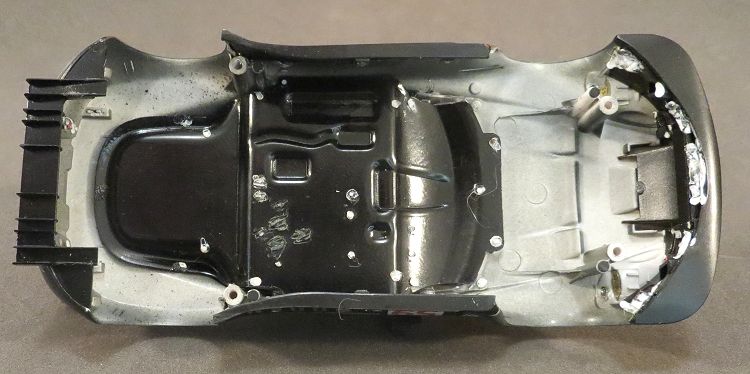 On the plus side I would suggest that Spain is the greatest purchaser / user of slotcars per capita, and as such the model has been designed and manufactured in Spain for the great Spanish slotcar public. As far as components are, it share almost nothing with other models and most of the technology has been created by Black Arrow with the intention of coming at slotcar design from a new direction; in this J.A. has succeeded. The model has been scaled down from Aston Martin's original CAD files and although no doubt AM has included provisos about the reproduction of their copyrighted product, JA admits that they have been creative with some model dimensions.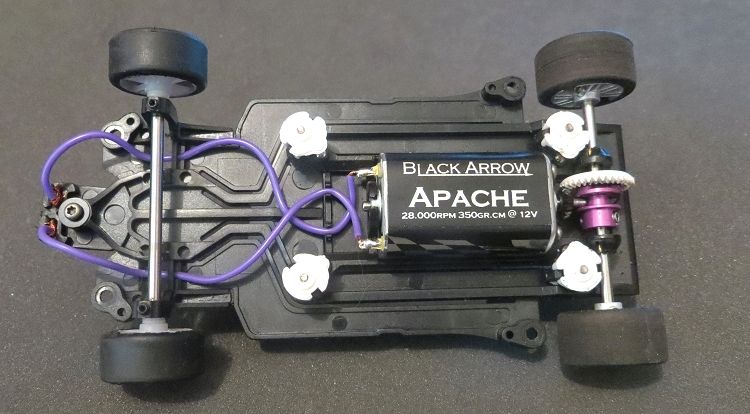 So after three years planning the first models hit the race tracks, and a quick Google will reveal a plethora of opinions, both good and bad. The fact that Black Arrow have reached a third release says that there is still work going on. And the fact that JA has stipulated that no new products will be announced until they are ready for the shop means you will need to hold on to your seat and check in with Black Arrow regularly.



Black Arrow website



So as always it is time to see what you get for your money. I won't labour too long on fine detail as this has been done to death over the last couple of years by the main contributors in various slotcar fora, sometimes to my amazement!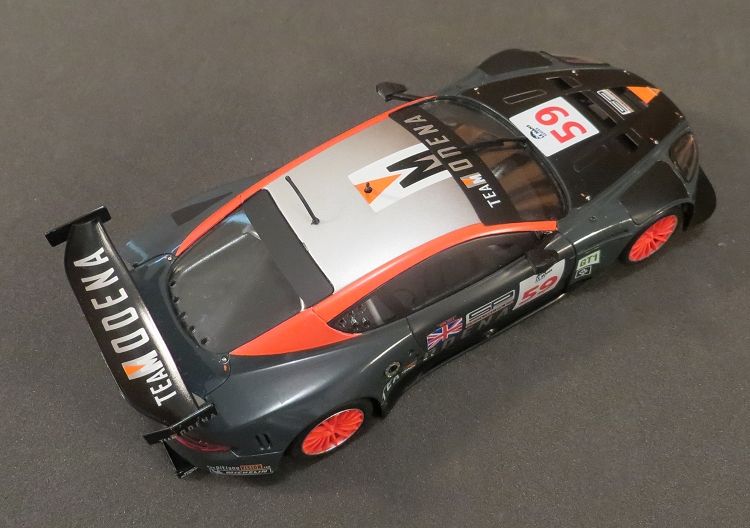 The body side of things is quite secondary compared to the surprise received after its removal. But it is a well detailed model and Black Arrow have include all the salient points for reproduction. The body is nervously thin and weighs in at 22 grams including a vacuum formed drivers tray. The rear wing should have a 'use by' date stamped on it to avoid racer disappointment within the first few days of use. Black Arrow haven't spared any detail and the bonnet fasteners and other small items are faithfully reproduced. Door mirrors are flexible and my favourite detail is the AM logos on the back and front, small in size but very discernible.








Underneath the model reveals an unusual chassis which appears to be a labyrinth of grooves in the chassis and a selection of screws of varying size. The black and chrome motor wrapper is very distinctive and proudly boasts its speed and torque at 12 volts. The guide is generic and has two novel grub screws which hold the lead wires and braids in place. The braids too are a very likeable soft copper (oxygen free apparently), but only really usable on metal conductor rails like Ninco Scaly, Carrera etc, Why do I say that? It's my experience that some of the larger tracks available to the racer have copper and tinned braid as the conductor rails. The coarseness of these materials, especially in the curves of several-years old tracks, will see the braid reduced to a ragged thread relatively quickly. It is my advice that if you race one of these tracks, to have some tougher braid handy for when the OEM braids are beyond racing.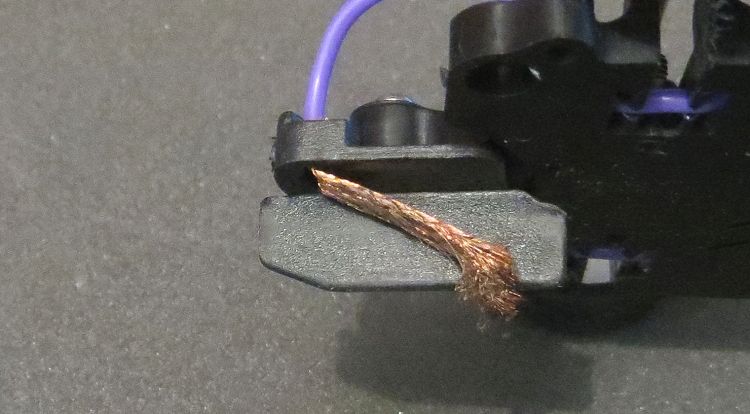 Another issue with the guide is the chamfer that has been put on the guide bow, this may or may not help marshalling but again, in my experience, when in full song in a sweeper, the model will hop out of the slot for no apparent reason. I first came across this in Ninco sports guides. Those that read my articles will know that I prefer the guide to have a deeper 'keel' at the front edge. I can then hit corners at death defying speeds and leave onlookers in wonderment when the model survives this manoeuvre and is off to its next close encounter. Not only that, the guide slop is the least I have encountered; Pioneer and several others could take a lesson from Black Arrow. Another observation here would be the distance the guide is in front of the front axle. Because of drag from side slip issues with solid axles, I like my guide swivel points closer to the axle!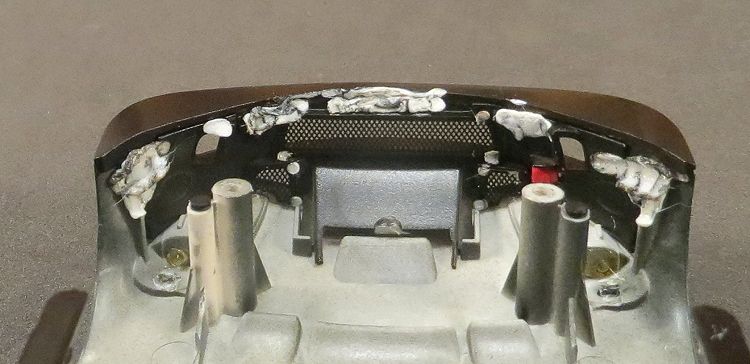 With several screws unidentified I decided to remove the body, but nothing would fit the screw heads? Wearing two pairs of glasses I looked closer at the issue and it was apparent that the titanium screw heads are a TORX© type, originally developed in 1967 for the aircraft industry. The upshot is that a special driver is needed to extricate them successfully! Being an ex auto technician of many years, and full of the tricks of the trade, it wasn't long before I had adapted a conventional Allen key to help me gain entry to the model's inner workings.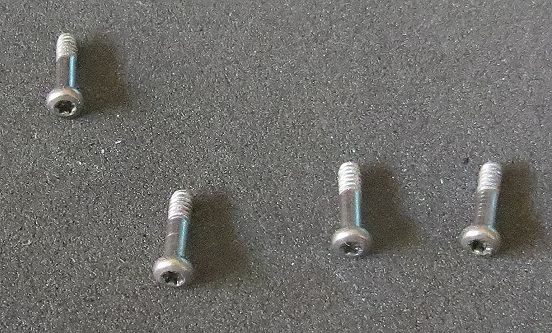 Also interesting to note that Black Arrow have opted for shouldered set screws, whereas most manufacturers prefer a variety of cross head PK screws. These screws, also being TORX® drive, will make short work of body mounting post threads if cross threaded or overtightened by novices. Black Arrow's reason for using TORX® drive screws was to eliminate the tendency of conventional cross head screws having the head turned out due to the mismatch of the screw head and the driver bit.








Back to the chassis and I have to admit I wasn't prepared for what I found, and visions of the temples at Angkor Wat came flooding back on viewing the suspension nuts and springs. These are adjustable devices to control the chassis flex. Accompanied by some more tiny grub screws mounted along side, the nuts and springs can be lowered to come into closer contact with the M2 grub screw stops to restrict travel. There is a choice of springs for the avid racer and the model comes with two types fitted front and rear. The fronts are vestigial but the rears do have a role to play in the 'drop down' feature of the chassis at the rear.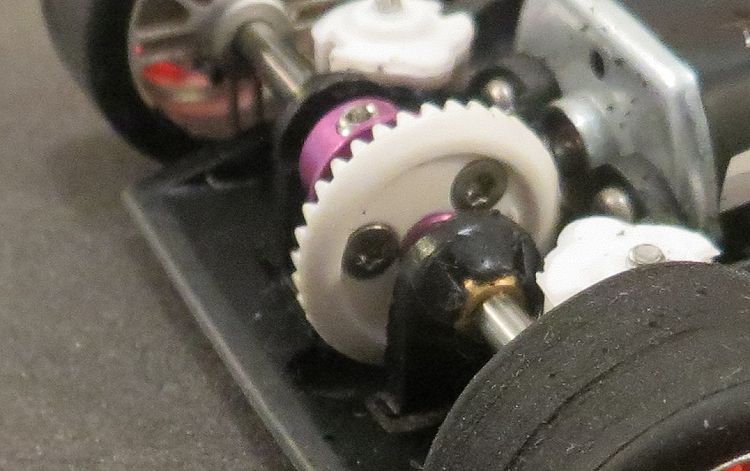 Gear spares





Looking around the model, other innovation is apparent. Black Arrow have opted for a bevelled contrate and pinion, reminiscent of the brass bevelled gears of the late '60's, the contrate being composite, with the hub being made of alloy and the plastic contrate gear being fixed to the hub via three M2 titanium TORX® screws, which is nice. There are also some spacers under the contrate which will need to be adjusted when altering the gear ratio from standard settings as a change of parts will alter the gear tooth penetration and backlash.








Moving outwards, there are some respectable if somewhat small diameter alloy hubs fitted to the rear axle. The webbing which joins the hub to the axle boss is a bit concerning as it is quite delicate and will be vulnerable to a side swipe of any magnitude. There are also a couple of opposed grub screws in the boss. It would have been more practical to stick with the conventional one screw. Fitting two has caused the hub webbing to be compromised, and the use of two screws can cause the boss to distort if overtightened by a novice, leaving grip to the steel tips of the grub screw and the hard steel of the axles. The same applies to the contrate hub.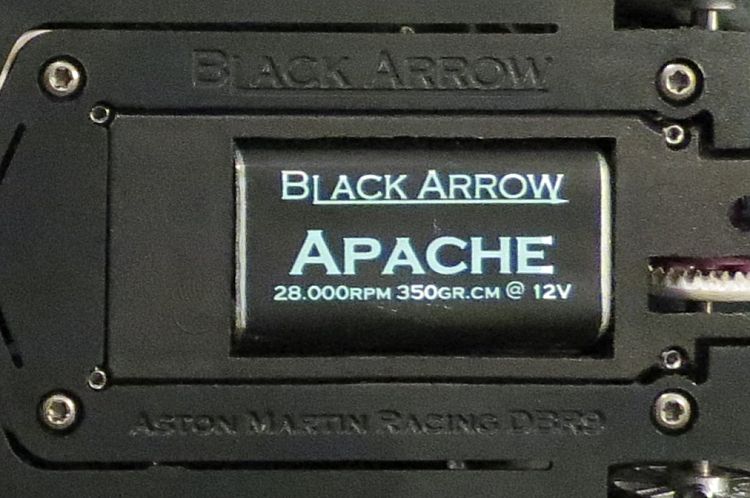 Fortunately the motor is a traditional boxer type and once the two mounting screws are in the end then it is going nowhere, but you will need to dismantle the rear axle to get the motor screws out! Unlike other make boxer motors, Black Arrow have opted for an exposed motor shaft at the brush end of the motor! Perhaps now we can get some oil on both ends unlike certain other manufacturers! The motor pod, if we can call it that as it is a one piece chassis moulding, is quite thin and flexible, and the motor is an untamed beast which will need careful handling to avoid tramping and juddering under vicious acceleration. Tyre truing is essential! Rear axle bushes are the self centering ball type so these will be on your side. Interesting to note that the rear tyres are a medium compound and the front are called 'zero grip', this is a bit of a euphemism as they do have quite high residual grip on certain surfaces other than plastic. On board, these would get the 'Wixwacing' rib treatment and have seven or eight shallow grooves cut into them across the tread to reduce friction caused by the lack of differential during side slip in tighter bends and corners.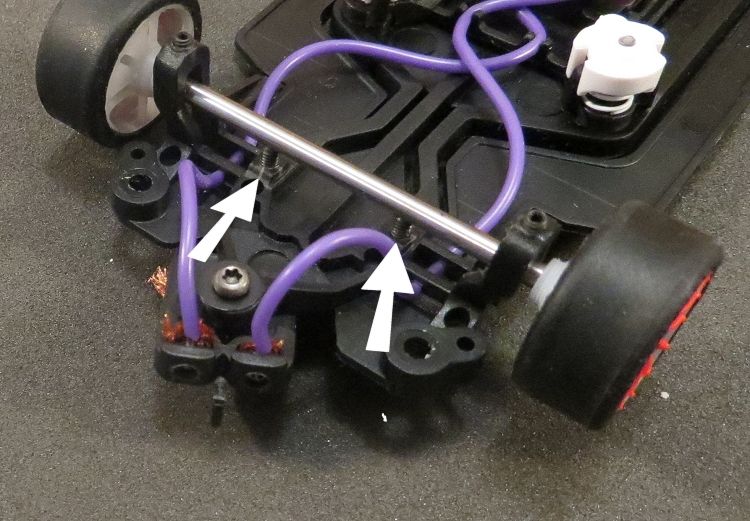 The front of the chassis carries the passive axle (obviously Phil!), and there is room for adjustment here. Set up should be carried out on a setup block or on a consistently flat section of track to obtain the optimum setting. This will vary according to the track you race on. Flush mounted conductor rails and braided track will differ from track that has proud conductors like Scaly, SCX and Ninco. I would drop the underside screws down until there is a small air gap between the screw tips and the axle shaft (about 0.5 m.m.), I would then screw down the upper screws until they barely touch the axle. Even on a model with a wide track such as this, I like the security of a stable front axle, which will work against any tipping motion in hard cornering. Another interesting feature is a pair of small 'shims' on either side of the front axle which are explained in the BA set up guide Mmmmmmmm?











Black Arrow body spares




Needless to say, the wheels are faultless when it comes to run out and eccentricity, and it is interesting to note that like Slot.it and Co, Black Arrow have opted for push-on plastic front wheels, also complete with inserts and disc brake features. Black Arrow list the front wheels as being made of a mystical Delrin® material, I seem to recall as a young person, buying a Mitchell multiplier fishing reel in the late 1960's with Delrin® sideplates Mmmmmmm! Not so mystical?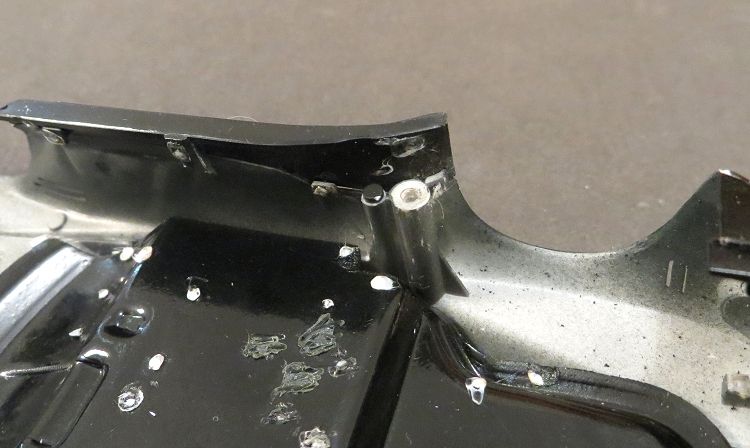 So there we have it; unfortunately I am unable to road test this model fairly as there are no tracks in the immediate area which are large enough to give it a fair test. But I did take it along to the LCR tongue in cheek just to get an idea of its potential. Needless to say it was futile to think it would work, and even after turning the voltage right down, the model was still semi ballistic on the main straight with a quick 'blip' on the controller being all that was needed to traverse the length of the straight! The test track at Black Arrow looks to be a massive eight lane Ninco track or similar and the model has obviously been designed for this type of track work. I have read several views of the model on various web sites and the overwhelming reaction to it is that it is a great model and looks fabulous and is god given, but many of the owners have opted to replace the motor with something more suited to their needs. Black Arrow don't give you this option!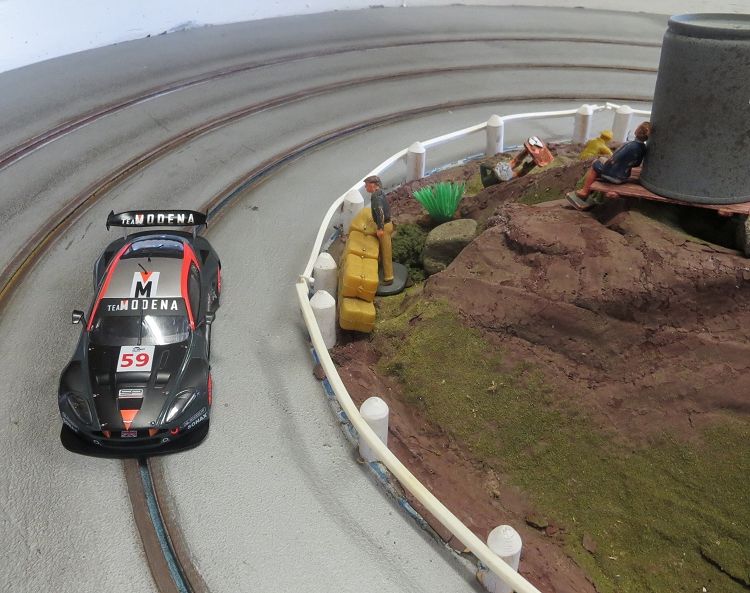 Black Arrow set up instructions




If you intend to race this anywhere, you will need a low tech track with plenty of straights, preferably longer than five metres, and sweepers; as this model, without the facility of a traction magnet, or somewhere to put one, will not realize its full potential with the OEM motor. It will also need to be re-shod on the rear to run successfully on some commercially available plastic tracks. Black Arrow offer a comprehensive range of spare parts from their on-line shop and to help the uninformed through the dark art of slotcar setups, there are lightweight flexible parts, choice of gears, optional anglewinder chassis' to name a few. They also have downloadable instructions on how to set your model up (links above).

When ordering the model, make sure you include the T5 and T6 TORX® drivers as they are only €5.99 each and will save you a lot of searching. The grub screws are adjustable using a Slot.it wheel grub-screw driver. Another upgrade to consider is the hand controller. This model obviously going to pull some current and I suspect there are a whole heap of hand controllers out there which may just not cope. If you have paid good money for a controller I suggest you check its current handling capacity, looks can often be deceptive.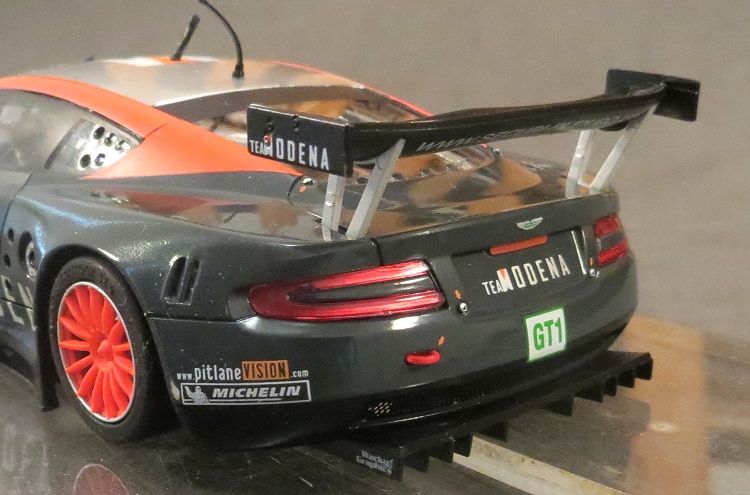 Lastly, I have seen this model for sale from retailers and typically they are available for UK £54.99 (as of OCT 2014) If you have weighed the pros and cons then there is nothing further you need to do except buy it. On this occasion I still say that this is a ground breaking futuristic model, but it is not for everyone. My jury is still out



Many thanks to Moby from Q32 and Legends race groups for the opportunity to review this enigmatic model