.
.
Brabham BT26/3 Jacki Ickx
Canadian GP 1969


by Phil Wicks

Sir John Arthur 'Jack' Brabham was born in Sydney in 1926. After attending school until he was fifteen he became a mechanic, and after a wartime spell in the RAAF he started his own auto repair business. It wasn't long before he got the racing bug and his first foray into racing was with midget cars. It was here that he teamed up with Ron Tauranac who would become the designer for many of Brabham's cars.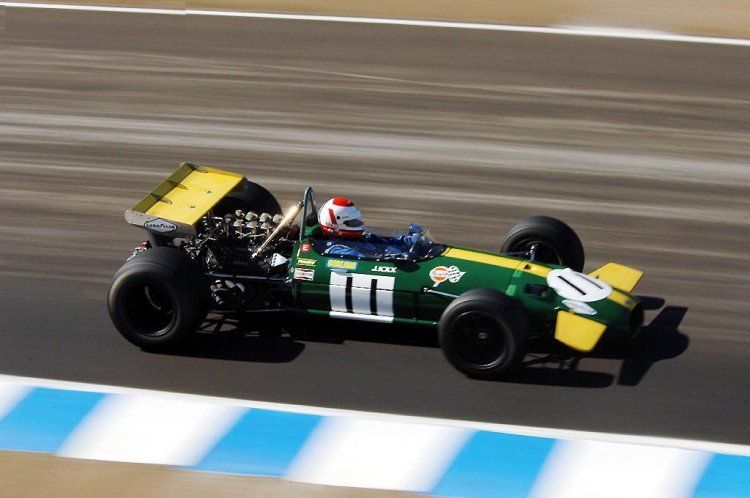 Old Racingcars.com




Jack's professional GP debut was in 1955 in a Maserati 250F, but it wasn't too long before he joined John Cooper's racing team to race their products, which he did for several years, collecting a couple of drivers world championship's along the way. Cooper's innovative mid engined cars combined with the compact yet versatile Coventry Climax engine left their mark on Jack and when eventually he did start his own team he took a wealth of Cooper knowledge with him. Before leaving Cooper Cars he debuted the Cooper at Indianapolis (1960) picking up an honest ninth after being as high as third during the race. This took place several years before Colin Chapman's and Jim Clark's successes.






The Brabham Racing Organisation was eventually formed in 1961 and the early years saw Jack and Ron feeling their way around this new venture. Money was tight and initially all their hopes were placed in a single car. The following year there were eleven BT 2's built (Formula 2) and their first F1 car (BT3) soon followed. Jack drove this car personally and had several impressive results including a forth place on its second outing! In 1964, Dan Gurney took a BT7 to their first victory at the French Grand Prix.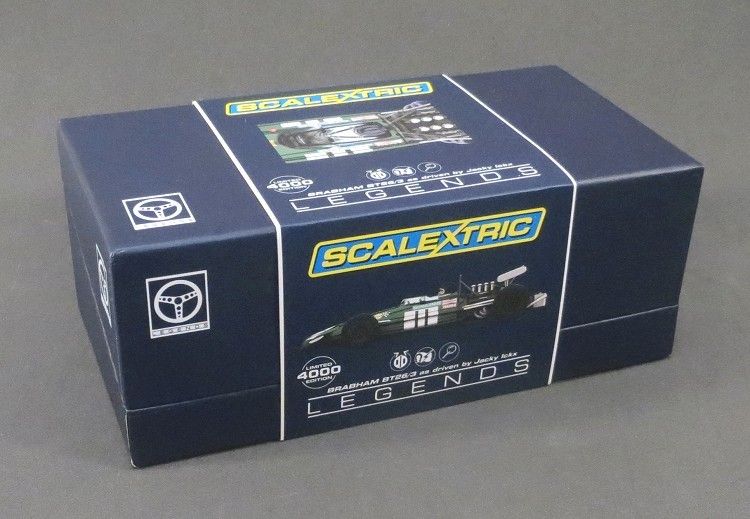 By 1966 the company had stabilized financially especially from sales of their 'customer' cars for various formulas, The big break came when a rule change allowed the use of 3 litre engines. At this time Brabham was working in conjunction with Coventry Climax on a flat sixteen engine but development delays caused the team to look elsewhere for a much needed engine for the new season, this was to take the form of an all alloy Oldsmobile V8 carefully reworked by among others, Phil Irvine, of Vincent motorbike fame. The engine was designated the 'Repco' and was more than powerful enough although it was down a little on torque.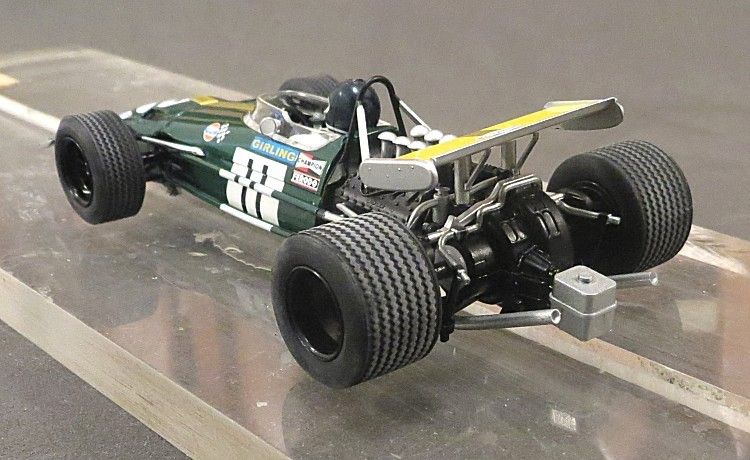 Virtually all teams with the exception of Brabham were caught on the hop by the engine size change and after a successful season, Jack and the team took out first place in the constructors championship; and his third drivers world championship; the first time a driver builder was to do so.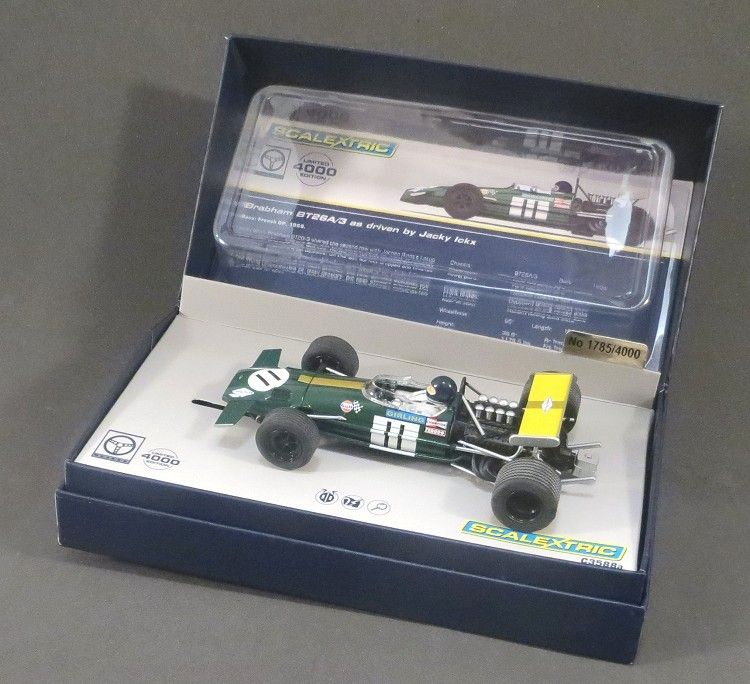 Car development went on apace and the chassis type numbers rolled out of the factory. The BT20 was built in 1966 and driven by Denny Hulme; the BT23 (F2) soon followed in '67. Its sister car, the BT24, again powered by a Repco motor, was for F1. Driven by Hulme and Brabham, the BT24 took out the constructor's championship while Hulme took the driver's championship.






In 1968 the BT 26 was created, still powered by Repco the engine was showing its age on the track. A rework of the engine saw a little improvement but the pack had caught up with the technology and were turning the tables. Two BT26's were built initially and a third was constructed after chassis number 1 was involved in a crash. The cars were built specifically for Jack and Jacki Ickx, and after the end of the season Chassis 2 was sold to Frank Williams.







Eventually the overwhelming tide of DFV motors on the grid saw the team also switch to this successful power plant. Success returned and the BT26's swansong was a second in the drivers championship for Jackie Ickx, and a second in the constructors championship behind Jackie Stewart's Matra. The model Scalextric has decided to replicate is Chassis number 3, the 1969 Canadian GP car which after a short post F1 career, now competes in historic GP racing.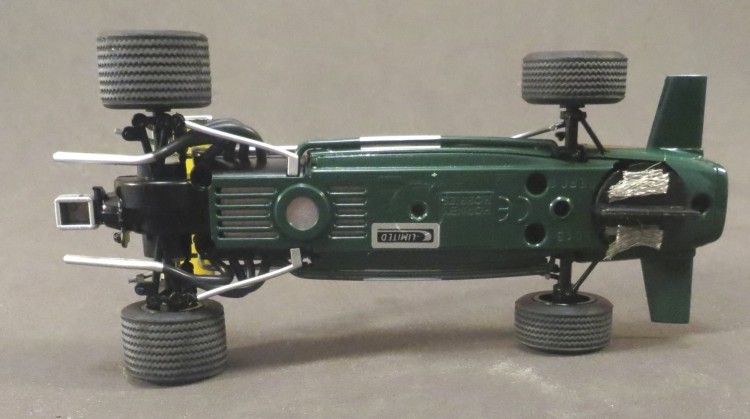 I have to admit my hand was shaking when opening this model, not because it was fragile and wasn't mine, but because to all Australians the name Brabham conjures their golden years of motor racing. Jack took his speedway and dirt track racing techniques to the world and achieved two world championships driving for Cooper. He then went on to wrong foot the opposition in 1966 by pulling the GP joker from the pack in the form of the Repco motor while others were still shuffling their 1.5 litre Coventry Climax cards.






I already have two Brabham models; one is a scratchy Super Shells BT7? from the sixties which has an MRRC 5 pole motor in it. I also have an almost complete 1/32 Atlas Brabham, also from the same era. Both are retired and I hope to restore them one day in the near future, but to cut to the chase….. what sort of job have Scalextric made of the car. I'll be quite honest, If Scalextric had presented me with a blob of green and gold plastic and wrote Brabham on the box I would probably have been just as pleased with the end result, so please expect a biased review!!!






First up, the colour scheme grabs me and the overall finish of the model looks thought out and well made. Scalextric obviously realize most of the fine detail will end up in the landscaping of whatever track you race it on but that doesn't matter!! We can have a spare one at home, mint, in its box, pride of place, middle shelf, front row. But on the track you'll only break it if you crash it, so in a sense this model is a reason to improve your driving skills! So, keeping it on the black stuff also carries its rewards.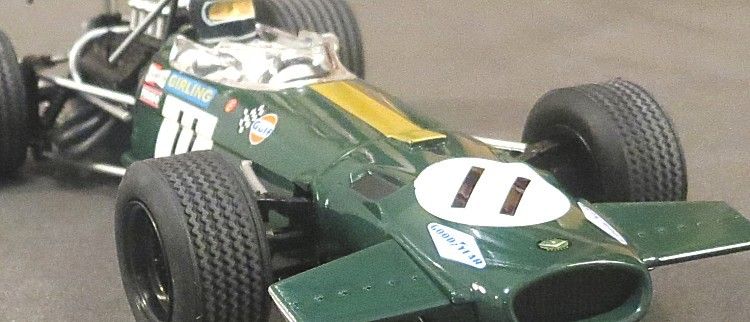 Looking over the model and comparing it to pictures on the web we can see the model is a very accurate replica. In fact I sometimes wonder if I am looking at some pictures of the real thing or not! There are some minor paint blemishes but you have to look for them, and the tampo of fine detail is excellent. One of the first things to grab my attention is not only the detail of the tyres, but their softness too. Scaley are obviously paying attention to customer comments when it comes to model drivability.







Underneath is pretty standard and there is a very useful traction magnet much the same as their previous recent GP cars Again, tail end detail could prove an early statistic in a racing scenario so be prepared for disappointment, and if you can't justify the expense of a shelf queen, buy yourself the small parts bag of bits which, on retiring the model sometime in the future, you can replace all the broken bits.






Taking the model apart is a bit of a challenge. Be warned that excess force could see some of the more delicate parts separate. The lower wishbones on the front suspension are one such thing. While trying to remove the chassis from the body , both of these items fell off. The problem is that the chassis is a pinch fit in the body and some of the moulded edges get stuck together. Carefully levering them with a fine blade will help the two halves clear each other. But there is really no need to delve into its insides as it is all pretty straight forward and not too different to what we have seen on previous models.






Gear mesh is good and is the standard 9/27z of most makers. There is a lesser degree of rear axle slop in the nylon rear axle bushes but this should not worry most people.. Front axle mounts are also a little delicate. One of the issues with all the open wheeler models is the exposed wheels. In these types of models the front and rear axle detail is always vulnerable and is more than likely to take the brunt of most deslot incidents. I remember the first Cooper T53 I bought and raced, I don't think it made it past the second or third event!!!! A racing incident saw the very weak front suspension detail shatter on impact leaving the front axle assembly to float dramatically from side to side, and requiring the purchase of a new front axle/suspension detail pack to repair the model. Needless to say I haven't raced it since.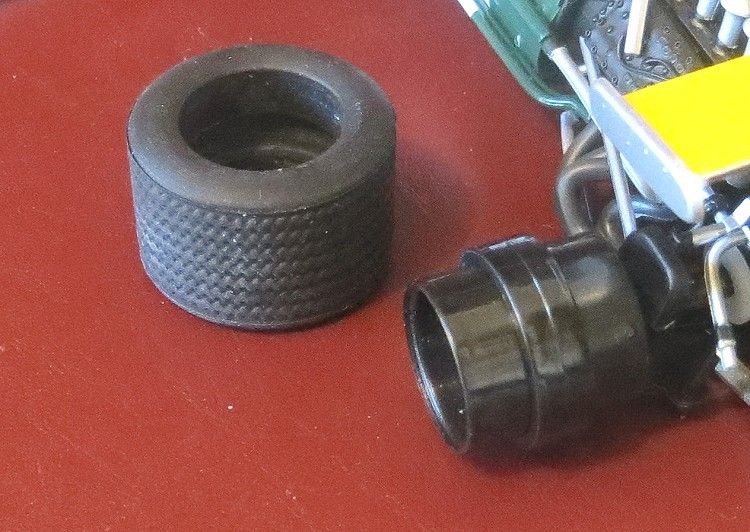 I mentioned the tyres earlier and they really are soft, and at a guess they are as soft as Slot.it P6's. On removing the tyres the wheels prove to be very concentric and sturdy. One disappointment though was that the earlier F1 tyres are not a match as the centre step on the wheel is noticeably wider than the earlier GP wheel. I have about fifty varieties of MJK urethane tyres and although several fitted the rim, there was not one that I could say I would be happy with on the model, so it looks like it could be a phone call to Ian and the boys to see what they can do!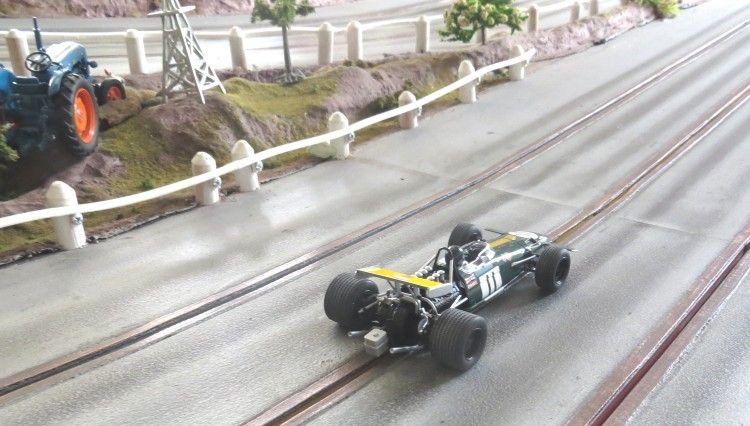 Putting the body back together can also be a little bit of a challenge to the average racer. I'm not sure how they get on at the factory when they assemble these models but I assume they have a selection of assembly jigs which help all the parts to slide together with ease; but at home you will just need to be careful. One of the 'third hand' jobs is to hold the rear suspension and exhaust detail in place to line up with the holes while you are putting the body halves together.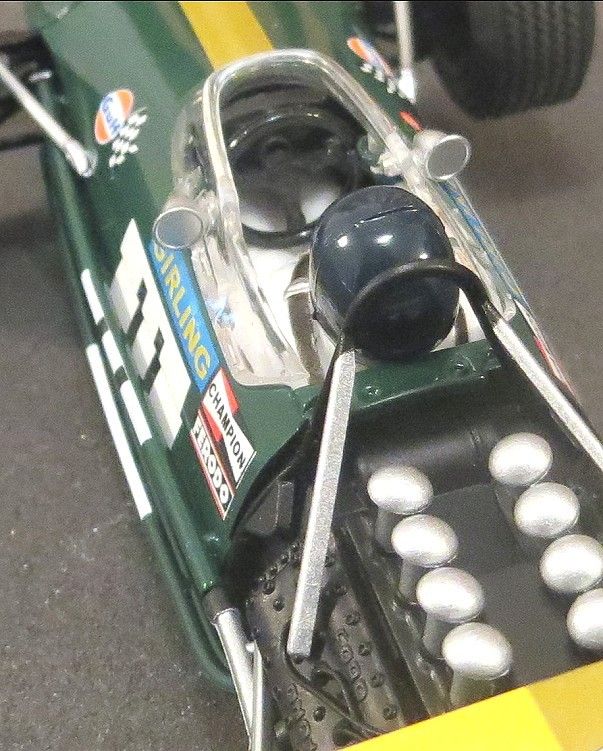 Once again with this model as with Scaley's other classic GP cars, if you are a home racer then be prepared to turn the voltage down to nine volts or so, or to replace the motor with something not so lively! For club racers who have fast tracks with sweeping bends then it is probably more suited to that type of racing, but it will be at a price. All in all another great model from Scalextric and a pity some of the other manufacturers aren't producing similar era models at Scaley prices to promote some healthy period rivalry on the club and home circuit.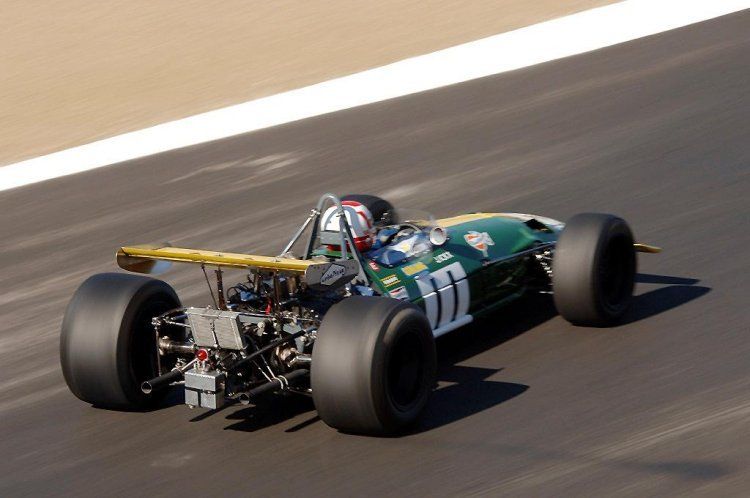 I haven't been able to take this model on a 'full downforce' outing, but I see no reason why it isn't as effective as some of the other similar era Scaley cars Like the Lotus 49 and the Eagle Weslake.



Brabhams on eBay





Many thanks to fellow racer Perry for the opportunity to review this model