.
.
Matra Simca MS 670 B
Le Mans 1974
J-P Jaussaud, B. Wollek, J Dolhem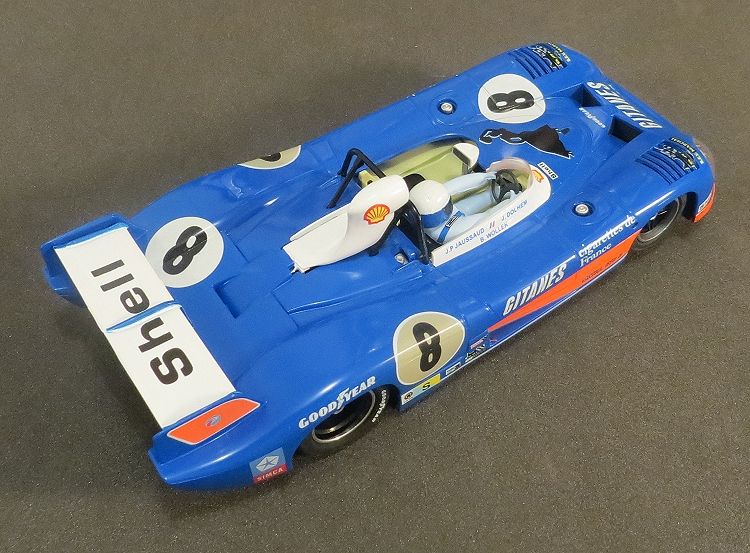 by

Phil Wicks




Matra (Mechanique Aviation Traction) is a relative new comer to the art of car building compared to the mainstream manufacturers, especially race cars, let alone successful ones. The original French family owned company was involved in diverse engineering products, from bicycles to missiles. In the sixties it became involved with racing and sports car production. After a protracted period of mergers, the company became a public company specializing in aerospace technology amongst other things.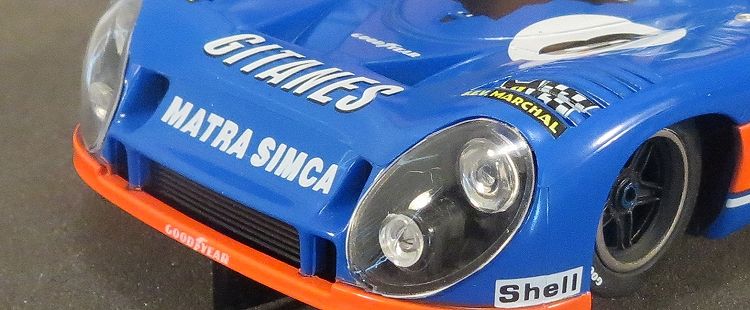 But, the Matra we are looking for specifically was the sports and racing car designer. In 1965 it acquired the René Bonnet Company and its first models were Renault powered Bonnet vehicles. It was also building customer cars for the F2 and F3 circus with some success. In 1968 they supplied Tyrell with a MS10 which was piloted by young Scottish hopeful called Jackie Stewart, who competed alongside the factory entries. In '69 they took the manufacturers world championship!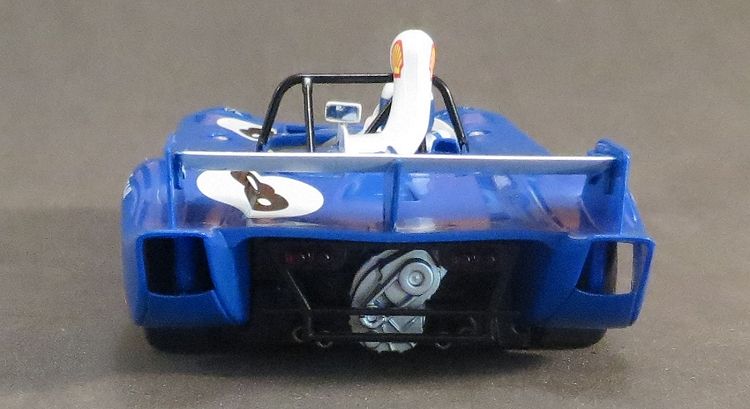 In 1969 Matra decided Tyrell would represent it on the F1 race track under the name Matra International while it would concentrate on sports car racing in a partnership with French car manufacturer Simca, who had recently come under the Chrysler umbrella. This union ruled out the use of the by - now legendary Ford Cosworth engine. A series of in house engine developments eventually led to the Matra MS 73 engine which was a 2993 c.c. 60º V12 engine which developed a reputed 480 bhp @ 11,200 rpm put out through a Porsche designed transmission.











Matra for sale





1972 saw Matra beat off the Italian and German challenges at Le Mans with a convincing first and second in the hands of an international team of drivers; and, with moderate success throughout 1973, Matra went into Le Mans with more than a glimmer of hope; and after an eventful race a pair of 670B's featured first and third in front of the Italian and German opposition. In '74 the great race was won by a lone 670C. Matra Equipe Gitanes had entered four cars in this event, two 670 C's and two older 670B's. The C's completed race distance but both the B's were retired. Ironically, in December of that year, Jean - Luc Lagardère withdrew Matra from motorsport, never to race again!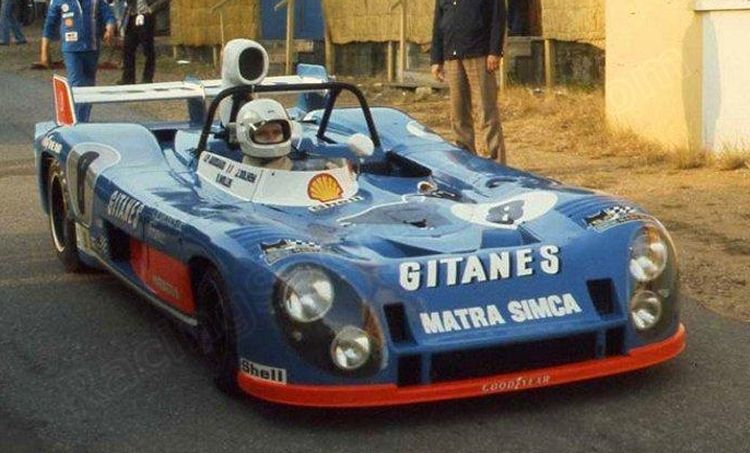 The Matra company continued in various guises over the years until now, where the name only lives on , on a very French product!





Matra.com











This model is a good reproduction of the original car which was entered in Le Mans in 1974 . It was a model from the previous year and after a valiant effort it had to retire on lap 120 after nine hours competition. In the results it was classified 32nd after a DNF due to engine failure as was the other 670B. The car was an aluminium monocoque chassis construction fitted with a fiberglass body. The total weight was 639 kg.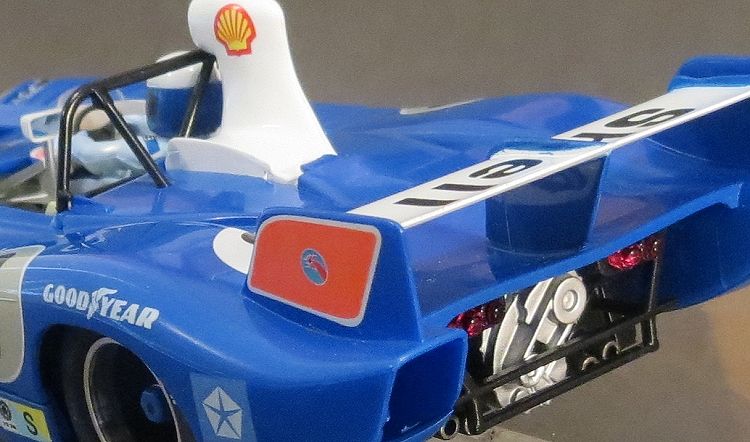 As always Slot.it have captured the feel of the model and have done an excellent job in portraying the original, finished in the distinctive French blue livery and sporting the Gitane (Gypsy) cigarette company motif. Body colour is good and again as always, tampo is almost faultless.









There is a noticeable lack of bits which could become detached and the only item which is suspect is the rear view mirror, this sticks just outside the safety zone of the roll cage and air intake. Along with the headlamp lenses it is a vulnerable item which you might be inclined to remove before racing if you were me. Slot it make an excellent range of spares and now have a comprehensive range of decorative 'crash proof' parts to fit the range of models
Download and checkout their spare parts bible
download Slot.it spares catalogue.pdf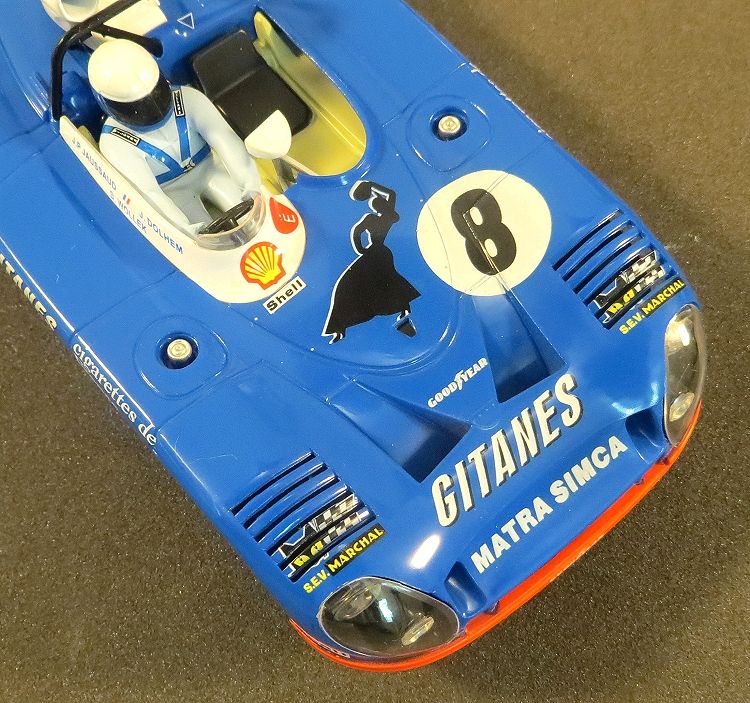 download Matra pdf




When taking it from the box you will notice that there are a couple of little parts in a plastic bag. These look to be front axle spacers. As yet I haven't identified their exact purpose but Slot it do give you a lot of options for front axle setup, depending on the type of track you race on.








Underneath the model we have a simple podded chassis and there is no bad news here. Not too many screws to mess about with and no badly moulded or poor fitting components. At this a point while checking the wheels I noticed the rears had no inserts though? This model has come straight from its shrink wrapped box, so I suspect they have been left off in assembly? While still underneath, the braids are the coarse side of OK especially if you are a technical track non-magnet racer, where something a bit softer might be the answer.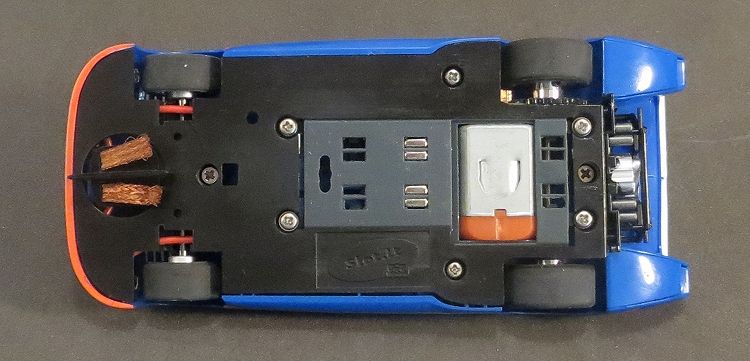 Inside the model there are no surprises and a familiar layout greets you with the body removed. Again a choice of magnet positions for the standard Nd magnet supplied. Front axle as mentioned earlier has a ride height option and this is adjusted by some grub screws of varying length, there are also a couple of plastic spacers mounted underneath the front axle and bearing on the chassis. These can be removed to allow full front axle adjustment on the screws alone, particularly handy for early Scalextric and SCX track where the conductor rails are quite prominent.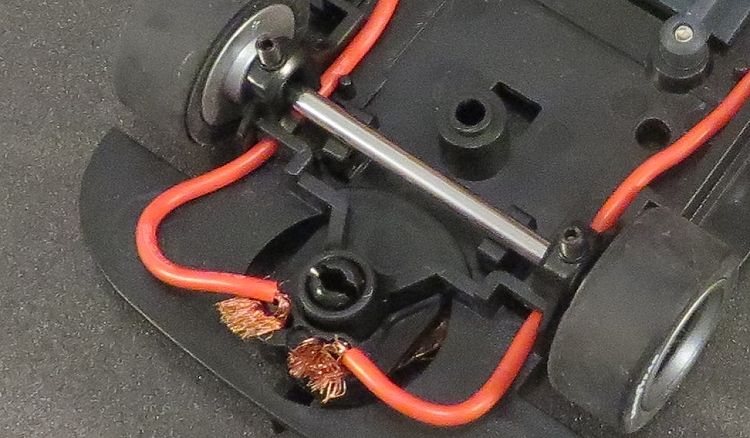 Motor pod and motor are regular Slot.it and the model comes with the standard 21,500 rpm motor geared down to a little less than 3.0 : 1. The rear axle sits in self centering bearings and should not be a problem, and the mesh between the spur gear and pinion is good, with minimal backlash. The motor too is offset downwards by 0.5 m.m. This is to help get the centre of gravity just that little bit lower, which should contribute to the model's stability in the corners.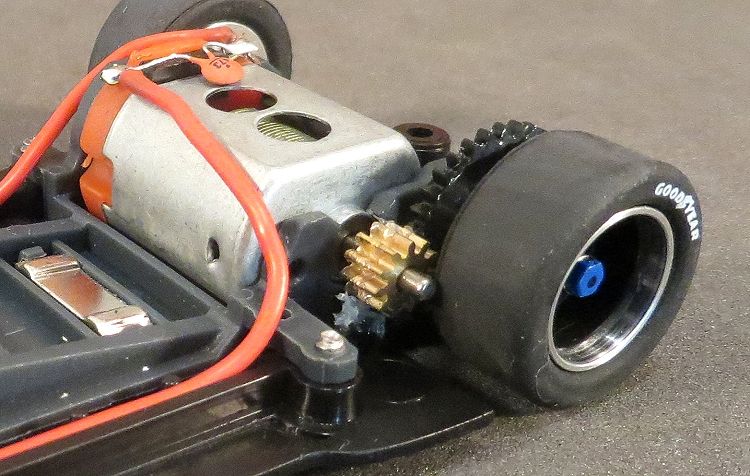 Front wheels are plastic push on's and the rears are grub screwed alloys. The fronts have minimal run out and the rears, as expected, have none. It seems that the bad old days of rubbish wheels may have gone fore ever!?. Tyres are fine too and have a soft grippy texture. A track test will reveal if they need any further work or changing. Manufacturers must be taking more notice of tyre materials. Most of the models I have checked in recent times have rubber tyres which, after truing, are as good as, and sometimes better, than the urethane alternatives, depending on the track surface; and it certainly true that the shinier the track surface, the more grip they seem to have. I would guess that as many as 50% of my race models are running on original rubber!








I haven't track tested this model but I would not expect it to handle any different to a range of other Slot.it models. The chassis' are all very similar and at 15 grams, the bodyweight is identical to several other models. Unless you race in a group that gut their models and rebuilds them from the ground up, there is no reason why this model should not be successful almost straight from the box. Consideration to track surface and track technicality are the only two things you should be pondering, and possibly your own skill level !!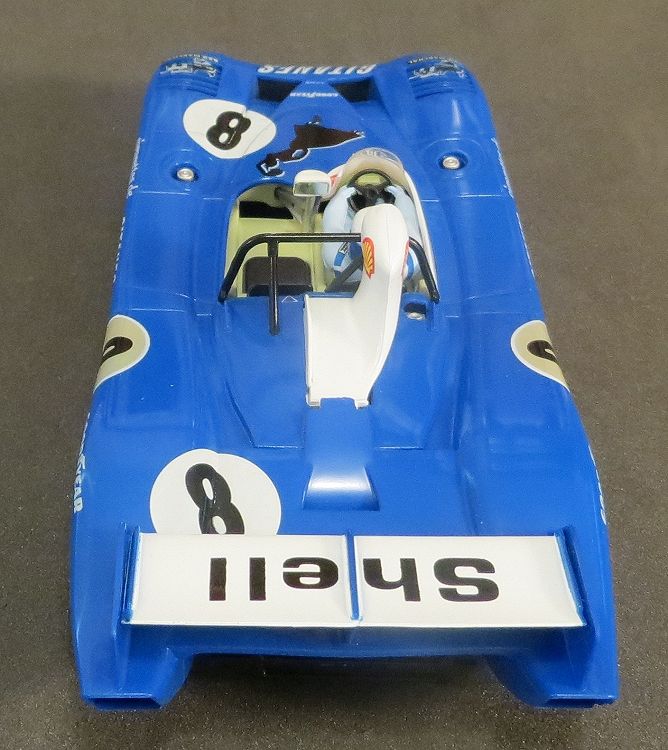 The French always have built quirky cars, and no doubt they think the same of ours, but the Matra is unusual, and before Slot.it came along this model had already been produced by a couple of other slotcar companies. If this were mine it would be an instant shelf queen. There are plenty of other lesser model which don't look as nice that I'd rather send to their doom on the 1/32 race track. So if you want to race this, I suggest you buy two and keep one for best! Remember the Slot.it Audi R8…………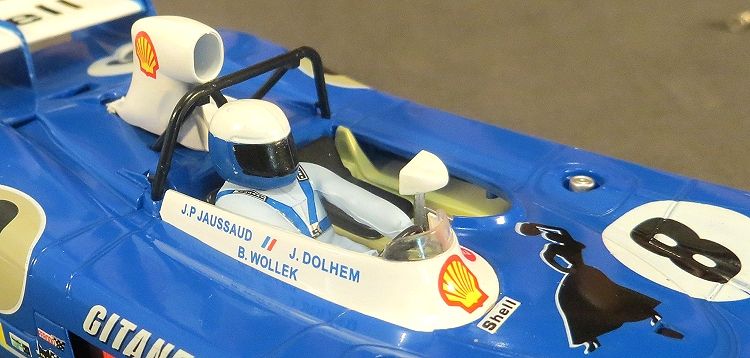 Many thanks to local racer John 'Moby' Magriplis for the
opportunity to review this model