.
.
Scalextric
Super Kart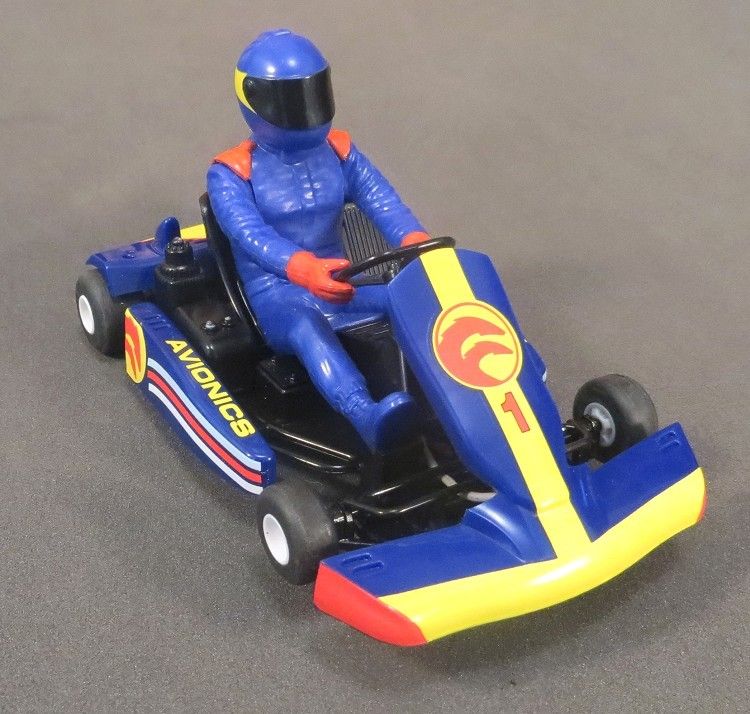 by

Phil Wicks




I'm sure you will forgive me for including the new Scaley Super Kart in my review section even though this forum is supposed to be for 1/32nd scale models. But I have digressed before with the dirt cars especially. Still, not withstanding, the new Scaley Super Kart has been widely advertised as being 1/32 scale which it is far from. In actual fact it has some enigmatic dimensions.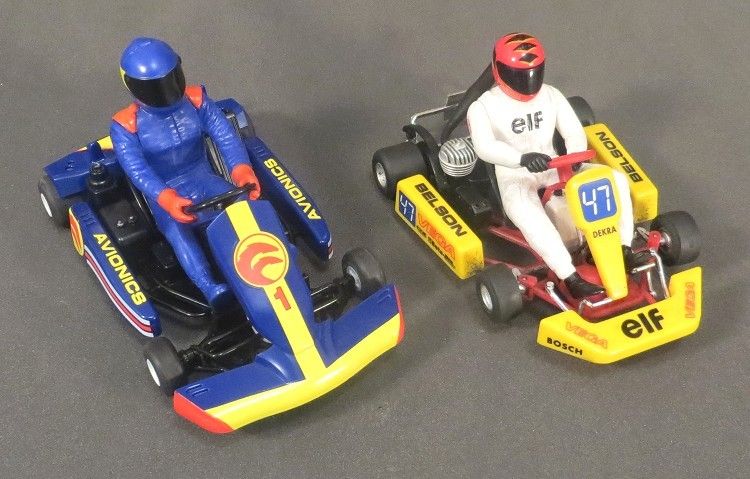 For a start, compared alongside the Ninco Karts which have always looked well proportioned it is longer, by quite a bit! It is also narrower, by quite a bit! and I get the impression that the scale floats between 1/15th and 1/18th depending what you are looking at… at the time? But more of this later, first up we need to see how Scaley have tackled this and whether they have done a good job or not. Unfortunately for them they have pitched it too close to the Ninco karts so it will inevitably be under close scrutiny by most. So where do we start?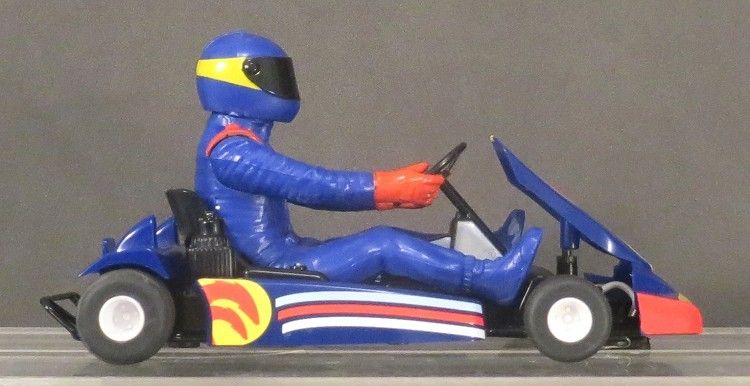 Out of the box it looks good. It is a 'super resistant' model so it will not carry as much detail as was potentially possible. From the top it is quite convincing and detail is honest if a little fantasy oriented. The farings and driver detail are pretty sturdy and you'd have to go some to damage this. Suspension and steering detail are protected behind a front wing, and the rear detail forms part of the chassis.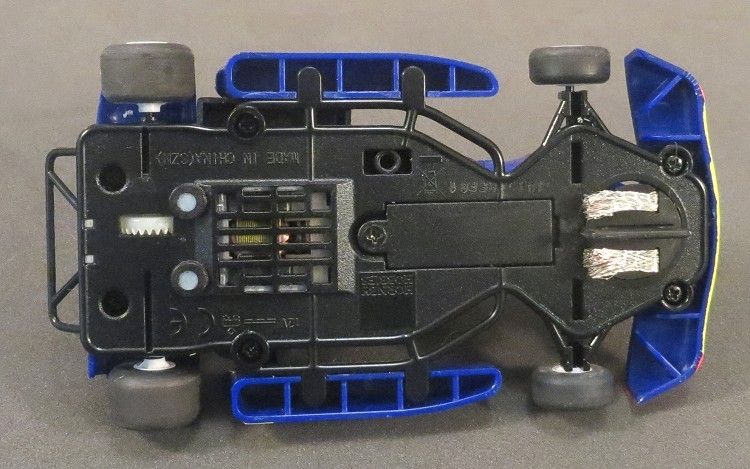 Wheels and tyres initially look a bit delicate but then it is being inevitably compared to Ninco karts which possibly is a little unfair. Underneath is straight forward and at first glance is not too dissimilar to some car chassis'. Interesting to see there are six screws holding it together and digital fans will be pleased to see the long DPR plate which detaches with one screw.






Scaley have copied Ninco in some detail, the main one being the two round traction magnets at the rear (more of these later). Wheels are small and do not share tyres with anything I can recall. The wheels are fairly concentric but do have noticeable run out, and the rubber tyres do fit well on them. For the serious kart racer (I can't believe I said that!) the tyres will need attention, by either truing or replacing, and I'm sure it won't be long before there are urethanes and foamies on the market for them!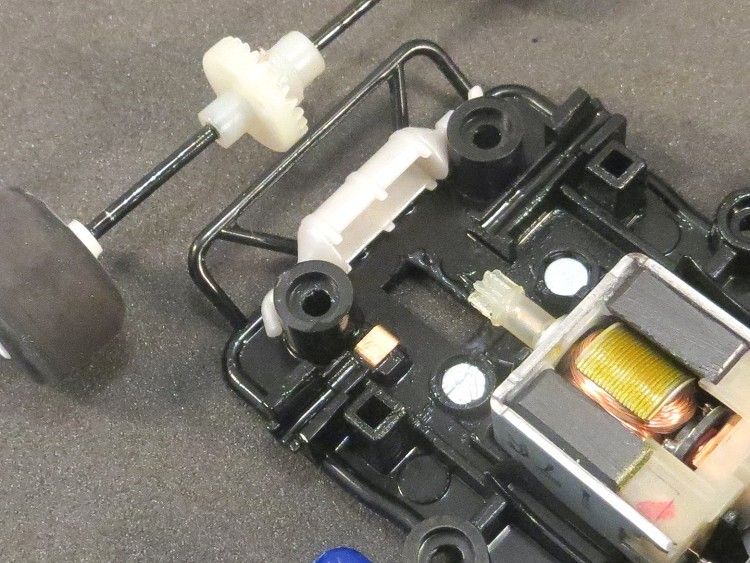 Back to truing the tyres and it has to be remembered that the tyres are small, the wheels are small, the motor isn't a killer and believe it or not, Scaley have decided to use 1.5 m.m. axles! This, combined with the miniature gears should be enough to tell people NOT to sand the tyres in the conventional manner; I can guarantee that if you do, the life of all these parts will be dramatically reduced; particularly the very fine pitched teeth on the pinion, which are reminiscent of the old Formula Junior gears!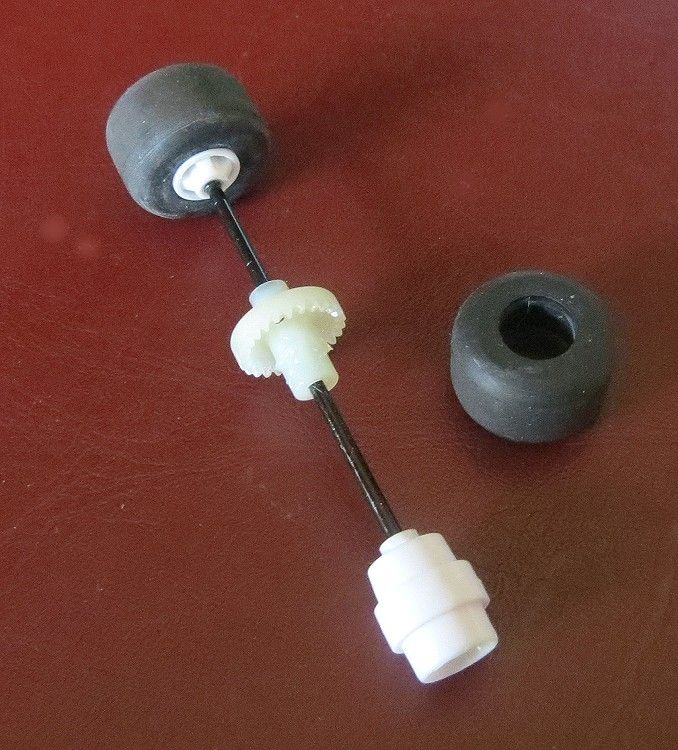 The guide is similar to most of Scaley's cars but one observation is that it seems to be a lot deeper than the run of the mill round guides, and on measuring I find that the guide is 7.5 m.m. deep. Probably the deepest guide I have come across out of the box!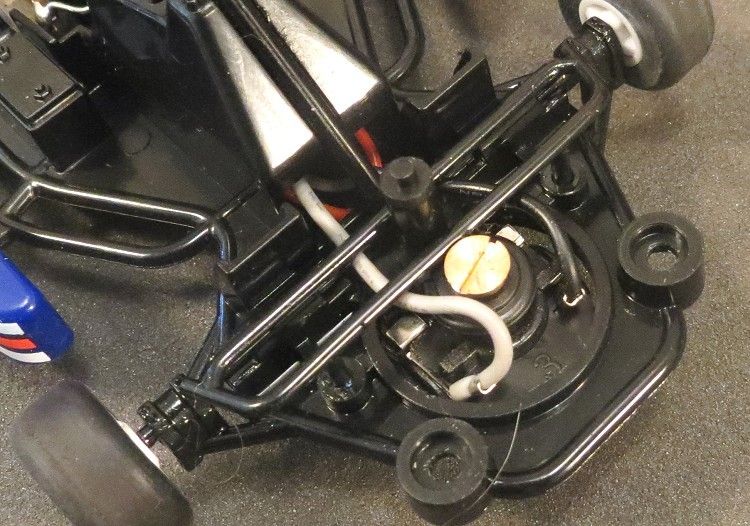 The model has a fixed front axle and the luxury of a steering front end has been omitted from this economy build. Not to worry, there is very little at the front to generate too much corner drag. But it would be interesting to test drive it with and without tyres to see. The front axle is also 1.5 m.m. diameter.






With the top off, or should I say, with all the bits removed! as there are several bits which make up the decorative aspect of the model, the business side of things is revealed. First up, in spite of all the speculation about it having an FF slimline motor, the model is powered by HO power and has one of the little cube motors from Mabuchi; another feature shared with Ninco. These motors are not to be underestimated as some are quite capable of running at 28 to 30,000 rpm!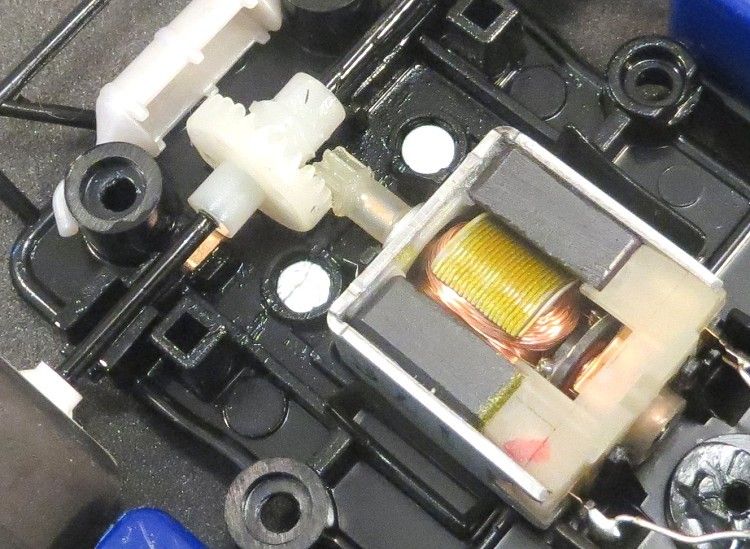 The motor clips in conventionally and doesn't appear to move in its clips. With the front off the front axle stays in place and does not drop out. The driver, unlike its peer, is not totally independent and is part of a moulding which is glued to the radiator and engine detail. The driver is one piece so there is no posing the arms to upset the opposition!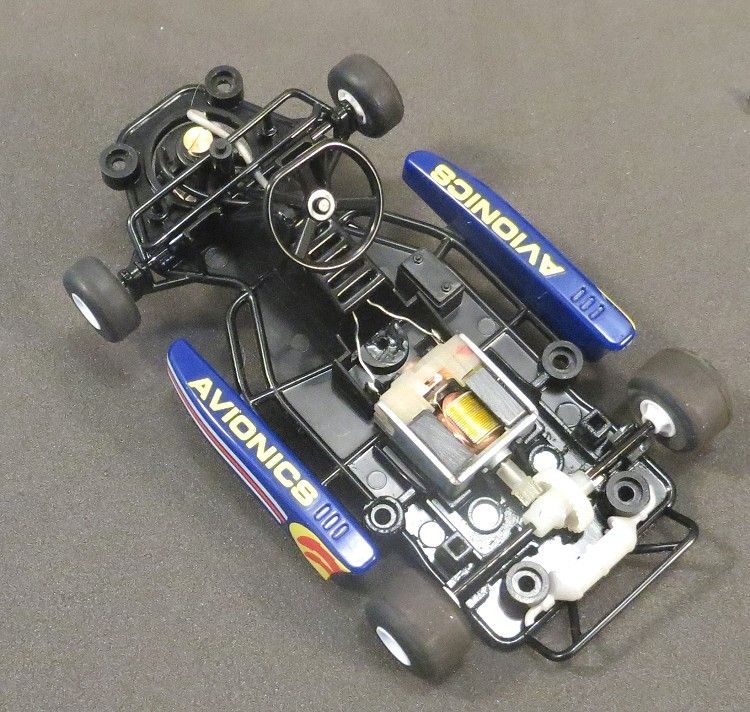 As mentioned before the axle is spindly! In fact it is the same diameter as the cube motor armature shaft. The contrate is firm on the shaft but I would not mess with it under any circumstance as I'm sure it would well render it scrap value very quickly! The axle assembly drops into a couple of channels in the rear of the chassis moulding. The axle is held in place by stops moulded into the underside of the rear panel once it is screwed on. As there is no centering groove on the crown gear it looks like the axle is kept in place by a small brass bracket which sits to the right of the contrate.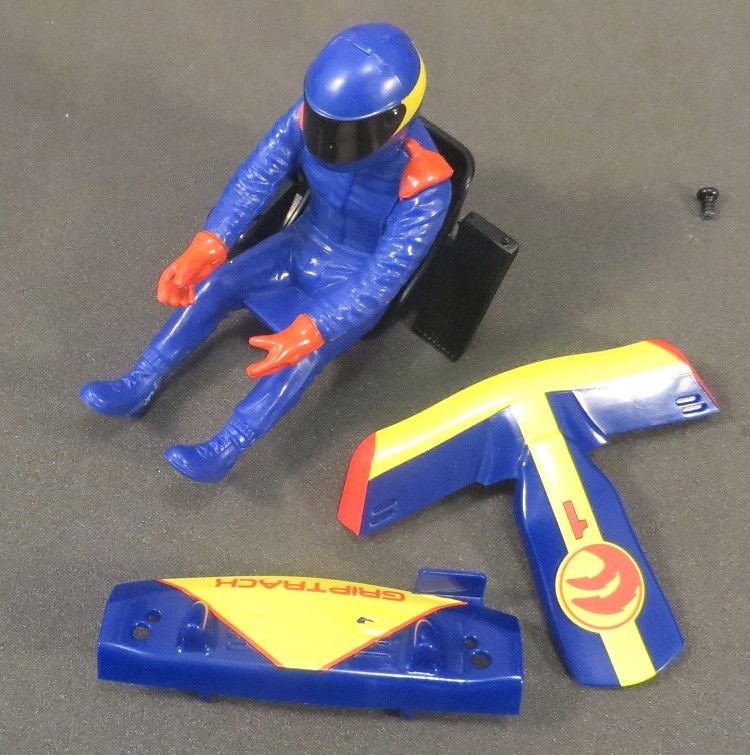 Drive from the motor is as mentioned before through a minute pinion. Again, leave this alone as it doesn't look like it was designed to be removed more than once. For those familiar with the term 'pitch' I would say the pitch on this gear is a lot finer that 64. When all the screws were removed, the body parts detached relatively easily. The back dropped off readily, the driver needed some wangling to get his feet round the steering column and other bits, and the front sits smartly atop a mounting post. When it was reassembled it was difficult to gauge screw tightness so be warned, and don't retighten any more than a light 'nip'!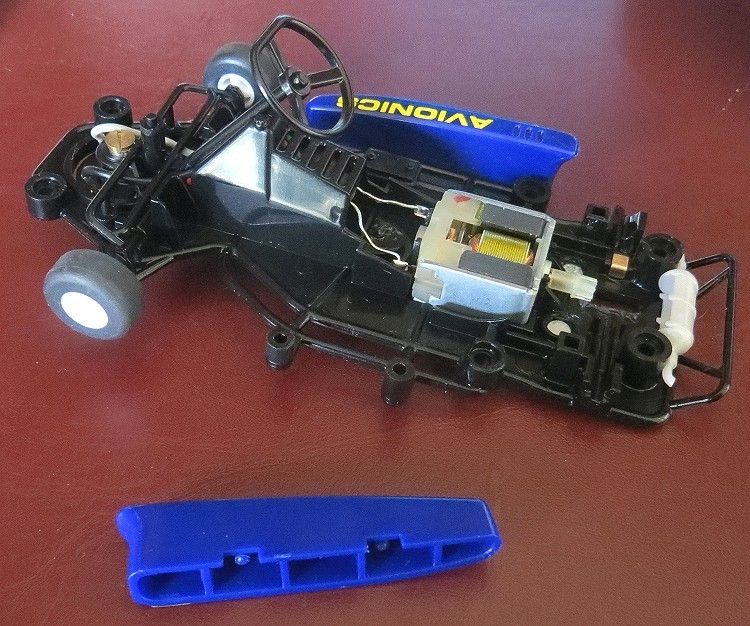 The side pods too are removable but this is only for easy of assembly at the factory I would guess, and it provides no other usefulness, except maybe, as they are hollow, somewhere to stick a bit of ballast if you feel the need! Mmmmmmm? The DPR unit, when installed, will sit under a sort of centre console which hides it quite effectively.







So not a bad effort by Mr Scaley and the inevitable comparison test is due. Firstly, data gathered from a Ninco kart race on my local LCR track shows that an unprepared Ninco kart will circulate at about 7.8 seconds. A 'blueprinted' Ninco kart will do the same lap in 7.5 seconds and an exceptional kart set up for maximum performance can achieve 7.2 seconds.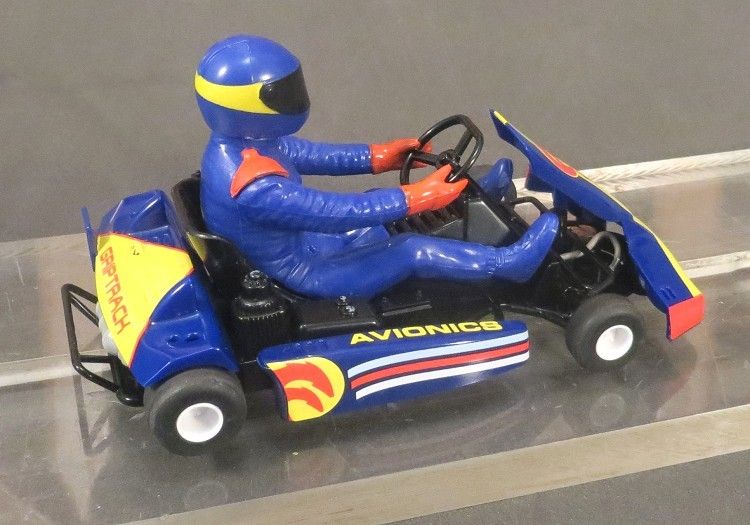 I took this model for several laps at LCR (non magnet Ferador) and after several laps the best I could achieve was 8.0 dead. The model was very jerky in the corners and generally jumped about on hard acceleration which could easily have cost it 0.3 of a second. With the tyres trued and a general blueprinting I would expect to clip 0.3 to 0.5 seconds off that time, but its wheel diameter will hold it back, it barely having the speed of an NC1. But, no doubt, somewhere along the way, the odd person may well get these karts to fly without too much alteration. Most of these faults may not appear on a magnet track.







As mentioned before, one of the issues which slow it down is tyre trueness. Sanding them on a piece of fine grit paper is not the solution as it doesn't guarantee concentricity, and you run the risk of wrecking the gears. I don't expect any of the current tyre truers cater for the axle size either! Your best bet is to find someone with a technical track painted with Ferador and make yourself a coffee and something to eat, and spend an hour just driving round; you'll find that gradually the tyres will come good and you won't have wrecked any wheels, axles or gears.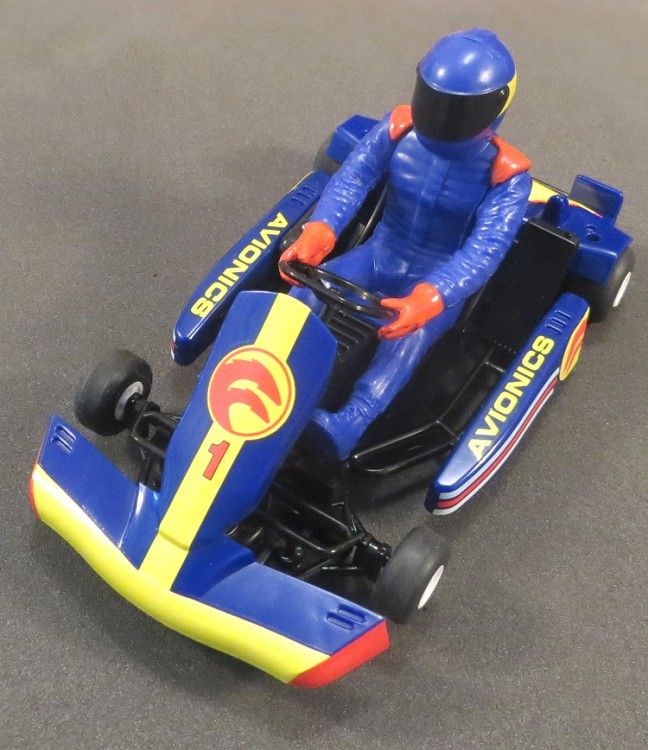 This is a very stable model on the track, but then again it isn't too fast to be a handful. Run it on 13 volts and you will probably get a bit more fun out of it. One thing to watch for are the traction magnets. Obviously of no use on timber but they have a good deal of down force on Carrera track, and even more on Scalextric track!! So be warned and if you are running this on magnetic track, just keep an eye on motor temperature as these little cubes can be very temperamental as far as reliability is concerned.






So, once again, that's about it. The best thing about them is that digitally, you can have six or so on the one track and battling it out should prove quite a spectacle. Compared to Ninco? Mmmmm? I would go so far as to say that they will easily outrun Ninco karts in a traction magnet situation; but, on timber? The jury is still out on that one. I'm sure some smart person will get them to fly, just as we did with the Ninco karts all those years ago!




Karts on eBay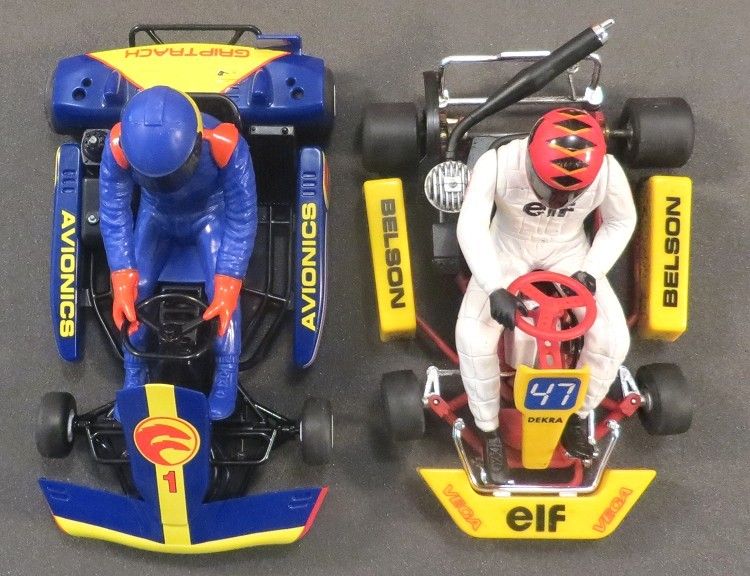 Many thanks to fellow racer Perry for the opportunity to do this review