.
.
Thunderslot
Lola T70 MKlll
Surtees /Hobbs BOAC 500 1967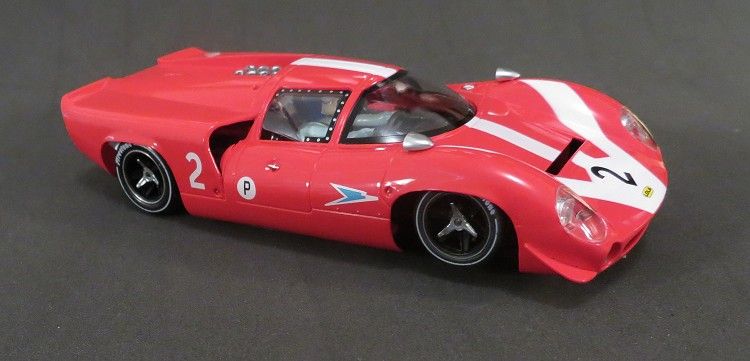 By

Phil Wicks



I have touched upon the history of Lola Racing elsewhere in my reviews so I won't go to the lengths of boring previous visitors rigid. Suffice it to say that under the guidance of founder owner Eric Broadly, a lot of cars raced a lot of races, and they contributed significantly to the birth of modern sports car racing, where a lot of famous names cut their teeth on one or more of Eric's products.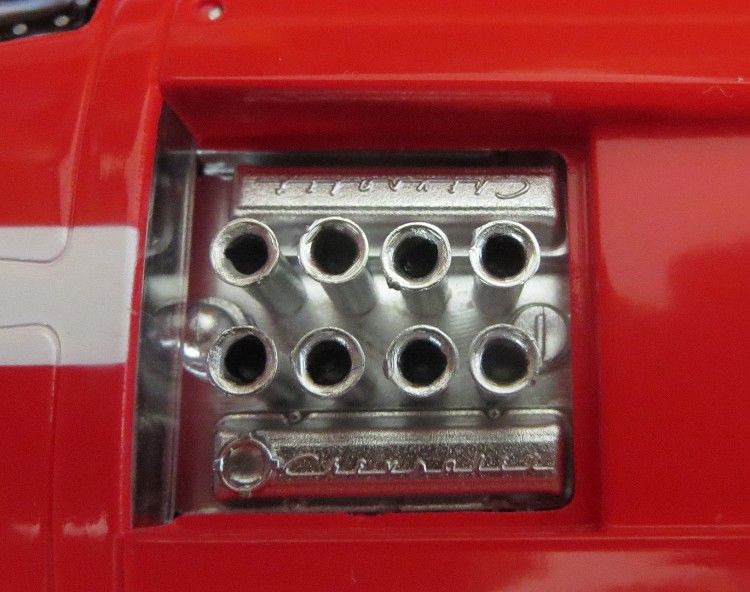 But in spite of filling most sports car grids with their product, Lola found it hard to clinch the glittering prizes that, over the years, were up for grabs. The cars also appeared in a multitude of liveries but it was up to the minor racers on minor circuits on minor race days to do the hard yards and spread the myth that Lola were invincible.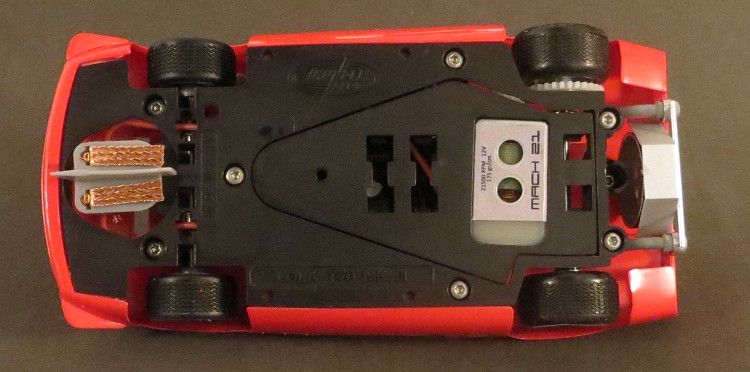 The T70 ran for three versions up to the MK111, and even at this stage the MK lll's contained a lot of ideas that would appear time and again through various future incarnations. Mechanically they had their share of problems with no one thing being the issue, chassis or motor, it didn't matter which, would let their owners down at a critical juncture taking the cars from a potential podium position to 'also ran' and 'DNF' conclusions.



The vehicle was available in a variety of set ups depending on the use it was going to be put to and the most significant variable being the engines. Although the Mk lll came more often with the Chevrolet engine, they did also run Aston Martin engines.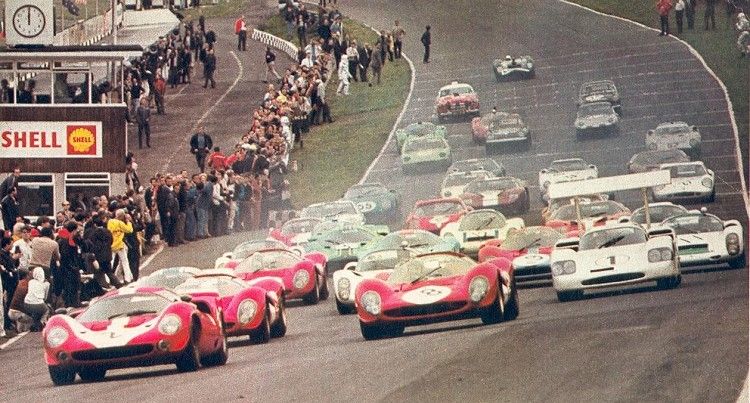 In 1966, a non-championship sports car race was held at Brands Hatch with a race distance of 500 miles, With the success of this initial event, the World Sportscar Championship would add Brands Hatch to their calendar. However, unlike the initial race's set distance of 500 miles, the new event would be run for six hours. Even with a timed race, BOAC stepped in as the primary sponsor and chose to retain the 500 mile distance in the name, earning the popular title 'BOAC 500' (British Overseas Airways Corporation).



Lola Cars .com



The 1967 event attracted some big names from Porsche to Ferrari and Chaparral with their revolutionary high wing. Surtees and Hobbs were racing with their Team Surtees Mk lll and although they were at the front of the grid with second fastest qualifying time, they were forced to pit on lap 2 with ignition problems; they slipped back slowly as the race proceeded and eventually withdrew with further engine problems (pistons) while holding eight place. Honours went to The Chaparral team with the Amon / Stewart Ferrari P4 in second, and the Siffert / McLaren Porsche 910 in third place.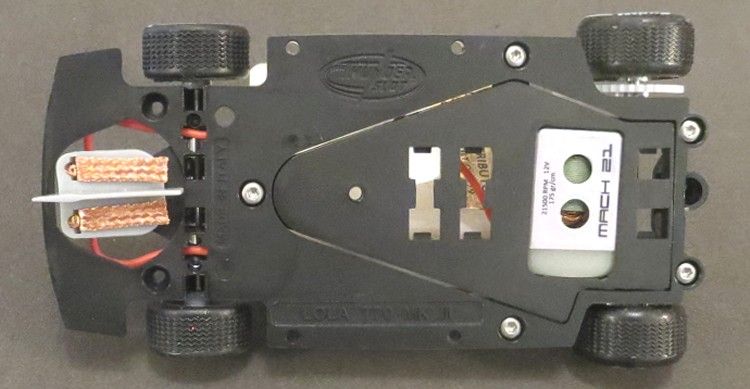 Thunderslot are new kids on the block and first impressions tend to say oh yeah! Another Fly look alike, but look alike is as far as it goes. Thunderslot have tried hard to be original and innovative and have half achieved that goal. The model is a very light model and even though it comes without a traction magnet (although it has three positions for the Thunderslot 15 x 5 x 3 magnet) I suspect it has been left to the owner to decide how to set up their model, strange really as its weight out of the box and a lack of traction magnets tells me out of the box it isn't set up for magnet or non magnet! More money needs to be spent on it to place it in one camp or another.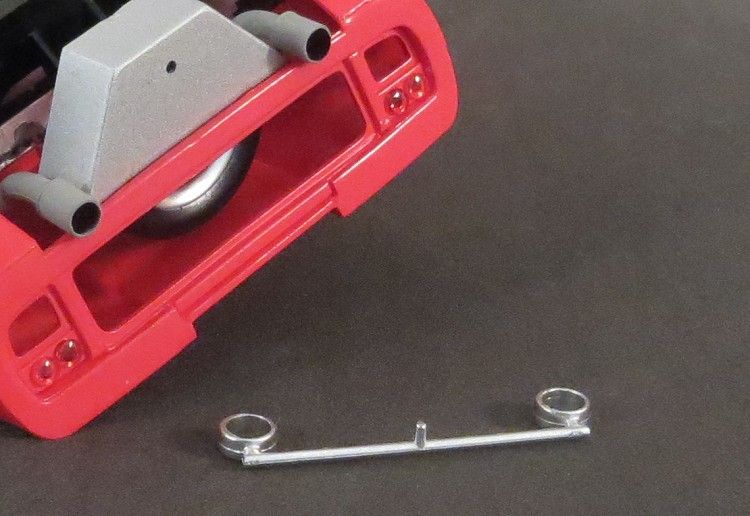 The body is the MKIII version with single headlamps and although all the accessory heat welds are good, there are a few parts which will become statistics on their first and subsequent outings. Headlamp covers will no doubt be the first to go and the exhaust detail, which was already detached before opening the display case will also be vulnerable. The spare wheel cover is fragile too and the driver's tray is vacuum formed with the driver figure being moulded.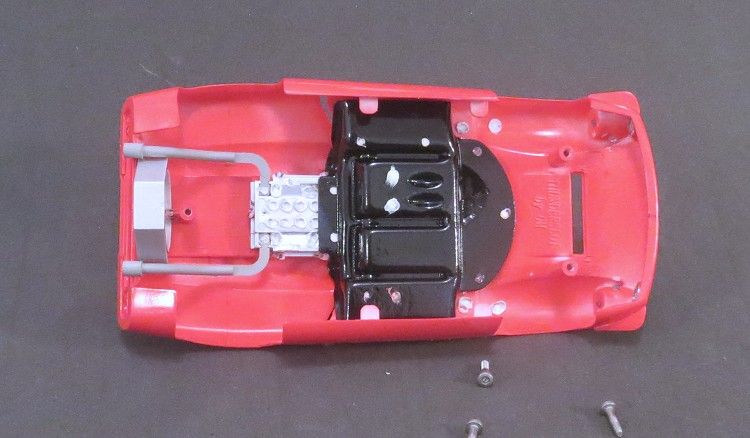 The body colour and tampo are very bold and thankfully the model also has a good shine to it. All other detail is fairly permanent unless you are a terrible driver. The body is removable via the removal of three screws. These are shouldered screws and unusually the thread looks to be a 2 guage set screw while the heads are definitely Torx ® T6. An Allen screw driver may remove them but be warned, the threads are tight in the body and too much removing will see the head turn out. Do yourself a favour and buy the proper tool if you don't already have it!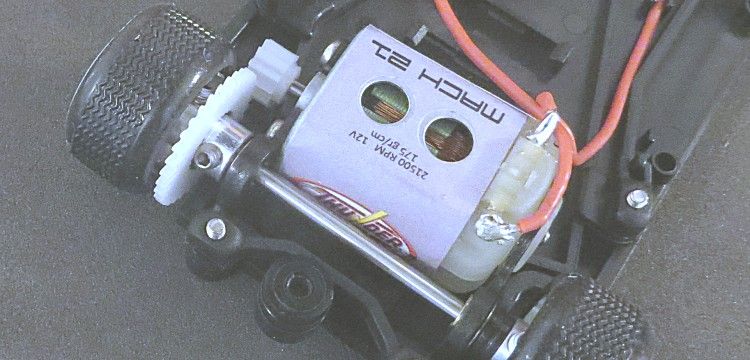 With the body off the first feature that grabs you is the chassis layout and strength. There is a removable pod which is removable for two main reasons. The first being to allow the motor type to be upgraded or changed, Thunderslot offer a couple of after market motors, the 'Storm 22' and the 'Fox 25' the second reason is that Thunderslot make the pod in three different strengths. The one supplied with this model was the most flexible and contained the 'MACH 21' 21,500 'S' can variant. There are also semi rigid and rigid pod options. There is also the option to spring mount the pod. Springs and screws are available from Thunderslot.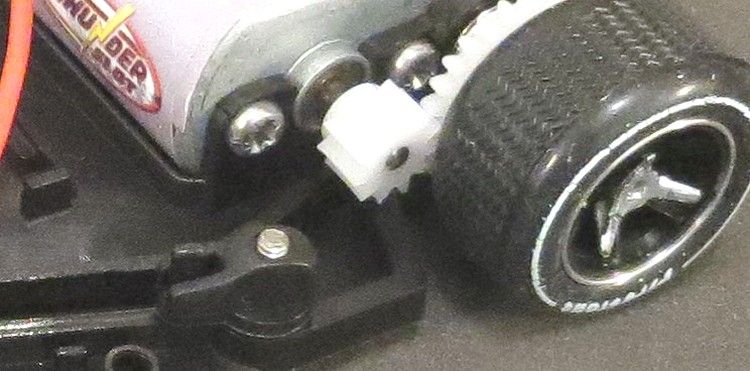 The motor is much the same as all 'S' cans but Thunderslot have quite thoughtfully screwed the motor to the chassis at one end and clipped it at the other. The motor is also skewed by about 3° to allow it to fit beside the rear axle bushes with ease. Final drive is pretty much 3 : 1 and is created using a nylon pinion and spur gear. The spur gear looks healthy on its alloy grub screwed boss, but I would be concerned for the plastic pinion as it will be prone to splitting across a tooth valley if history has anything to do with it. Most other plastic pinion makes have a full width collar at one end to stop this, which….they don't! So if you are going to race it, be prepared to fit a brass pinion some time soon.





Looking at the business end of things it is noticeable that true scale has been compromised for the sake of performance and the first noticeable deviation is the wheel diameters. The Thunderslot wheels are decidedly smaller than previous models of the same and look lost in the wheel arches. The front wheels are plastic and are quite concentric avoiding tedious tyre sanding to compensate for hub run out. The rear wheels are alloy and very well made. Rear tyres are unusual in that they feel very much like urethane ? Whatever it is they are a very soft compound and may only give their best on high gloss surfaces. Also, they are not a good snug fit and I suspect that unless they are glued on, they could be the cause of some consternation at a vital moment in a race! Do you really need that!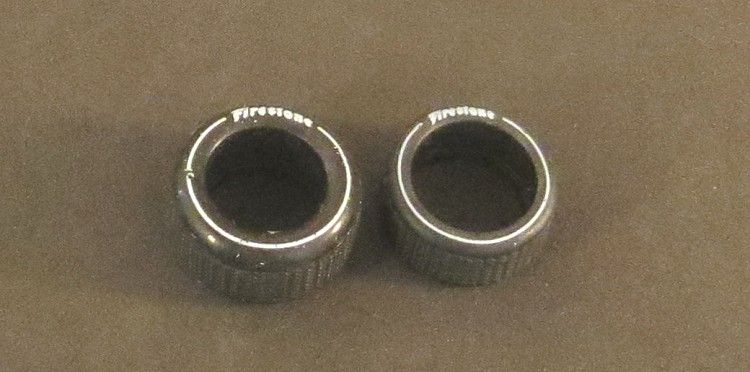 They also come with a tread pattern which is more decorative than functional, Sanding will see you loose 1 to 1.5 m.m. of wheel diameter on an already preciously small wheel assembly. Once again Thunderslot do supply tyre options including slicks, but my advice would be to go with your local supplier and choose the best formula for the surface you will be racing on. If you are a home racer then I suggest it is not too important.




The guide is another novelty which I haven't quite figured out. I will be the first to admit that my competition guides for some time now have had a 'keel' sticking out front. This has been achieved by crimping the front of the guide blade in the jaws of a small metal working vice. This gives the guide a very similar profile to the one illustrated. It may also assist in quick reslotting after an 'off'!?? The Thunderslot guide is also 'waisted' from below, again not too sure why Thunderslot have done this but I have in the past done this to allow large guides to navigate tight 'inner' track sections. I suspect with this model it is to address frictional issues





Another novelty is the use of a couple of grub screws to hold the braids in the guide. Definitely a good idea….. but avoid overtightening! The guide is a snug fit in the chassis hole but unfortunately the chassis supplied is very floppy and the guide can bend and move quite freely which is not good.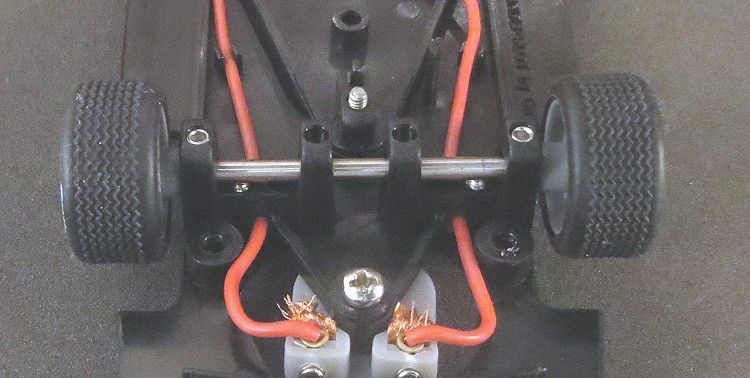 Last up are the axles. Not a lot to report but they are 3/32 steel and as such are nothing new. The axle system does however have the facility to mount the front axle to match the track surface height. Plastic tracks come in a variety of conductor rail heights and it is definitely an advantage to have the front wheels hovering above the track surface. Some people will dress or coat their front tyres to minimise the drag at the front, regular readers will even have seen my 'wixle' set up which allows front wheels to rotate independently of each other. On this model and judging by the difficulty in removing them, I would say that Thunderslot have opted for 'hard rubber' front tyres which will go some way to alleviating front end drag, especially if you leave the tread pattern 'on'!





Front axle play has two adjustments. One from underneath using a fine Allen key, this adjusts the lower ride height and should be adjusted so that the front tyres just touch the track surface. There are then two screws accessed from above, these would be adjusted down for flat tracks to produce minimal 'rock', a little further down for plastic tracks and higher if you race on banked tracks. The rear axle is simple, it mounts in two floating sleeve bushes and are held in by the wheel positions.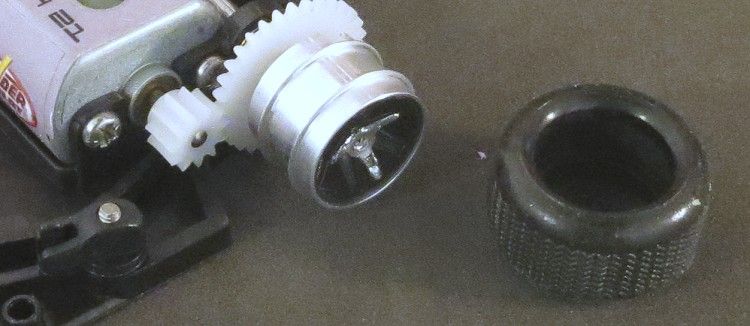 The model feels a bit light and flimsy and is obviously meant for magnet racing. There is a shortage of places to apply meaningful ballast if being raced non magnet, and a rigid pod would be an essential! The model also comes as a white kit to allow artistic freedom to those of us handy with a paintbrush and spraygun! And guess what else! It is 'made in ITALY'





Whether you love them or hate them it looks like 'pods' are here to stay, I think they weaken a models rigidity and have often hot glued them into submission, they have generated a new amount of uncertainty among 70% of the racing fraternity who don't know how to set them up, and they have made ballasting non magnet models more tricky. But, love them or hate them I am sure they are here to stay. Thunderslot have made a nice job of this model but I wonder at some of the innovations and what they are supposed to achieve. All that aside, I haven't had an opportunity yet of racing it on any surface so you will need to stay tuned!.....................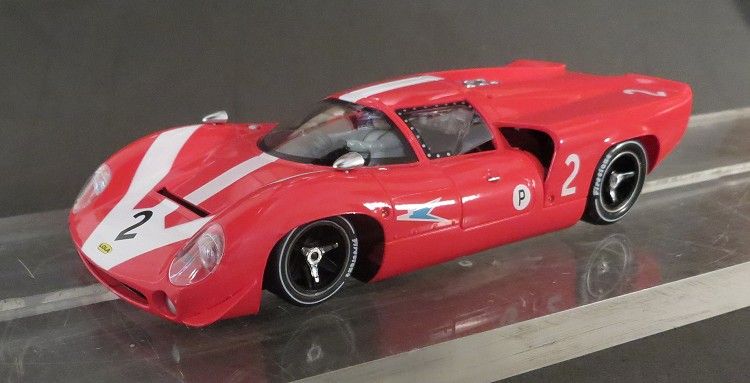 Thunderslot website
Thunderslot on eBay
Stats

Wheelbase					78.0 m.m.
Front axle width				55.5 m.m.
Rear axle width					60.4 m.m.
Guide to rear axle				90.0 m.m.
Overall weight					65.0 grams
Rear axle load					43.0 grams
Front axle/guide load				22.0 grams
Front / rear weight dist			34.0% / 66.0%
Body weight					17.0 grams
Pinion						11z nylon
Pinion diameter					6.6 m.m.
Spur gear					32z nylon/alloy
spur gear diameter			        17.18 m.m.
Final drive ratio 				2.9 : 1
Rear wheel diameter				20.0 m.m.
Progress					21.66 m.m. per motor rev.
Top speed @ 12v (approx)			7.764 metre per sec
Rear tyre tread width (before sanding)          6.18 m.m.
Closest MJK tyre				4213 (light sanding required)
Guide length				        23.0 m.m.
Guide depth (standard)				6.5 m.m.
Guide thickness (max)		        	1.33 m.m.
Motor						Mabuchi 'S' (21,500 rpm @ 12v)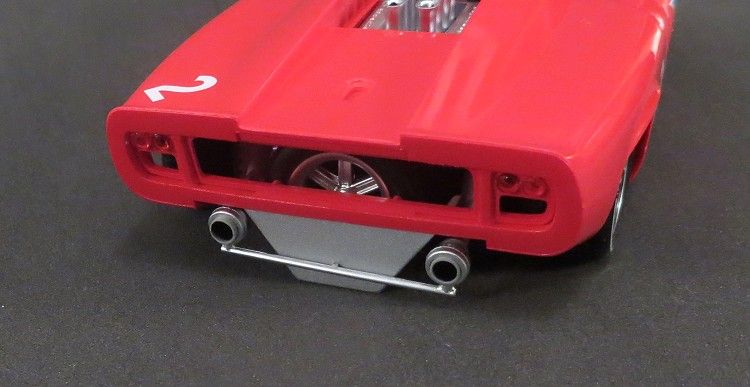 Many thanks to fellow racer Karl for the opportunity to review this model