Scalextric Ferrari 330 P4



By

Phil Wicks




There are many models on the market now which one can label as stunning. Stunning because the modelling skill is superb like some of the Autoart models, Stunning because the handling characteristics out of the box are superb like the now defunct Pro Slot models and stunning because not only are they depictions of a Classic among racing cars but they incorporate the previous two features as well!!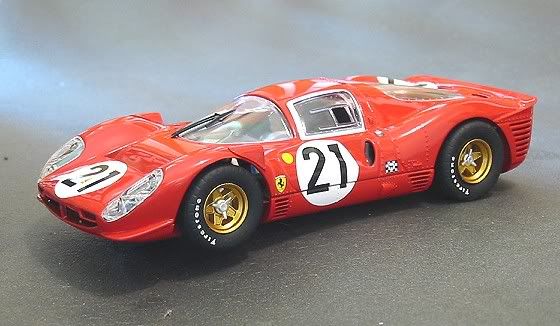 Scalextric have kicked the ball into touch with their model of the Ferrari 330 P4. It is a beautiful rendition of what must be one of the most elegant La Mans cars of its time and it is low, low, low. Without counting, I would suggest it has every rivet and every screw head accounted for!! I suspect the scale purist might be able to detect a couple of imperfections; maybe the red is two shades too light or the rear tyres are 0.017mm too wide? Who knows, lets not go there!!

Indeed this is a very RED car! The limited tampo is first class and there is no 'see through' paintwork anywhere. The white roundels ARE white! And the numbers are bold too! The rear end reveals an uncluttered display of tail lights exhausts and grille all beautiful in their simplicity. And then there's the wheels! beautiful gold Ferrari five spoked alloys with silver knock offs and bright discs behind. There are SIX! Screws holding the body on this car. There must be a valid reason for this as Scalextric persist in this practice! It makes body tuning very difficult and I won't here a word of anyone saying body tuning's not necessary! On top of this there are another two screws holding the cockpit interior in! These will need to be slackened off to allow some chassis bend when you tune it!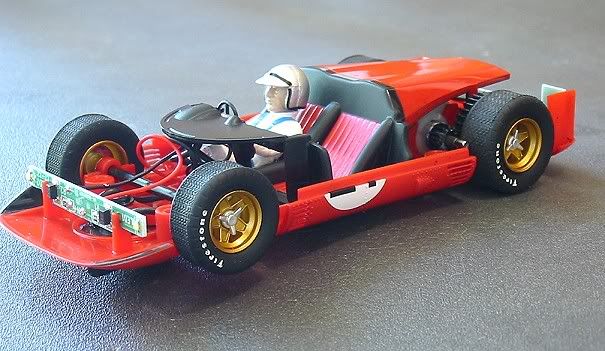 Interior detail is as good as you need. Gauges, wheel and vents all depicted and barely visible through the screen. The driver is finished a bit sparsely but the only observations I would make is that the drivers arms look like they are from a five year old and there was some slap dash helmet/head detail! But that's nit picking. The 'S' can has the proven east west layout in the back of the model under the engine cover trim. Once again, this is another model which runs with its weight on all four wheels. Nothing wrong with that, in fact it is my preferred set up! Place a model on all fours in a slot next to a model which runs the front on its guide (tripod) and tilt the track up and see which moves first! This type of braid friction can compound at higher speeds! Lastly, the tyres come with the Firestone logo well detailed and also some slightly concave treads. Not a big deal for the fronts but the rears will require some delicate sanding. If you intend sanding the tyres and you are a Scalextric Classic or SCX track owner I should keep an eye on what you sand off!! As mentioned before, this is a low car! The wheels are very true and run out is negligible.






You might have guessed by now that I'm in love with this car. When I ordered it, it was just another model which I was looking forward to. On arrival it was another model I had ordered but then I put it on the track! Some of you will recall I am a board track racer and therefore a first essential for a model is for it to look promising out of the box!. A thumping great magnet at the back can make a good model out of most heaps but good on board SOOB is a good sign. And this model was good. Two or three years ago I bought the Scalextric Ford GT 40 and found it to be very much a handful in standard trim. It was off the pace as a GT/ Le Mans car on plastic and on board it demonstrated a whole list of bad habits, the worst being a tendency to go straight on in corners and the next worse to be lifting out of the slot unannounced on hard acceleration. Some tinkering with weights and tyres reduced this to a minimum but it was all still there til the day I eBayed it! Needless to say the only GT 40s I have now are a good condition '60's Monogram original and a 1/32 60's ATLAS which could really do with a restoration.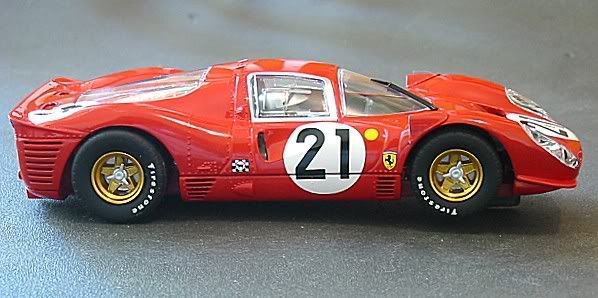 Back to the Ferrari and on to the track. First precautionary glimpse was at the motor. Just checking to see if it was that demon mini Mabuchi which has turned up in some recent models! A sigh of relief, it is the faithful 'S' can! Not too many headaches here. Putting it on red lane of my local board track I proceeded to run it steadily around. With the yellow striped 330 being run on an adjacent lane by a good friend, the two models did not fail to stun.
Fast but steady lapping saw the rear tyres start to bed in after about twenty laps and cornering became stronger and stronger.

There was very little to get used to on this model as it demonstrated most of the traits of a body tuned model and it was a dream to run minutes into the session. Next test was to open up the throttle a bit and the model still maintained its pose even with some hairy corner entry speeds. Finally a sideways deslot occurred probably due more to touching a barrier than anything else.

The model has typical Scalextric 'S' can performance and the tyre compound puts it to good use. Instant zip out of the bends and a good 'hang on' feel through them. A very slight tendency to lift the front on hard straight line work but not the instant deslot of the GT40 No judder, no bounce, in fact nothing untoward! A quiet 'zip' under acceleration much as we have come to accept with Scalextric models.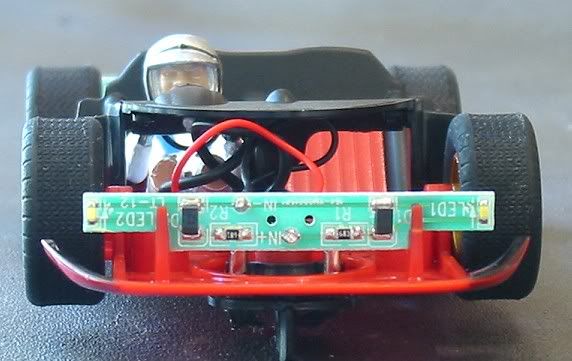 On the test track I use there is a 'yump' in the back straight. This has caused a couple of tests on previous models to be aborted because of the models becoming airborne and not resuming the slot on landing. The Ferrari 330 was becoming airborne too and although it didn't deslot I was reluctant to push it hard over the jump because the impact at the end of the straight can be pretty fierce. The track owner and myself are considering changing this section at a future date.

Because of the breakneck speed at which some of the classic F1's tend to travel at I decided to fit a switchable power dropper into the power circuit. Power at the moment is from two early Scalextric transformers and there is heaps for most models. The reducer is a 1 watt 11.0 ohm resistor in line with the positive feed. This is enough to knock the self destruct tendency off the top speed!

The Ferrari was tested with this in place and it proved to enhance its drivability without diminishing the skill factor. The fact that it reduced the tendency for the model to become airborne was a plus in itself. We decided to run some hot laps and set up the computer to race. Between the three of us there was some good racing and surprisingly little problems. Probably only a couple of deslots over three heats. The two models were the sport version No 21 car and the standard version No 24 car. Interesting to note that the 21 car has white headlights and the 24 car has AMBER??

Anyway, countdown starts and race is on, running on reduced power both models are highly drivable. Still plenty of power for spinouts and deslots so life isn't that comfortable! Lap after lap saw both sport and standard models pretty much equal and no advantages anywhere. Heat one had the cars cross the line within tenths of each other and a fastest lap of 8.423 secs (straight out of the box!) Heats two and three saw similar results with the 'Legend' ending up the quickest with his yellow striped standard model. We all agreed that this model rocked and after an exchange of views we moved on to other racing.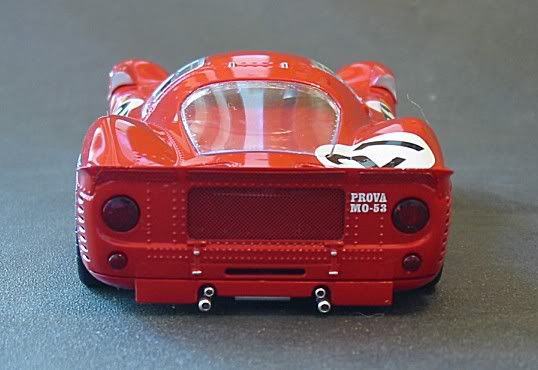 So there it was. Another great choice of another great car from Scalextric and what a model. This is another of those 'doesn't matter if I never race it' models as it is so stunning. But race it I must and race it I will. I fully expect to have it flying at the new Four Seasons SCC four lane Carrera circuit this evening! And I will be bold enough to say I don't expect too much disappointment even with the reduced downforce of Carrera track.

At a time when these models are selling in the UK for 30.00 pounds plus, this was obtained from Scalexworld Adelaide for $55.00 less 10% red carpet discount plus postage.
Statistics

Wheelbase				75.5 m.m.
Front axle width			55.5 m.m.
Rear axle width	        		57.0 m.m.
Rear wheel diameter			21.3 m.m.
Pinion 		        		11z
Spur gear				36z
Final Drive ratio			3.27:1
Overall weight	        		78.0 grams
Front axle weight			30.0 grams
Rear axle weight			48.0 grams
Front / rear weight dist %	        38.5% / 61.5%
Motor					Mabuchi 'S' can
Yet another model I will carry about in my box for months alongside some favourite scratchbuilds, Auto Art, Carrera and Revell classics. Not too much room for the run of the mill reliveries these days. This is a tight little model which does as it's asked and for the tinkerer and up grader there is scope to make this a giant slayer on wood and plastic. So go out and get one and prove me right!