.
.
.
Slot.It Ford GT40
Sebring 1966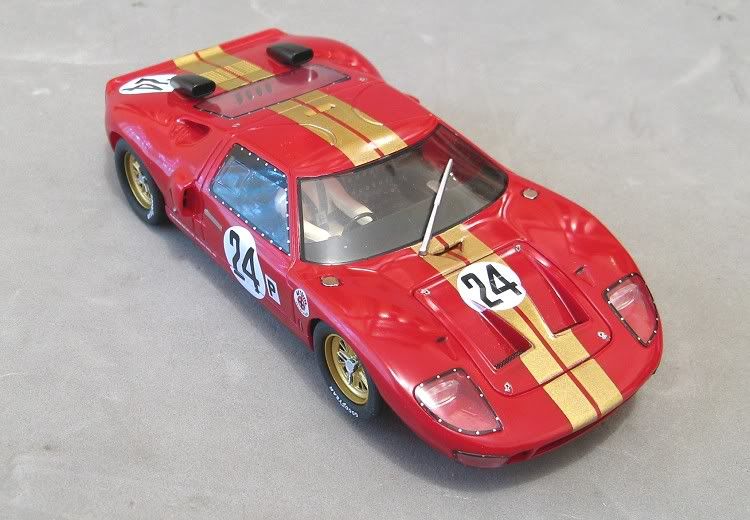 by
Phil Wicks
The origins of the Ford GT40 will always be a hotly disputed topic. At a time when US cars were just not winning outside of the American continent, and when at times there seemed to be a mass exodus of top US drivers to Europe where they would perform admirably in continental products on continental race tracks, Ford was the first to recognise that something needed to be done! After an unsuccessful negotiation between and Enzo and Henry ll and a short but uneventful discussion with Colin Chapman of Lotus, Ford chose to put together a consortium of interests to build the new car.








Eric Broadly of Lola fame was well placed at the time to assist Ford in their aspirations. Lola was already in the process of testing a GT car which was to become the cradle of the GT40. John Wyer of Aston Martin fame was hired as Team Manager and soon became head of the newly formed Ford Advanced Vehicles, who would finance the project. Third team member was ex-pat Englishman Roy Lunn, who had pioneered 1950's race car engineering with AC cars and Aston Martin. He would become the design engineer.





Sebring 1966 line up





During early development Ford offered a number of engine alternatives and by the time the MKll took to the track it had taken on the appearance of an international project. The engine block was supplied by Ford USA, the Weber Carburettors where Italian, the ZF transaxle was German, the chassis (body) was British, as were the Weslake cylinder heads and the man attributed with sorting the prototype's poor handling at speed was New Zealander Bruce McLaren.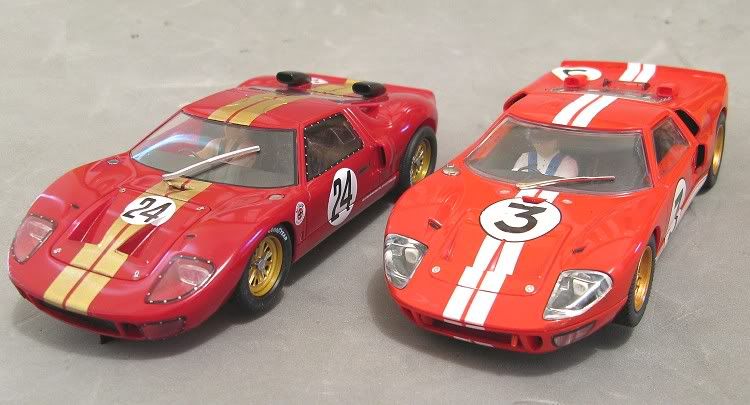 Inspite of the car's Le Mans successes and like all racing cars, it had a good deal of failures, and also like all racing cars it was the subject of continual development. With Eric Broadly's collaboration commitment in the project coming to an end, the main development was transferred to the US to the Carroll Shelby workshops, where the car continued to evolve. Inspite of the general understanding that GT40's were synonymous with Le Mans, they did in fact race as GT endurance cars in many and diverse events world wide.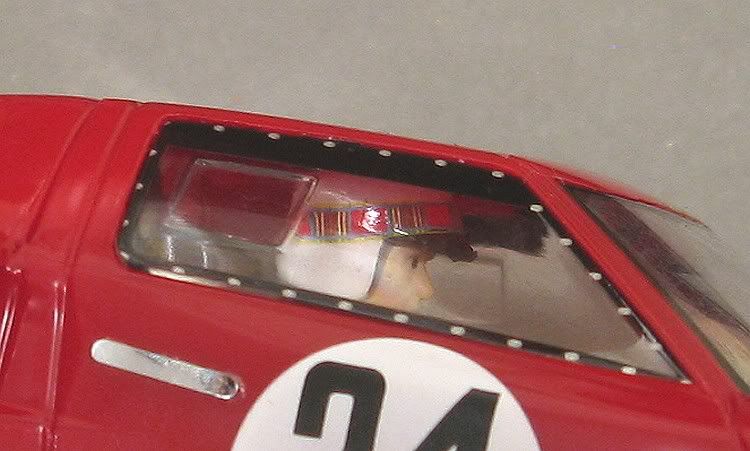 Go Jackie!





Slot.It have decided in this model to reproduce the FORD GT 40 MK II as entered by Alan Mann Racing (UK) and driven by Graham Hill and Jackie Stewart in the 1966 Sebring 12 hour race. The car started third on the grid but was withdrawn from the race after developing valve problems. The second, No 25, retired with clutch problems. Both cars raced in the distinctive Alan Mann Red and Gold livery.









So real cars aside, what has Mr Slot.It decided we get for our money ? Mmmmmmmm? Well, I took the easy option and bought this model from the other side of the globe at Topslots'n'trains. Firstly I wanted the Alan Mann car (as a young teenager, Alan Mann Racing was a short motorcycle ride from my home to Byfleet in Surrey, UK), and secondly, it came in at almost Au$10.00 cheaper than buying it down the road!!! And as I am on a strict slotcar budget at the moment, this seemed the best alternative. Not only that, five working days later Mr Postie had it in his hot little hand and was knocking on my front door!!









It was a couple of days later when I made the time to have a subjective look around the model, and to date my Slot.It experiences have been good ones. The Lancia LC2 "Malardeau" was a very successful car for me going back a few years. The plain silver Sauber won me several Slot.It events locally and the AEG version sits at the front of my bookcase display unit, along side the Mazda Renown; and my Alfa 33 has done some hot laps in anger too. So this one may also get a workout!









Large speck of dirt/plastic? stuck inside the clear part.





Opening it up and lifting it out, I find the model is very light.....63 grams light in actual fact, and looking around the model gives nothing away....yet! Initial reaction is that the red colour of the model is in actual fact the colour of the plastic body moulding. It doesn't have any rich depth that it could and should have done, and there is a clear coat over this which also could have been a bit more glossy. The satin sheen is on a par with the Monogram 911 I reviewed recently. To offset this, the detail is excellent and almost as good as some of the Fly models of yesteryear.









There are very little sponsor decals as the car was built and paid for by Ford Advanced Vehicles but other detail like filler caps, lynch pins, release levers, light covers and the acrylic clear parts are well made and nicely finished with the exception of the wiper arm which to me is a little 'clunky'. Slot.It have had a good go at the lights too. The front covers look fine and the headlamp detail beneath them is passable but it would have been nice to see some extra colour in them. Scaley managed this AND had working headlights too!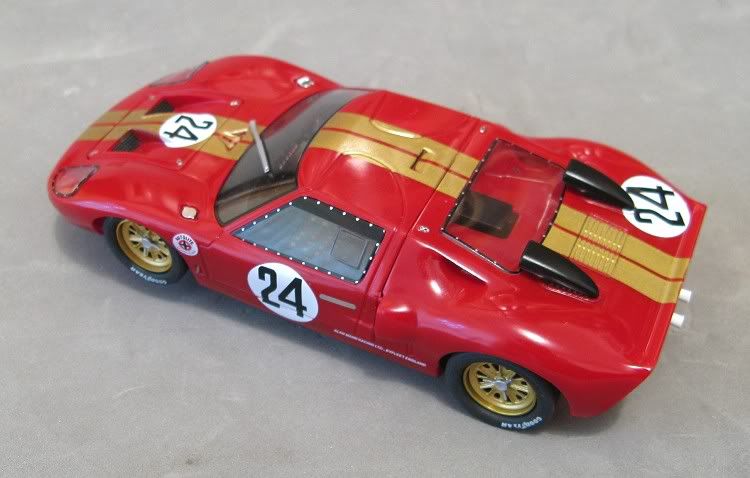 Going lower down the front I see that they have modelled the driving lights and side marker lamps... but there is one lamp missing from the left hand side???? Obviously a production oversight as the lamp covers have been installed?? The latch detail is stuck on anodised parts and on this model, one has already gone missing and another has worked loose, and, the tail pipes are crooked!!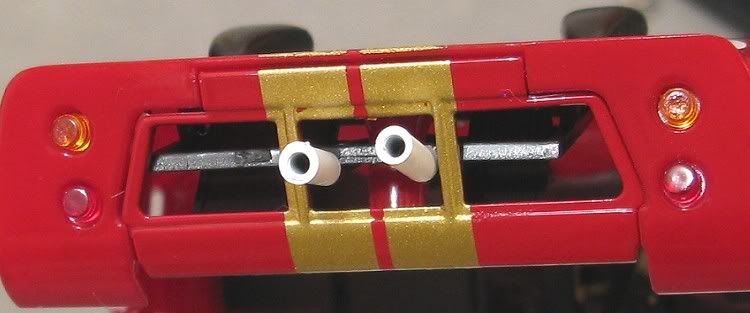 The interior detail is nicely done with a smart driver in a crash helmet with a Tartan band! No need to ask who he is! The passenger seat is believable and there is even some fuel tank detail in both side pods. Mr Slot.It has also gone to the lengths to fit realistic five point seat belts which look far more effective than a tampo'd set. The body itself is very light at about 15 grams and very flexible. It creaks readily while handling and I suspect that it could well be vulnerable on home racing and local club magnet tracks. The drivers tray and other parts are held in with numerous but very tenuous heat welds. I would go so far as to say that the drivers tray may well be the first major failure of the model in the above racing scenarios!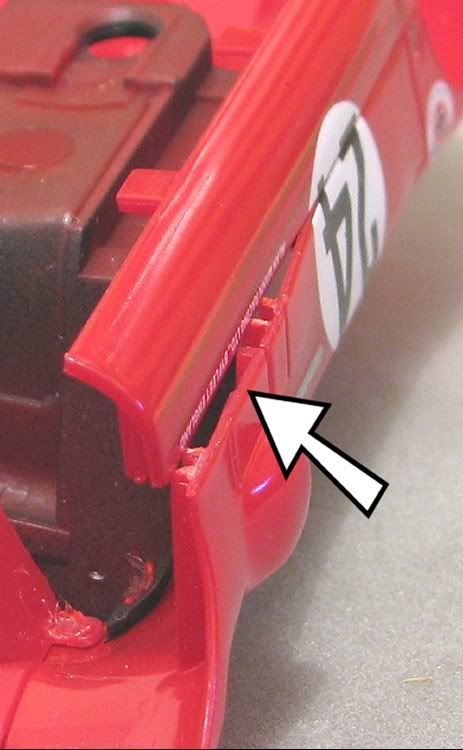 Split between sill and side panel





Underneath, there are no surprises, good or bad. The method of holding the body and chassis together is the simple two screw method which ranks among my favourites, and surprisingly, Slot.It have supplied flat washers to go with the countersunk screws??. On removing the chassis my heart dropped again. The 'sills' on this model are separate parts and are glued on...only in this case, one is half hanging off. The model came completely sealed with its shrink wrapped sleeve intact, so this damage has happened before packing. And I notice there is a large black speck of detritus stuck to the inside of the rear screen!! I hope Slot.It are not on the same QA slippery slope which befell Fly









Moving on, the chassis is standard fare and hopefully there isn't too much wrong with this! The front wheels sit high above the track on Scalextric Classic and Ninco track, and just hovering above it on Scaley Sport and Carrera. There are a pair of spacers sitting under the front axle which could do with removing for plastic track use, and the little grub screws will need screwing down a bit to minimise front axle movement.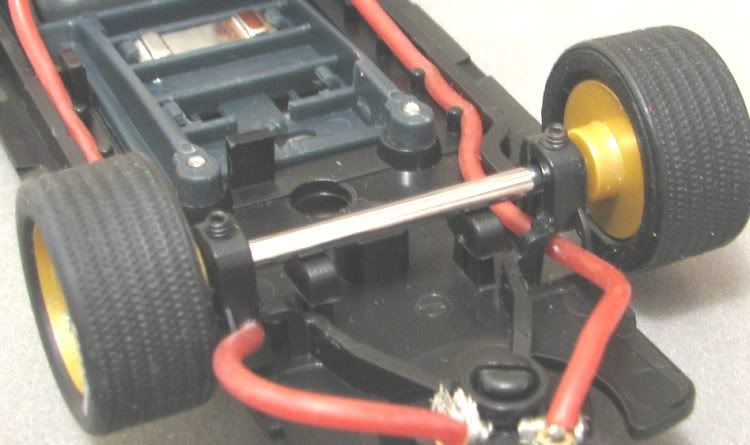 On this model the lead wire on the right side is far too long and touches the front right tyre, while the left one is a little too short and the taught wire fouls the driver's tray when fitting the body. Ideally both need attention. One to be shortened and one to be lengthened.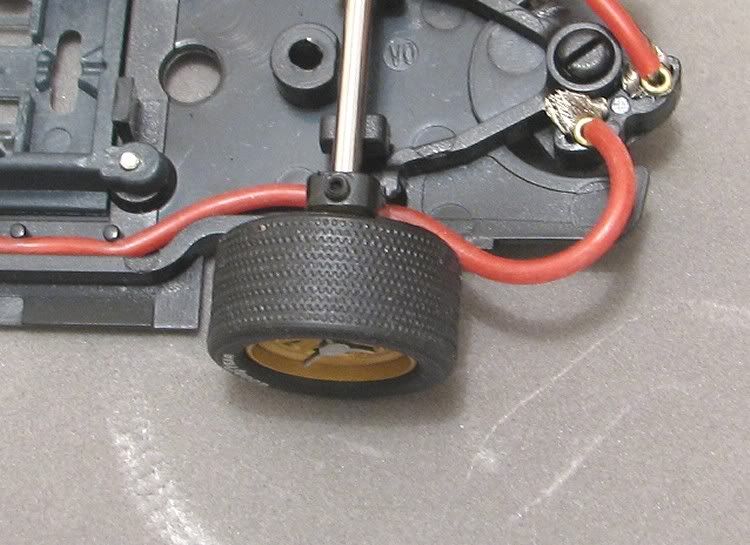 The guide works well and is a snug fit in its mount, but if you race on Scaley or SCX Classic track you will need to trim about 1.0 m.m. off this. The braids are a little stiffer than I would probably use, especially in non magnet racing where there is no downforce to keep a constant pressure on them. . The traction magnet is a good one and is a nice balance between strong and adequate. It has three potential positions but comes in what I would say is the ideal all round position. If you race huge tracks with massive sweeping bends then you might be inclined to try the forward position for the magnet, and if you race a smooth track with magnabraid, or even Carrera track, slip the magnet in the rear position and let me know what you think!!?? You may need to put six or seven grams of ballast over the front wheels for this setup.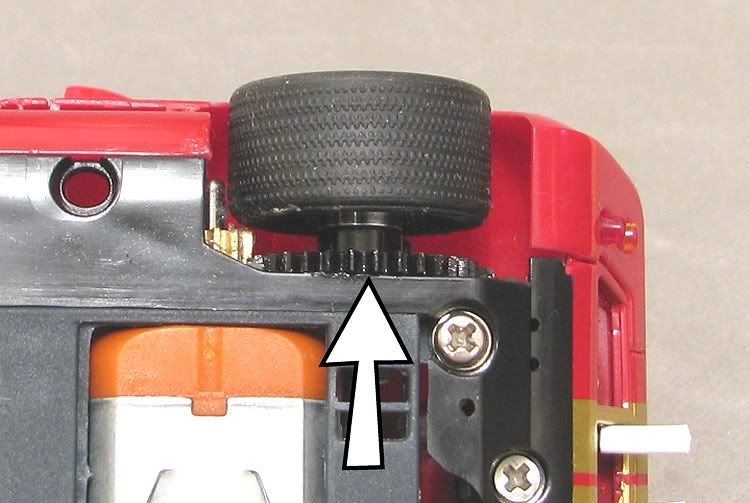 Spur gear touches the chassis





Unfortunately, the motor is loose, which again is a more serious problem when racing 'sans magnet'. While checking the model out I was mystified by the drag in the rear axle. Initial inspection showed that the pinion and spur had sufficient backlash. Closer inspection revealed that there is no endfloat in the rear axle and the spur gear is also pressing against the side of the chassis on the left side. Slackening the grubscrew in the right hand wheel allowed the pressure to be released and retightening in its new position showed it to be fixed.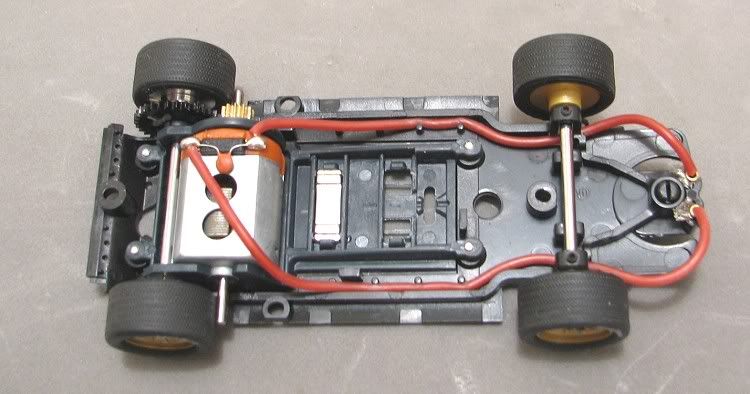 Moving on to the wheels and tyres we find that the front wheels are plastic and surprisingly concentric. If anything, it is the tyres which are a little out of shape. A good sanding should be enough to address this. The tyre rubber though is a bit of an enigma. If you are going to race this model with the front tyres half a mil above the track, then the softness of the front tyres is not an issue. But, if like me you like to see front tyres touching the track and turning then there is a minor issue. The tyres are too soft and grippy, and present a very real situation where, because of the lack of front wheel differential and excessive sideslip, the tyre drag can contribute to slowing the model in corners because of this. On previous models I have hunted down a pair of old SCX rally tyres which fit well. These tyres will not only be ribbed, they will also probably be very hard and offer minimal rolling resistance in corners, especially the slow ones!!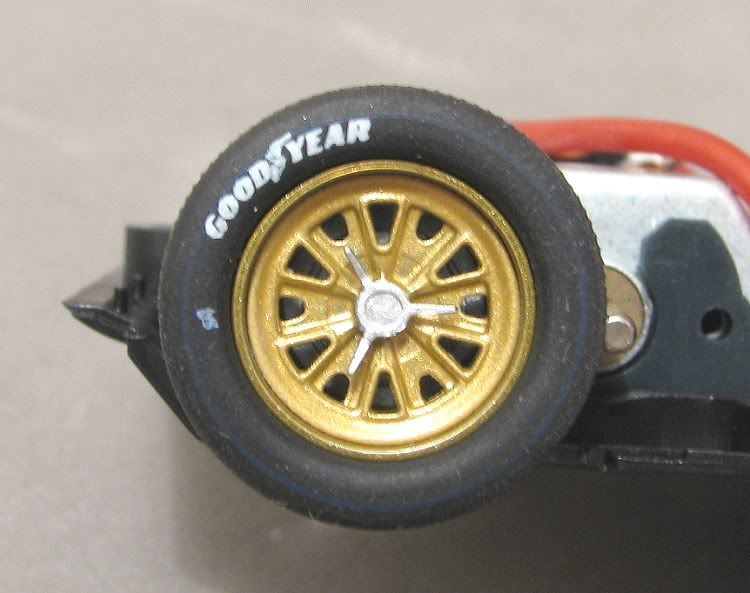 The rear wheels and tyres are a different story. Firstly, the wheels are a very good likeness to the real thing, and are well detailed. The tyres are a little eccentric, so a sanding may well be inevitable here. The wheels are grub screwed alloys and once again the tyres are super soft, all we wish for in a rear end. Mr Slot.it has made a nice job of the vestigial tread pattern on the tyres but I suspect the hardened SCM will be sanding this off before the model turns a wheel in anger. If you race rough surface tracks like Classic Scaley, SCX and Ninco, I would think twice before doing this and give the model a run with its original treads. I think you will be surprised!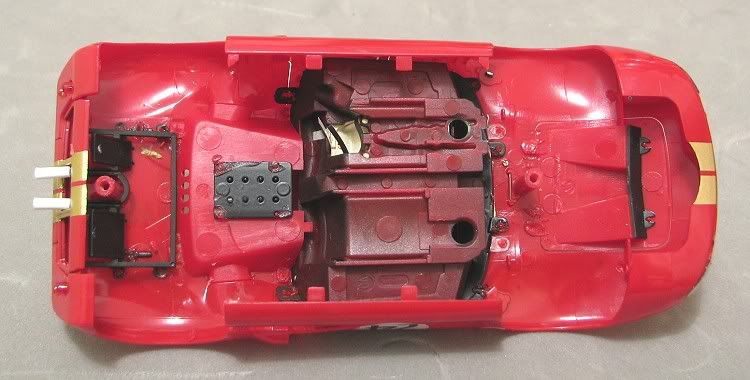 One thing that did strike me was the flex in everything. The body, the chassis, the pod, and once upon a time you would get a spare set of tyres with Slot.It models. Now, all you get is an Allen key to adjust the wheels and axles, at a time when most of us have several already!! I also notice that with all the attention paid to body finish, Mr Slot.It decided not to include rear view door mirrors. Contemporary pictures show these to be very real parts on the No. 24 car, but maybe a degree of foresight has told Slot.It that they weren't going to last long anyway, so why put them on!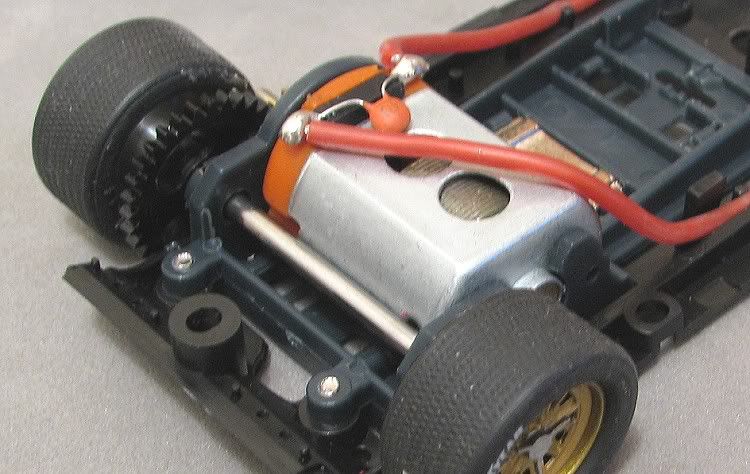 So what is it like on the track? I have to admit that it is unlikely this model will be entered in a race and therefore, it will never experience ten tenths racing conditions. But, if someone would like to lend me theirs, I would be more than happy to test it to the max in full-on competition!! Any takers?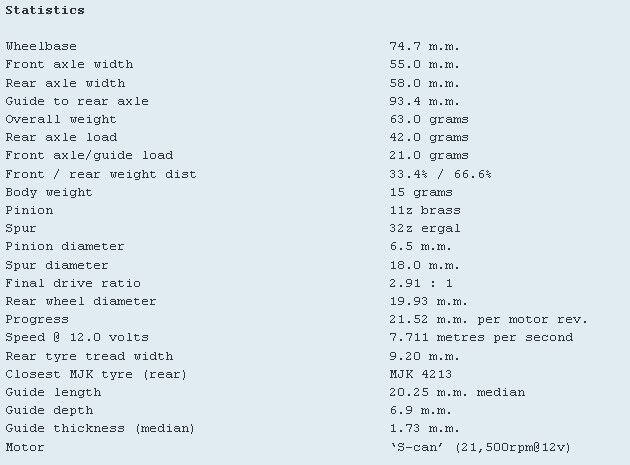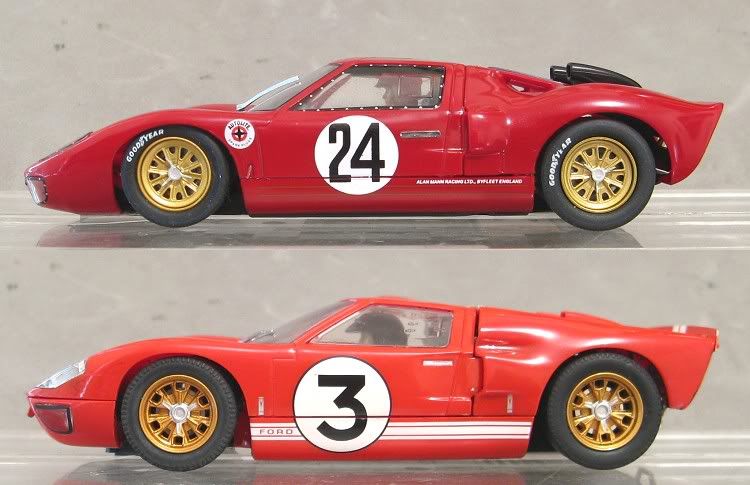 I have to say that this is still a very attractive model. It is classic subject matter and when standing along side other makes, it is by far the most definitive GT40 without doubt. It's sleekness causes the rest to look a little ungainly but it falls far short of others from other aspects. There is no doubt that this model is an out and out racer. The body is that flimsy I have to be careful lifting it from my race box for fear of crushing it !! Mr Slot.It's attention to detail is simply an intentional distraction for those buyers who aren't familiar with high speed multi model deslots and full on magnet racing.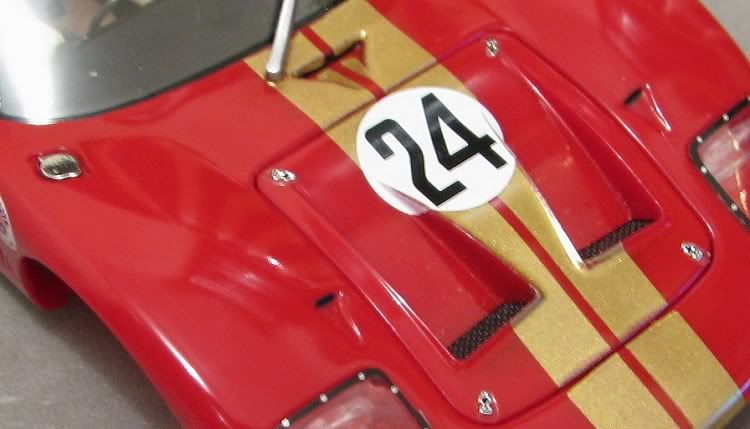 In reality this model in various hands will have all the moving parts upgraded until the model is a blur in some distant corner of a track, and so, like the icing on a Christmas cake, it's not going to last. A pity really because this model deserved the sturdiness of a Scalextric model and the (eventual) performance of a Fly car. That way we could have shown it to our grandkids and bragged about the heart stopping feats of daring-do at the local slotcar track in days of yore.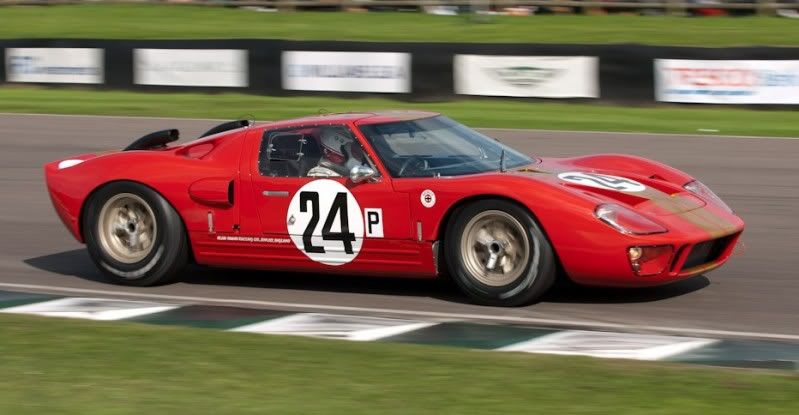 The reality as I see it is that some models will end up as full time shelf queens, others will be like Grandpa's Axe (two heads and six handles!), while the rest will have an ignoble end, and after multiple smash ups and with multiple breakages and numerous plain white body replacements just to make it legal, it will end up prematurely in a trash can somewhere down the road six months to a year after purchase!! Slotcars should carry a wallet warning clearly stating the life expectancy of a model on the shelf, on its own on the home track, and out club racing! Where will mine be in six months time?? Mmmmmmmmm????